Read Time:
14 Minute, 22 Second
PENNANT ONE:

ROUND 3

After the school holiday break table tennis has recommenced at the Irymple Leisure Centre with round three of the Sunraysia Table Tennis "Cash Converters" summer pennant.

Top team Max Miller Carpets remain undefeated despite receiving a scare, while Regional Taxation Services with a strong win of 8-3 over Tankard Dental have grabbed third position on the ladder. Mallee Bearings defeated bottom team Cookes Pools and Spas narrowly 6-5 and occupy second place on the ladder as a result.
– Max Miller Carpets 6 (Matt Avers 3, Leon Brown 2, Darren Robinson 1) d Cash Converters 5 (Phil Smith 2, Leslie Ncube 1)
The highlight of the night was undoubtedly the form of Regional Taxation Services number three player Leon Brown. In a busy night he not only played for his team but also subbed for ladder leaders Max Miller Carpets. Showing his best form for the year Brown won two singles in each match defeating higher ranked players along the way.
Brown came into the Carpeters line up to replace number two Reece Kurrle. The ladder leaders were under the pump as they could not trouble the scorers in the doubles and while skipper Matt Avers won his customary three singles it was Brown who proved to be the match winner.
In his first match after dropping the first game he defeated Leslie Ncube 9-15, 15-12, 15-12 and then later with the scores at five rubbers all Brown outlasted Jackson Murphy 15-12 15-10.
– Mallee Bearings 6 (Matt Ljubic 3, Shane Carmichael, Ed Hung 1) d Cookes Pools & Spas 5(Gavin Carmichael, Kate Carmichael 2)
Second placed Mallee Bearings with Matt Ljubic leading the way with three singles victories proved too good for cellar dwellers Cookes Pools & Spas narrowly winning 6-5. Cookes were out of the blocks early leading 4-2 in search of their first win for the season however it wasn't to be.
The second doubles was crucial and when Ljubic and Ed Hung trailed Gavin Carmichael and Lee Thomas 3-7 in the third it looked like trouble however the Mallee Bearings pair remained calm clawing their way back to win 15-8 6-15 16-14. This levelled the scores and then Ljubic won his third singles in straight sets against Kate Carmichael to take Mallee Bearings to a 5-4 lead.
In the final singles of the night and with the scores at five rubbers all,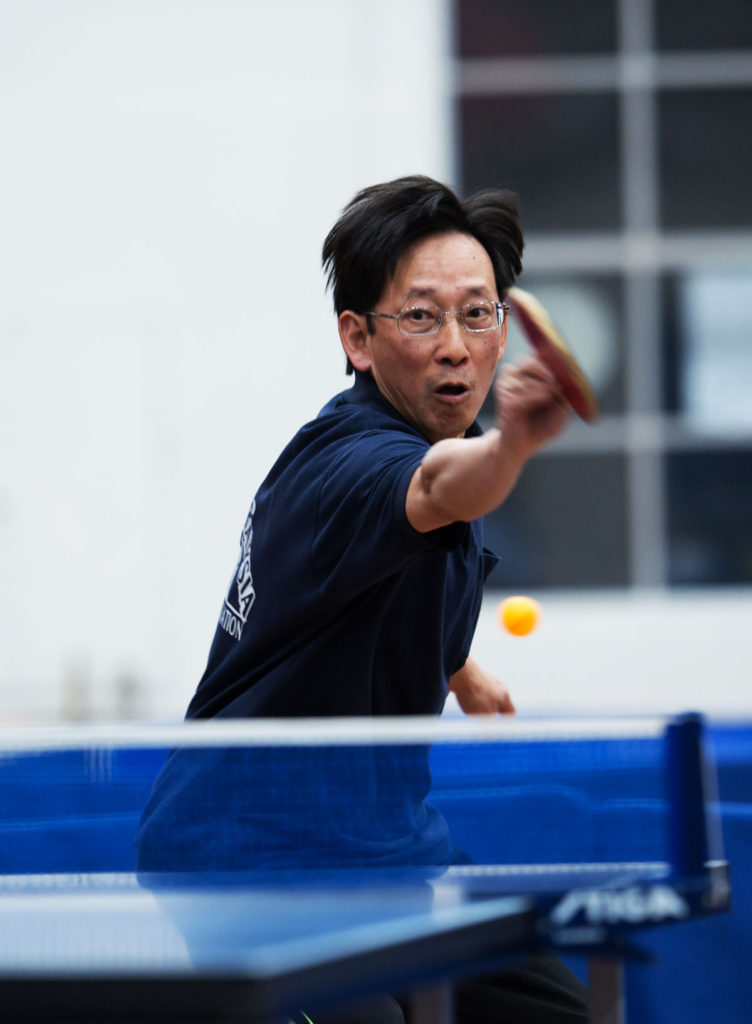 Ed Hung proved too steady for Lee Thomas winning 15-12 15-4 which enabled his side to gain second position on the ladder by percentage.
– Regional Taxation Services 8 (Wayne Carmichael 3, Leon Brown 2, Andrew Cannard 1) d Tankard Dental 3 (Mark Dorman 2, Nicholas Dorman 1)
Regional Taxation Services scored what looked like a one sided win on paper of 8-3 against Tankard Dental however there were 5 three setters of which RTS won four, a little more luck and Tankards would have been closer.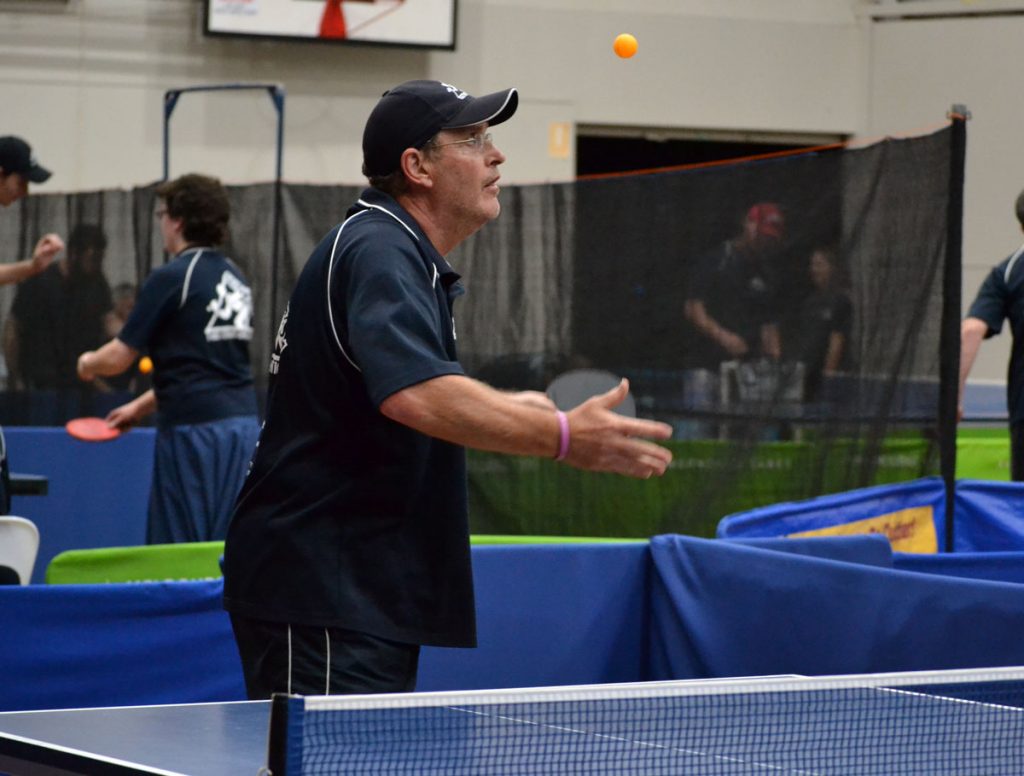 For the victors Wayne Carmichael won three singles including a close tussle against Mark Dorman, Carmichael winning 15-17 15-12 16-14 another close one between the two veteran lefties.
For Tankards Mark Dorman was the best performer with two singles victories and it was again Leon Brown who stood out for RTS winning two singles as well as combining with Wayne Carmichael to win the second doubles. Brown lost his first singles narrowly in three against Mark Dorman and then later he defeated Nicholas Dorman in a top class match 12-15 15-12 15-12 and to cap off an excellent night he defeated fill in Geoff Wright 15-11 15-17 18-16 to enable his team a percentage boosting win.   
PENNANT TWO:

Exposed Signage and Apparel remain undefeated after downing Mallee Meats this week, likewise Kevin Johns remains undefeated and leads the aggregate, although his Weightmans Packaging team lost to Pinnacle Packers in this round, and the third game saw Max Miller Carpets pick up their first win for the season.
– Pinnacle Packers 6 (Ash Morrison 2, Arthur Paar, Jeremy Corrin 1) d Weightmans Packaging 5(Kevin Johns 3, Andrew Jones 2)
Pinnacle Packers needed wins in both doubles rubbers to win this encounter with Weightmans Packaging. With Kevin Johns winning three rubbers and Andrew Jones two, Weightmans Packaging were on the cusp of a win, but the Pinnacle Packers trio of Ash Morrison, Arthur Paar and Jeremy Corrin thwarted their efforts to take a 6-5 win.
Kevin Johns kept his lead on the aggregate table, defeating Arthur Paar and Jeremy Corrin straight sets, and downing opposing captain Ash Morrison in three. Andrew Jones, subbing for Terry Martin, picked up two rubbers with wins against Corrin and Paar, and losing to Morrison in a good three setter. Unfortunately, Weightmans Packaging could not add to these wins, and although Apex Chong subbing for Paul Fitzpatrick improved as the night progressed, that final rubber eluded them.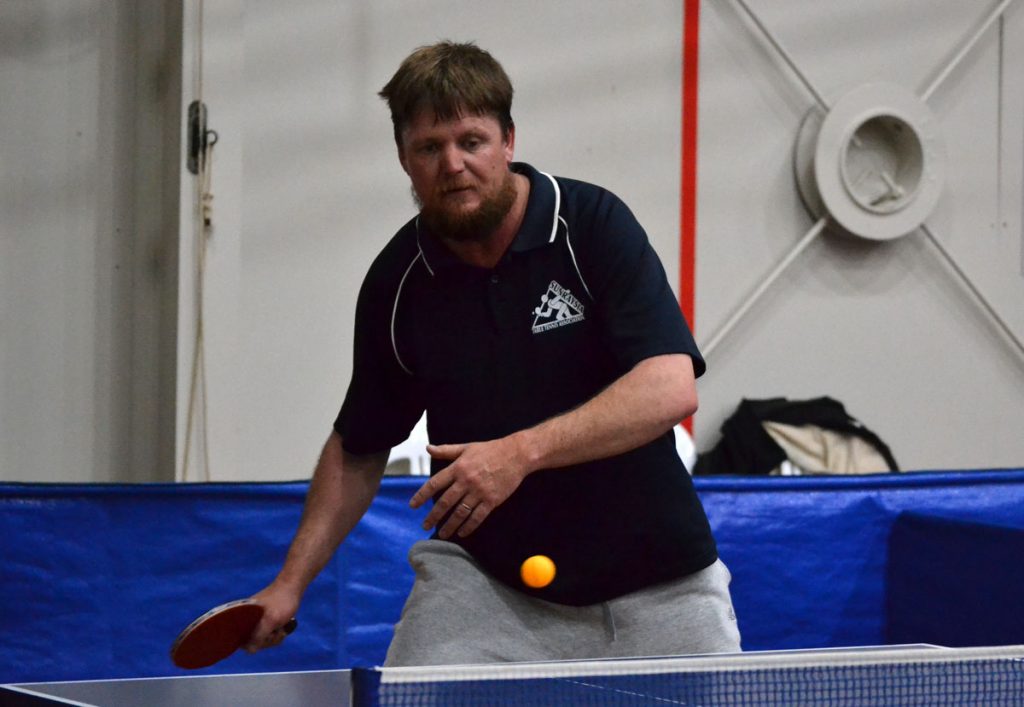 Ash Morrison was the only Pinnacle Packers player who won more than one singles rubber, defeating Jones and Chong, but falling to the dominant Johns. Arthur Paar defeated Chong, and lost a close three setter to Andrew Jones 15-6, 15-17, 12-15. Jeremy Corrin, although not really extending Jones or Johns, made the most of the opportunity when playing Chong, winning 15-10, 15-13.
To the doubles then – the first doubles rubber was a close affair, Morrison and Paar winning points at the right time. With both sides winning 43 points, it was a matter of who had the momentum in the third set, and that was the Pinnacle Packers duo, who won 8-15, 15-10, 20-18. Morrison and Corrin had an easier time of it in rubber number eight, taking the win in straight sets, 9 and 7.
Final scores: 6 rubbers to 5 and 14 games to 12.
– Exposed Signage/Apparel 7 (Than Nguyen, Paul Kealley 2, Dylan Wood 1) d Mallee Meats 4 (Tony Malycha, Russell Walder 2)
Exposed Signage and Apparel won what was a close match with a Mallee Meats side that was missing two regular players. Russell Walder subbed for captain Jason Gifkins, and Anthony Riordan returned to the game
after an absence of something like sixteen years, to fill-in for John Fitzpatrick.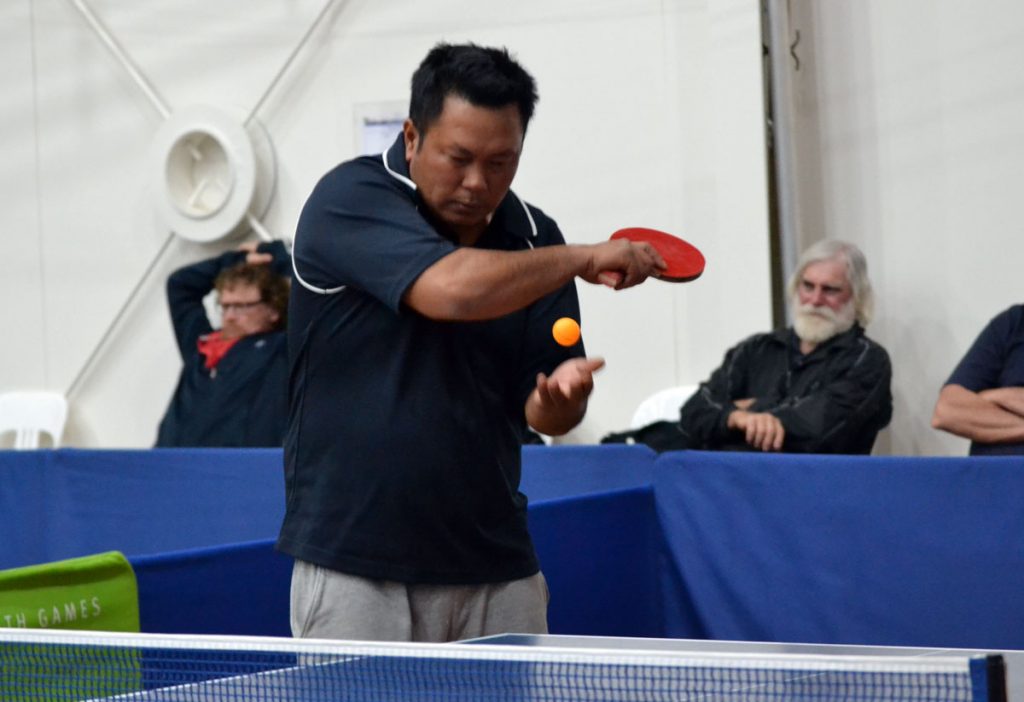 Thanh Nguyen was not the most dominant player in singles play, but he made the difference for Exposed Signage and Apparel when the doubles rubbers rolled around. Nguyen took wins against the two substitute players, but met his match in Tony Malycha. Nguyen and Malycha played a close three setter, Malycha winning 9-15, 15-11, 15-13. Nguyen and Paul Keally got off to a slow start in the first doubles, the Mallee Meats pair of Walder and Riordan sprinting through the first set 15-1. The change of ends brought with it a change in their fortunes, with them equalling at one set all with a 15-11 scoreline. Nguyen and Keally then took control of the game, 15-9 in the third. The second doubles rubber went to three sets also, Nguyen and Dylan Wood besting Walder and Riordan.
Nguyen was backed up by Paul Keally, making his first appearance for this season, Keally taking two wins also. Keally lost his first game to Russell Walder, but took good wins, both in two sets, against Tony Malycha and Anthony Riordan conceding just 19 points to each of them. Dylan Wood continued his strong introduction to this pennant, defeating Riordan in three close sets 16-14, 15-17, 15-12.
Russell Walder and Tony Malycha picked up two singles rubbers each, but that was as good as it got for Mallee Meats. Walder defeated Keally and Wood in two sets each, but fell to Nguyen. Malycha picked up wins against Dylan Wood (2 sets), then the valuable scalp of Nguyen, but fell to Keally in his impressive debut.
Losses in both doubles sealed their fate.
Final scores: 7 rubbers to 4 and 15 games to 12.
– Max Miller Carpets 8 (Liam Wood 3, James Chick 2, Noel Costa 1) d MJM Automotive 3 (Jeremy Corrin 2, Nick Barlow 1)
These two sides had not won either of their first two games this season, so one of them was going to move off the bottom of the ladder after this round.
MJM Automotive were without number three Anthony Fox, Jeremy Corrin filling in; and Peter Fitzpatrick was absent from the Max Miller Carpets lineup, Noel Costa subbing for him.
Max Miller Carpets took the win, and as with the other two games, the winning side won both doubles rubbers. But first was the performance of Max Miller Carpets number two Liam Wood. Wood has had a quiet start to the season taking just a single win each week. This time though, Liam was the best performed, winning three singles, firstly against the increasingly difficult Quentin Clark in three sets, going toe to toe with Nick Barlow winning 12-15, 15-13, 15-12, then disposing of Corrin in two sets. With his captain James Chick, Wood helped his side to the first doubles rubber in two sets.
Max Miller Carpets captain James Chick added two rubbers to the three of Wood, falling to Jeremy Corrin in straight set. The sixth singles rubber for Max Miller Carpets came from Noel Costa, who had a ding-dong battle with Quentin Clark, winning 13-15, 15-13, 15-10. Chick and Costa combined to win the second doubles against Barlow and Corrin in three sets also11-15, 15-5, 15-10.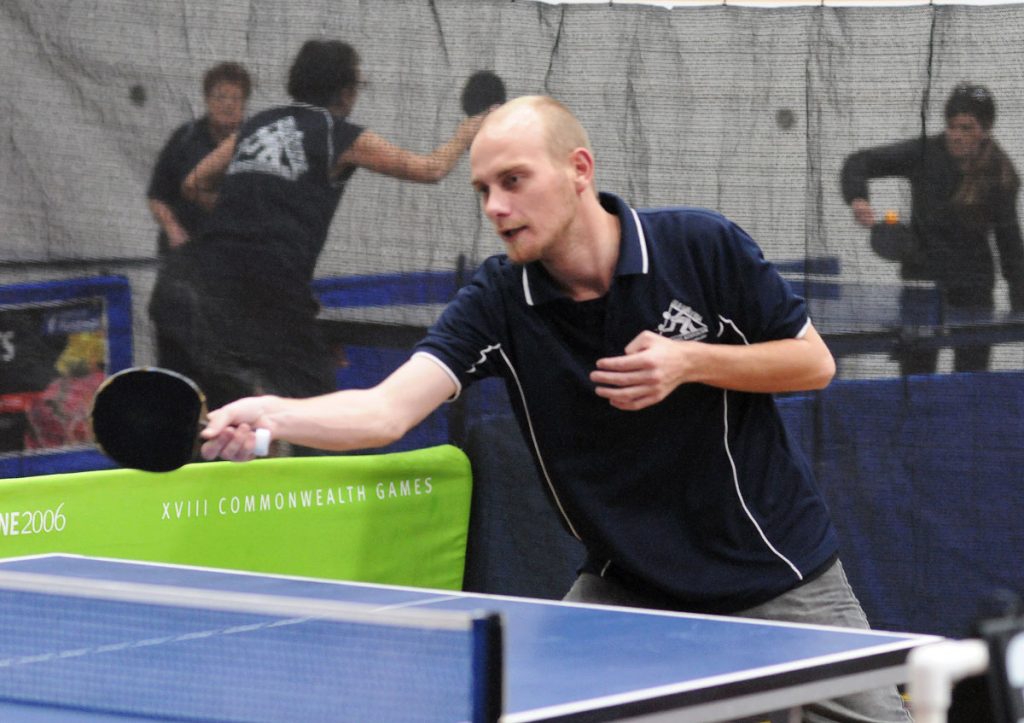 Substitute Jeremy Corrin was the best performed player for MJM Automotive. After that win against James Chick in the first round of singles, Jeremy continued his good for into the second round with a two set win against Costa. Nick Barlow could only engineer one win, in a three set encounter with Costa. With Quentin Clark having a rare "off-night", losing to both Wood and Costa in three sets and Chick in two, MJM Automotive were restricted to just three rubbers for the match.
Final scores: 8 rubbers to 3 and 17 games to 10.
PENNANT THREE:

MJM Automotive, Regional Taxation Services and Mallee Meats all won this week, and in so doing now occupy first, second and third on the ladder.
– Mallee Meats 6 (Husseyn Ismail 3, Tom Morrison 2) d Sammy's Slammers 5 (Rohan Reimers 2, Peter Lock, Nick Kiapekos 1)
Mallee Meats were without Rachel Fitzpatrick this week, but with Huseyin Ismail subbing her for, the team had the perfect replacement.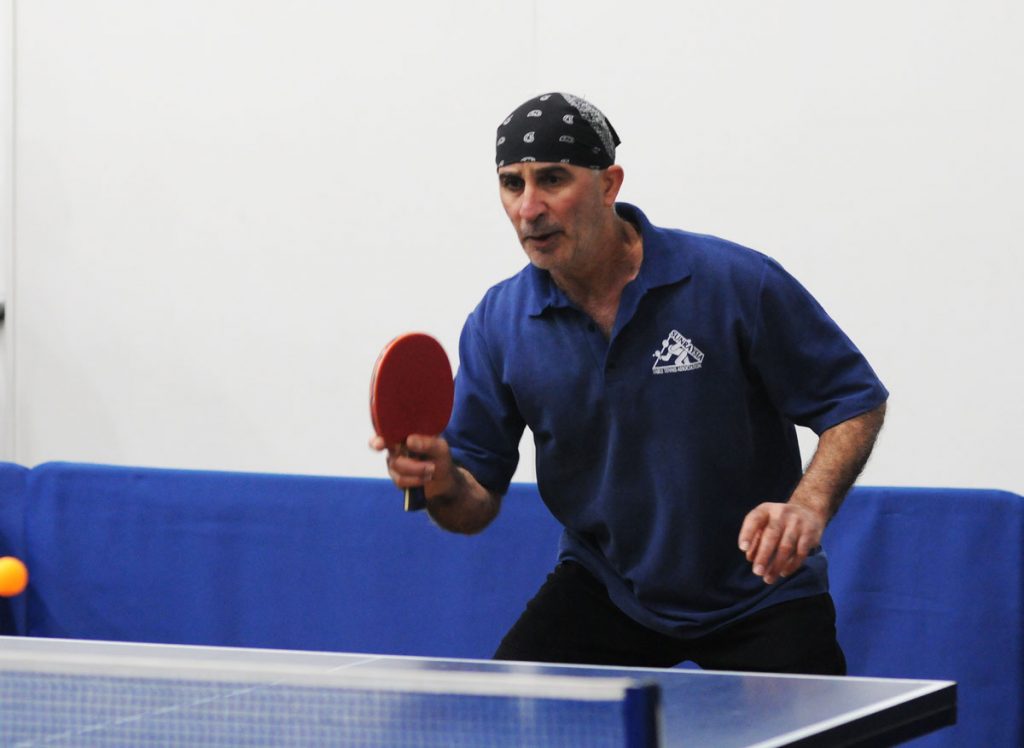 Mallee Meats won the closest match in this grade in this round, 6-5 and it was thanks to Ismail that they achieved that. It would appear that Hus picked up a few pointers while overseas recently, as on his return he won all his singles rubbers, the only player in this match to do so. Ismail was in fine form, and even though all his matches went to three sets, this did not faze him. Mallee Meats captain Tom Morrison played a supporting role in this match, picking up two wins, defeating Nick Kiapekos and Peter Lock, but falling to Rohan Reimers. Those five wins put Mallee Meats in a good position for the win here, and they needed the second doubles rubber to secure the win, after Morrison and Ismail lost the first to Reimers and Lock in three sets. That second doubles, although over in two sets, was a close run thing, Morrison and Leonie Dunkley downing Reimers and Kiapekos 18-16, 15-12.
Sammy's Slammers were going rubber for rubber with Mallee Meats until rubber number eight when Mallee Meats won two in a row, and thus got the little break they needed for victory, as wins alternated again.
For Sammy's Slammers, Rohan Reimers won two, Peter Lock and Nick Kiapekos one each.
Final scores: 6 rubbers to 5 and 15 games to 13.
– MJM Automotive 7 (Andrew Kremor 3, David Sergi 2) d Weightmans Packaging 4 (Lachlan Prothero 2, Brice Lock, Ayden Costa 1)
Playing at number two, Andrew Kremor, with three singles rubbers, helped MJM Automotive to a 7-4 win against Weightmans Packaging.
Although Kremor missed round one of this competition, he now sits in sixth spot on the aggregate ladder. His first game against Lachlan Prothero, who was subbing for Sabrina Fitzpatrick, was outstanding. Kremor took the first set with a close 15-13 score line, Prothero bounced back to take the second 15-6, and the pair then slugged it out in the third, Kremor eventually winning 20-18.
MJM Automotive captain David Sergi picked up two wins, against Ayden Costa and Brice Lock, but falling to Prothero in rubber number nine 15-11, 11-15, 12-15.
Although kept winless MJM Automotive number three Luke Ljubic played very well, but could not finish off Brice Lock or Ayden Costa, losing to Lock 15-17, 15-13, 13-15, and to Costa 14-16, 15-5, 3-15.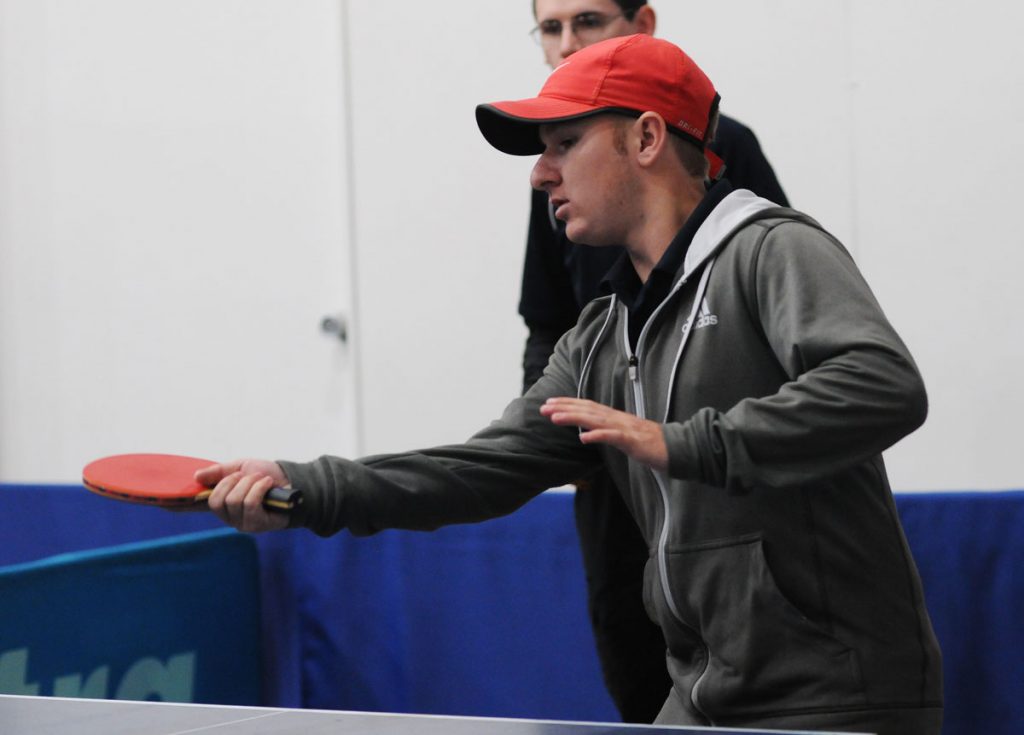 For Weightmans Packaging, Prothero played well for his two wins (in two sets against Ljubic, and in three against Sergi), and only falling to the in-form Kremor in three sets.
Lock and Costa won one apiece, both against Ljubic.
Final scores: 7 rubbers to 4 and 17 games to 10.
– Regional Taxation Services 8 (Marcus Cimino 3, Karly Leach, Matt Sires 2) d Cookes Pools & Spas 3 (Matt Cherry 2)
Regional Taxation Services recorded a resounding win against Cookes Pools & Spas to secure second spot on the ladder.
Marcus Cimino won his three singles rubbers, and Karly Leach and Matt Sires two each.
Cimino had to work hard for his wins, as Aiden Riordan and Matt Cherry took him to three sets. Cimino only got a small advantage over Riordan in the third set in his 15-13, 13-15, 15-11 win. It was a similar story against Cherry, Cimino winning that one 15-11, 8-15, 15-13.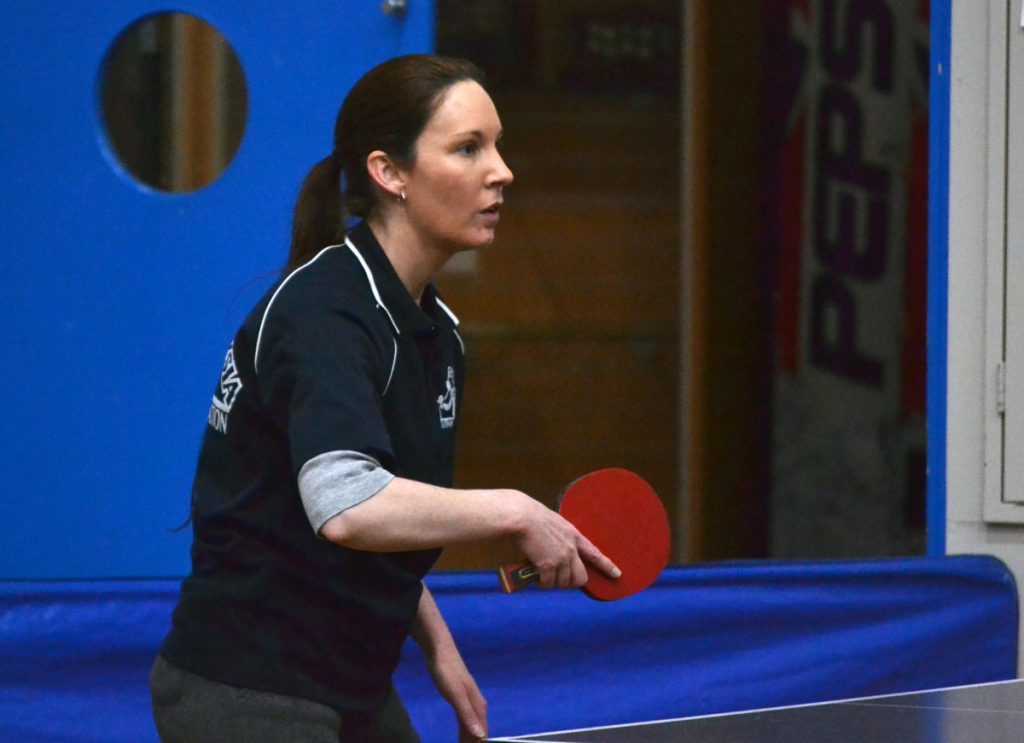 Leach won two rubbers, and lost the third in three sets against Cherry. Sires in winning his two rubbers, downed Jessica Dorman in a close two setter 18-16, 16-14 and Aiden Riordan in three.
For Cookes Pools and Spas, Matt Cherry was the only one to win a singles rubber, taking two wins. Although Jessica Dorman and Aiden Riordan failed to win a rubber, they played well in defeat. Dorman lost to Sires in a close two setter, and later just failed to get over the line against Karly Leach 15-5, 12-15, 16-18. Riordan lost to both Cimino and Sires in three sets, and with Matt Cherry defeated Cimino and Sires in the second doubles 15-11, 15-11.
Final scores: 8 rubbers to 3 and 17 games to 11.
PENNANT FOUR:

This weeks' action saw a busy night for fill in James Bennett as he played in both matches with varying results.
Tankard Dental 7 (James Bennett 3, Dave Tanner, Raylee Waugh 1) def Mallee Meats 4 (Isaiah Bettess, Jacinta Ljubic 2)
Tankard dental are back in the winner's circle this week after defeating Mallee Meats with the stand out performer being James Bennett for the Dentists with three singles wins. In addition to his three singles wins he partnered Dave Tanner to defeat Isaiah Bettess and
Jacinta Ljubic 15-11, 18-16 and from here the result was never in doubt. Raylee Waugh chipped in for Tankard for a singles win as they defeated Mallee Meats 7 games to 4. In an interesting fact there were no three set matches in this encounter.
MJM Automotive 6 (Kim Avers 3, Shirley Whitecross, Nathan Beard 1) def Dunkley Scales 5(Miya Lock, James Bennett 2)
Kim Avers returned to form this week as she contributed three important singles wins to help secure a much needed win for MJM Automotive. The night stated well for Dunkley Scales as they raced to a 2-0 lead thanks to victories from James Bennett and Miya Lock. Avers then went about turning the tide with an important win against birthday girl Rylie Sindely. She then teamed with Shirley Whitecross to win the doubles against Lock and Sindely and now the game scores were locked at 2 all. The next four matches went as expected and with scores locked at four apiece Avers took on Lock in a game that would ultimately decide the winner of the night. Avers was quick to gain the ascendency and took the first 15-7 before Lock fought back to take the second 15-11. In a topsy-turvy game Avers again won back control of the match and went on to win the third set comfortably 15-6. MJM Automotive went on with the job and with James Bennett defeating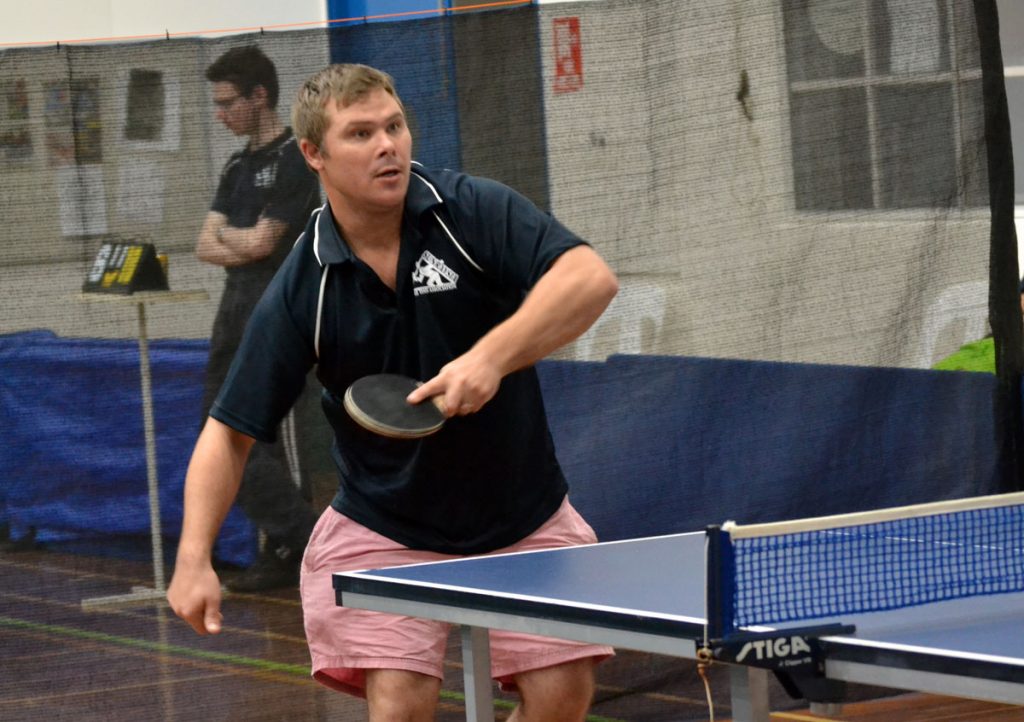 Nathan Beard in the last game of the night saw them victors 6 games to 5 over a valiant Dunkley Scales team. In the second interesting fact of the night the defeated teams from last week were in fact this week's winners which highlights the closeness of this competition.