Read Time:
13 Minute, 13 Second
In yet another run of controversy – Pennant 2 player Geoff Wright was not in a mood to talk when asked about dropping his third singles in rnd 8 action. In post match drinks at Maccas, Hurricane Robinson jokingly asked Wright whether that singles game loss had cost him a crack at the P2 Aggregate win. Wright stormed to his car, putting the pedal to the metal and leaving a single track skidmark in the carpark. The local boys in blue were not amused and are currently looking for the unstable Wright and his Red Ford. Police say if anyone does see him to keep a cautious distance as he may be armed. Victorias new anti hooning laws could spell big trouble for Wright who at this stage is yet to surface.

In other Stta rnd 8 action the number one ranked player in Sunraysia, Tankard Dental's Joel Thomas proved to be the match winner as his team accounted for second placed Regional Taxation Services 6-5 in round 8 action of the Sunraysia Table Tennis "Cash Converters" pennant. Going into the match Tankards sat at the foot of the ladder and now they find themselves in fourth position with two rounds to play.
PENNANT ONE:
– Tankard Dental 6 (Joel Thomas 3, Reece Kurrle 1) d Regional Taxation Services 5 (Shannon Bowen, Mark Dorman 2, Ed Hung 1)
Thomas was on fire easily winning his three singles although Shannon Bowen did go to four in their singles match. The doubles were pivotal in the result and Thomas was involved in two successful results.
By his standard earlier in the season he had a couple of quiet rounds and is the case with top players a loss is more newsworthy than when a top player wins three singles however Thomas displayed the reason why he has been the leading player in the area for some time and his upcoming clash with young talent Matt Avers will be a highlight.
– Cash Converters 7 (Kate Carmichael 3, Matt Ljubic 2) d Weightmans Packaging 4 (Zac Healy 2, Jackson Murphy, Leslie Ncube 1)
By winning three singles for the second time this season Kate Carmichael was instrumental in her team Cash Converters 7-4 victory over Wightmans Packaging. In her first match she accounted for the improving Zac Healy, who is back from injury, she then defeated Leslie Ncube in straight sets.
Later Carmichael had her hands full with Jackson Murphy and this was an exciting five setter finally decided 13-11 in the final game in what had been a close tussle all the way.
To cap off a good round Carmichael combined with Matt Ljubic to defeat Healy and Ncube in the first doubles. Ljubic also offered good support wining two singles and participating in both doubles victories. This win snapped a two loss streak and the Converters sit at equal second on the ladder.
– Exposed Signage/Apparel 6 (Nicholas Dorman, Gavin Carmichael 2, Leon Brown 1) d Mallee Bearings 5 (Matt Avers 3, Shane Carmichael 1)
An indication of the evenness of the competition was evident for the second round in succession when top team Exposed Signage/Apparel again had to recover from a late deficit this time against fourth placed Mallee Bearings to win 6-5.
Victory came despite Matt Avers again winning three singles although he did have to come from behind in two matches against Gavin Carmichael and Nicholas Dorman respectively to win in five sets.
Carmichael and Dorman finished strongly in the first doubles against Avers and Shane Carmichael winning 10-12 12-10 11-13 11-2 11-2 in what was a crucial win. Despite trailing 4-5 Exposed Signage won the final two singles to grab the points and hold on to top position.
PENNANT TWO:

The two top teams in this grade took wins again this round; Mallee Bearings over bottom side Mallee Meats and Pinnacle Packers over Weightmans Packaging – both these side went into the round equal on five wins.  The matter of interest in the final game was that aggregate leader Thank Nyugen suffered his first defeat of the season when his team went down to Max Miller Carpets.
– Mallee Bearings 7 (Peter Midgley 3, Andrew Jones, Quentin Clark 1) d Mallee Meats 4 (Geoff Peters 2, Jason Gifkins, Seval Fuat 1)
Peter Midgley's Mallee Bearings side came home with a wet sail in this match against Mallee Meats
Mallee Meats, still winless for the season, took the game to Mallee Bearings, but it all came apart in the latter stage of the game.
Up to the completion of the second round of singles, Mallee Meats had won four of the six rubbers, but had lost both doubles encounters, allowing Mallee Bearings to sit level with them at four rubbers all at that stage.
Mallee Meats were playing well – in taking two rubbers, Geoff Peters had accounted for his opposite number Andrew Jones, and number three Seval Fuat did the same, easily downing Jones in four sets in the opening rubber.  The first doubles rubber was a beauty – Mallee Meats captain Jason Gifkins and Seval Fuat came within a point of downing Midgley and Jones, but went down by the narrowest of margins, losing 7-11, 10-12, 12-10, 13-11, 9-11.  That win to Mallee Bearings kept them in touch at two all, instead of a 3-1 lead to Mallee Meats …
When Midgley and Quentin Clark took the second doubles, a tight four set contest against Gifkins and Peters 11-7, 10-12, 16-14, 12-10, the game was up for grabs in the final round of singles.
Mallee Bearings had seemingly kept their best 'til last; Midgley in four sets against Peters, Jones finally winning a rubber – in doing so downed Mallee Meats captain Gifkins in an absorbing five set contest 11-9, 5-11, 12-10, 9-11, 12-10.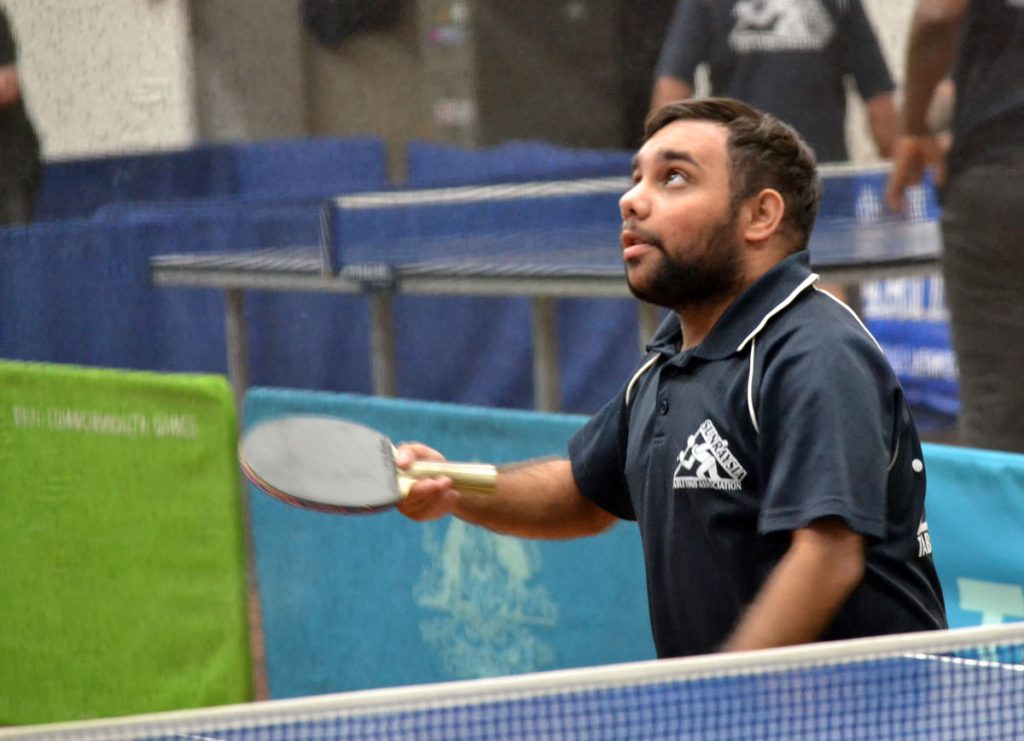 That gave them the win, and Quentin Clark then downed Fuat in three sets to put a bit of icing on the cake.
Final scores:  7 rubbers to 4 and 23 games to 18.
– Pinnacle Packers 8 (Sony Sefer 3, Geoff Wright, James Chick 2) d Weightmans Packaging 3 (Nick Barlow, Kerry Wallace 1)
Weightmans Packaging have hit their straps of late, and this was a real test to see if they could topple Pinnacle Packers, the side with the best for-and-against in the competition.
It was not to be, Pinnacle Packers ran away with the game eight rubbers to three, despite their captain Geoff Wright obviously not playing his best table tennis.  Wright sat equal second with Peter Midgley on the aggregate ladder, but now slips a game behind, and with only two rounds remaining, may find it impossible to get back on equal terms.
Wright began the night well with a dominant three set win against Kerry Wallace.  The writing was apparently on the wall, though, in the next round of singles, when Arthur Paar led Wright two sets to love, and Wright had to fight like mad to win 10-12, 11-13, 11-9, 11-8, 11-9.  That was as good as it got for Geoff, because after that loss he and Sony Sefer proved no match for Wallace and Paar in the second doubles, losing in four, and in the final round of singles Wright succumbed fairly meekly to Nick Barlow, who it must be said was playing well.  Wright did not show a lot of fight, Barlow winning 11-4, 11-7, 6-11, 11-4.
So while Wright had an ordinary night, (although he did win two singles rubbers, remember) his team-meats stepped into the breach and totally dominated their opposition.  Sony Sefer, subbing once again for Brendan Alderton picked up three singles wins and James Chick took two – a five set win against Paar and later downing Barlow in four.
Final scores:  8 rubbers to 3 and 26 games to 21.
– Max Miller Carpets 7 (Mark Kerr, Tony Malycha 2, Russell Walder 1) d MJM Automotive 4 (Thanh Nyugen, Adrian Fox 2)
 Max Miller Carpets and MJM Automotive sit fourth and fifth on the ladder, and remain in those positions after this game.
The noteworthy news from this game, though, was the first defeat for the season of Thanh Nyugen.  Nyugen has swept all before him so far this season, but in this game, Tony Malycha produced a game good enough to blemish Thanh's previously unblemished record.
Playing in the first round of singles, Malycha had Nyugen on the back foot, taking the first set, Nyugen levelled, Tony took the third set, Thanh levelled again, and in a tight fifth set, Malycha held the advantage to win 11-8.
Nyugen wasted little time in his other two singles rubbers – downing both Russell Walder and Mark Kerr in straight sets.
Adrian Fox, subbing for his father Anthony, backed up Nyugen well, also taking two singles.  However, that was the extent of the scoring for MJM Automotive, Max Miller Carpets winning everything else.
For Max Miller Carpets, captain Russell Walder had a quiet night, taking only the scalp of Claire Ljubic.  Both Malycha and Mark Kerr took two wins, and with both doubles going to Max Miller Carpets in just three sets, they took a solid seven rubbers to four win.
Final scores:  7 rubbers to 4 and 24 games to 18.
PENNANT THREE:

MJM Automotive scored an easy 9-2 win over bottom side, while Sammy's Slammers got themselves back on the winning list with a win against danger side Weightmans Packaging.
– MJM Automotive 9 (Tom Morrison, Peter Fitzpatrick 3, Rachel Fitzpatrick 2) d Tankard Dental 2 (Sabrina Fitzpatrick 1)
A fairly friendly game this one – four of the six contestants all from the same family, and top side against bottom side.
MJM Automotive really did not have much trouble at all in this contest; Tankard Dental picking up just two rubbers for the night, and eight of the eleven rubbers determined in just three sets.
There were a couple of note-worthy games though, and they both featured Therese Fitzpatrick.
The first was the fourth rubber, the first doubles.  Therese paired with her mother Sabrina for the "Fitzpatrick Doubles Rubber" against her father Peter and sister Rachel.  Now whilst Peter and Rachel may be further up the aggregate ladder in this competition, this match proved (again) that doubles play is a different animal altogether.  The MJM Automotive pair really did not get much of a look in, in this game, and Therese's consistent returning, together with Sabrina's brick-wall like defence, kept her father and sister on the back foot.  The MJM Automotive pair took one set in this game, but really flattered them, Tankard Dental winning 11-4, 6-11, 11-6, 11-6.
Therese also featured in the final rubber, against Tom Morrison.  Although she lost, Therese made Tom work for his four set win.  After losing the first two 5-11, 8-11, Therese found her mark in the third set and left Morrison standing in all the wrong places to take that set 11-5.  Morrison regrouped in the fourth though, and after a steady game took the final set 11-7.
Final scores:  9 rubbers to 2 and 28 games to 8.
– Sammy's Slammers 7 (Paul Fitzpatrick 3, Leonie Dunkley 2) d Weightmans Packaging 4 (Rohan Reimers 2, John Fitzpatrick, Huseyin Ismail 1)
Sammy's Slammers captain Paul Fitzpatrick returned to form with a perfect night of table tennis – five rubbers for five wins.
After a fairly lack-lustre last couple of rounds, Paul needed this confidence booster and indeed dropped only one set in those five rubber.
Having said that, he met with stern competition in Huseyin Ismail in the first round of singles, his three set win by no means a walk-over, Paul winning 13-11, 12-10, 12-10.  In the second round of singles he dropped a set to Rohan Reimers, 8-11, but apart from that was on top against Reimers taking the other three sets 4, 3 and 3.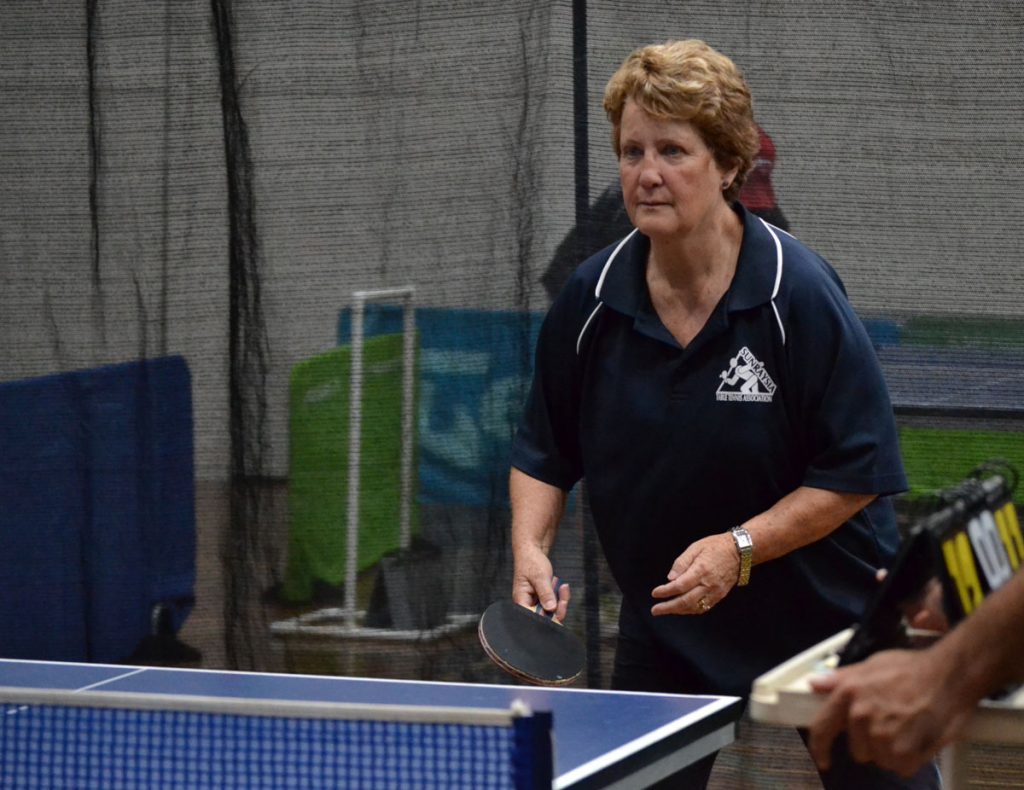 Paul was well backed up by Leonie Dunkley who took two rubbers – Dunkley now having defeated Weightmans Packaging captain John Fitzpatrick twice this season, this time coming from two sets to one down to win 9-11, 15-13, 4-11, 11-9, 11-6.  She, like her captain, worked hard against Ismail, defeating Huseyin in four sets 11-9, 11-6, 4-11, 13-11.
Sammy's Slammers win was made easier with both doubles rubbers going to them, both easy wins too, in just three sets.
Final scores:  7 rubbers to 4 and 23 games to 16.
PENNANT FOUR:

Both second MJM Automotive and third placed Mallee Meats were successful in round 8 action and with their second win in succession Mallee Meats have guaranteed themselves a berth in the finals which are fast approaching.

Top team Dunkley Scales enjoyed the bye this round which allowed Brice Lock, Luke Ljubic and the fast improving Isaiah Bettes to rest their niggles. 
– Mallee Meats 6 (Miya Lock 3, Dave Tanner 2) d Tankard Dental 5 (Paul Kerr 2, Shirley Whitecross, Kayla Bettes 1)
 This was a topsy turvy match and for a while it looked like the winless Tankard Dental were about to break through for their first victory however Mallee Meats Miya Lock had other ideas.
At one stage Tankards took a 4-2 lead however it was the excellent form of Miya who thwarted Tankards brave bid. In her first match Miya outlasted Shirley Whitecross to win 4-11 11-7 11-2 3-11 11-2.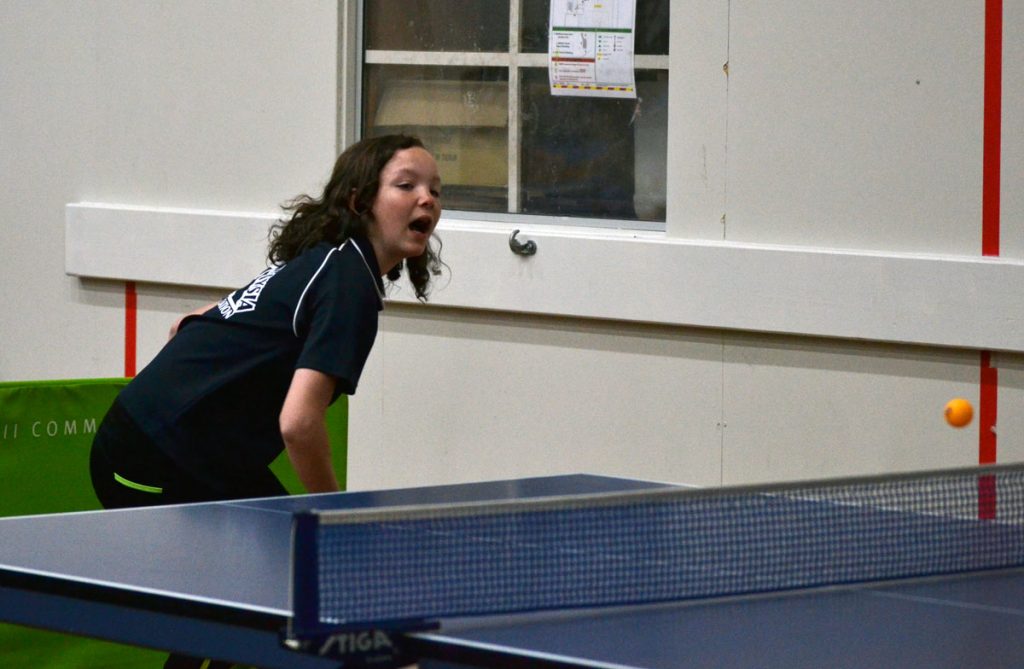 With her team down 2-4 Miya then defeated Kayla Bettes 12-14 11-5 11-8 11-4 and later in the match Mallee Meats were able to gather momentum and win four rubbers in succession, the fourth of these was a real nail biter as Miya and Paul Lock fought out an excellent five set tussle with Miya winning her third singles, the first time she has done this this season. The final score in Miya's favour was 3-11 11-9 11-8 7-11 11-9. Paul played well to win two singles as his team missed their first win by the barest margin.
Miya received good support from skipper Dave Tanner who won two singles as well as combining with Nathan Beard to grab a 10-12 11-7 9-11 11-5 14-12 victory over the hardworking Paul Kerr and Kayla Bettes – what a match!!!
A great fight by Tankards who were so close to their first victory however this solid win by Mallee Meats assured them a finals berth.
– MJM Automotive 7 (Matthew Cherry, Kim Avers 3)d Regional Taxation Services 4 (Matt Sires, Austinn Taylor, Casey Taplin 1)
With Matt Cherry and Kim Avers in control and winning three singles each MJM Automotive proved too strong for Regional Taxation Services winning 7-4. Kim and Matt also combined to win the first doubles to cap off a successful night. This was the second time Matt was able to win three singles for the season and he was able to win each in three sets.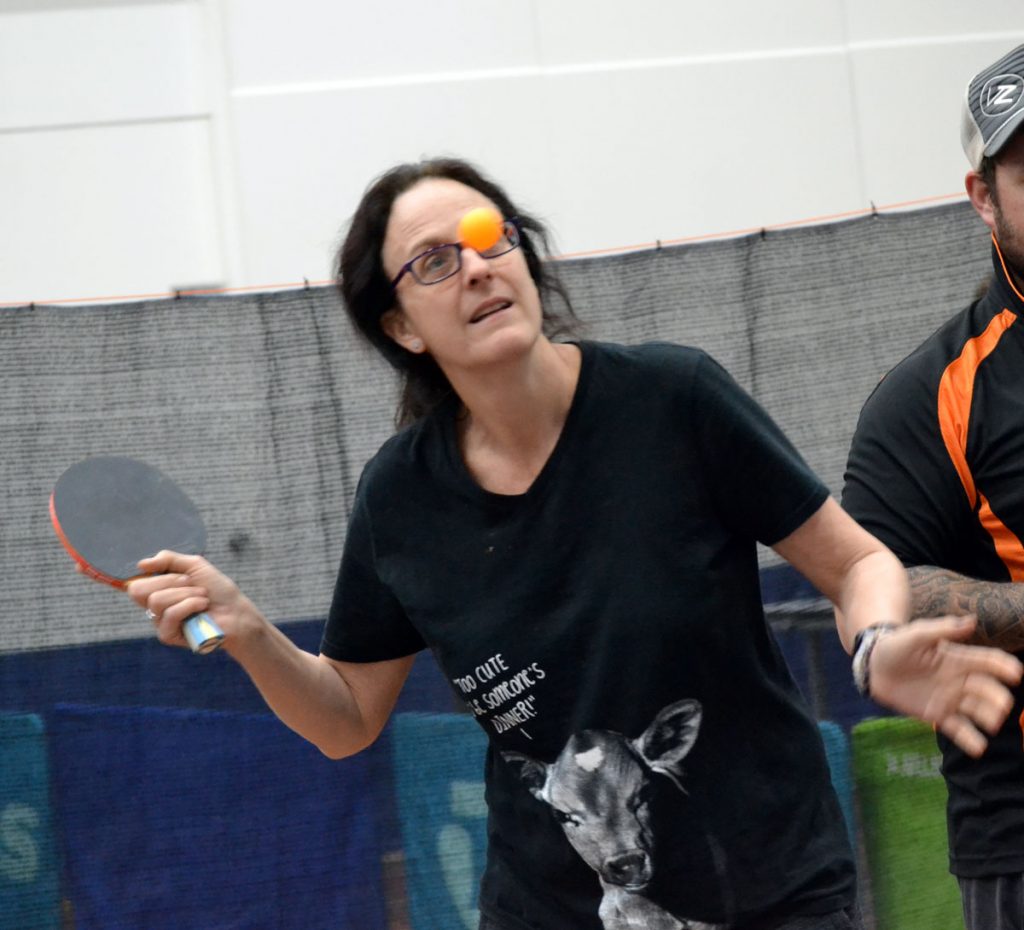 For Kim this was the fourth occasion that she had won three singles and the training she is doing is certainly paying dividends as she sits third on the singles aggregate.
For Regional Taxation Services Matt Sires and the improving Casey Taplin combined to win the second doubles 0n four sets over Matt and Laura Bettes. Matt, Casey and Austin Taylor each won a singles each and went down fighting.
In their first season of competitive table tennis the trio are showing good signs