Read Time:
16 Minute, 10 Second
PENNANT ONE:
Second placed Weightmans Packaging will contest the Sunraysia Table Tennis "Cash Converters" summer pennant Grand Final this week against fourth placed Exposed Signage/Apparel after both teams were successful in their elimination finals.
– Exposed Signage/Apparel 6 (Matt Avers 3, Kate Carmichael 2) d Regional Taxation Services (Gavin Carmichael 2, Matt Ljubic, Leon Brown 1)
In a topsy turvy season Exposed Signage/Apparel won their first three matches to head the ladder, they then proceeded to lose the next four before in the final round of a shortened season they dramatically won their final match 6-5 to stay in the four one rubber clear of Tankard Dental in an exciting climax to the season. In that match they looked down and out until
number three Lee Thomas played an outstanding match late in the contest to ensure her team the four points securing their first win in a month and fourth position on the ladder.
In the elimination final against Regional Taxation Services,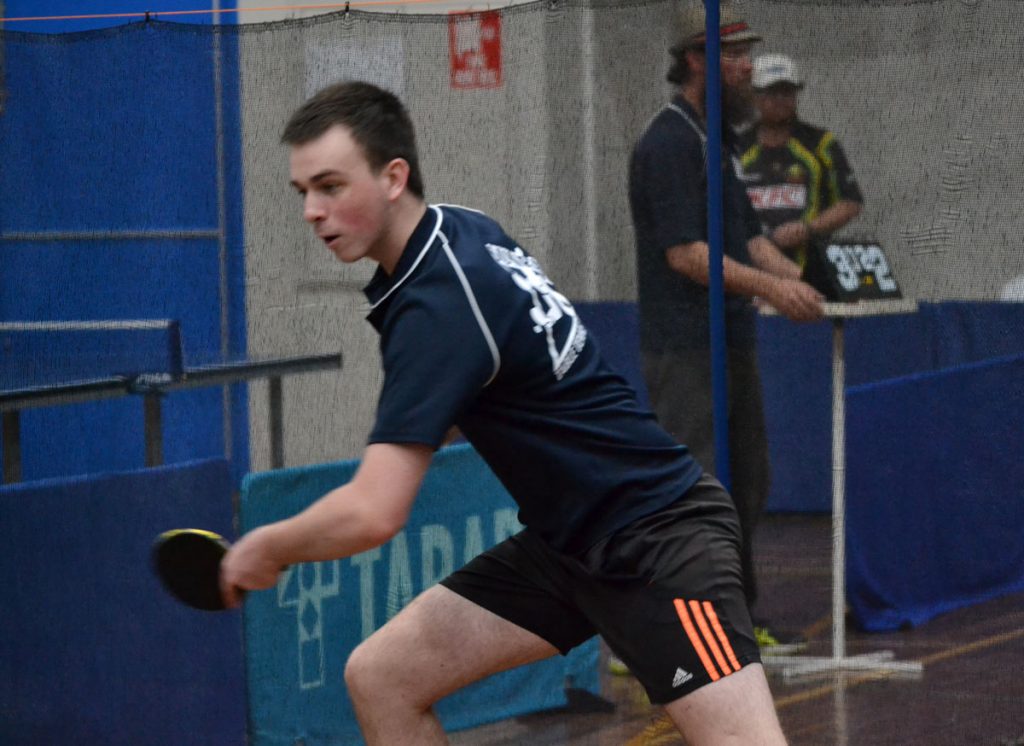 despite Matt Avers winning three singles again to remain undefeated throughout the season, it was again girl power which played a major role with Kate Carmichael displaying her best form of the pennant to win two singles for the first time. Her first match was exactly the result needed for her team when she outplayed Matt Ljubic in a high class four set match. Ljubic played many attacking forehands however Carmichael had her trade mark backhand working well to counter Ljubic.
Later when the match stood at five rubbers all Carmichael avenged an earlier season loss against Leon Brown winning in four sets to take her team to the grand final.
Another crucial result for the Exposed Signage combination was the second doubles when Matt Avers and Lee Thomas teamed up against Matt Ljubic and Leon Brown to win in five tense games 11-7 4-11 11-7 11-8 11-5. For Regional Taxation Services their season had been steady finishing on top by percentage in a close fought competition. On this occasion Gavin
Carmichael won two singles while Matt Ljubic and Leon Brown won one each. Ljubic and Carmichael continued their good form in the first doubles defeating Avers and Kate Carmichael in straight sets however RTS came up one rubber short.
– Weightmans Packaging 6 (Wayne Carmichael 3, Leslie Ncube 1) d Cash Converters 3 (Nicholas Dorman 2, Mark Ljubic 1)
Weightmans Packaging played solid table tennis to win their fifth match from their last six starts defeating Cash Converters 6-3. The Converters combination had an encouraging start winning two of the first three singles to take the ascendancy early however from here it was a struggle. Weightmans pair Wayne Carmichael and Leslie Ncube quickly levelled the match at two
rubbers all when they overpowered Nicholas Dorman and Michael Hogarth in impressive style 11-1 11-3 11-6 in a dominant display.
In the next singles Wayne Carmichael had a fight on his hands with Mark Ljubic applying the pressure however Carmichael was able to keep his nose in front in each of the three games to win 18-16 11-9 12-10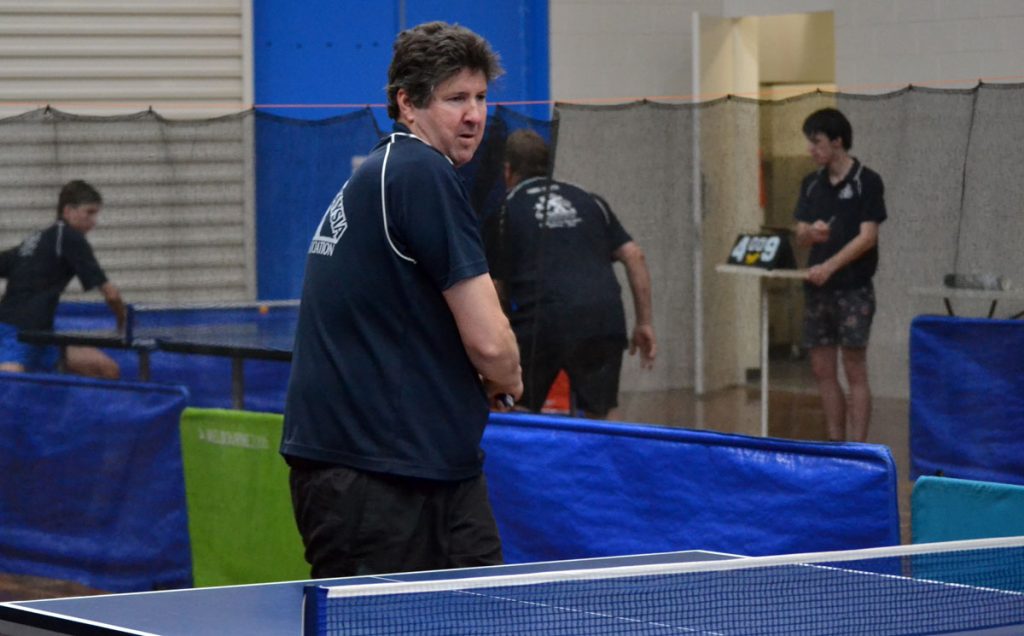 .Ljubic had been gallant in defeat however his team now trailed 2-3.
The next match was outstanding with Weightmans number three Bernadette Fitzpatrick out of the blocks quickly against opposing number one Nicholas Dorman. Fitzpatrick won the first two games with attacking forehands forcing errors from Dorman however he was able to lift and win the following two games before they headed to an exciting fifth. Fitzpatrick had been outstanding and raced to a 10-6 lead before spectators and team mates watched as Dorman made a spectacular comeback winning seven of the last eight points to win the match 7-11 11-13 11-8 11-4 13-11.
This had been an outstanding match between two young talented players.
Dorman had kept his team alive levelling the match at three rubbers all. The next match was also tipped to be close and that is how it panned out when Weightmans Leslie Ncube outlasted Michael Hogarth in another lengthy five setter 8-11 11-4 11-7 9-11 11-8.
Wayne Carmichael and Bernadette Fitzpatrick then combined in the second doubles to defeat Dorman and Mark Ljubic in straight sets and in doing so Weightmans now took a 5-3 lead. The two captains, Wayne Carmichael and Nicholas Dorman, then stepped up to the table and it was Wayne Carmichael with his third singles win of the night, this one in straight sets, that
took his side to a 6-3 victory and a berth in the grand final.
The scene is now set for a close grand final with Weightmans Packaging in good form looking to be the favourites however Exposed Signage/Apparel have started to fire at the right time of the season.
PENNANT TWO:

In the first Semi-Final, Minor Premiers Mallee Bearings eased their way into the Grand Final with an easy win against Max Miller Carpets, while in the second game, Pinnacle Packers downed Mallee Meats in a game which was a little closer.
– Mallee Bearings 6 (Terry Martin 3, Kevin Johns 2) d Max Miller Carpets 2 (Russell Walder, Quentin Clark 1)
About the only high spot for Max Miller Carpets in this game was when they led 1-0 after the first rubber when the two number three's met.  After losing the first set to Claire Ljubic,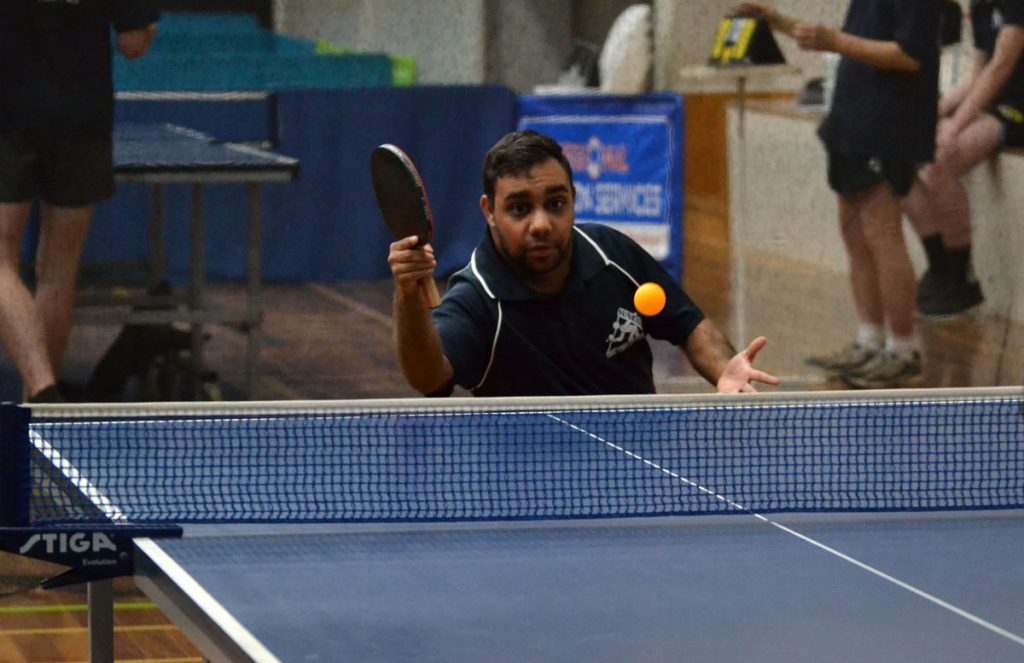 Quentin Clark quickly reasserted his authority on the game, going onto win 8-11, 11-7, 12-10, 11-6.
Mallee Bearings then peeled off the next four rubbers, Kevin Johns defeating Jason Gifkins in four sets; Terry Martin continuing his good form to account for Max Miller Carpets captain Russell Walder also in four sets 11-6, 11-6, 3-11, 14-12; Johns and Martin then taking the first doubles in a canter 0, 5 and 8 against Walder and Gifkins, with Johns taking his second singles win in the next rubber against Clark, who was showing a lot of fight, also in four 12-14, 11-8, 11-5, 11-6.
So trailing 1-4, Russell Walder's win against number three Claire Ljubic was a bit of a consolation prize, because next up Terry Martin met his opposite number Gifkins, and in probably the best game of the night took the win after dropping the first set 6-11.  The next three sets were won by the narrowest of margins, Gifkins missing out on each set, despite willing himself on.  Martin proved too good, winning 6-11, 11-9, 13-11, 19-17.
At some stage, and for reasons known only to the players, the tenth rubber was played at some stage during all those matches – Martin against Quentin Clark.  Martin had little trouble against the plucky Clark winning in three 8, 8 and 5.
So that made the score 6 rubbers to 2, in what had been a very one-sided affair.  Mallee Bearings won't have it so easy next week when they meet Pinnacle Packers in the Grand Final.
Final scores:  6 rubbers to 2 and 19 games to 10.
– Pinnacle Packers 6 (Ashley Morrison 3, Brendan Alderton, Seval Fuat 1) d Mallee Meats 5 (Peter Midgley, Geoff Peters 2)
The last time these two sides met, in round 7, Pinnacle Packers thrashed Mallee Meats 10 rubbers to 1.
That score was not repeated here, however, Pinnacle Packers Seval Fuat almost caused an upset in his clash with Mallee Meats Peter Midgley.
Prior to that clash, however, rubbers had gone as expected; Pinnacle Packers picking wins courtesy of Ash Morrison against Peter Fitzpatrick, Morrison and Brendan Alderton playing a steadier game in the first doubles, than the pairing of Midgley and Geoff Peters winning 12-10, 11-8, 11-9; and Morrison taking a second singles win, this time against Peters.
For Mallee Meats Peters had accounted for Seval Fuat in four sets 5-11, 12-10, 11-6, 11-9; and Peter Midgley had little trouble against Brendan Alderton winning 4, 5 and 5.
So, leading 3 rubbers to 2, Pinnacle Packers number three Seval Fuat met Mallee Meats captain Peter Midgley in rubber number 6.  In that last meeting Fuat had, like team-mates, won three singles, including a four set victory against his opponent here, Midgley.  Fuat believed he could do it again, and very nearly did.  He had plenty of opportunities in both the fourth and fifth sets, leading 10-7 in the fourth and 10-6 in the fifth, however Midgley scrambled back on both occasions to deny Fuat the win.  Midgley won 9-11, 11-6, 10-12, 12-10, 14-12.
So, instead of Pinnacle Packers leading 4 rubbers to 2, the score was 3-3, and Mallee Meats were still in the hunt.
Brendan Alderton made it 4-3 with a comfortable win against Fitzpatrick; then Midgley and Fitzpatrick squared things up again with a confident four set victory against Morrison and would-be giant-killer Fuat.
Midgley and Morrison met in rubber number nine, and in a great exhibition,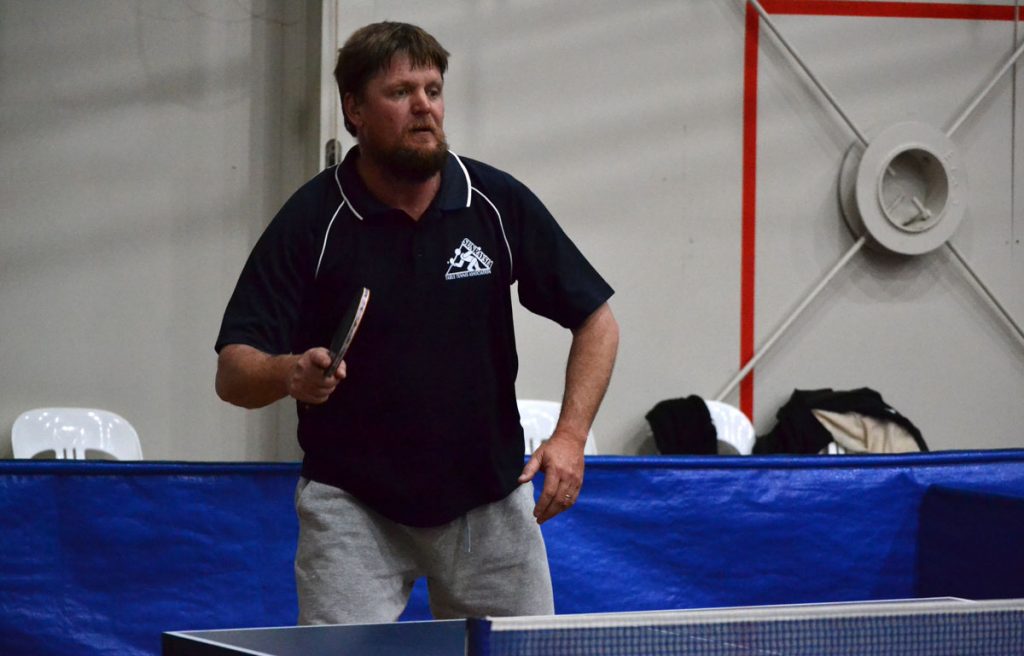 Morrison downed Midgley in five sets, coming back from 2 sets to 1 down.
Geoff Peters accounted for Alderton in three sets to make it five rubbers all, with Fuat and Fitzpatrick to play the decider.  After narrowly missing those opportunities to defeat Midgley earlier, Fuat made no mistake in this game, and had little trouble against his opponent, to give his side the win, 6 rubbers to 5.
Final scores:  6 rubbers to 5 and 22 games to 19.
PENNANT THREE:

Weightmans Packaging stormed into the Grand Final with an impressive 6-1 win against Regional Taxation Services; while Dunkley Scales played a smart game against MJM Automotive to secure the second berth.
– Weightmans Packaging 6 (Mark Kerr, Ryan Hensgen 2, Arnold Jago 1) d Regional Taxation Services 1 (Jeremy Corrin 1)
Weightmans Packaging seem to have kept their best til last, in this game showing why they ended the season on top of the ladder.
After taking the first rubber, Regional Taxation Services then proceeded to lose the next six to concede defeat very early in the night.
Regional Taxation Services captain Jeremy Corrin took a fighting win against Arnold Jago in that first rubber, finishing the stronger at the end of five sets.  Jeremy won 11-13, 14-12, 11-13, 11-8, 11-7.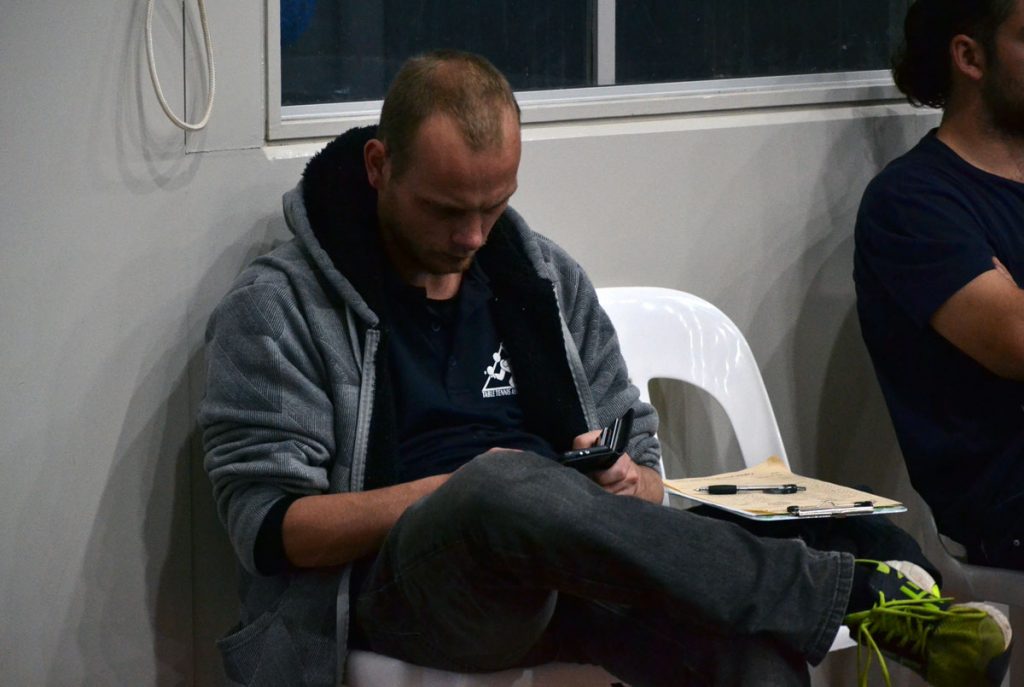 Disappointingly for Corrin, his team could not keep any pressure on their opponents from then on, as all the subsequent rubbers were finished in either four or three sets.
But of course, that is to ignore just how well Weightmans played.  Mark Kerr was very careful in his four set win against Huseyin Ismail; then Ryan Hensgen showed how much he has improved with his win against Karly Leach also in four sets.
Kerr and Jago were too good for Corrin and Ismail in the doubles, winning 9, 7 and 8; Kerr followed that win with another against Corrin.  While Jeremy was playing his explosive style of game, Kerr adopted his usual conservative approach, and it proved the way to go – he won 11-7, 9-11, 11-6, 11-2 as Corrin became more erratic.
Karly Leach once against proved a difficult nut to crack – Jago needing four sets and five sets worth of patience to get the better of Karly.  Arnold won 11-7, 11-4, 8-11, 13-11.
At 5-1, Hensgen and Ismail met and once again Hensgen proved his worth, with a three set win 9, 8 and 8 to close the game out for his team.
Final scores:  6 rubbers to 1 and 20 games to 7.
– Dunkley Scales 6 (Rachel Fitzpatrick, John Fitzpatrick, Sabrina Fitzpatrick 2) d MJM Automotive 5 (Thanh Nyugen 3)
Thanh Nguyen has loomed large in this pennant this season, and has managed to carry his team to wins on most occasions.  In this game he did as much as he could, but Dunkley Scales, aka Team Fitzpatrick, were unperturbed, as they had their own game plan.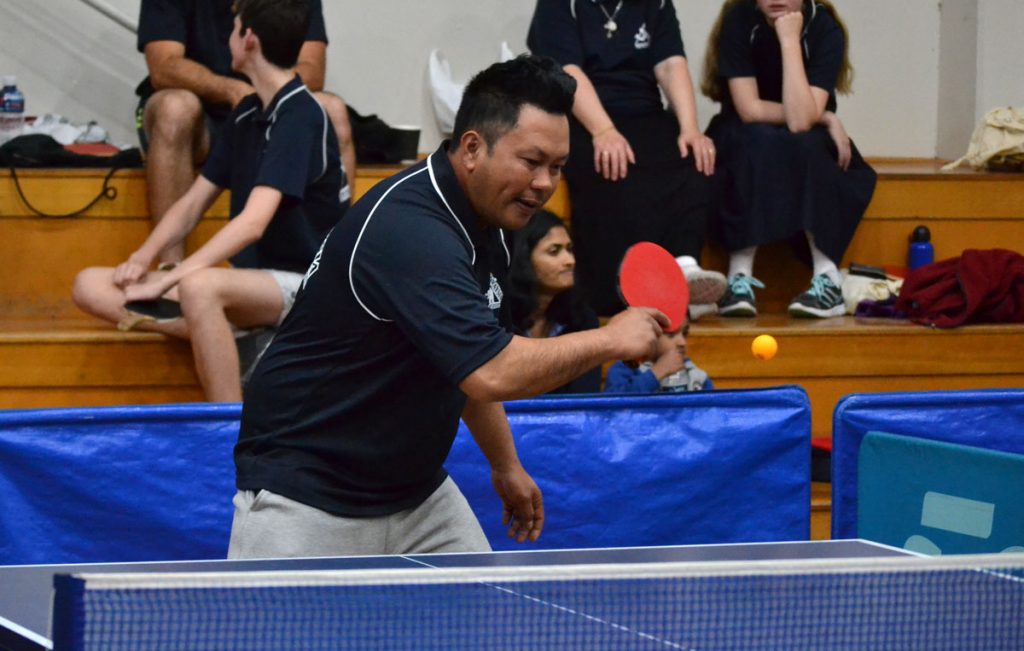 Nguyen was undefeated all night, winning his three singles with the loss of just one set (to Sabrina).  With David Sergi he won the first doubles against youngsters Rachel and John 11-5, 6-11, 11-4, 11-8 and in the second doubles, an easier win with Nick Kiapekos against Rachel and Sabrina 6, 8 and 7.
Whilst Dunkley Scales did not simply concede those rubbers (they knew it was going to be very difficult to win them), they honed in on Nguyen's team-mates, David Sergi and Nick Kiapekos.
And ultimately their plan of attack worked.  The three Fitzy's all took two rubbers, all defeating Sergi and Kiapekos.
That's not to say it was easy … far from it.
In the first round of singles, Sabrina downed David Sergi in three sets; Rachel trailed Nick Kiapekos 2-1 and had to play her best table tennis to escape, eventually winning 7-11, 11-5, 12-14, 11-6, 11-4.
In round two, David Sergi, having a very quiet night, then fell to Rachel, who like her mother downed David in three sets.  John had an easier time against Nick than Rachel did, winning 7, 5 and 6.
So after, rubber number nine, Team Fitzpatrick trailed 4-5, with John to play David and Sabrina up against Nick.  Had they lost either of those rubbers, MJM Automotive would progress to the Grand Final.
In the event, Sergi finally got going and duked it out with the youngest Fitzpatrick, losing after five sets, John winning 11-6, 7-11, 11-8, 8-11, 11-8 in a very tight game.
Sabrina saw her side safely home with a win against Kiapekos.  Nick could not reproduce his earlier good form, but still took a set; Sabrina winning 7-11, 15-13, 11-5, 11-4.
This was a true finals match, the prospect of defeat for Dunkley Scales very close at times, and the chance of winning just as close for MJM Automotive, who although ultimately unsuccessful gave a great account of themselves.
Final scores:  6 rubbers to 5 and 20 games all.
PENNANT FOUR:

Despite game efforts by both Regional Taxation Services and Weightmans Packaging in the elimination finals it was the top two teams Mallee Meats and Tankard Dental who were successful and will now play off in what is expected to be a nail biter and a match up well worth watching.
– Mallee Meats 6 (Tom Morrison 3, Dave Tanner 2) d Regional Taxation Services 3 (Kim Avers, Sarah Hogarth 1)
It was an encouraging start by RTS number two Sarah Hogarth who defeated Tom Cooper 11-8 11-9 6-11 11-9 in the first match of the night however their joy was short lived as Mallee Meats then proceeded to win five of the next six matches to take total control. In the second and third singles Tom Morrison and Dave Tanner defeated Jacinta Ljubic and Kim Avers respectively and Mallee Meats took a 2-1 lead.
Morrison and Tanner then combined to win the first doubles 11-7 11-3 11-8 against Kim Avers and Sarah Hogarth for Mallee Meats to now lead 3-1.
The next singles featured Tom Morrison against Sarah Hogarth and the first two games were close all the way with both players winning one each narrowly. From here Morrison then took control to go on and win 10-12 11-9 11-4 11-3. Mallee Meats now took a 4-1 lead.
Regional Taxation Services skipper Kim Avers after dropping the first game against Tom Cooper stood up when needed and went on to win 6-11 12-10 11-6 11-3 to reduce the deficit to 2-4. Avers team mate Jacinta Ljubic then gave her all in an attempt to upset the consistent Dave Tanner. In three of the four games she scored 11, 11 and 13 but amazingly won only one of these. Dave proved too steady winning 13-11 11-7 8-11 15-13 in a hard fought contest.
With the match on the line Kim and Jacinta combined to win the second doubles 11-8 13-11 5-11 17-15 in yet another top quality match against the two Tom's Morrison and Cooper. Could Regional Taxation Services claw their way back further? They now trailed 3-5.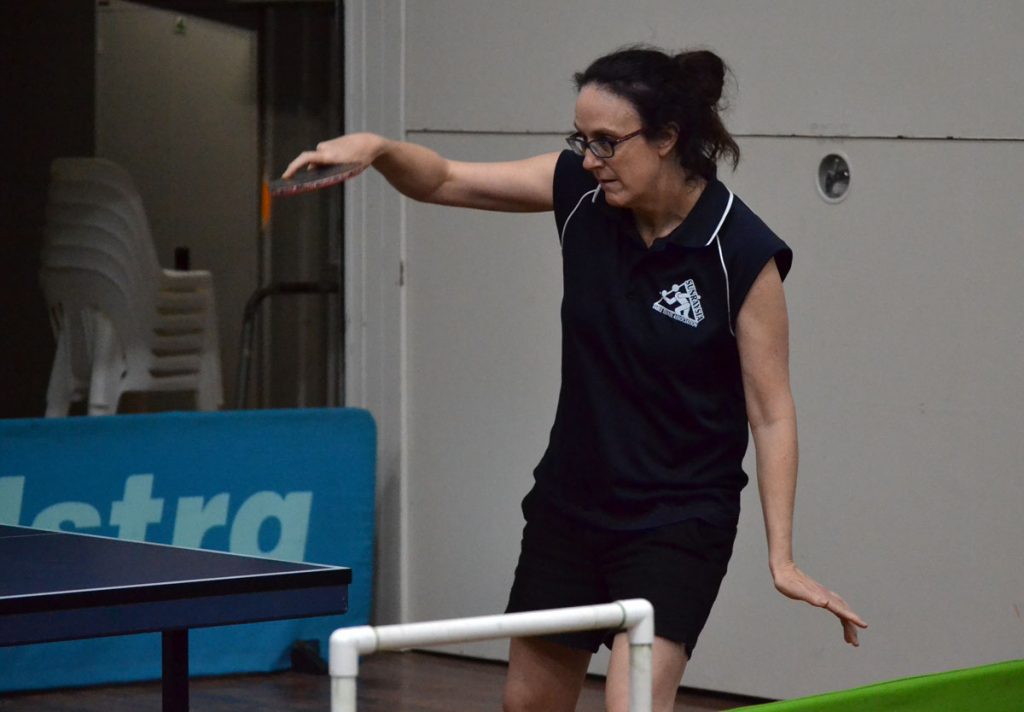 Kim Avers was desperate to keep her team afloat and again as she did in the doubles she played inspiring table tennis to take a two game to one lead against the joint singles aggregate winner Tom Morrison before going down narrowly 14-12 in the fourth. Tom had levelled the match in a good fight back, he then took control in the fifth to win 8-11 11-5 9-11 14-12 11-5 and in doing so booked a berth for his team Mallee Meats in the grand final.
For the victors Tom Morrison had continued his excellent season winning three singles whilst reliable team mate Dave Tanner tasted success on two occasions. They had also combined to win the first doubles.
One could only feel had RTS won one more match earlier they may have been able to make up ground late but it was not to be. Both Kim Avers and Sarah Hogarth won one singles each.
– Tankard Dental 6 (Peter Lock 3, Ben Hosking 1) d Weightmans Packaging 4 (Therese Fitzpatrick, Brice Lock 2)
In what was a family affair consisting of three Lock's father Peter up against Son and daughter Brice and Miya it was second placed Tankard Dental who advanced to the grand final with a solid 6-4 win over the hard working Weightmans Packaging.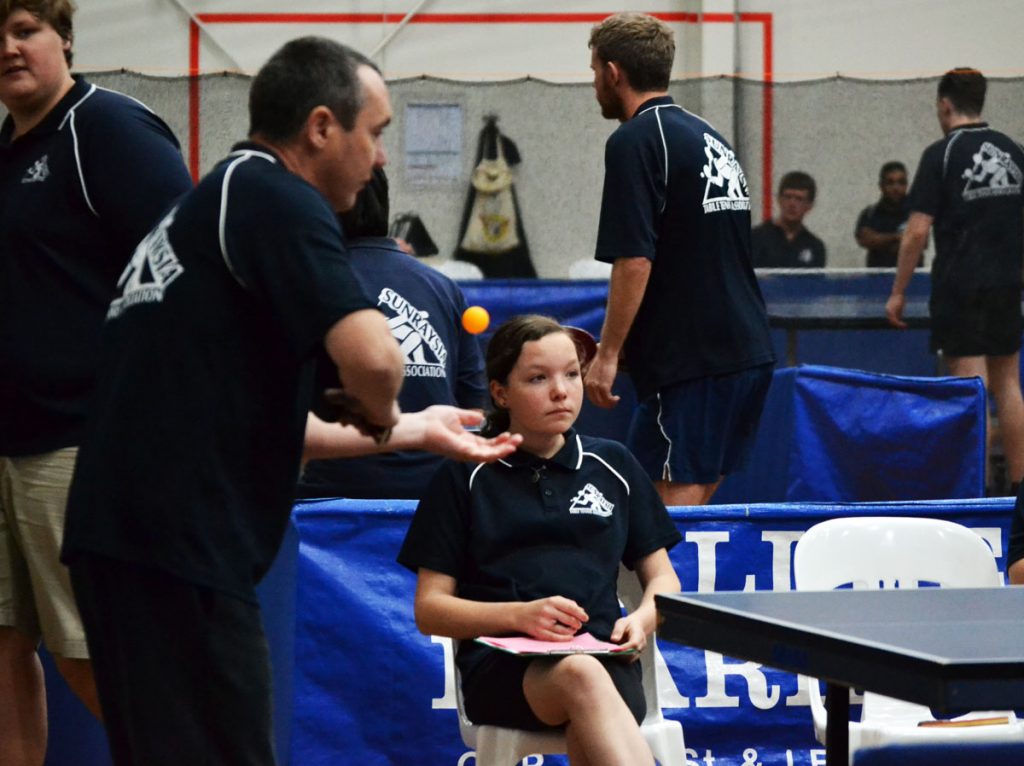 The dominant player was Peter Lock for Tankards who won three singles as well as the first doubles in partnership with skipper Ben Hosking. Early in the match Tankards took a 3-1 lead before Weightmans steadied to level the match at three rubber all. At this point Peter defeated Miya in straight sets to enable his team to lead 4-3.
The second doubles was crucial and Tankards Ben Hosking and Luke Ljubic proved too consistent, just, for Therese Fitzpatrick and Miya Lock to win 13-11 8-11 11-4 15-13. Tankards now took a 5-3 lead.
The two captains Tankards Hosking and Weightmans Therese Fitzpatrick stepped up to the table and the fast improving Therese took the points 10-12 11-8 11-7 11-5 in convincing style to have her team trail 4-5. The next match featured Peter Lock against his son Brice who at their last meeting had defeated his father. This match went to four and it was the inform Peter who was successful on this occasion 11-6 12-10 8-11 11-5. This win was Peter's third in a successful night for him, team mate Ben Hosking won one singles while their team won both doubles.
Weightmans had tried hard with both Therese and Brice winning two singles each and both having good seasons. Therese was joint winner of the singles while Brice had shown excellent form in the latter stages of the season.