Read Time:
14 Minute, 28 Second
PENNANT ONE:
Losses to the two top teams was the feature of round four results in the Sunraysia Table Tennis "Cash Converters" summer pennant last week.

Victories to third, fourth and fifth teams on the ladder has evened the competition. Exposed Signage who suffered their first defeat of the season remain at the head of the ladder with three wins only four points clear of the teams positioned second to fifth on the ladder.
– Weightmans Packaging 7 (Wayne Carmichael, Leslie Ncube, Bernadette Fitzpatrick 2) d Exposed Signage/ Apparel 4 (M Avers 3)
Fourth placed Weightmans Packaging proved too good for the ladder leaders Exposed Signage with a 7-4 victory despite Matt Avers winning three singles. His match against Wayne Carmichael was a real highlight and went to five sets.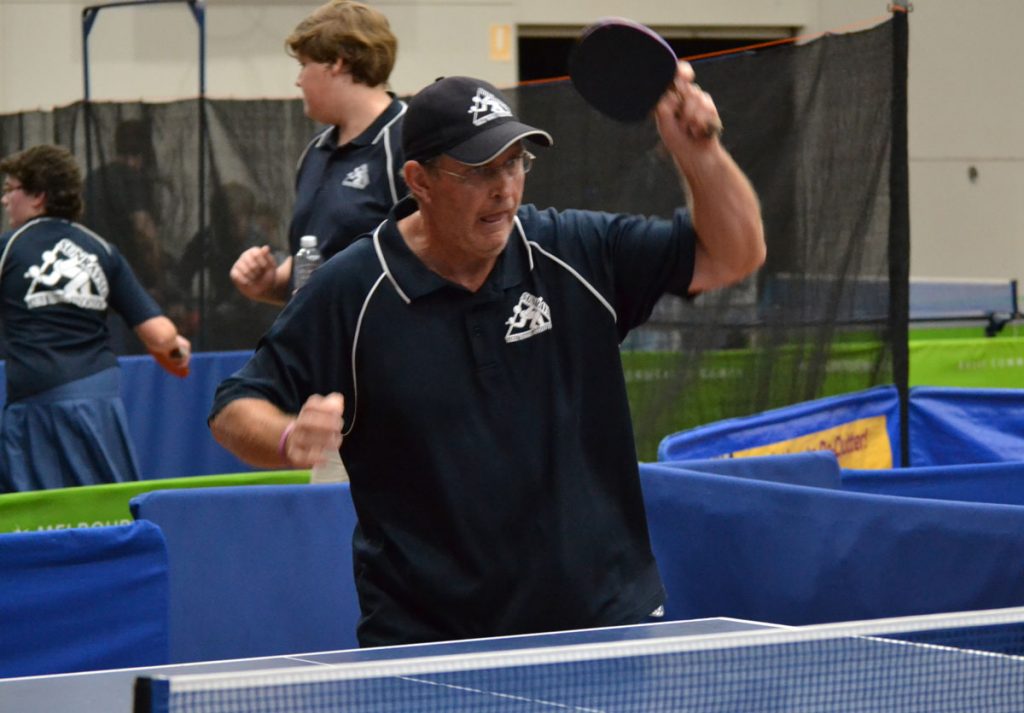 Carmichael took a two games to one lead early, Avers fought back to win the fourth comfortably and the fifth was even with Avers winning 11-9 in what had been a top class contest between the two talented lefties.
Weightmans was an even team performance with Carmichael, Leslie Ncube and Bernadette Fitzpatrick all winning two singles while Carmichael and Ncube combined to win the first doubles against Avers and Reece Kurrle. This was Fitzpatrick's best form for the season winning two singles against the talented Lee Thomas in straight sets and then late in the contest she defeated Reece Kurrle in another impressive straight set victory. She had proven to be a match winner for her team in an important victory keeping them in touch of their opponents and well placed on the ladder.
– Tankard Dental 7 (Andrew Cannard, Darren Robinson, Shane Carmichael 2) d Mallee Bearings 4 (Shannon Bowen 3)
After losing in the first two rounds Tankard Dental with two wins in the past two rounds have now bounced into calculations to play finals. In this round they defeated Mallee Bearings 7-4 in an even display with Andrew Cannard, Darren Robinson and Shane Carmichael all winning two singles.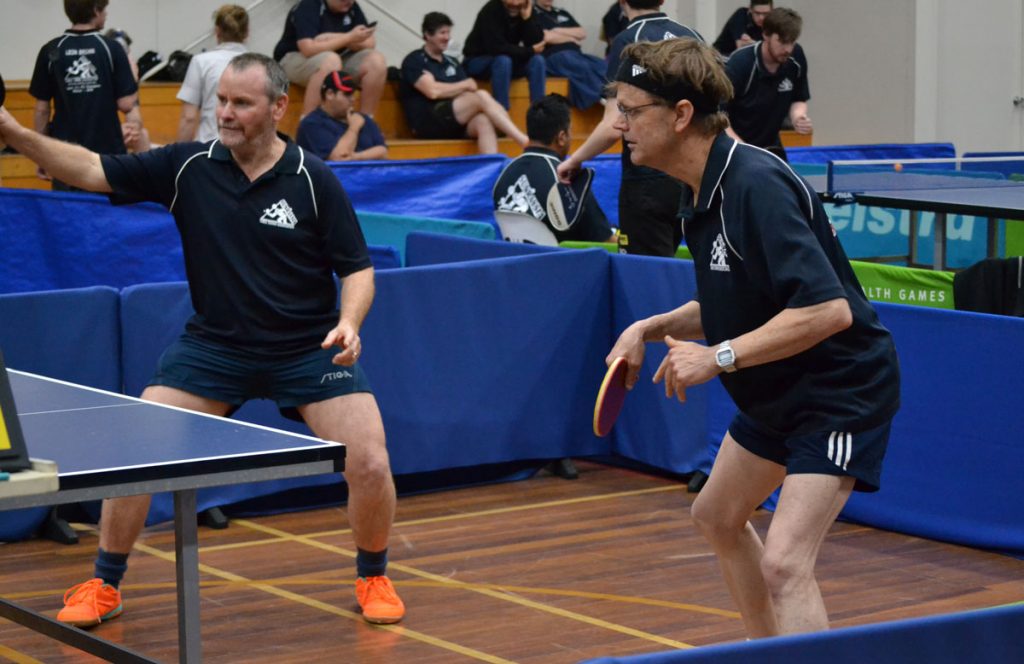 Cannard and Robinson also combined to win the first doubles.
For Mallee Bearings Shannon Bowen continued his good form winning three singles. His match against Robinson was a highlight and went to five with Bowen winning 4-11 11-4 11-6 8-11 11-7.
– Regional Taxation Services 8 (Gavin Carmichael 3, Matt Ljubic 2, Leon Brown 1) d Cash Converters 3 (Nicholas Dorman 2, Mark Ljubic 1)
Regional Taxation Services found their best form for the season with an 8-3 victory over second placed Cash Converters in what was a high class contest. For RTS
it was an impressive team effort with Gavin Carmichael winning three singles while Matt Ljubic and Leon Brown won two and one singles respectively. Victory in both doubles also made it a bigger percentage win in a close competition.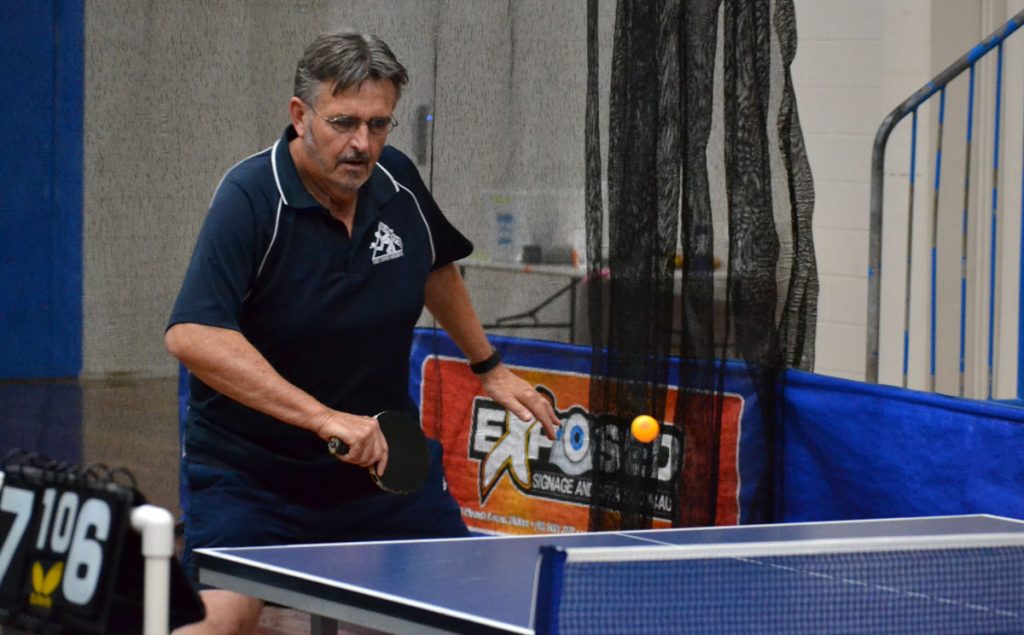 The best match of the night between these two teams took place when Gavin Carmichael and Nicholas Dorman matched up against each other. Dorman with outstanding power was dangerous all the way and it was probably only Carmichael's experience which kept him in the match and he was able to eventually claw his way back to win 7-11 11-3 8-11 11-8 11-8.
PENNANT TWO:
Pinnacle Packers take their first win for the season; Thanh Nguyen helps Mallee Meats to a solid 7-4 win, and Mallee Bearings just scrape home against Weightmans Packaging.
– Pinnacle Packers 8 (Ashley Morrison 3, Andrew Jones 2, Seval Fuat 1) d MJM Automotive 3 (Arthur Paar 2, Michael Hensgen 1)
Up until this game Ashley Morrison has not had his graded team-mates play, they being absent for various reasons.  This round, number three Seval Fuat returned, and earned his keep with a win in the singles, and with Morrison, the first doubles.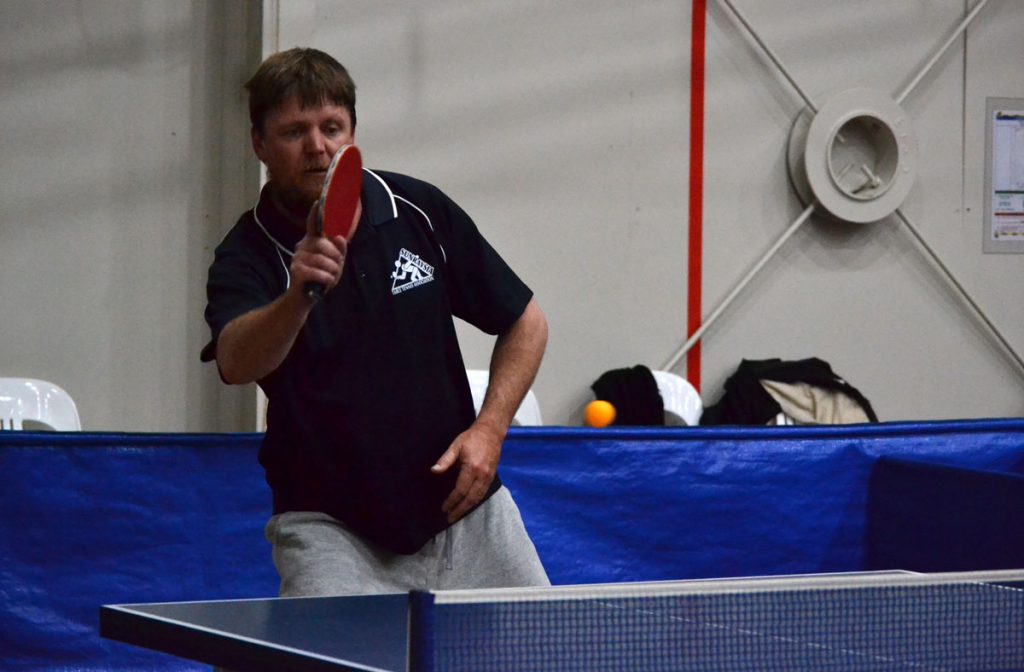 Morrison, too, enjoyed a good night.  He did not "wipe the floor" against the MJM Automotive trio, but he came away with three wins.  MJM's number three Michael Hensgen kept Morrison honest, losing 10, 8 and 8.  Zac Healy took a set from Morrison, and in the final round of singles, Arthur Paar took the first set 11-7, but Morrison took the crucial break points in the next three sets that followed, winning them 12-10, 11-8, 12-10.
Pinnacle Packers took both doubles rubbers too.  Morrison and Fuat took a commanding early lead 11-4, 11-6 in the first rubber, against Paar and Healy who played a solid third set to take it 11-8, and just failed to take the game to the fifth, losing the fourth 17-15.  The second doubles between Morrison and Andrew Jones went the full five sets against Healy and Hensgen, and in this game the Pinnacle Packers players survived 11-5, 7-11, 11-9, 11-13, 11-9 against this rapidly improving pair.
Andrew Jones flew under the radar to contribute two valuable rubbers to the score.  He downed Michael Hensgen by the barest of margins 12-10, 11-13, 11-9, 13-11, and later had to play a bit more aggressively against Zac Healy to down him 12-10, 10-12, 6-11, 11-5, 11-6.
Final scores:  8 rubbers to 3 and 25 games to 17.
– Mallee Meats 7 (Thahn Nguyen 3, Geoff Peters 2, Peter Fitzpatrick 1) d Max Miller Carpets 4 (Jason Gifkins 2, Russell Walder 1)
Captain of Mallee Meats Peter Midgley was absent this round, with Thanh Nguyen doing double-duty from his regular game in Pennant Three.
He proved a capable fill-in, taking three singles against the Max Miller Carpets trio of Russell Walder, Jason Gifkins and Quentin Clark.
Walder and Gifkins are fairly closely matched performance-wise, and Nguyen had his work cut out getting wins against them.  To underline that point, they both took Nguyen to five sets, before losing – Walder going down 6-11, 11-8, 4-11, 14-12, 5-11 and Gifkins losing 11-9, 10-12, 5-11, 11-7, 5-11.  Nguyen inflicted a second defeat on these two in the first doubles, when with Geoff Peters they took out a five set match.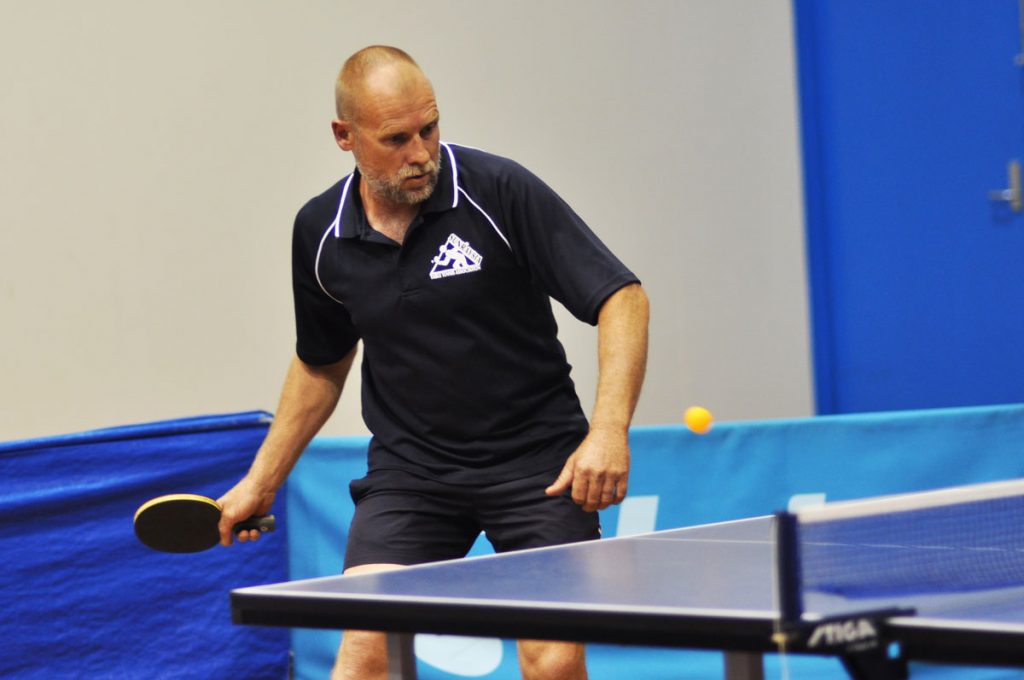 With Geoff Peters picking up wins against Walder and Quentin Clark, both in five, and Peter Fitzpatrick one, Mallee Meats scored a solid 7-4 win against this side.
For Max Miller Carpets, Gifkins took two singles rubbers, Walder one, and Gifkins and Clark the second doubles against Peters and Fitzpatrick.
Final scores:  7 rubbers to 4 and 23 games to 22.
– Mallee Bearings 6 (Kevin Johns 2, Terry Martin, Claire Ljubic 1) d Weightmans Packaging 5(Jackson Murphy 3, Tony Malycha 2)
 Weightmans Packaging almost inflicted the first defeat of the season on Mallee Bearings in this match.
With captain Jackson Murphy taking three singles, and number two Tony Malycha contributing two, Weightmans Packaging came as close as you can to winning, without actually doing it.
Two rubbers escaped them, either of which would have won them this round four contest.
Games had gone as expected, the first doubles being a four set Mallee Bearings benefit.  So when the second doubles rolled around with Mallee Bearings leading 4-3, Weightmans Packaging knew they needed a win to really keep themselves in the hunt.  And although Murphy and Paul Fitzpatrick led two sets to one, Kevin Johns and Claire Ljubic finished full of running to take the last two sets 5 and 5.
That made the score 5-3, with three to play.  Murphy accounted for Johns in an excellent five set display 12-10, 4-11, 12-10, 7-11, 11-8.  Then Tony Malycha played his best game of the season so far, downing Terry Martin in four sets, and so it was left to Paul Fitzpatrick to win the game for Weightmans.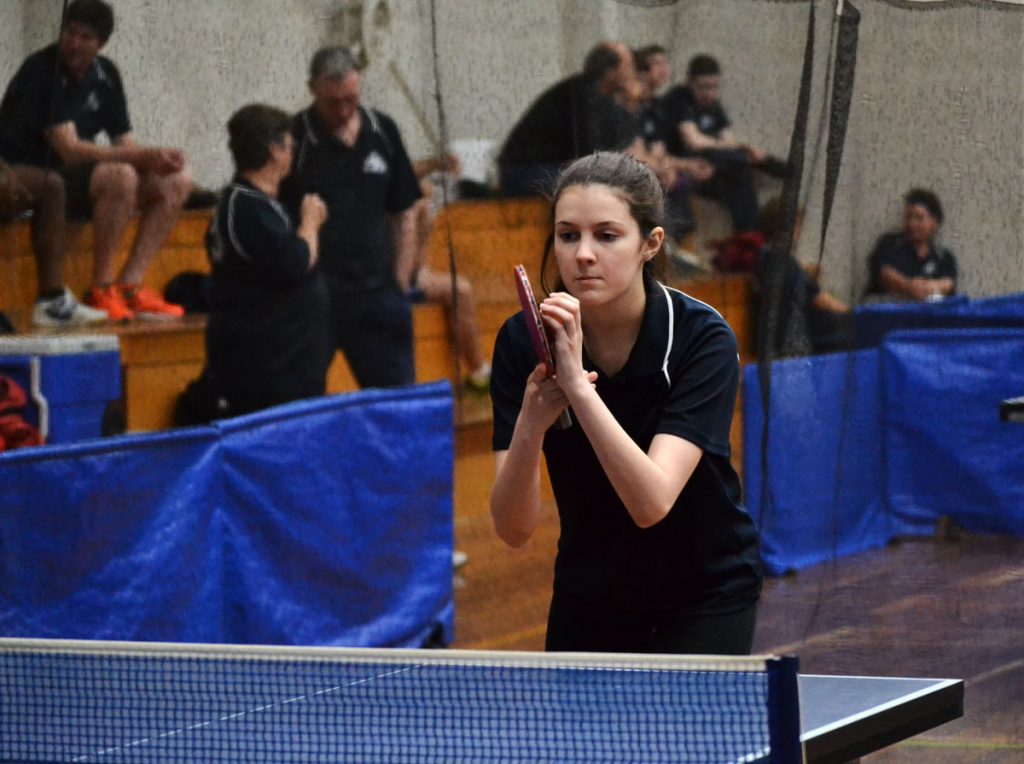 Of course Claire Ljubic was just as determined to win the game for Mallee Bearings, and the pair of them put on a great display of tense table tennis.  Claire won the contest in five sets 13-11, 9-11, 3-11, 13-11, 11-5 and to show how close it was, they both won 49 points.
So final scores:  6 games to 5 and once again, 21 games all !!
PENNANT THREE:
Dunkley Scales toppled ladder leaders Regional Taxation Services in this round; in the Weightmans Packaging – Mallee Meats clash, the doubles decided the victor; and MJM Automotive needed Thanh Nguyen to work his magic to get them home against Tankard Dental.
– Dunkley Scales 7 (John Fitzpatrick, Sabrina Fitzpatrick 3) d Regional Taxation Services 4 (Jeremy Corrin, Husseyin Ismail, Karly Leach 1)
Even though Dunkley Scales captain Rachel Fitzpatrick failed to take a singles win in this clash with ladder leaders Regional Taxation Services, her brother John and mother Sabrina each had a great night, taking three each, setting the side up for victory.
Going into this game, Regional Taxation Services captain Jeremy Corrin had dropped just one singles game, winning 8 out of a possible 9, but that record was dented here, Corrin being restricted to just one win.
After a first close set 12-10 against Karly Leach, John Fitzpatrick dominated the rest of that clash, taking the second and third sets 11-4, 11-4.  His second round meeting with Husseyin Ismail was little different, John conceding just 18 points again on his way to an 11-8, 11-5, 11-5 win.
The real test of course was against Corrin, and here the youngster battled from start to finish.  Although 2 sets to 1 down after three sets, Fitzpatrick evened the score 11-5 in the fourth, and edged Corrin out in the fifth 12-10.  An interesting stat – John won 51 points to Jeremy's 41, a fair indication of John's never-say-die attitude.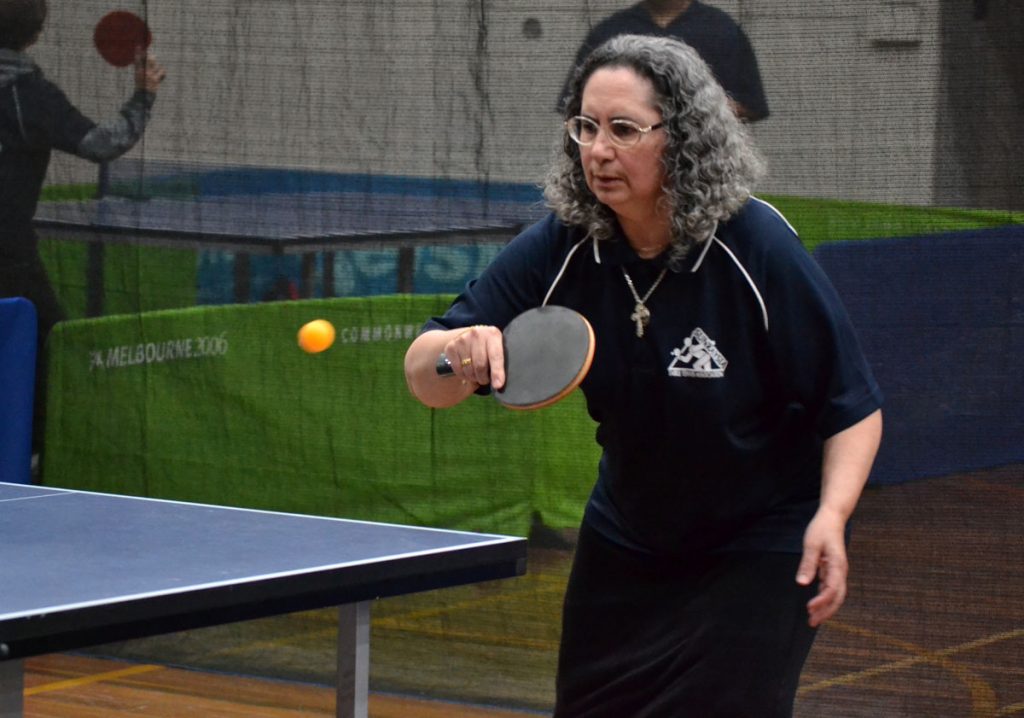 Sabrina, too took three.  She downed Jeremy in the first rubber 11-6, 9-11, 11-9, 11-9 in a close contest.  Her game against Karly Leach was also four sets, but the margins a little wider, and in the final round of singles, Ismail could not prevent Sabrina running out the winner in three sets.
The seventh rubber for Dunkley Scales came in the first doubles – Rachel and John much too good for Corrin and Ismail, winning 9, 2 and 8.  The second doubles was a much closer affair – Rachel and Sabrina led 11-5, 6-11, 13-11, but could not close the match out, Corrin and Leach taking the last two sets 8 and 8.
So, as well as being defeated here, Regional Taxation Services also fell to second spot on the ladder, although equal on wins with Weightmans Packaging, and Dunkley Scales, who are now third.
Final scores:  7 rubbers to 4 and 27 games to 16.
– Weightmans Packaging 7 (Mark Kerr, Arnold Jago2, Ryan Hensgen 1) d Mallee Meats 4 (Cambell McKenzie 2, Marcus Cimino, Helen Frania 1)
In a steady performance, Weightmans Packaging took the win against Mallee Meats.
All players in this game took a singles win, and significantly, no player remained undefeated.
Weightmans Packaging captain Mark Kerr took two wins, losing only the "captains game", when Cambell McKenzie proved too strong. 
Arnold Jago took two too, downing McKenzie in a lengthy five setter, but later losing to Mallee Meats number three Helen Frania 11-9 in the fifth set of that match.
That was four rubbers for Weightmans, and the thing that really hurt Mallee Meats was their inability to take either doubles rubber.  Kerr and Jago, after losing the first set 7-11 to McKenzie and Marcus Cimino, showed their greater experience to hold the Mallee Meats pair at arm's length for the remainder of the rubber, taking the next three sets, 11-7, 13-11, 12-10.  In the second doubles, Kerr and Ryan Hensgen had things pretty much their own way, downing McKenzie and Frania 11-9, 11-4, 6-11, 11-6.
For Mallee Meats, McKenzie took two rubbers – defeating Ryan Hensgen and Mark Kerr, but losing to Jago, and Cimino and Frania took one each, defeating Hensgen and Jago respectively.
Final scores:  7 rubbers to 4 and 25 games to 18.
– MJM Automotive 6 (Thahn Nguyen 3, David Sergi 1) d Tankard Dental 5 (Rohan Reimers, Leonie Dunkley 2, Sam Hensgen 1)
In the closest game of the round, MJM Automotive snuck home against Tankard Dental, in a game where Thanh Nguyen was called upon to work his magic at every turn.
Nguyen had little trouble winning his singles rubbers; he only dropped one set on his way to another perfect score that sees him the only undefeated player in this grade.
Where he really earned his money though, was in the doubles.  He and David Sergi took the first doubles rubber against Sam Hensgen and Rohan Reimers after five close sets: 11-8, 9-11, 11-9, 9-11, 11-9.  Later, Thanh and Nick Kiapekos had to recover from two sets to love down to win against Hensgen and Leonie Dunkley 6-11, 7-11, 11-9, 11-7, 11-7, to push the score out to 5-3 at that point.  Had Tankard Dental won either of those doubles rubbers, they would have taken the match, as they won five singles rubbers, to MJM Automotive's four.
Tankard Dental captain Sam Hensgen had a quiet night taking just one singles rubber,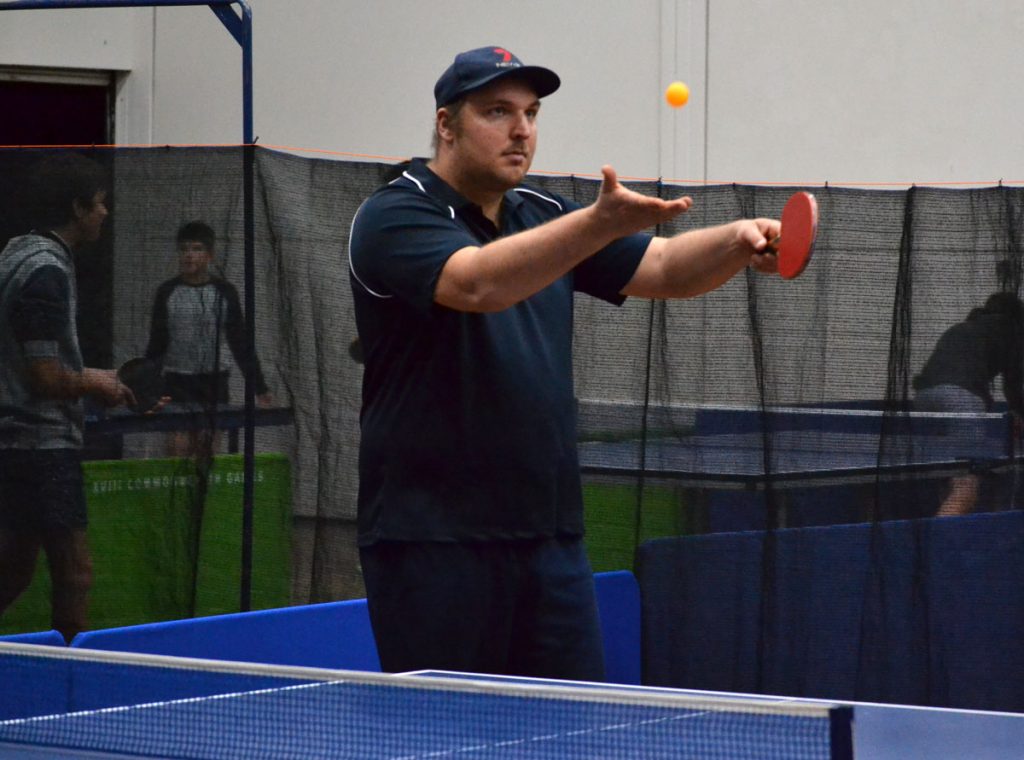 while his team-mates Rohan Reimers and Leonie Dunkley took two each.
Final scores:  6 rubbers to 5 and 26 games to 21.
PENNANT FOUR:
Mallee Meats won their fourth match of the season to be the only undefeated team in this pennant. Thomas Morrison, Dave Tanner and Tom Cooper have proven to be a steady combination.

In this singles aggregate race Morrison again won three to be equal leader with Stephan Ljubic, they have both won eleven matches from the twelve they have played.
– Mallee Meats 7 (Thomas Morrison 3, Dave Tanner 2) d Regional Taxation Services 4 (Ben Hosking 2, Sarah Hogarth, Jacinta Ljubic 1)
At one stage this match stood at three rubbers all before top team Mallee Meats flexed their muscles to win four rubbers in succession to grab the four points. Their 7-4 victory over Regional Taxation Services enabled Mallee Meats to maintain their undefeated run.
Thomas Morrison continued his good form winning three singles while Dave Tanner with two singles offered good support, this pair also combined to win the first doubles.
Mallee Meats also won the second doubles in a long five setter when the two Tom's Morrison and Cooper combined to defeat Sarah Hogarth and Jacinta Ljubic 11-9 4-11 11-7 6-11 11-7 a great tussle.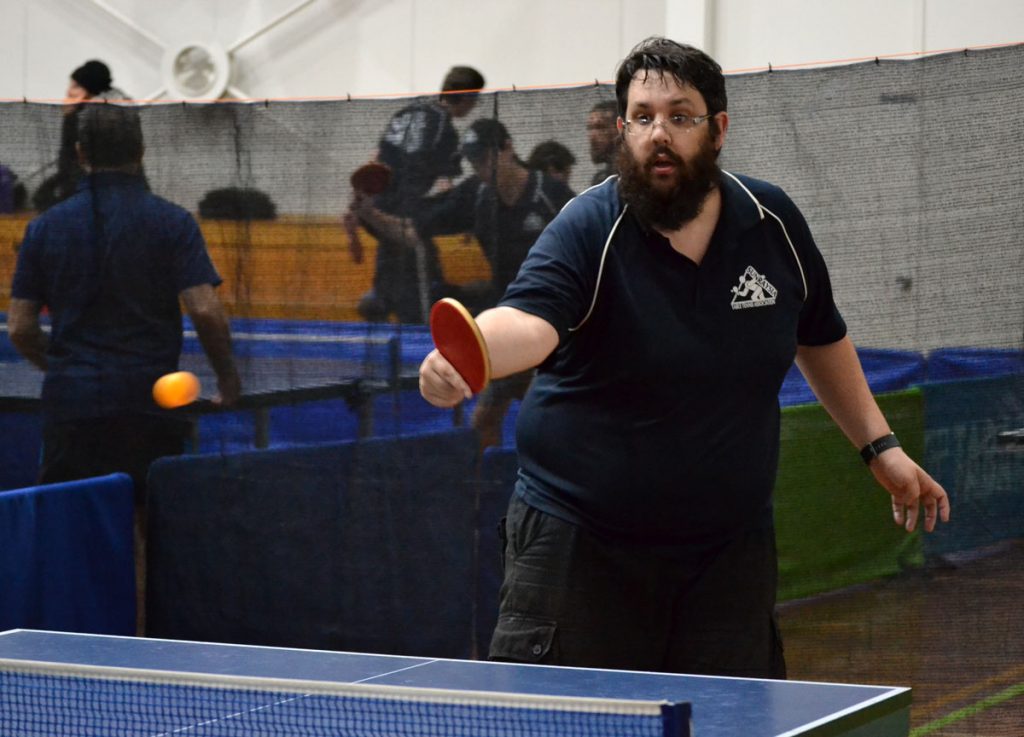 For Regional Taxation Services fill in Ben Hosking in a busy night won two singles.
– Weightmans Packaging 6 (Therese Fitzpatrick, Brice Lock 2, Miya Lock 1) d Dunkley Scales 5 (Stephan Ljubic 3, Jolene Healy 1)
Going into this round these two teams occupied fourth and fifth position respectively, a close result was expected and that's how it panned out. Deep into the match Dunkley's Scales had taken a 5-3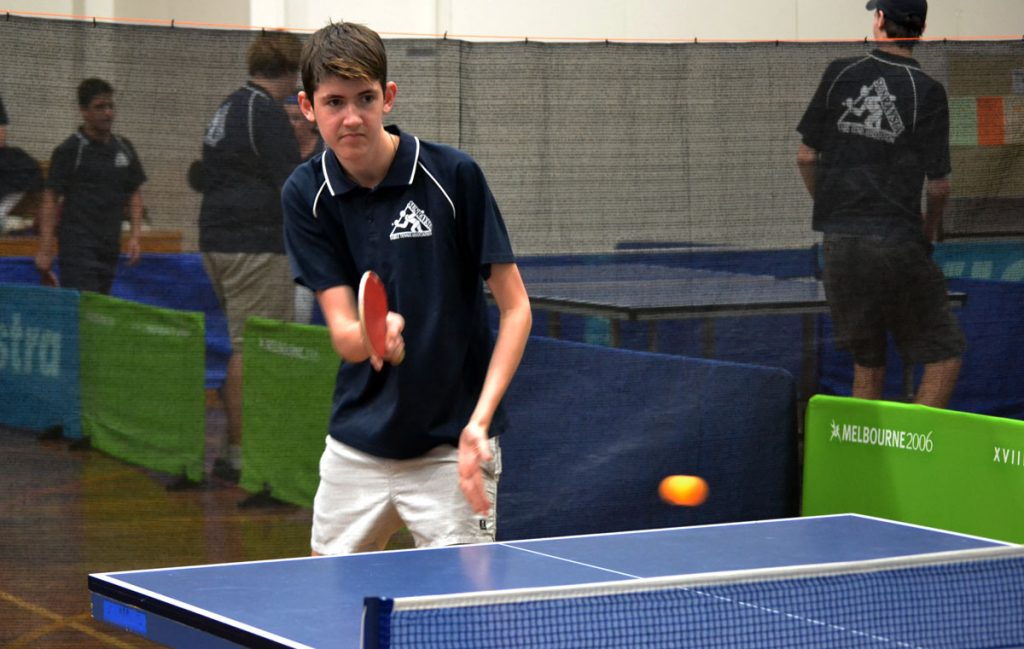 lead courtesy of Stephan Ljubic again winning three singles however a strong finish by the Lock siblings, Brice and Miya in the last two singles enabled Weightmans to get over the line 6-5 in a thriller.
Three of the first four matches were five setters. In the first match of the night Jolene Healy outlasted Miya Lock 6-11 11-7 11-5 9-11 11-8, then in the third match Brice Lock tried very hard against aggregate leader Stephan Ljubic and almost caused a big upset before Stephan steadied to win 9-11 11-8 9-11 11-8 11-5.
The first doubles was crucial in the overall result when Weightmans pair Therese Fitzpatrick and Brice Lock combined to defeat Stephan and Jolene 11-5 10-12 11-9 10-12 11-4 in a strong finish. For Weightmans Therese and Brice won two singles each while Miya was able to defeat fill in Caitlin Elstone in the last match of the night to get her team over the line by the narrowest of margins.
– Tankard Dental 8 (Ben Hosking, Peter Lock 3) d MJM Automotive 3 (Chelsey Prothero, Shirley Whitecross, Paul Kerr 1)
With an 8-3 victory over MJM Automotive, Tankard Dental have grabbed outright second on the ladder. With both Ben Hosking and Peter Lock back in the team after being absent last week and winning three singles each Tankard's extracted their third win of the season and will be a force come finals time.
As well as Ben and Peter winning three singles each Tankards were also able to win both doubles to make the score line even better. One of the best matches of the night in this contest was the lengthy five setter between Ben Hosking and Shirley Whitecross.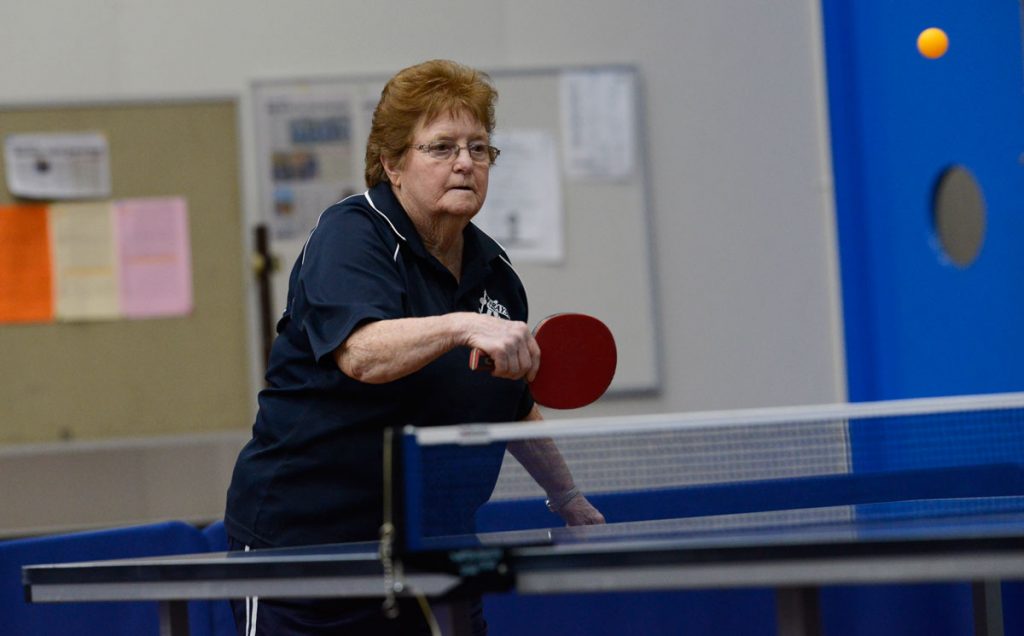 Shirley recovered from a 0-2 deficit to force the match to a fifth before Ben won 11-9 11-2 7-11 12-14 11-4.
For MJM Automotive all three players, fill in Chelsey Prothero from the juniors, Shirley Whitecross and Paul Kerr won a singles each.