Read Time:
16 Minute, 28 Second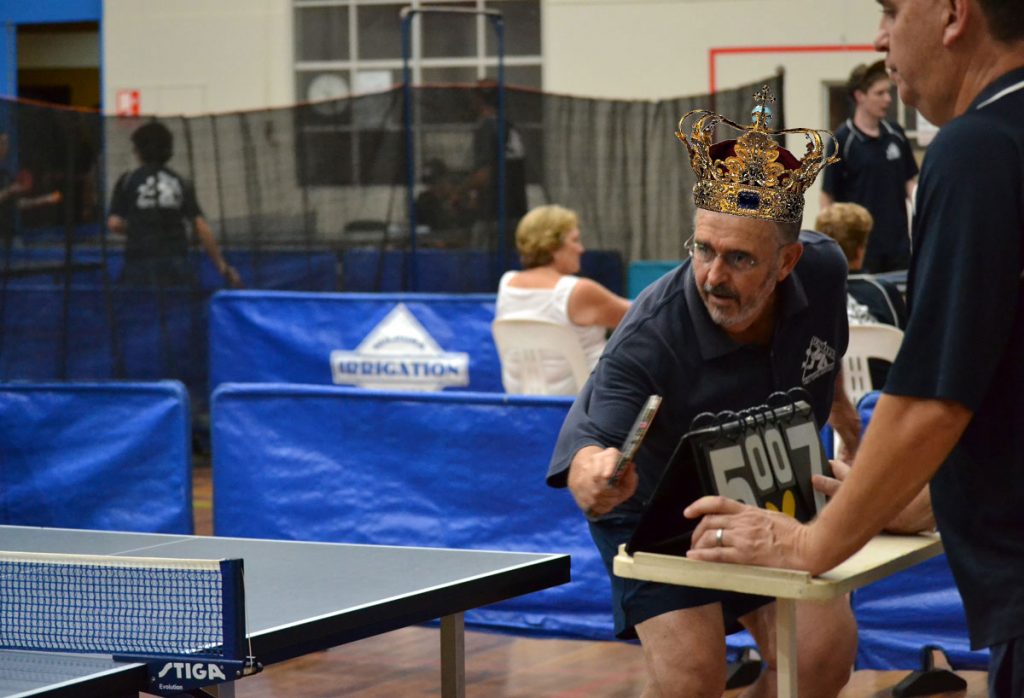 All hail King Richie! With Weightmans staring down the barrel of another loss which would have put them out of the top 4, Gavin 'Richie' Carmichael stepped up to produce a 'David v Goliath' type upset in toppling Joel Thomas who incidently had gone 120 games plus without a singles loss. Some might say it was only a matter of time before Joel dropped one, but Richie was seen methodically planning for this moment. 
PENNANT ONE:
With eleven rounds played of the Sunraysia Table Tennis "Cash Converters" winter pennant two teams head the ladder with six wins while the next three positions have all tasted success five times. With four rounds to play even the team at the foot of the ladder is mathematically a chance to play finals in what has developed to be one of the most even seasons for some time.
In the latest round ladder leader Mallee Bearings continued on their winning way having now strung together four wins in succession. They are teaming together very well and will be a real threat come finals time.  The other feature of this round was the first singles loss by Joel Thomas in over 120 singles matches. Whilst defeat may have been disappointing this is an unbelievable record by this top class player.
– Mallee Bearings 6 (Shannon Bowen, Nicholas Dorman 2, Matt Ljubic 1) d Regional Taxation Services 5 (Wayne Carmichael 3, Mark Ljubic 1)
Late in their match Mallee Bearings trailed 4-5 against Regional Taxation Services
however Matt Ljubic and Nicholas Dorman respectively won their final singles to enable their team to win 6-5 over second placed RTS. Dorman continued his excellent form by defeating Mark Ljubic in the final match 11-6 11-7 8-11 3-11 11-4 in a strong finish. Shannon Bowen also won two singles for the victors while the doubles were shared.
For Regional Taxation Services Wayne Carmichael won three singles however he had his hands full with young Dorman. After he trailed early the more experienced Carmichael was able to pull away to win 11-2 7-11 11-13 12-10 11-7.
– Exposed Signage/Apparel 7 (Matt Avers 3, Mark Dorman 2) d Cash Converters 4 (Rick McMeekin 2, Jackson Tung, Shane Carmichael 1)
 Exposed Signage/Apparel are hitting top form at the right time and their 7-4 victory over Cash Converters was their third win on the trot. Led by the exciting 15 year old Matt Avers who won three singles this team will also be thereabouts when it counts at the business end of the season.
Avers capped off a good night by taking part in both doubles victories and his singles success 11-5 11-5 10-12 11-2 over the talented Rick McMeekin was a top class display.
Exposed Signage took an early lead from which their opponents could not recover. For the victors Mark Dorman won two singles as did Rick McMeekin for the Converters. The highlight match was the singles tussle between Michael Hogarth and Cash Converters Jackson Tung. This was a lengthy affair and went right to the wire with Tung taking the match with an amazing score line of 11-7 20-22 11-9 6-11 12-10.
– Weightmans Packaging 6 (Gavin Carmichael 3, Shane Carmichael 2, Matt Ljubic 1) d Tankard Dental 5 (Joel Thomas 2, Kate Carmichael 1)
In the remaining match a strong finishing Weightmans Packaging won the last three singles to snatch a 6-5 win over Tankard Dental. This victory enabled Weightmans to advance to second on the ladder, a loss would have dropped them out of the top four in what is a very close competition.
The first of these last three singles featured victory by Weightmans skipper Gavin Carmichael over singles aggregate leader Joel Thomas in what was a big upset. Carmichael started well and the expectation was that Thomas would come back as he did in the third but a couple of uncharacteristic errors by Thomas late in the fourth enabled Carmichael to win 11-9 11-7 6-11 11-8.
This had been an entertaining match and a far improved effort from Carmichael who had really struggled over the past three rounds.
Despite losing that match Thomas still kept his team in with a chance by winning two singles and also taking part in both doubles victories.
In the second last singles Shane Carmichael levelled the match when he outpointed Kate Carmichael for the first time 11-6 11-8 4-11 12-10 a strong finish as he trailed 7-10 in the fourth. With the score standing at five rubbers all Weightmans fill in Matt Ljubic proved too consistent for Leon Brown to complete a stirring come from behind victory.
Despite not picking up a doubles Weightmans grabbed the points with Gavin Carmichael, Shane Carmichael and Matt Ljubic winning three, two and one singles respectively.    
PENNANT TWO:
The two top teams downed the two bottom teams this week, and fourth placed Weightmans Packaging downed Mallee Meats to be now only one game behind.
– Pinnacle Packers 7 (Peter Midgley 3, Kevin Johns, Jason Gifkins 1) d Max Miller Carpets 4 (Ed Hung 2, Sony Sefer, Brendan Alderton 1)
Pinnacle Packers retained top spot after this week's action after a close contest with Max Miller Carpets.
The Packers were the early leaders in this grade, and now hold top spot on percentage only from Mallee Bearings.
This week, their opponents, Max Miller Carpets kept them in check for most of the night, but in the end it was Pinnacle Packers number two, Peter Midgley, who won three singles, and the inability of the Carpeters to win a doubles which saw victory slip away.
Ed Hung's men started well, with wins to Sony Sefer and Brendon Alderton against Jason Gifkins and Kevin Johns.  Sefer's match was a close five set contest, and Alderton, playing at number three, surprised Johns, downing him in just four sets.
Pinnacle Packers took the next three rubbers; Midgley needing five sets to shake off Ed Hung, then the first doubles with Johns and Midgley comfortably defeating Sefer and Hung; followed by Johns picking up his only singles win of the night against Sefer.
Hung evened the score with a three set win against Jason Gifkins, but Pinnacle Packers skipped away again, taking the next two rubbers – Midgley with his second win, against Alderton, and the second doubles also going to them, Johns and Gifkins in a close five setter against Hung and Alderton.
Ed Hung took his second win for the night, against opposing captain Johns, to bring the score back to 4-5, but with Midgley playing well, Sefer could only squeeze one set from his opponent.  Gifkins downed Alderton in three sets to make the score a little more handsome for his side.
Final scores:  7 rubbers to 4 and 25 games to 18.
– Mallee Bearings 6 (Jackson Murphy, Lee Thomas 2, Terry Martin 1) d MJM Automotive 5 (Bernadette Fitzpatrick 3, Tony Malycha 1)
Mallee Bearings stay at second on the ladder, and equal on eight wins with Pinnacle Packers after a close shave against MJM Automotive.
MJM Automotive captain Bernadette Fitzpatrick was in scintillating form in this game, with three decisive singles wins.  She cleaned up aggregate leader Lee Thomas in the first round of singles in straight sets, getting stronger as the match progressed, 13-11, 11-7, 11-2.  Terry Martin was a bit more difficult.  Martin is enjoying a spell of good form at the moment, and gave Bernadette a run for her money.  Fitzpatrick won 12-10, 11-8, 9-11, 11-8 after a tough fight.  In the final round of singles, opposing captain Jackson Murphy was a "no-contest" losing to Bernadette 1, 8 and 7.
Despite all this good form though, MJM Automotive did not have the sustained firepower to take the win, again.  Fitzpatrick and Seval Fuat won the second doubles rubber against Murphy and Martin, Tony Malycha downed Martin in five sets in the opening rubber.  That gave them five rubbers, not enough.
For Mallee Bearings, Jackson Murphy, despite his dismal performance against Fitzpatrick, won his two other matches, beating Fuat in four, and just seeing off Tony Malycha in five sets.  Likewise, Lee Thomas defeated these two same players, both in three sets.  And with the first doubles also going their way courtesy of Murphy and Thomas winning against Fitzpatrick and Malycha in three sets, the match was decided in the final rubber, Terry Martin against Seval Fuat. 
Martin raced to a 2-0 lead, but would not see victory until after five sets, Fuat having rallied to save the game 12-10 in the third when all looked lost.  Fuat then took the fourth 11-5, and almost the fifth, but Martin had the advantage, and took the set and match 11-9.
Final scores:  6 rubbers to 5 and 22 games to 20.
– Weightmans Packaging 6 (Ashley Morrison 2, Arthur Paar, Kerry Wallace 1) d Mallee Meats 5(Geoff Wright 3, Russell Walder 2)
After Round 6, Mallee Meats were equal with Mallee Bearings at the head of the ladder on five wins.  Now at Round 11, they have dropped two wins behind the pace-setters, Pinnacle Packers and Mallee Bearings, having lost four of their last five games.
Going into this game they had a two game break on their opponents, Weightmans Packaging, however another lacklustre performance saw that gap reduce to just one game.
It certainly wasn't for want of trying on the part of Mallee Meats captain Geoff Wright, though. 
Wright took three wins, this also keeping him in seventh on the aggregate ladder.  Having missed three matches, Geoff is six games adrift of aggregate leader Lee Thomas, but has the best success rate of any player, 83%, 20 games won from 24 played in his case.
Russell Walder backed up Wright well in this contest contributing two rubbers to give the team a real chance of a win, but with the usual reliable Andrew Jones having an off night, with a zero against his name, and the side unable to crack a win in the doubles, Weightmans Packaging were let off the hook.
The Weightmans side of the score sheet looks very modest, two wins to captain Ashley Morrison (losing to Wright), and just a single win to Arthur Paar and Kerry Wallace (both defeating Jones).  But with both doubles going their way, it was enough.  The second doubles could have gone to either team – Morrison and Paar led two sets to love 11-9, 11-6 against Wright and Jones.  The Mallee Meats pair worked hard in the third and fourth sets, taking them 12-10, 11-6 to take the game to the fifth set, but lost their momentum, the win going to Morrison and Paar 11-8.
Final scores:  6 rubbers to 5 and 21 games all.
PENNANT THREE:
MJM Automotive took a big win against Regional Taxation Services thanks to an in-form Jeremy Corrin; Mallee Meats gave Tankard Dental a table-tennis lesson and re-joined them at the top of the ladder on nine wins; and in the final game, Dunkley Scales thrashed Weightmans Packaging.
– MJM Automotive 8 (Jeremy Corrin, Peter Fitzpatrick 3) d Regional Taxation Services 3(Quentin Clark, Vin Brown, David Sergi 1)
MJM Automotive were never in trouble in this match, and won comfortably.
Jeremy Corrin, playing the best he has all year, upset Regional Taxation Services captain Quentin Clark in the first round of singles, downing him decisively 11-6, 9-11, 11-2, 11-6 to help his side to a 4-1 lead after five rubbers.  With a three set win against David Sergi, and finally a hard-fought five setter against Vin Brown, Corrin went home a happy man, having also paired with his captain Peter Fitzpatrick when they took the first doubles against Clark and Brown in three sets.
Fitzpatrick took three singles wins too, dropping just one set in the process, and then helping himself to the second doubles, when he and Anthony Sergi outlasted Clark and Anthony Sergi in five sets.
That gave MJM Automotive eight rubbers, the other three going to their opponents, as they all took a win against Anthony Sergi.
Final scores:  8 rubbers to 3 and 26 games to 15.
– Mallee Meats 7 (Rod Healy, Claire Ljubic, Marcus Cimino 2) d Tankard Dental 4 (Michael Hensgen, Rohan Reimers, Zac Healy 1)
These two teams look most like the two who will play in the Grand Final this year, and week on week it is difficult to see who has the ascendency.  Tankard Dental has run up a string of big wins – averaging out their scores, when they win, which they have done nine of the eleven times, their average winning score is 8-3.
Mallee Meats do not boast such a high rate, theirs is about 7-4, but on two of the three occasions the two sides have met, Mallee Meats have won twice, and their loss in round 6 was 6-5.
In this game, Mallee Meats made Tankard Dental look ordinary.  The game was decided after six rubbers !!
The Mallee Meats trio of Rod Healy, Claire Ljubic and Marcus Cimino all took two wins apiece – Healy against nephew Zac Healy and Rohan Reimers;
Ljubic downing Tankard Dental captain Michael Hensgen and Zac Healy, and Cimino, in another fine performance, and similar to his effort last round, defeated Reimers and Hensgen.  The performance of Cimino should not be under-rated.  Both Reimers and Hensgen are much better performed than he, Reimers has accumulated 17 games for the season, Hensgen 26, and Cimino a very modest tally of 9.  Or put another way, Hensgen is third on the aggregate, Reimers ninth and Cimino sixteenth.
Healy and Ljubic also took the first doubles rubber, a close three set contest with Hensgen and Reimers, 12-10, 12-10, 11-9.
So when the result was decided, Tankard Dental got down to business. however Mallee Meats did not give up those final rubbers easily.  Although Tankard Dental took all four final rubbers, two of the wins where in five sets, the other two in four.
Tankard Dental were a game clear of Mallee Meats going into this contest, but now they are joined again on nine wins, but they lead on percentage.
Final scores:  7 rubbers to 4 and 27 games to 20.
– Dunkley Scales 10 (Rachel Fitzpatrick, Cambell McKenzie 3, Huseyin Ismail 2) d Weightmans Packaging 1 (Paul Fitzpatrick 1)
Dunkley Scales played easily their best match of the season in this round, dropping just one rubber in the contest with Weightmans Packaging.
Dunkley Scales had a very slow start to the season, and did not win a game until round 6.  Including that win, they have won four of their last six games, and lie outright fourth on the ladder, now one game clear of their opponents here, Weightmans Packaging.
Although the margin between the teams was huge at the end of the night, there were some close contests.  Dunkley Scales captain Cambell McKenzie played an epic five setter against Sam Hensgen, just shading Hensgen to win 17-15, 11-7, 2-11, 6-11, 11-8.  In the final round of singles, McKenzie was involved in a similar game, this time against Weightmans captain Paul Fitzpatrick.  In a fluctuating game, McKenzie got home, again, 15-13, 6-11, 8-11, 11-2, 12-10.  Between these two rubbers were a doubles and a singles, the doubles between Paul Fitzpatrick and Karly Leach against McKenzie Huseyin Ismail.  Sets alternated, and the Dunkley Scales pair won in the fifth, 14-12.
The other five setter was the biggest upset of all, when Rachel Fitzpatrick downed her brother Paul.  Up to this game, Paul had been averaging two wins per game, Rachel 1.6.  Paul had scored three wins three times, Rachel not at all.  Rachel took a two sets to love lead 14-12, 11-9, thanks to some accurate hard hitting, but Paul stormed back in the third and fourth, winning them 3 and 8.  Rachel held her nerve, and took the game away from Paul, winning the fifth 11-5.  One part of the tea table has been particularly vocal since, another part not quite so !!
Huseyin Ismail contributed two wins, defeating Sam Hensgen and Karly Leach, both in four sets.
The only win to Weightmans was a singles win by Paul Fitzpatrick over Ismail in the first round of singles, in three sets.
Final scores:  10 rubbers to 1 and 30 games to 15.
PENNANT FOUR:
In this round ladder leaders Weightmans Packaging strengthened their position at the head of the ladder with a strong win. The John Fitzpatrick led Regional Taxation Services scored a 6-5 win over MJM Automotive while Dunkley Scales had the bye.

Positions after eleven rounds are still close on the ladder with all 5 teams still in the running to play finals.
– Weightmans Packaging 8 (Sabrina Fitzpatrick 3, Helen Frania 2, Dave Tanner 1) d Mallee Meats 3(Ben Hosking 2, Ryan Hensgen 1)
In a dominant display Weightmans Packaging proved too good for Mallee Meats with the Weightmans trio of Sabrina Fitzpatrick, Helen Frania and fill in Dave Tanner winning three, two and one singles respectively. For Mallee Meats Fill in Ben Hosking played well to win two matches and his singles against Sabrina Fitzpatrick was a highlight.
Ben held a two games to one advantage however Sabrina as always kept the ball in plat and forced her opponent into errors. Sabrina went on to win 12-10 12-14 8-11 11-6 11-6.
This was a tough match for Mallee Meats skipper Ryan Hensgen who went into the match trailing singles aggregate leader John Fitzpatrick by one win. He was defeated in straight sets by the inform Helen Frania and then went down to Sabrina 10-12 6-11 11-9 12-10 a great tussle.
The loss of both doubles also made it difficult for Mallee Meats however they remain in fourth position on the ladder with four rounds to play.
– Regional Taxation Services 6 (John Fitzpatrick 3, Shirley Whitecross 1) d MJM Automotive 5 (Kim Avers, Stephan Ljubic 2, Jacinta Ljubic 1)
Despite only winning four singles it was the doubles that helped Regional Taxation Services grab the points 6-5 against the hard working MJM Automotive. In the first doubles John Fitzpatrick and Shirley Whitecross for Regional Taxation Services played well to defeat Stephan Ljubic and Kim Avers in four sets after dropping the first game.
The second doubles featured mother and son combination Stephan Ljubic and Jacinta Ljubic up against John Fitzpatrick and Brice Lock and the latter pair prevailed 11-8 11-9 11-8 in a good struggle.
John Fitzpatrick apart from playing in both doubles victories also won three singles to play a major role in his team grabbing the all-important four points.
Team mate Shirley Whitecross played her part winning an important singles.
For MJM Automotive Stephan Ljubic and Kim Avers won two singles each while Jacinta Ljubic won one. It was their inability to pick up a doubles which was costly in the end. Kim Avers placed immense pressure on Joh Fitzpatrick in an entertaining five setter before John got up 12-10 11-5 9-11 9-11 11-3.
As a result of this win Regional Taxation Services remain one win from the top of the ladder.