Read Time:
5 Minute, 10 Second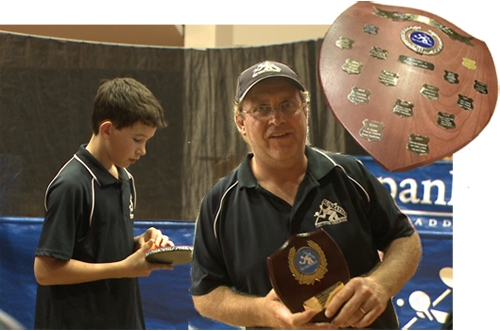 STTA PENNANT ONE 2011
Recently we were fortunate to have life member Trevor Gebert grace the tables as a fill in in pennant two. Trevor showed he had not lost any form in a rare appearance at the table, not bad for someone who turned 70 in April; hopefully he will make another appearance soon!!
In between games Trevor cast his eye over the Pennant One teams and gave his thoughts on how each team may fare in 2011.
"Any team that has Dillon Chambers in their line up as well as a Carmichael and a Minter cannot be discounted and FISHERS IGA will prove difficult to any opponent. I have been impressed by the meteoric rise of young Chambers and his game is impressive to say the least. Don't forget he is only thirteen and will get better which is frightening but a big positive for the association. He has sporting ability in his genes and if he can guide his team mates to some doubles victories his team will win more than they lose. If Shane Carmichael can stay fit he should be capable of winning a singles a night and he has the added advantage of being a lefty. Gavin Minter will offer good support to his young cousin and I remember many battles against his father Kevin, Gavin appears to have a slightly more attacking game and has the same defensive skills. Watch this team!!!"
Trevor reckons Andrew Cannard quite often states he is not a number one player however his record over the past few seasons indicates otherwise and last year he recorded a victory over Wayne Carmichael and also has a good record against Dillon Chambers. WEIGHTMANS PACKAGING has a good mix of youth and experience with Joel Dorman and Graeme O'Neill in the lineup. I am a huge fan of Joel and he is in his third or fourth season in pennant one and has an outstanding record for such a young player. His unorthodox style makes it difficult for his opponents and when he gets on a roll no one hits the ball harder. Graeme O'Neill will provide good back up and in my opinion he will be the leading number three player over the season. He has big shots on each side of the body and will push some number two's as well. The Achilles heel for Weightmans could be their ability to win doubles and this is an area they will need to work hard on if they are to feature later in the year.
MAX MILLER CARPETS as I understand it have been labelled the Dream Team and on paper they do look impressive. Any team that is led by Mark Dorman will perform well. Dorman has a fantastic record over such a long time and his game is still as sharp as ever. He is such a consistent performer and his early season victory over Wayne Carmichael shows he is switched on for another big season. The X factor in this team is Shannon Bowen who when he is on song can beat any one on any night. He has started like a house on fire and if he is able to maintain this form the Carpeters will enjoy a good season. Dorman and Bowen will be difficult to match up to for their doubles opponents. Number three Ed Hung will be keen to build up the number of his premiership trophies and will chip away offering support to his team mates.
Wayne Carmichael has been our associations' number one player for so many years and his team MALLEE BEARINGS in my opinion will no doubt feature at the business end of the season. Carmichael had a slow start in round one however since then he has fired. Not only does he have an outstanding singles record but he has the ability to take his partner along for the ride in doubles and his doubles record is also outstanding. He teamed up with Jackson Tung in the last winter pennant to pick up a flag and they are a chance to go back to back. Young Tung is another product of the junior competition and his record in each pennant on his way to pennant one was impressive to say the least. Kevin Johns will offer great support to Carmichael and Tung. Kevin never gives up and is the most determined player in the competition. He is a very good doubles player and if he maintains his good record of nets and edges he will be in for a good season. This is another team with a good mix of experience and youth and if Tung and Johns chip in with a singles a night each this will have a big Bearing on this teams' chances.
If young Bowen is the X factor in his team Mark Ljubic is the X factor forPINNACLE PACKERS. If Ljuber gets on a roll he can play amazing table tennis where his opponent just goes back and picks up the ball from the back net. If Ljuber consistently fires he can send his opponents Packing. Team mate Gavin Carmichael will offer consistent support and doubles will be the difference in a good or bad season and this is area they will need to work hard on. After saying that, they all have been doubles aggregate winners and look for Ljubic and Gray to match up occasionally, as they have been doubles aggregate winners together in the past. Gray is consistent and has a good tactical mind. This trio will be a chance to feature in the finals and without putting pressure on Mark Ljubic he could be the difference.
Trevor's Tips
Grand Final: Max Miller Carpets vs. Mallee Bearings in a close result
Singles Aggregate No 1:
Wayne Carmichael, Mark Dorman (two way tie) Injury may have cost young Dillon but he will get close, can he force a three way tie??
Singles Aggregate No 2:
Shannon Bowen from Joel Dorman and Mark Ljubic
Singles Aggregate No 3:
Graeme O'Neill
Trevor wishes all the teams good luck and will be watching the results closely.