Read Time:
15 Minute, 51 Second
Sunraysia Table Tennis Winter Pennant results Grand Finals: –

PENNANT ONE:
Grand Final: Pinnacle Packers 6 (Shannon Bowen, Shane Carmichael 2, Kevin Johns 1) d Weightmans Packaging 5 (Mark Dorman 3, Graeme O'Neill 1)
PENNANT TWO:
Grand Final: Spanline 6 (Arthur Paar, Arnold Jago 2, Laurie Plummer 1) d Fishers IGA 2 (Sony Sefer 1)

PENNANT THREE:
Grand Final: Max Miller Carpets 6 (Matt Ljubic, Emily Carmichael 2) d Weightmans Packaging 2 (Darren Greaves, Lachlan Kelly 1)

PENNANT FOUR:
Grand Final: Max Miller Carpets 6 (Cole Keegan 3, Ben Hosking 1) d Mallee Bearings 3 (Claire Ljubic, Ellie Midgley, Shirley Whitecross 1)
PENNANT ONE:
Grand Final: Pinnacle Packers 6 (Shannon Bowen, Shane Carmichael 2, Kevin Johns 1) d Weightmans Packaging 5 (Mark Dorman 3, Graeme O'Neill 1)

In a fairy tale finish to the Sunraysia Table Tennis winter pennant Pinnacle Packers have claimed the 2012 premiership by downing Weightmans Packaging 6-5 in a thrilling grand final. The Packers grabbed the initiative early and at one stage led 5-2 before Weightmans staged a brilliant comeback to put their noses slightly in front before Shane Carmichael for the third finals match in succession won the deciding match to give Pinnacle Packers a narrow victory.
Only four weeks before the Packers had snuck into the top four in the very last round. In this five team competition they had sat at the foot of the ladder all season and in round twelve recorded only their second win. From that point they would win each match until round fifteen and then win three finals. Amazingly defeat in any of these matches would have seen them drop out of the flag race.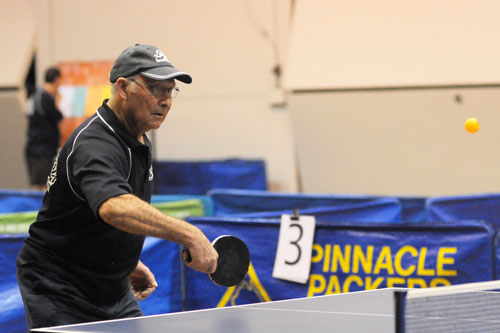 Going into the grand final Weightmans started slight favourites given they had finished on top of the ladder. The very first game was a thriller with Weightmans Peter Midgley taking two of the first three games against Kevin Johns. Johns then levelled the match taking the fourth. Midgley then looked to give Weightmans a dream start when he led 8-4 in the fifth, however the never-say-die Johns then sparked into action taking the next seven points and the match in what was a frustrating finish for Midgley.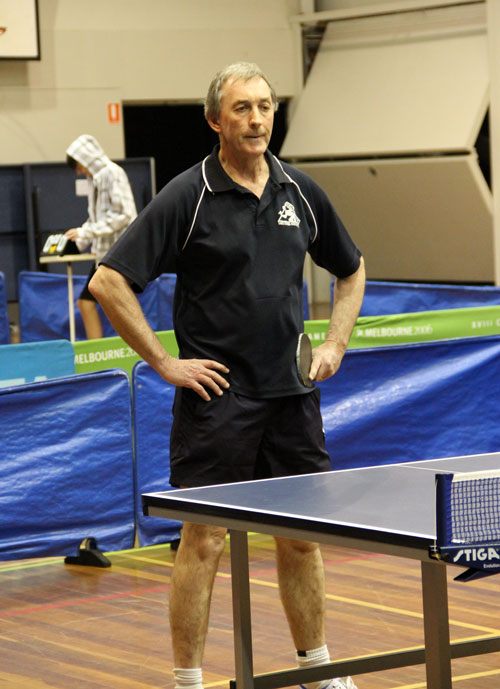 Weightmans skipper Mark Dorman was right under pressure early in the next match when he fronted up against Shane Carmichael. The two lefties played another five setter and at two games to love up Carmichael was looking to cause a big boilover before Dorman steadied and in an excellent come back went on to win 9-11 4-11 11-3 11-5 11-5.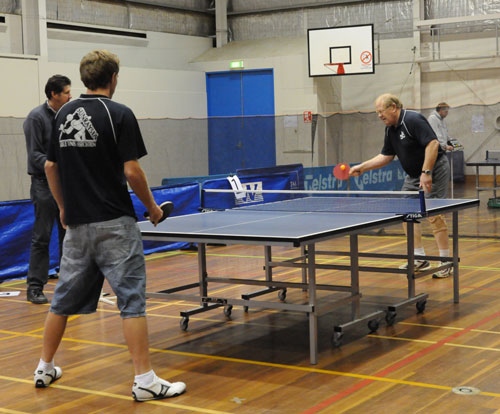 Pinnacle Packers then took a two rubbers to one lead when Shannon Bowen accounted for Graeme O'Neill in straight sets 11-9 11-8 11-9. O'Neill tried hard however the in form Bowen had the answers.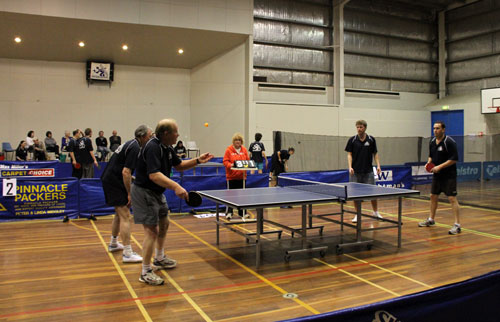 The first doubles would now be crucial for Weightmans pair Dorman and O'Neill who were up against Shannon Bowen and Shane Carmichael. The Packers pair took the first game however Dorman and O'Neill took control winning the next two games before a strong finish by Bowen and Carmichael saw the Packers take the match 11-5 8-11 5-11 11-8 11-8. The score was now 3-1 in favour of Pinnacle Packers.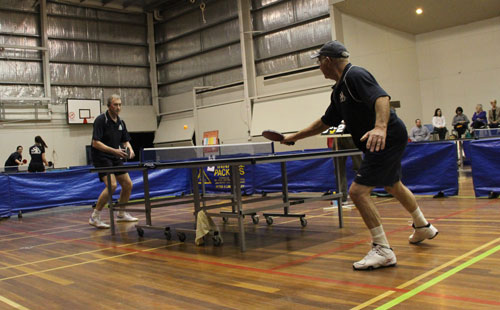 The next two singles went as expected when Weightmans skipper Mark Dorman defeated Kevin Johns in straight sets and Packers Bowen defeated Peter Midgley in a lengthy five setter. This was a great effort by Midgley against his more fancied opponent however Bowen was able to hang on to give the Packers a healthy 4-2 lead.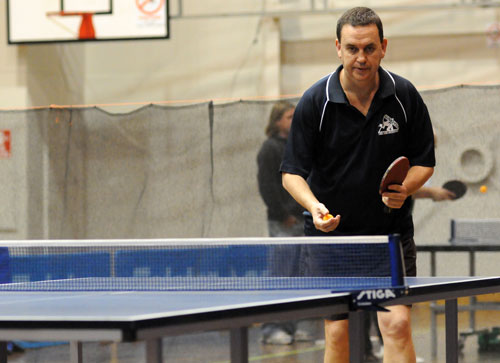 The next match featured Packers Shane Carmichael up against Graeme O'Neill. During the season O'Neill had held the edge in their head to head battles however Carmichael came out in a determined frame of mind and took the initiative early from where O'Neill could not recover. In a match with many quick rallies and strong forehand exchanges Carmichael took the points 11-6 11-9 13-11 in a result vital to both teams. The Packers now led 5-2 and were in sight of a premiership.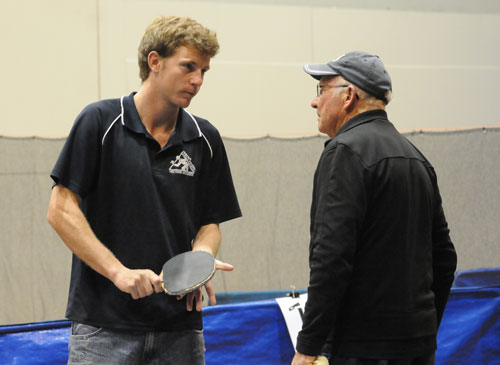 Weightmans Packaging then displayed why they finished on top of the ladder as they sparked into action by taking the next three matches in fine style. They reduced the deficit with Dorman and Peter Midgley then taking the second doubles in four sets over Shannon Bowen and Kevin Johns.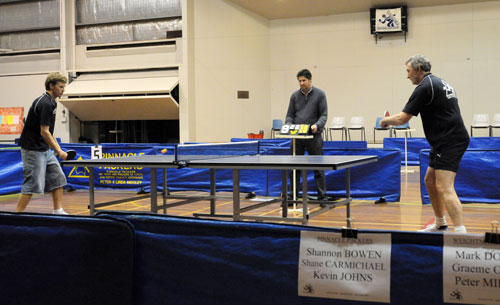 Then in the match of the night Dorman gave his team a real chance when he defeated Bowen in a tremendous five set struggle. This was a top class match with both players having their chances.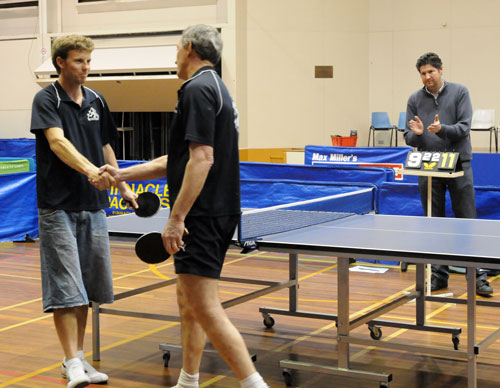 This was to be the first defeat for Bowen in twenty one matches, his form of late has been outstanding and it took a special effort from the veteran Dorman to win 8-11 11-9 6-11 11-7 11-9.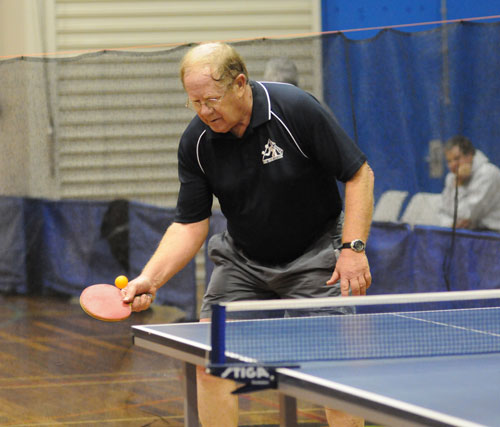 All of a sudden Weightmans had improved the score and trailed 4-5. Things were on the improve and when Weightmans Graeme O'Neill won 11-9 11-9 11-9 against Kevin Johns, Weightmans had amazingly levelled the match at five rubbers all and the Packers were now the team under pressure.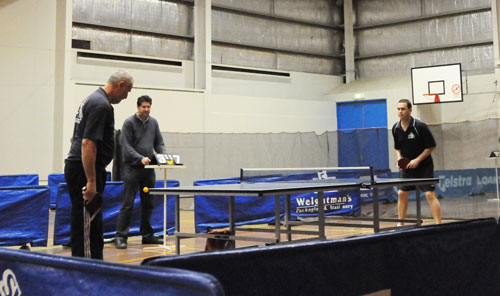 Peter Midgley for Weightmans then took to the table against Shane Carmichael to decide the premiers. With spectators now very quiet and players nervous Midgley grabbed the first game and amazingly for the first time in the match Weightmans had their noses, albeit slightly, in front. Twice earlier in the finals Carmichael had been in this position knowing that defeat would finish his team. He then proceeded to play steady table tennis and both players were desperate and many long rallies took place however Carmichael was able to grab the initiative and slowly but surely he took his team to a meritorious victory. Carmichael was victorious 7-11 11-5 11-8 11-5. Midgley had tried hard but it wasn't to be.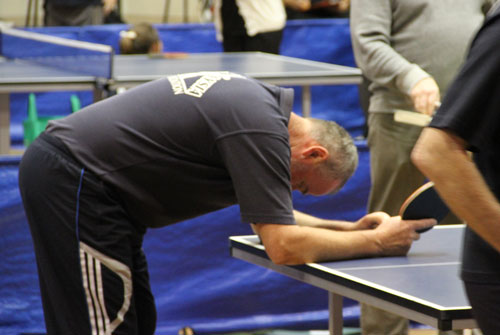 Pinnacle Packers were victorious 6-5 in what had been a fantastic final. For the victors Bowen and Carmichael had won two singles each while Kevin Johns won one. The first doubles won by Bowen and Carmichael after trailing one game to two had also been vital in the Packers success.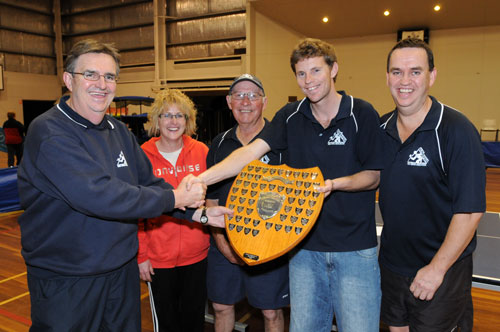 PENNANT TWO
Grand Final: Spanline 6 (Arthur Paar, Arnold Jago 2, Laurie Plummer 1) d Fishers IGA 2 (Sony Sefer 1)
Courtesy of four earlier victories over Fishers IGA during the home and away season and finals series, Spanline went into this clash as hot favourites to take out the pennant two premiership. Labelled the "double centurions" Arthur Paar, Arnold Jago and Laurie Plummer had timed their run right and had moved to the head of the ladder in the last few rounds of the season. Fishers also had enjoyed a fine season but could not break through against the experienced combination despite close contests.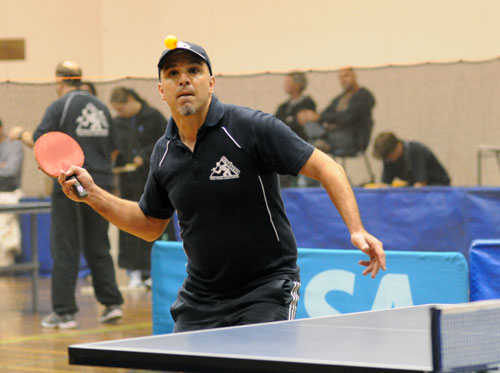 In the grand final skipper Sony Sefer gave Fishers the early lead defeating Laurie Plummer in straight sets.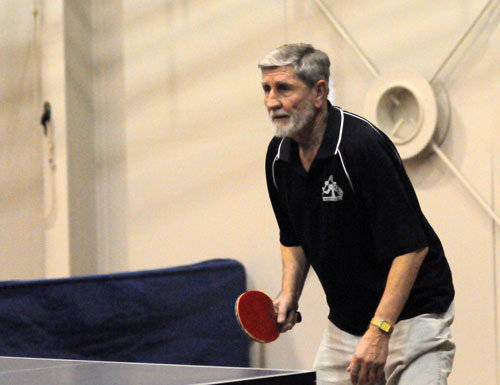 Spanline skipper Arthur Paar then put his team on the board accounting for Colin Moore also in straight sets.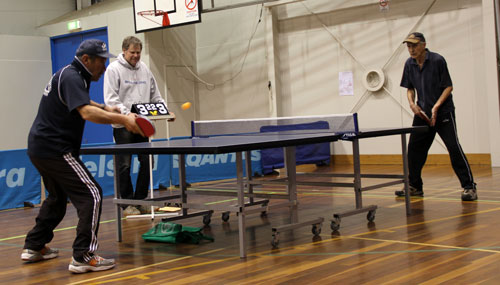 The next singles was to set the trend of the grand final when Spanline's Arnold Jago took on difficult opponent Seval Fuat.  Jago took the first game and then Fuat fought hard to gain the edge by narrowly grabbing the second and third before Jago stepped up a gear and grinded out an important win by taking the fourth and fifth. Jago's 11-4 10-12 9-11 11-8 11-9 victory was a tremendous show of concentration against a tricky opponent.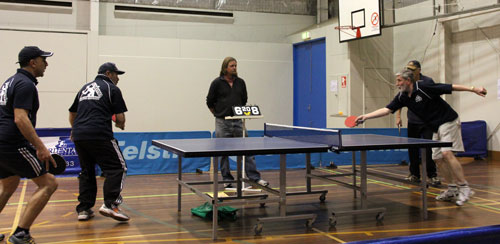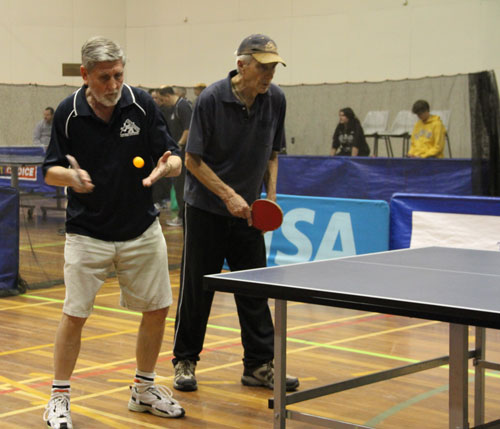 The first doubles featured Paar and Jago for Spanline against Fishers duo of Sefer and Fuat. Again another five set struggle took place. Sefer and Fuat were off to the perfect start taking the first two games before the older combination steadied to win the next two games.
In the fifth Sefer and Fuat gained the control they needed and hung on to take out a much needed win. Their 11-8 11-3 7-11 6-11 11-6 victory levelled the scores at two rubbers all.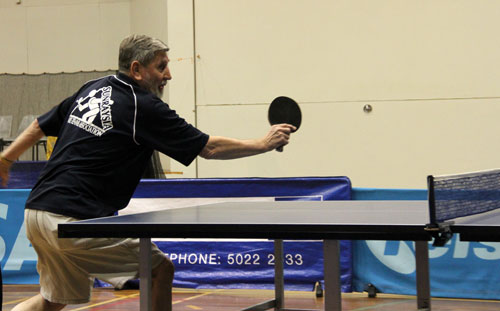 The two skippers then met and it was Arthur Paar who gave his team the lead and this block of singles was to shape and decide the final. Paar accounted for Sefer in a four set struggle while team mate Laurie Plummer then did what he had not done all year;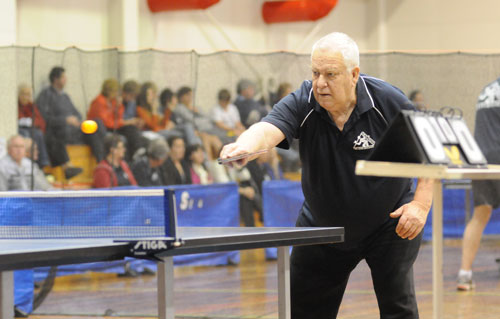 he defeated Seval Fuat, in another five setter, where Fuat went down by the narrowest of margins, as he did earlier against Jago.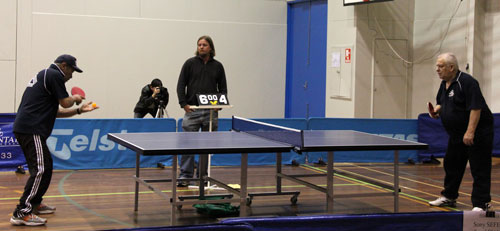 Oh only for a couple of more points and what a difference there could have been.Arnold Jago then took his team to a 5-2 lead when he accounted for Colin Moore in straight sets.
The second doubles then featured another five setter, this time Spanline pair Paar and Plummer outlasted Sony Sefer and Colin Moore 9-11 11-8 8-11 11-6 11-3 to claim a 6-2 victory and the flag for Spanline.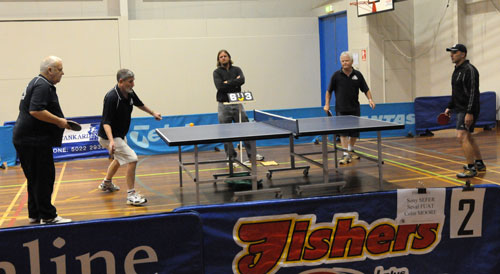 All the Spanline team had played a big part in the win with skipper Paar winning both his singles as did Arnold Jago who had won his first premiership since taking up the sport in 1988. Laurie Plummer as well as the doubles he took part in was able to win an important five setter.
Fishers had tried hard and of the four five setters they could only claim one. Fuat was unlucky losing two 9-11. How close yet how far in a season where they were not far off the mark but in the end Spanline were deserved premiers.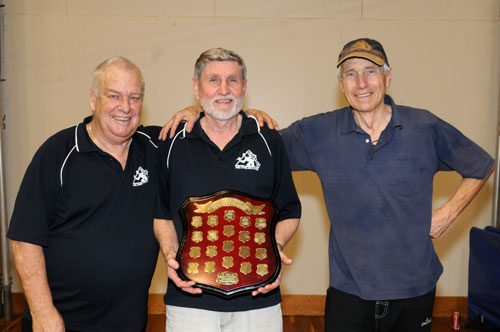 PENNANT THREE
Grand Final: Max Miller Carpets 6 (Matt Ljubic, Emily Carmichael 2) d Weightmans Packaging 2 (Darren Greaves, Lachlan Kelly 1)
Weightmans skipper Darren Greaves called the fall of the coin incorrectly and Max Miller Carpets won the right to be the home team. This was a replay of the second semi final of two weeks ago and it was fitting that the best two teams in this pennant would play off for the 2012 premiership. This was an identical result as two weeks earlier when Max Miller Carpets were to go on and again win 6-2 in a solid grand final display.
During the home and away season Weightmans had held a 2-1 advantage in their three head to head battles. Weightmans had a dream start to the season and were actually undefeated until round 13 when the Carpeters were successful 8-3. In fact Weightmans only lost one match up to the finals. The Carpeters had peaked at the right time and would defeat Weightmans in two finals clashes.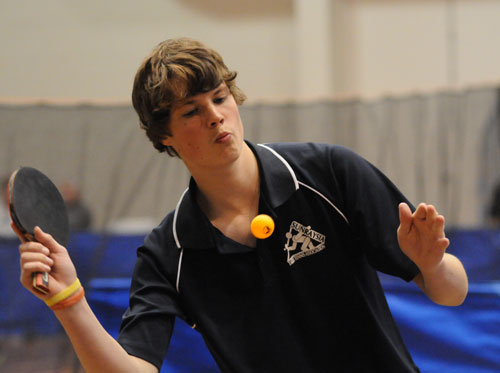 In the grand final Weightmans were given the lead when Lachlan Kelly defeated Karly Leach in the first singles. From here Max Miller Carpets took control winning the next four matches.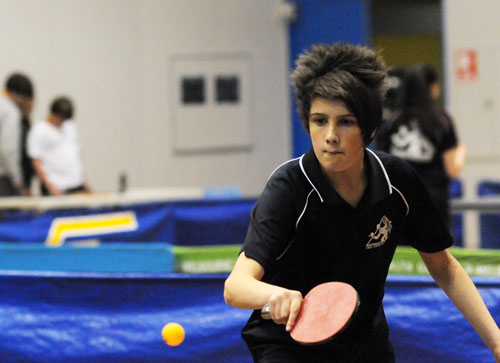 As expected aggregate leader Matt Ljubic accounted for Jeremy Corrin to level the match at one rubber all.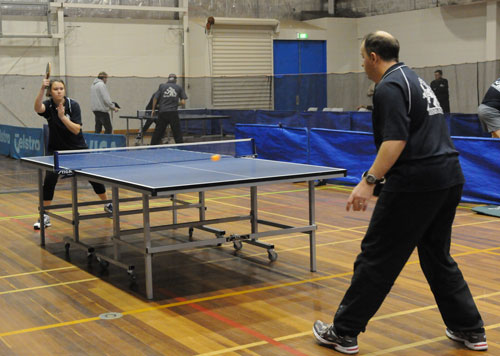 As she did in the second semi final Carpeters Emily Carmichael struck a decisive blow when she proved too steady for Darren Greaves in four sets. Greaves himself is one of the steadiest players in this pennant and he actually led the singles aggregate for much of the season until young Ljubic gained the ascendancy in the aggregate race.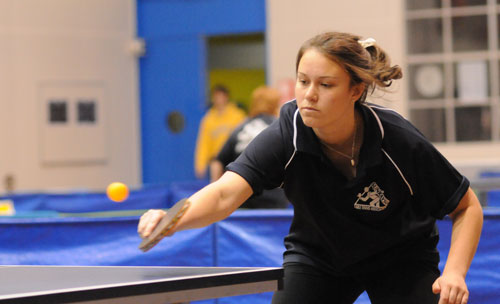 Both Ljubic and Emily have improved their game over the season and their victory in the first doubles over the strong combination of Greaves and Jeremy Corrin was important. The Carpeters were now leading 3-1.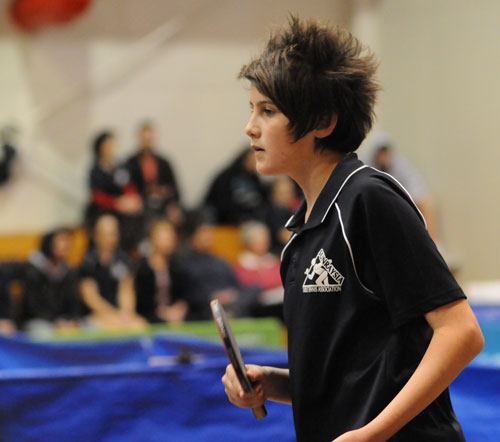 Skipper Ljubic improved the situation for his team when he won his second singles in straight sets over Lachlan Kelly. Darren Greaves then steadied the ship with a straight sets win of his own over Karly Leach. The Carpeters now held a 4-2 lead.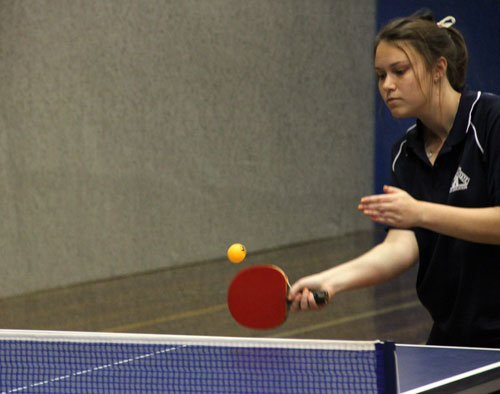 Emily Carmichael further increased the lead against Jeremy Corrin who tried hard but went down 13-11 11-5 13-11.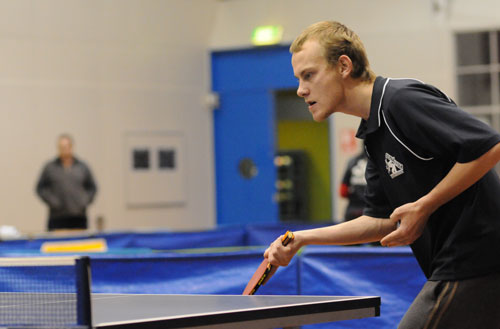 Corrin worked hard but could not grab the initiative when close in the first and third. The Carpeters now could sense victory with a 5-2 lead.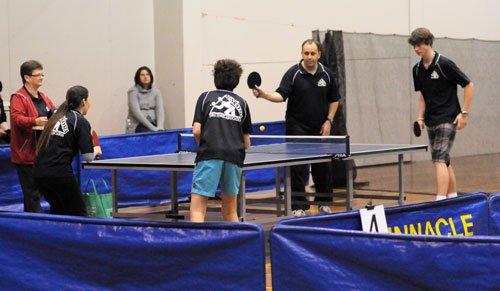 Weightmans pair Darren Greaves and Lachlan Kelly were not going to give up without a fight. They lost the first two games of the second doubles against Matt Ljubic and Karly Leach however fought back to take the third and fourth games forcing the match to a fifth. Ljubic and Leach rallied and proved too steady to win 11-5 11-6 6-11 7-11 11-7.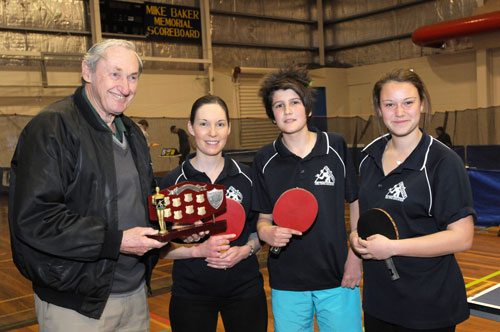 This win took the Carpeters to a 6-2 victory much to the delight of their supporters. Long time table tennis enthusiast John Dorman was on hand to present the K J Dorman perpetual shield to the proud winners who had peaked at the right time against a Weightmans side who had performed very well over the season.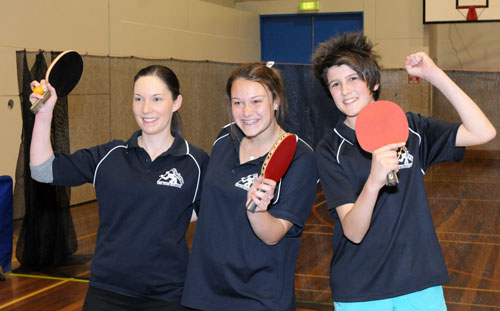 The Carpeters team of Matt Ljubic, Emily Carmichael and Karly Leach were worthy winners and this was their first taste of victory in a senior pennant final.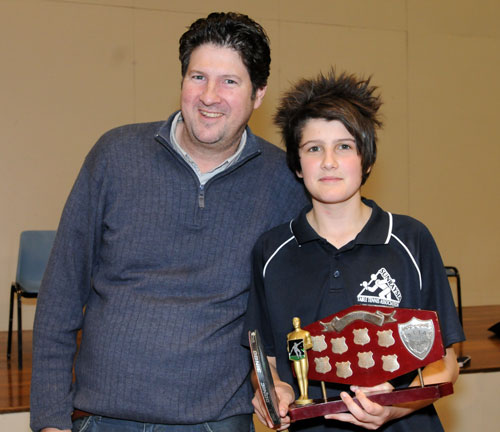 Ljubic and Carmichael were in the first season of senior winter pennant and proved to be calm under finals pressure much like their respective fathers Mark and Wayne.The Weightmans trio of Darren Greaves, Lachlan Kelly and Jeremy Corrin had played good table tennis to reach the final however had come up against a team that had improved over the season.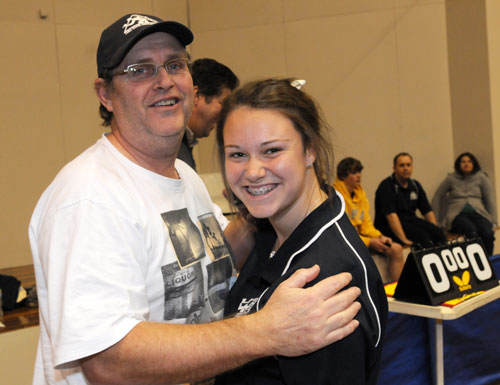 PENNANT FOUR
Grand Final: Max Miller Carpets 6 (Cole Keegan 3, Ben Hosking 1) d Mallee Bearings 3 (Claire Ljubic, Ellie Midgley, Shirley Whitecross 1)
Going into this match these teams had met five times through the season with Max Miller Carpets having the edge 3-2. Earlier in the season, round 6, Mallee Bearings had been triumphant 9-2 with the same players involved. Since that meeting skipper Ben Hosking had steadied his troops and Max Miller Carpets had won three in succession and as they had finished first on the ladder the Carpeters went into the grand final as slight favourites.
At the toss of the coin Ben Hosking called correctly and chose to be the home team.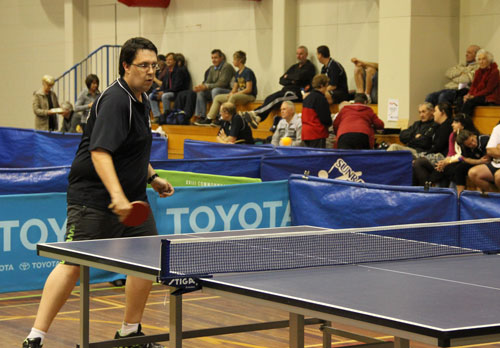 The resultant match ups saw the two skippers Hosking and Claire Ljubic line up in the first match of the night and what a start the spectators got as this was an exciting five setter. Hosking won the first narrowly and they traded games until the exciting fifth. Late in the match Hosking took a 10-8 lead however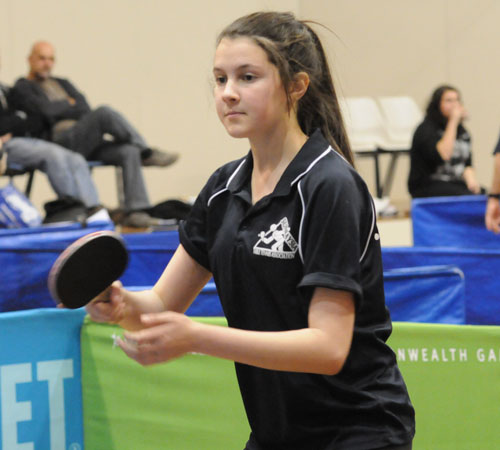 Ljubic remained calm and with strong forehands she finished the match in glory winning the last four points to snatch a 10-12 11-7 8-11 11-4 12-10 victory. The girls were off to the ideal start.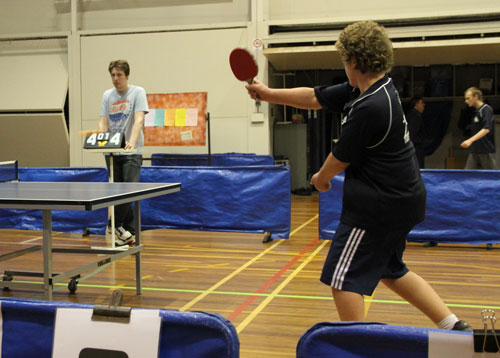 "Consistent" Cole Keegan then levelled proceeding when he defeated Shirley Whitecross in straight sets.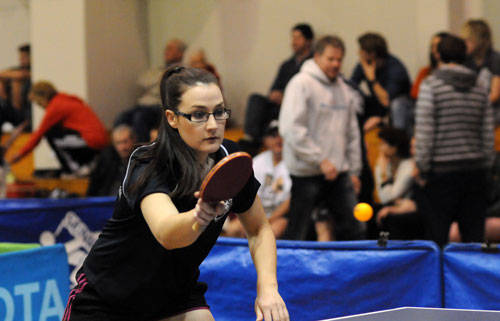 Mallee Bearings then took a 2-1 lead courtesy of Ellie Midgley when she defeated Georgia Tilley.
The first doubles was always going to be important and Carpeters combination Hosking and Keegan despite dropping the first game were successful in four sets over the strong combination of Ljubic and Midgley.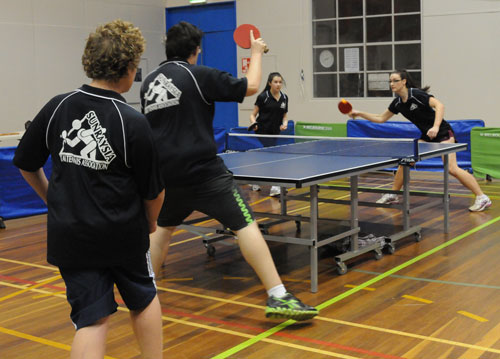 This 10-12 11-4 11-9 11-6 victory by the Carpeters started a run of three wins in succession enabling them to go to a healthy 4-2 lead.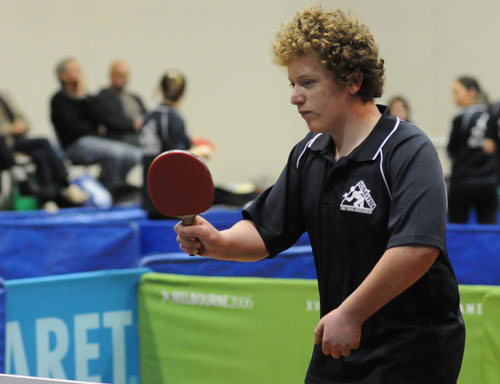 Cole Keegan won his second singles defeating Claire Ljubic 11-9 11-6 11-9. Ljubic fought hard to maintain the pressure however "Consistent" Cole remained calm.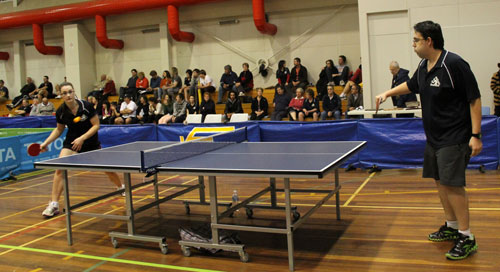 The next singles featured skipper Hosking for the Carpeters up against the fast improving Ellie Midgley and what a match it was. A five setter eventuated and Midgley had played well to take a two games to one lead however the "skipper" fought hard to enable his team to maintain their edge.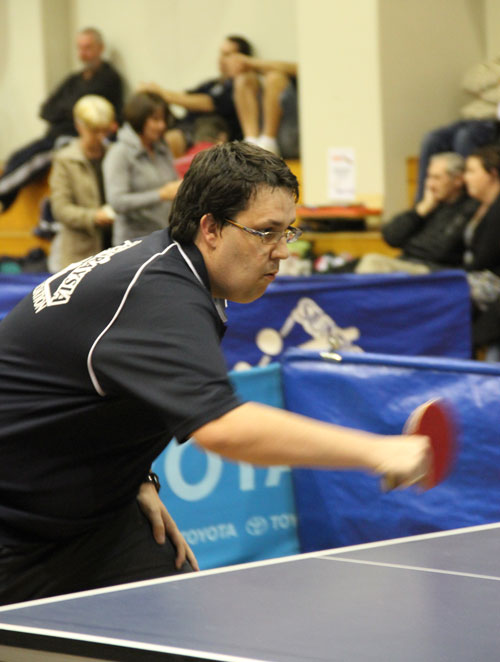 Hosking fought back to win strongly 6-11 11-9 10-12 11-6 11-4. Max Miller Carpets now led 4-2.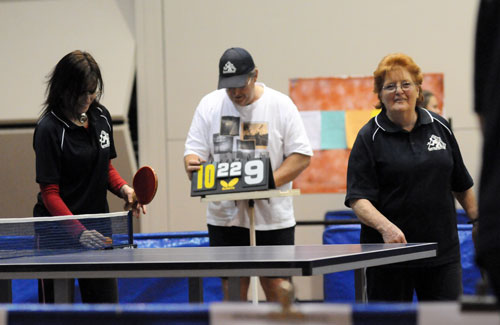 Another excellent five setter took place in the next match when Mallee Bearings Shirley Whitecross outlasted Georgia Tilley in a close tussle with many long rallies. This was a match of great concentration by both players and whilst both had an opportunity at the end it was Shirley who took the match 11-7 10-12 11-12 11-6 11-9 enabling her side to arrest the momentum of the Carpeters who were sensing victory.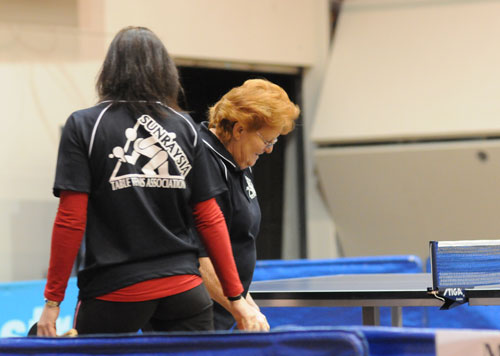 The score was now 4-3 in favour of the Carpeters.
Ben Hosking and Georgia Tilley then teamed up in the second doubles for Max Miller Carpets against Claire Ljubic and Shirley.Ben and Georgia started well however Claire and Shirley knowing they needed victory grabbed the initiative by taking the next to games and were playing well however the Carpeters lifted their momentum and finished strongly.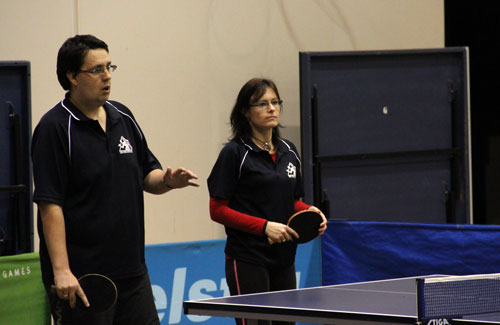 In particular Hosking played some fine shots at the end when the opposition were on the offensive. The Carpeters combination had fared well to win 11-6 7-11 6-11 11-8 11-5. Georgia had played an important role in this contest and the Carpeters now held a 5-3 lead and had now won four of the last five matches.
The next singles featured Cole Keegan up against Ellie Midgley.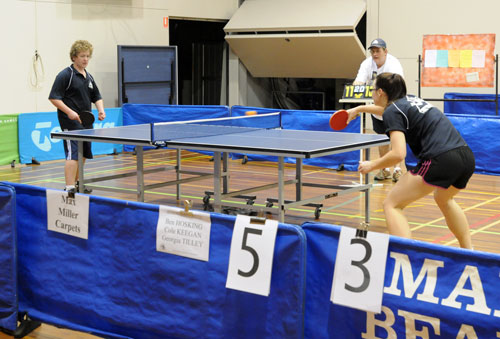 These two players have had impressive seasons and both possess strong forehands and many of these were on display. Cole took a close first and despite Ellie maintaining pressure "Consistent" Cole stayed calm to win 14-12 11-7 12-10 giving Max Miller Carpets a 6-3 victory and the 2012 pennant four winter premiership.Keegan was a star in the match winning three singles and the doubles he participated in with skipper Hosking.
Hosking was a happy man as he accepted the Wayne & Chris Carmichael perpetual shield.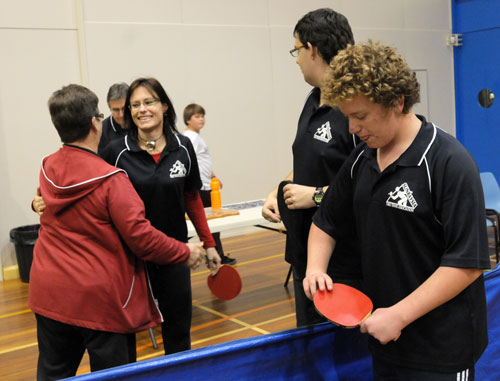 He heaped praise on his two team mates Cole Keegan and Georgia Tilley who were both in their first seasons of table tennis. Hosking offered commiserations to their opponents Mallee Bearings team of Claire Ljubic, Shirley Whitecross and Ellie Midgley.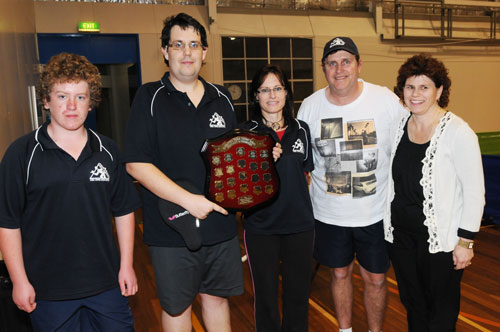 Max Miller Carpets were deserved premiers winning ten of fifteen matches during the home and away season before finishing off with two good results in the finals series. This was the first winter pennant flag for all the players in the team with Ben Hosking adding to his success in pennant four in the last Summer Pennant.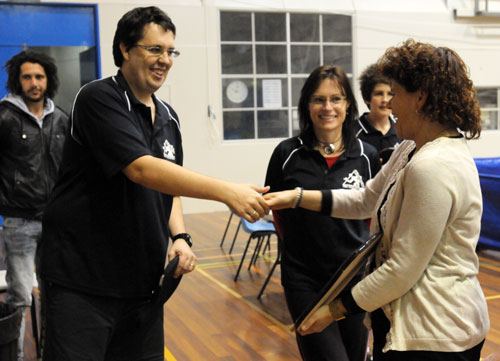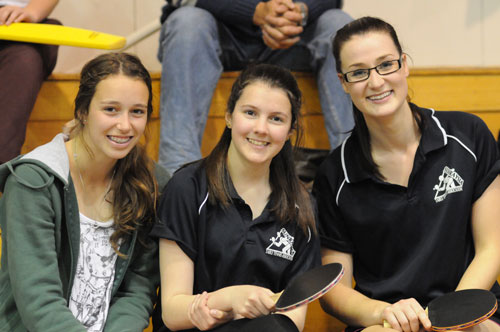 Sunraysia Table Tennis Winter Pennant results Grand Finals: –

PENNANT ONE:
Grand Final: Pinnacle Packers 6 (Shannon Bowen, Shane Carmichael 2, Kevin Johns 1) d Weightmans Packaging 5 (Mark Dorman 3, Graeme O'Neill 1)
PENNANT TWO:
Grand Final: Spanline 6 (Arthur Paar, Arnold Jago 2, Laurie Plummer 1) d Fishers IGA 2 (Sony Sefer 1)

PENNANT THREE:
Grand Final: Max Miller Carpets 6 (Matt Ljubic, Emily Carmichael 2) d Weightmans Packaging 2 (Darren Greaves, Lachlan Kelly 1)

PENNANT FOUR:
Grand Final: Max Miller Carpets 6 (Cole Keegan 3, Ben Hosking 1) d Mallee Bearings 3 (Claire Ljubic, Ellie Midgley, Shirley Whitecross 1)