Read Time:
10 Minute, 20 Second
Sunraysia Table Tennis Winter Pennant results round 12: –
PENNANT ONE: –
Fishers IGA 6 (Gavin Carmichael 2, Darren Robinson, Ashley Morrison 1) d Weightmans Packaging 5 (Mark Ljubic 3, Stuart Kilmister 2)
Pinnacle Packers 7 (Wayne Carmichael 3, Nicholas Dorman 2, John Gray 1) d Bishop Builders 4 (Shannon Bowen 2, Jackson Tung)
Mallee Bearings 6 (Mark Dorman, Ali Taheri 2) d Max Miller Carpets 5 (Rick McMeekin 3, Shane Carmichael, Arthur Paar 1)
PENNANT TWO: –
Spanline 7 (George Papanicolaou, Geoff Wright, Arnold Jago 2) d Pinnacle Packers 4 (Matt Ljubic 3)
Tankard Dental 6 (Nicholas Dorman 3, Bernadette Fitzpatrick 2) d Fishers IGA 3 (Andrew Jones 2, Lachlan Kelly 1)
PENNANT THREE: –
Fishers IGA 6 (Cole Keegan 3, Sam Hensgen, Helen Frania 1) d Pinnacle Packers 5 (Mick Bacon, Karly Leach 2)
Weightmans Packaging 6 (Peter Kelly 3, Ben Hosking 2) d Mallee Bearings 5 (Roy Cubit 2, Michael Hensgen, Peter Edwards 1)
Bishop Builders 6 (Claire Ljubic 2, Graham Southwell, Sosefa Fevaleaki 1) d Dunkley Scales 5 (Jessica Dorman 3, Leonie Dunkley 1)
Fishers IGA player of the round: Nicholas Dorman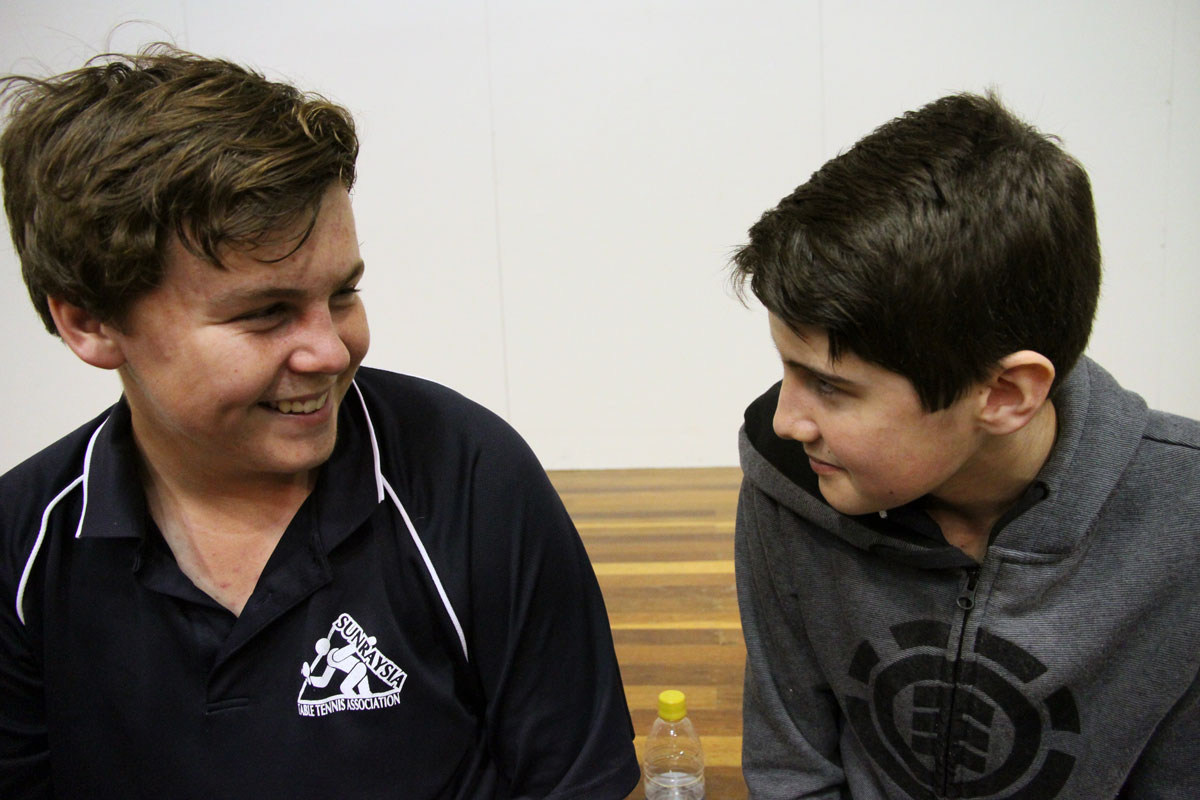 Our rising stars of the Stta circuit. Nicholas Dorman and Matt Ljubic are in a tight Aggregate race in Pennant 2 but have both looked comfortable in P1 as fill-ins.
PENNANT ONE:
By winning their second game in as many rounds Mallee Bearings have moved a game clear in fourth spot with three rounds to be played of the pennant one Sunraysia Table Tennis winter pennant. While skipper Mark Dorman is always steady, the improved form of first year player Ali Taheri is proving to be vital in the success of the Mallee Bearings combination. Even though team mate Graeme O'Neill is struggling with injuries if he can consistently pick up one singles a night his team could cause some problems for the top sides in the finals.
In an excellent result this round Mallee Bearings accounted for top team Max Miller Carpets who had won their three previous matches and going into this round enjoyed a nine win two loss record in the first eleven rounds. While Rick McMeekin continued his excellent form to again win three singles for the Carpeters it was Mark Dorman and Ali Taheri who won two singles each which contributed to the Mallee Bearings success. Taheri defeated Shane Carmichael in straight sets and in his other singles he took the points narrowly 11-6 11-7 9-11 7-11 14-12 in a thriller over Arthur Paar.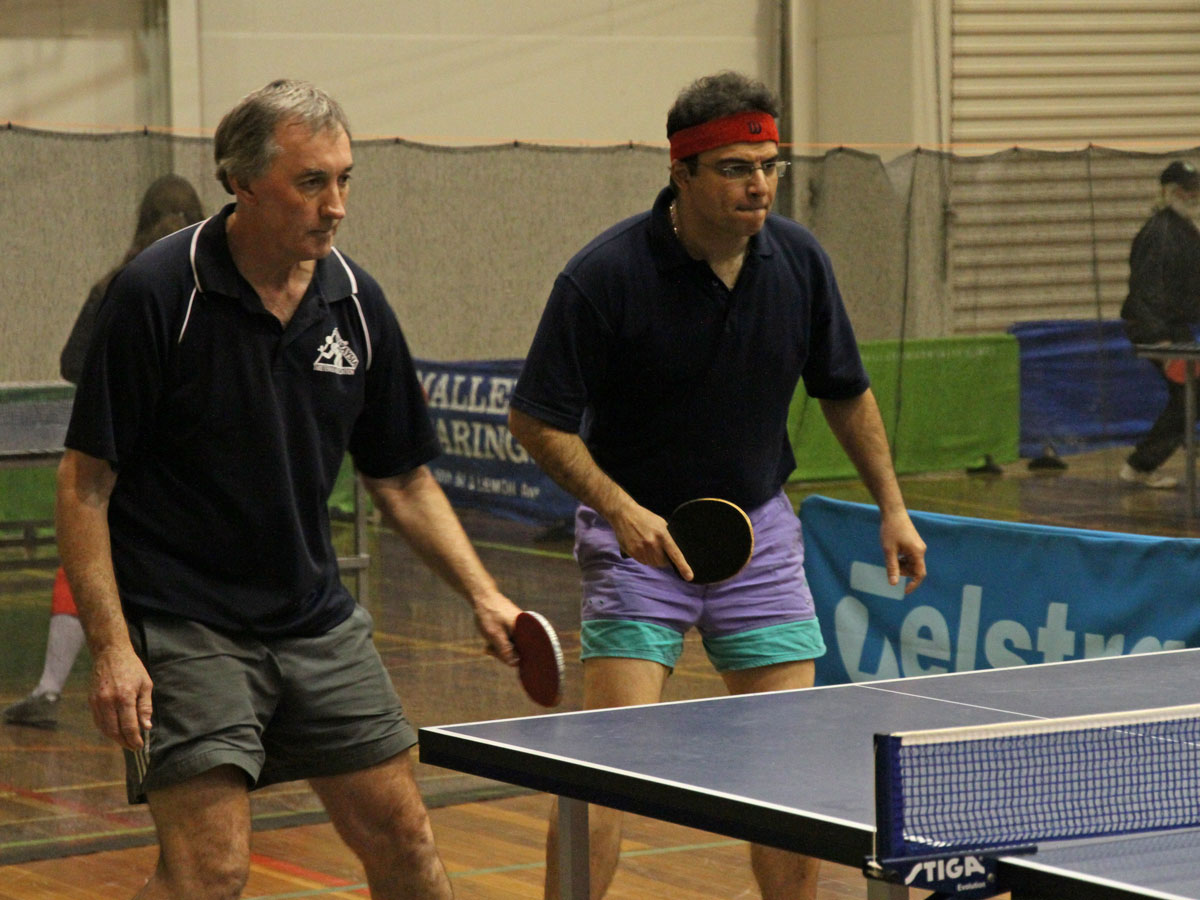 Dorman and Taheri also joined forces to defeat McMeekin and Paar in another five set thriller 6-11 11-5 5-11 12-10 11-8. Dorman and Graeme O'Neill also won the first doubles. The lack of success in the doubles was the achilles heel for the Carpeters as they won five singles to just come up short.
Second placed Pinnacle Packers edged out fifth placed Bishop Builders 7-4 in a match where the inclusion of young Nicholas Dorman as a fill in indicated it won't be long before he becomes a permanent fixture in pennant one. Currently he plays in pennant two where he leads the singles aggregate. He came into the Packers combination to replace Peter Midgley who is recovering from an operation.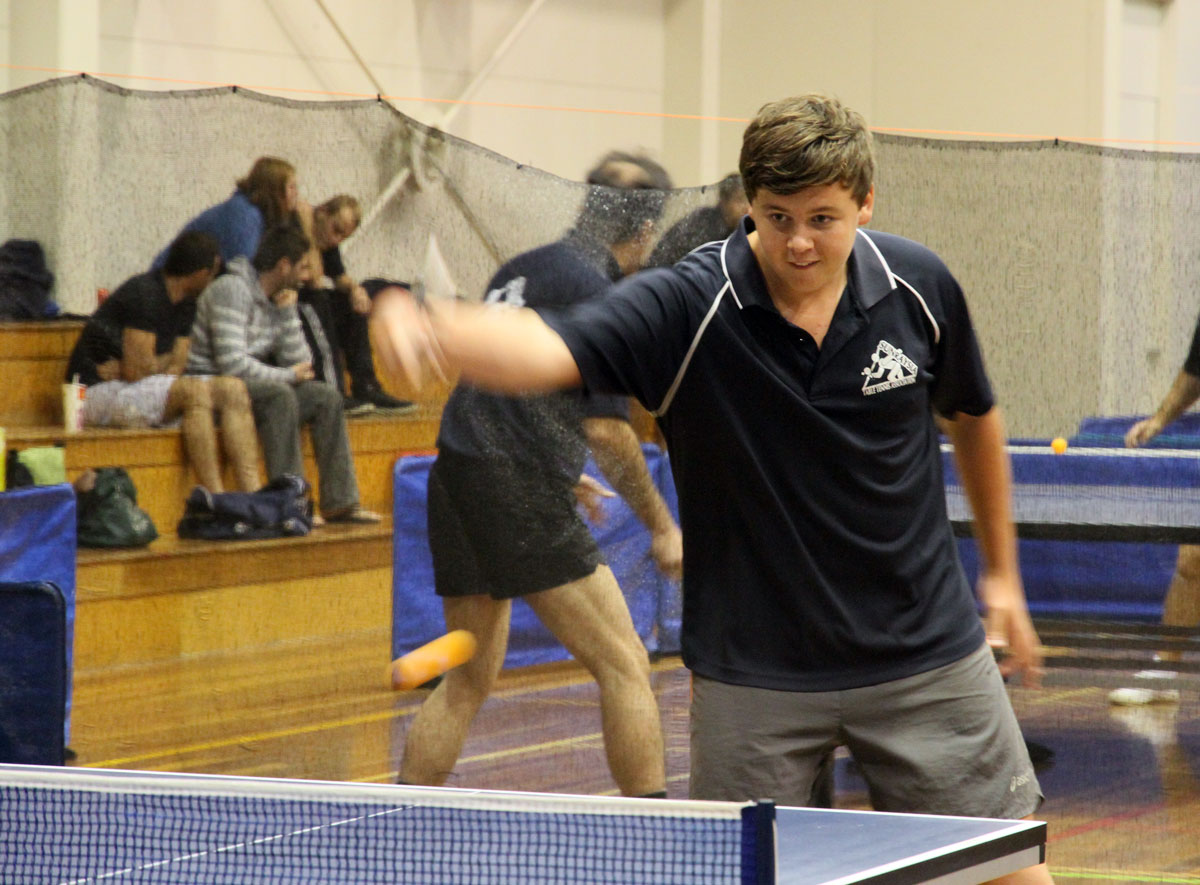 In a stunning display young Dorman outpointed the talented Jackson Tung in straight sets and then fought out a tremendous five set win over another exciting youngster Matt Ljubic who was also filling in from pennant two. Dorman won in an entertaining match 11-7 6-11 11-7 5-11 11-8. Both players are fifteen and the stage is set for an entertaining rivalry over the next few years.
Dorman capped off an excellent night by combining with skipper Wayne Carmichael to defeat Shannon Bowen and young Ljubic 11-8 11-13 13-10 7-11 12-10. For the Packers Wayne Carmichael won three singles again but not before having to survive an excellent five setter against Shannon Bowen. The Builders are one game out of the four with three rounds to be played and it promises to be an exciting climax to the season.
In the final match of the round third placed Fisher IGA narrowly defeated sixth placed Weightmans Packaging despite Mark Ljubic and fill in Stuart Kilmister winning three singles and two singles respectively.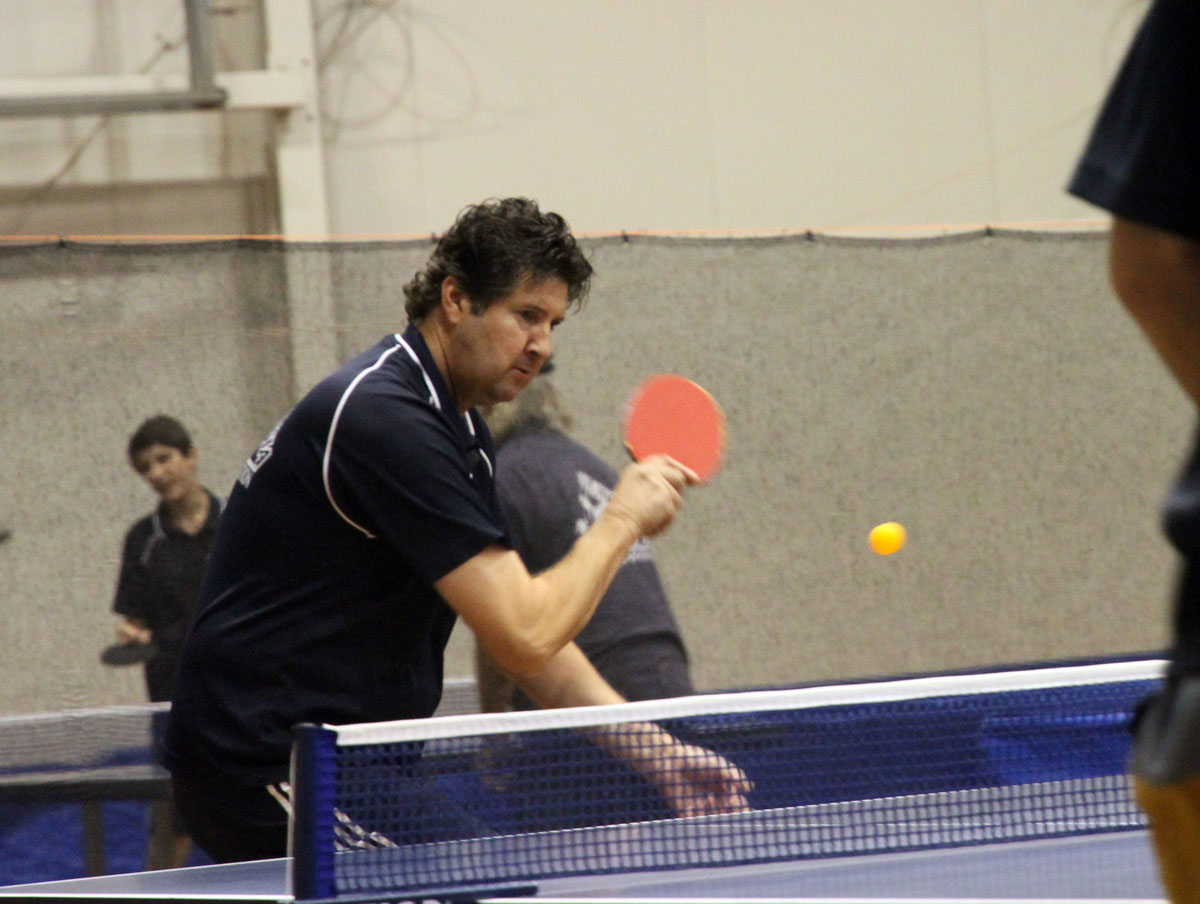 Skipper Ljubic was in fine form defeating opposing captain Gavin Carmichael 8-11 11-1 7-11 13-11 11-4 to further enhance his title of being the "five set king". Fill in Kilmister was in fine form as he also troubled Carmichael and then won a 14-12 in the fifth against the talented Darren Robinson.
Whilst Weightmans dominated the singles it was their lack of success in the doubles which enabled Fishers IGA to grab the vital four points.
PENNANT TWO:
Tankard Dental won their twelfth straight game with a win over Fishers IGA, whilst Spanline took a win over a depleted Pinnacle Packers team.
Tankard Dental 6 (Nicholas Dorman 3, Bernadette Fitzpatrick 2) d Fishers IGA 3 (Andrew Jones 2, Lachlan Kelly 1)
Tankard Dental and Fishers IGA played an abbreviated game, as both sides were a player short:  The Tankard Dental side was without Peter Fitzpatrick and David Balshaw, still suffering the effects of the flu, was absent from the Fishers side.
Tankard Dental captain Nicholas Dorman won both his singles in four sets, and helped Bernadette Fitzpatrick to a four set win in the only doubles match.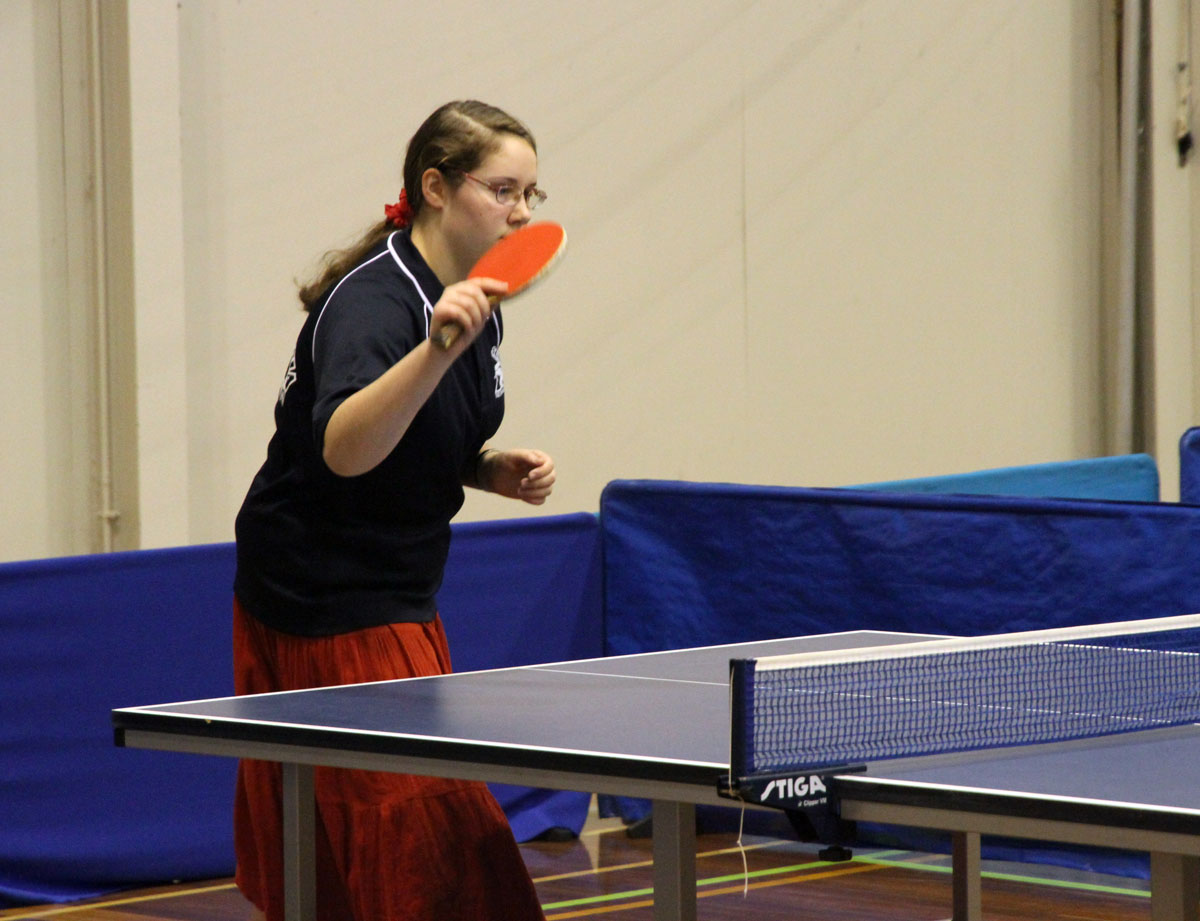 Bernadette downed Lachlan Kelly in four sets, and almost made it a clean sweep for her side, but went down narrowly to Andrew Jones in a five setter.  Jones won that 11-7, 7-11, 15-13, 5-11, 11-6.
Spanline 7 (George Papanicolaou, Geoff Wright, Arnold Jago 2) d Pinnacle Packers 4 (Matt Ljubic 3)
Wins have been few and far between for Spanline in this Winter Pennant, and it is not for want of trying.  On this occasion, Spanline rightly took full advantage of a depleted Pinnacle Packers side to record their third win with a 7 rubbers to 4 victory.
Pinnacle Packers captain Matt Ljubic was without Seval Fuat again,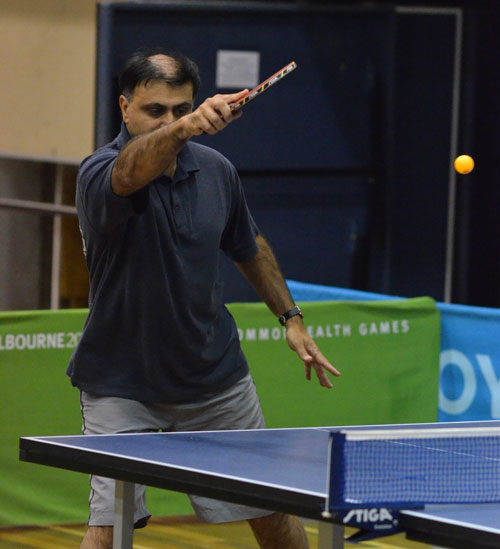 this time replaced by former Winter Pennant Premiership player Tahir Kurshid, and also Brian Hosking, who was replaced by Pennant Three player, Cole Keegan, filling-in in the higher pennant for the fourth time.
Ljubic was still the class of the table in this match, winning all his singles, and all in three sets.  He and Keegan took the second doubles against Jago and George Papanicolaou after being two sets to one down 11-9, 10-12, 12-14.  They steadied in the fourth and fifth sets, winning them both 11-9.  Earlier, he and Kurshid lost the first doubles after being two sets to one up against Arnold Jago and Geoff Wright.
Spanline, meanwhile, were all about consistency.  The three players all defeated the two fill-ins, plus the first doubles to give them their seven rubbers.
PENNANT THREE:
After a close shave with bottom-of-the-ladder team Dunkley Scales in the last round, which they won, Mallee Bearings were not so lucky this week.  Third placed Weightmans Packaging came from behind 4 rubbers to 1 to clinch victory in the last rubber.  And by virtue of that loss, and also their victory over Pinnacle Packers, Fishers IGA again joined Mallee Bearings at the top of the ladder.  In the third match, between teams fifth and sixth on the ladder, Dunkley Scales were once again denied a victory, after leading 5 rubbers to 4 against Bishop Builders, with two rubbers to go.  All matches were close, the winners getting the absolute minimum 6 rubbers.
Weightmans Packaging 6 (Peter Kelly 3, Ben Hosking 2) d Mallee Bearings 5 (Roy Cubit 2, Michael Hensgen, Peter Edwards 1)
Weightmans Packaging were without their number two, Peter Mikhaeil, for this match.  Mikhaeil has been in good form lately, having won 7 of his last 9 singles rubbers.  Mikhaeil had Jeff Hards subbing for him.  At the other end of the table, Mallee Bearings were without evergreen captain Sabrina Fitzpatrick.  The Bearings side have relied heavily on her so far this season, so this was sure to be an interesting contest.  Roy Cubit filled in for Sabrina.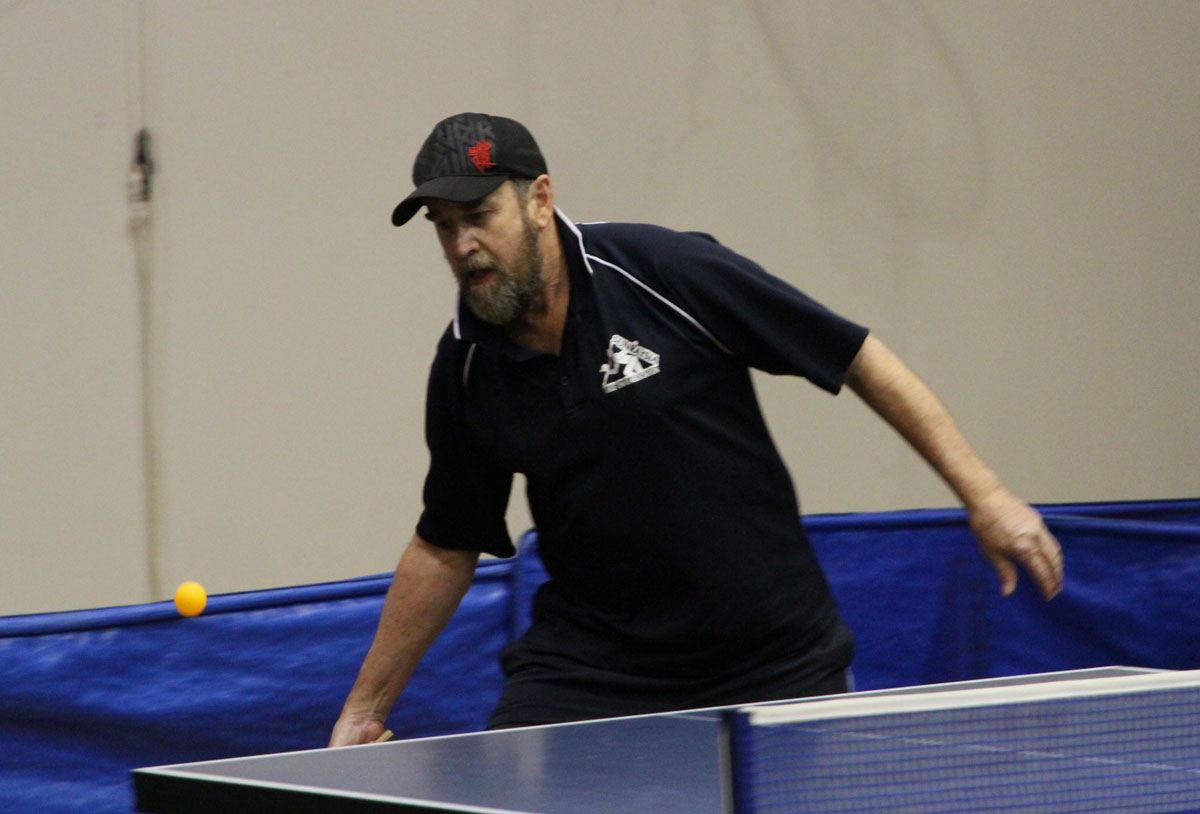 Weightmans captain Peter Kelly, playing only his seventh match for the season, scored three singles victories for the fourth time.  Although in eighth spot on the aggregate ladder, Kelly, on his performances, would be up around third spot.  On this occasion, his number three, Ben Hosking, picked up two valuable wins, the first time he has done so this season.  And Weightmans took the second doubles, to give them their victory.
It was the doubles match which won the round for Weightmans.  This was as close a doubles contest as you would see.  Going into the match, Mallee Bearings were leading 4 rubbers to 3, but Weightmans were on a bit of a roll, having taken the last two singles.  It is in this second doubles match that Mallee Bearings captain Fitzpatrick teams up with Peter Edwards.  This pair have only been defeated once this year, so are obviously a strong combination.  The pairing of Cubit and Edwards was a good one, but on this occasion, Kelly and Ben Hosking proved just too strong.  Hosking did have a good night playing singles, and it translated also to his doubles play.  The final result of 12-10, 9-11, 11-9, 10-12, 14-12 to Weightmans proved to be the clincher in the final result.  No other game was as close as this one.
Final scores: 6 rubbers to 5 and 23 games to 18.
Bishop Builders 6 (Claire Ljubic 2, Graham Southwell, Sosefa Fevaleaki 1) d Dunkley Scales 5 (Jessica Dorman 3, Leonie Dunkley 1)
Both sides were at full strength for this match, which once again saw Dunkley Scales captain Jessica Dorman score three singles wins, but her side losing the match in a thrilling five set final rubber.
With Dorman winning three singles for her side, consistency was the name of the game for Bishop Builders.  Both captain Claire Ljubic and her number two Graham Southwell won two singles, Sosefa Fevaleaki one, and the side the second doubles.
The Dunkley Scales team were playing like winners, leading 3-1, and then 4-2, before wins to Southwell in singles and Ljubic and Fevaleaki in the second doubles, leveled the scores at 4 rubbers all.  Dorman and Dunkley took an impressive five set win in the first doubles, when two sets down 10-12, 9-11 to Ljubic and Southwell, they claimed the next three 12-10, 11-5, 11-9 to stretch the lead at that early stage 3-1.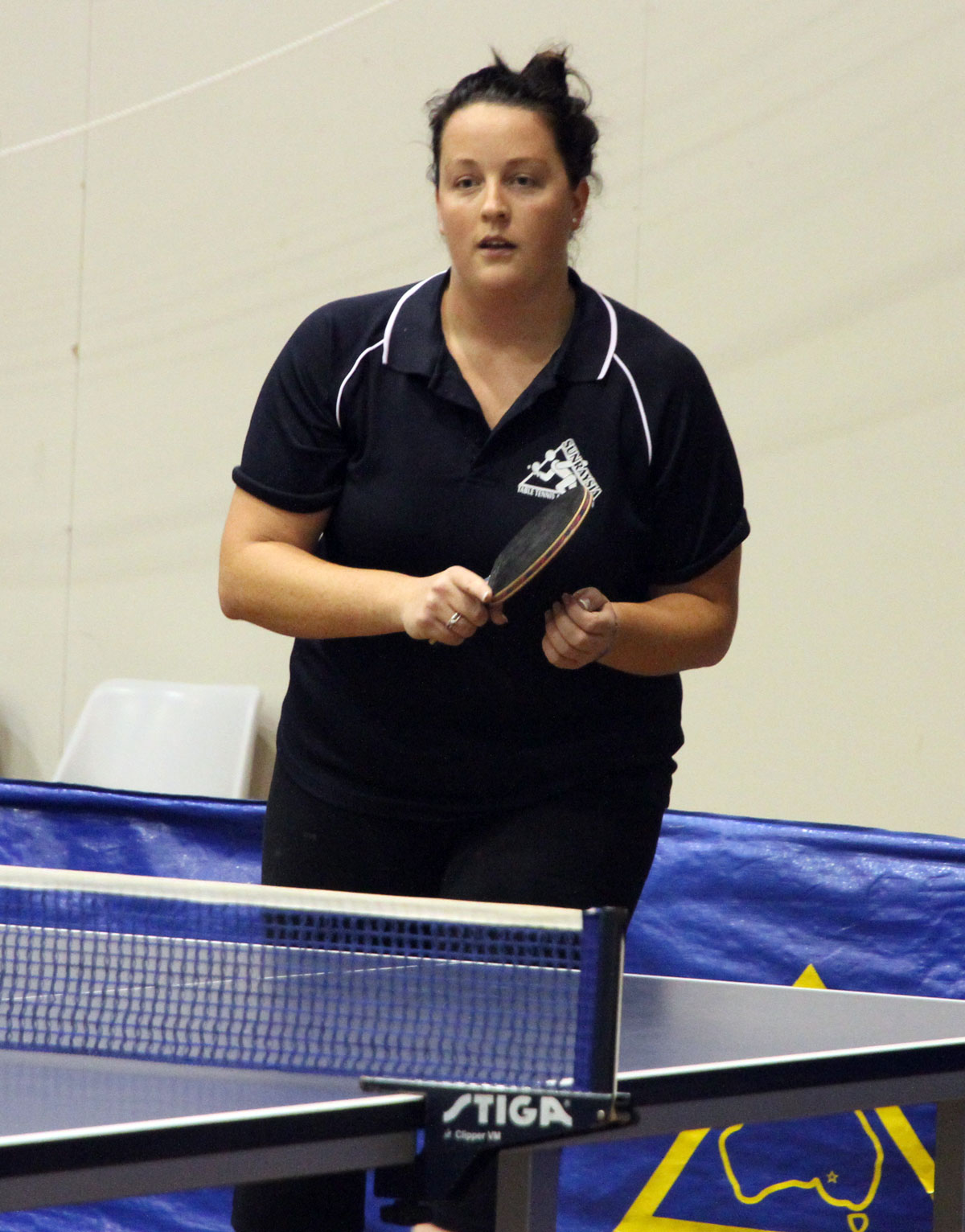 Dorman kept her side in the game, defeating Southwell in four sets, then conceding only twelve points against Fevaleaki, and finally to give her side the lead again at 5-4, a comfortable win over opposing captain Claire Ljubic 11-6, 5-11, 11-8, 11-6.
That, however, was the end of wins for the Scalers.  Graham Southwell leveled the score at five all with an 11-9, 13-15, 11-2, 12-10 win over Leonie Dunkley, and Sosefa Fevaleaki played a cliff-hanger 11-5, 9-11, 11-9, 12-14, 11-9 match with Shirley Whitecross in the eleventh rubber to seal the win.
Final scores 6 rubbers to 5 and 24 games to 20.
Fishers IGA 6 (Cole Keegan 3, Sam Hensgen, Helen Frania 1) d Pinnacle Packers 5 (Mick Bacon, Karly Leach 2)
With the absence of joint aggregate leader Sabrina Fitzpatrick, Cole Keegan extended his lead at the head of the aggregate table to three, with an impressive display in this match.
Keegan had little trouble with Quentin Clark and Mick Bacon, defeating both in three sets, and it was Karly Leach who almost stole their match.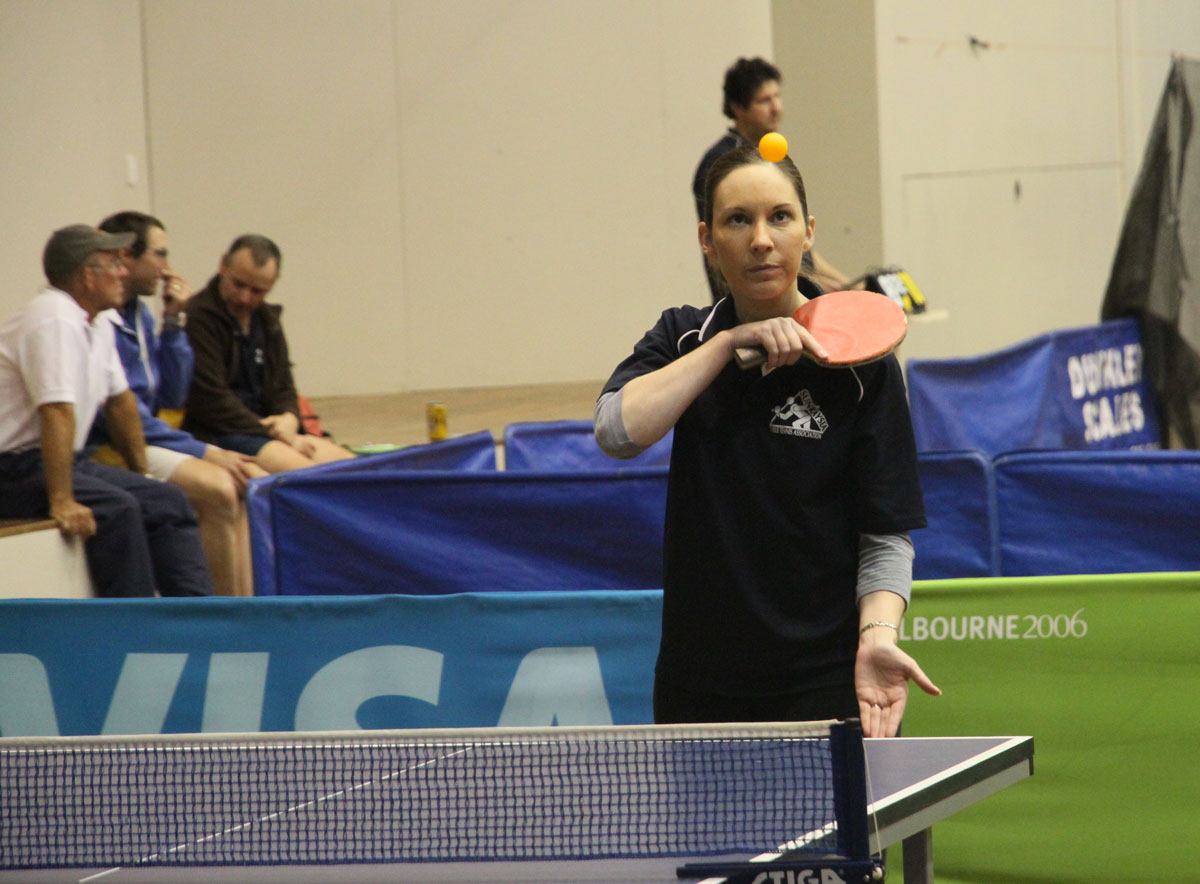 Leach traded sets with Keegan, and narrowly lost the fifth 12-14 to concede the match which probably decided this tie.
Keegan had support from his teammates, Sam Hensgen and Helen Frania, who both took a singles win, and Keegan and Frania took the second doubles comfortably against Bacon and Clark in three sets.
Final scores6 rubbers to 5 and 23 games to 19.