Read Time:
10 Minute, 11 Second
Sunraysia Table Tennis Winter Pennant results round 1: –
PENNANT ONE:
– Max Miller Carpets 6 (Rick McMeekin 3, Shane Carmichael 1) d Mallee Bearings 5 (Shannon Bowen, Peter Bishop 2, Jackson Tung 1)
– Weightmans Packaging 6 (Wayne Carmichael 3, John Gray, Peter Midgley 1) d Pinnacle Packers 5 (Mark Ljubic, Andrew Cannard 2);
– Bishop Builders 6 (Mark Dorman 3, Graeme O'Neill, Kevin Johns 1) d Fishers IGA 5 (Gavin Carmichael, Darren Robinson 2)

PENNANT TWO:
– Tankard Dental 6 (Peter Fitzpatrick, Nicholas Dorman 2, Bernadette Fitzpatrick 1) d Spanline 5 (Arnold Jago 3, George Papanicolaou 1)
– Fishers IGA 6 (Bernadette Fitzpatrick 3, Andrew Jones 2) d Pinnacle Packers 5 (Matt Ljubic 2, Seval Fuat, Brian Hosking 1)

PENNANT THREE:
– Weightmans Packaging 9 (Peter Kelly, Glen Bell 3, Ben Hosking 1) d Pinnacle Packers 2 (Mick Bacon, Karly Leach 1)
– Bishop Builders 6 (Alyce Carmichael, Claire Ljubic 2, Graham Southwell 1) d Fishers IGA 5 (Cole Keegan, Josh Carmichael 2)
– Mallee Bearings 7 (Sabrina Fitzpatrick 3, Peter Edwards 2, Michael Hensgen 1) d Max Miller Carpets 4 (Jessica Dorman 2, Leonie Dunkley 1)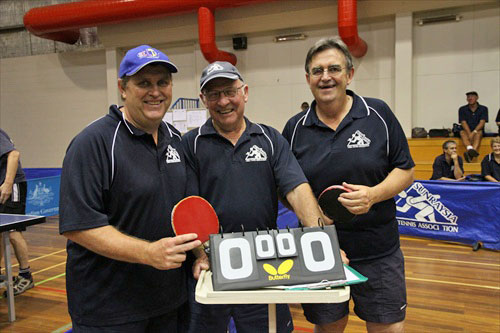 Table Tennis 2013 is underway !!!!
Our "winter "comp started in humid conditions last wednesday which helped Denise's drink sales get off to a flyer. Fortunately they are the coldest softies in Sunraysia and were appreciated by the hard working players.
In a real coup for the association past premiership player and aggregate winner Rick McMeekin has made a return to the table and appears to have not lost any touch at all.
 Other players who missed the last winter comp and have made a return are Andrew Cannard, Mark Ljubic and Darren Robinson along with Gavin Carmichael. Players making their debut in Pennant one are Ashley Morrison and Ross Humphreys who are both up from pennant two while new recruit  Ali Taheri looks like he will fit in well.
Welcome to you all as well as our regulars, good luck!!
PENNANT ONE:
Now for the action on the table. All pennant one matches were decided by a 6-5 result which would have been pleasing for the often maligned grading committee.
 On the centre court Max Miller Carpets proved just too good for Mallee Bearings winning 6-5. The Carpeters were well skippered by Rick McMeekin who won his three singles and participated in both doubles victories. The first doubles was a highlight as McMeekin and team mate Shane Carmichael accounted for Shannon Bowen and Jackson Tung in an entertaining five setter 11-9 6-1111-8 5-11 11-6.
 McMeekin later matched up against opposing number one player Shannon Bowen and this was a top class match between two very talented players with Rick winning in four 11-5 10-12 11-9 11-5. These two players are set for a top season and they will place pressure on all the number one players in the competition.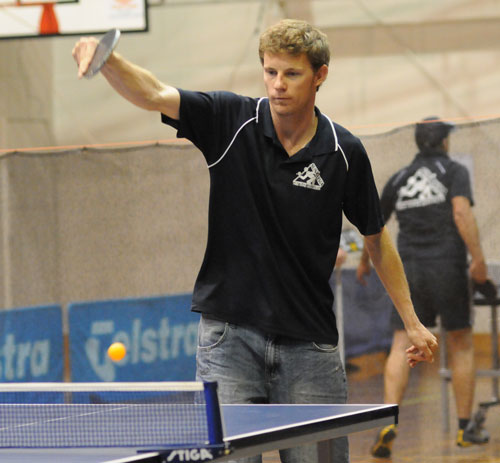 For Mallee Bearings Shannon Bowen won two singles as did Peter Bishop both downing the unlucky Shane Carmichael in five sets when Carmichael at different stages held the edge. In the end it was the lack of success in the doubles which was costly for Mallee Bearings.
 On the stage court Bishop Builders constructed a hard fought 6-5 victory over Fishers IGA with skipper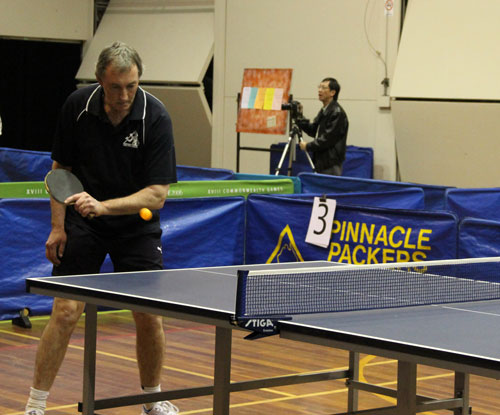 Mark Dorman leading the way with three singles victories. His four set victory 11-9 10-12 11-9 11-9 over Gavin Carmichael was decisive and continued his success over Carmichael over the past few seasons. The doubles were shared and for the Builders both Graeme O'Neill and fill in Kevin Johns won a singles each.
 Going into this match Ashley Morrison for Fishers was unavailable while new player Ali Taheri for Bishop Builders was also out and they were replaced by Sony Sefer and Kevin Johns respectively. Sefer had a busy night playing on two tables and while he may have lacked success in his singles he played an important part in his doubles on each table. He now leaves for Queensland to recuperate after such a work load and to meet the rotation policy which I hear has taken off in other sports. Table tennis continues to be a trail blazer!!
 Weightmans Packaging and Pinnacle Packers fought out the third 6-5 result of the night on the grand stand court which was packed. Spectators witnessed proven performer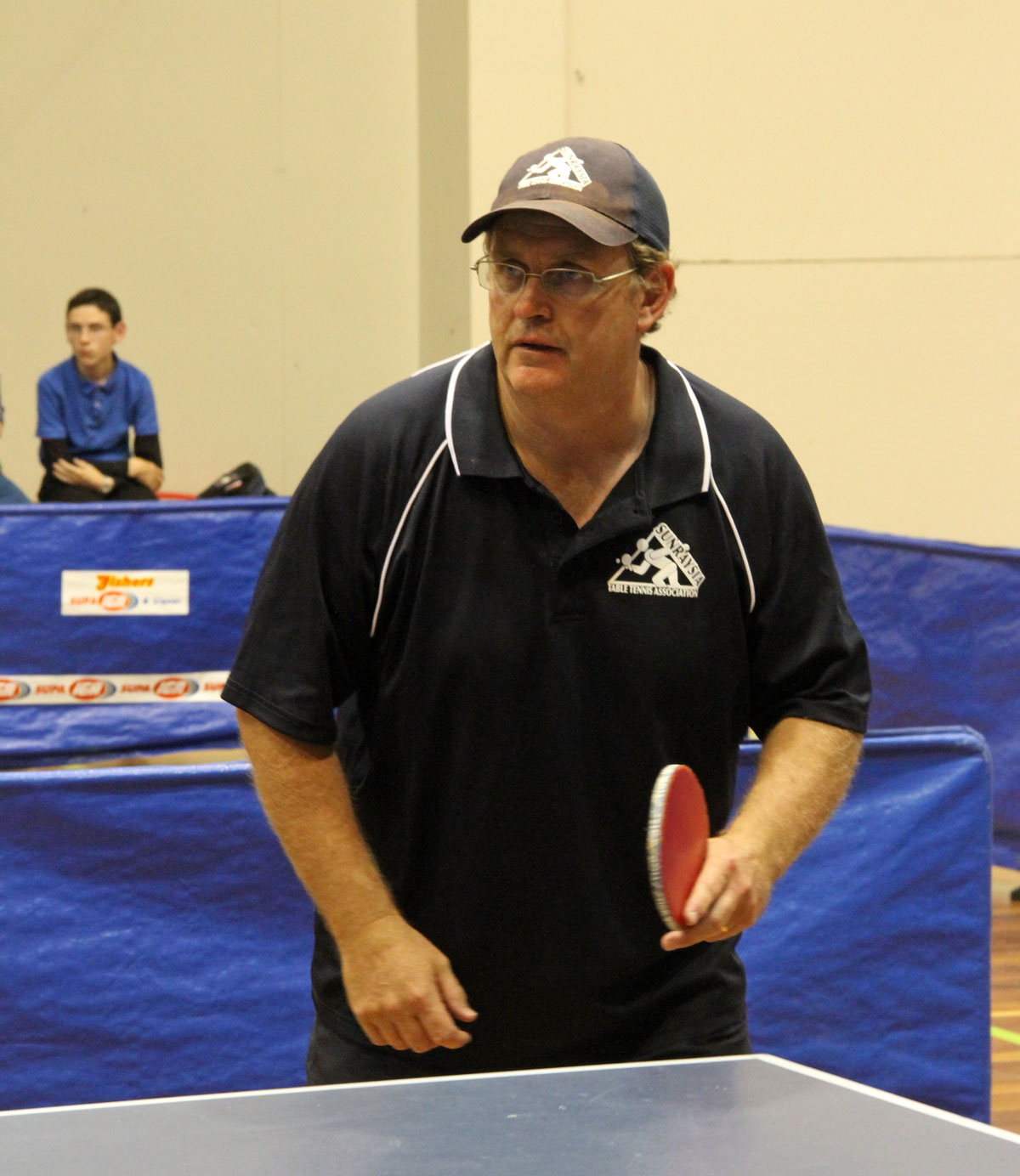 Wayne Carmichael start the season with his customary three singles victories and he received excellent support from team mates John Gray and Peter Midgley who won a singles each. The Packers Andrew Cannard and Mark Ljubic would have been happy with their start given they both won two singles each and in the first doubles they combined to defeat a tough pair of Wayne Carmichael and John Gray in a tremendous five setter 11-4 10-12 5-11 11-7 11-8. Carmichael and Gray are adept at this part of the game and will be keen to match up against Cannard and Ljubic again later in the season. 

One Round done fourteen to go !!
PENNANT TWO:
Pennant Two is usually the grade with the most teams, but this season has only a dozen players, making up four teams. These players will certainly be familiar with each others games by the end of the season, playing each other five times, i.e. each three weeks !! Both games were close, the winners getting home by the smallest of margins, 6 rubbers to 5.
TANKARD DENTAL v. SPANLINE
Nicholas Dorman, Bernadette Fitzpatrick and Peter Fitzpatrick took on Arnold Jago, George Papanicolaou and Lachlan Kelly in this first round encounter.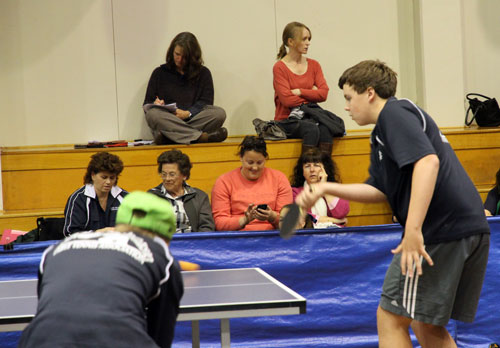 Dorman continued his good form from the recent past, winning two rubbers, and very nearly downing Arnold Jago in the last rubber, which although dead, as the result was already known, was probably the best match of the evening. Jago took the first 13-11, Dorman the second 12-10, Jago the third 12-10, Dorman blasted through the fourth 11-4 and looked to have the game in his keeping. The last set was a tense affair, both players holding three match points before Jago got the break, to take the set and match 17-15. Along with Dorman's two rubbers, Peter Fitzpatrick had a good night contributing a further two, beating Lachlan Kelly in four and George Papanicolaou also in four. He and Dorman also won their doubles match against Jago and Kelly 13-11, 11-6, 8-11, 12-10. For Spanline, Arnold Jago was his usual difficult self; apart from his win over Dorman, he also made short work of both Bernadette and Peter Fitzpatrick, defeating them both in three sets. He and Papanicolaou won the first doubles match in five against Dorman and Bernadette Fitzpatrick. Papanicolaou also contributed to Spanline's tally with a hard-earned five set victory against Bernadette. George led two sets to love 11-4, 14-12, before Bernadette got warmed up, taking the next 11-6, 14-12 to set the scene for a tight fifth set. And so it was, the scored edging a point at a time, until George got the two point break he needed to take the rubber 12-10. A close win then to Tankard Dental 6 rubbers to 5 over Spanline and 24 games to 19.
FISHERS IGA v PINNACLE PACKERS
Fishers IGA, represented by Andrew Jones, Bernadette Fitzpatrick (filling in) and Lachlan Kelly got home by the skin of their teeth in this match against the Pinnacle Packers trio of Matt Ljubic, Seval Fuat and Brian Hosking.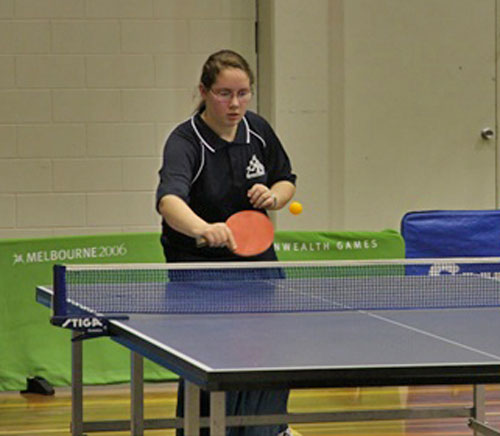 Bernadette led the way for her adopted side, winning three; downing Fuat in four, Matt Ljubic in five and Brian Hosking in four. She completed a perfect night for Fishers winning her doubles match with captain Andrew Jones in five against Hosking and Ljubic. Jones himself won two rubbers; downing Fuat in five, and Hosking in three. The match
he lost was against Matt Ljubic, which probably represents the way of things, Andrew being the old guard, up against the new in Matt. Ljubic had control of this match winning 11-8, 4-11, 11-7, 11-5. The final score was 6 rubbers to Fishers to Pinnacle Packers 5, but the Packers scored 23 games in losing to the winners 20.
PENNANT THREE:
The 2013 Pennant Three seasons saw six teams line up to do battle. This grade now sees many familiar faces, previously in Pennants Three and Four, and a good sprinkling of new ones.
WEIGHTMANS PACKAGING v. PINNACLE PACKERS
Weightmans Packaging easily accounted for Pinnacle Packers in this Round One hit out. Both captain Peter Kelly number two and fill-in Glen Bell won three singles, the teams took both doubles, and number three Ben Hosking picked up a win against his opposite number Quentin Clark.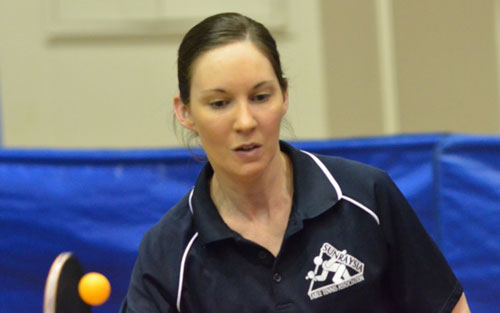 The Packers Karly Leach got her side off to a good start with a win in the first rubber against Ben Hosking, but that was the last win for her, and the second and last win came courtesy of her captain Mick Bacon when he too defeated Hosking in five sets. The pick of the players was Glen Bell. He won his three rubbers in three sets against Clark, and in four sets against Bacon and Leach. An easy win to Weightmans, 9 rubbers to 2 and 29 games to 13.
BISHOP BUILDERS v FISHERS IGA
This was a very close match all night, with each side having the ascendency at various times, and the result only coming in the last rubber. No one player dominated this match, as four players won two singles. Each side one won doubles contest, and the difference therefore, was a solitary rubber. Cole Keegan and Josh Carmichael played well for Fishers IGA – they won two singles each, and combined to win the doubles match against Claire Ljubic and Alyce Carmichael. That was the sum total of wins for their side, Helen Frania, despite putting up a good fight in her matches, could not garner that much sought after sixth win. For the winners, Claire Ljubic and Alyce Carmichael were the stand-out players.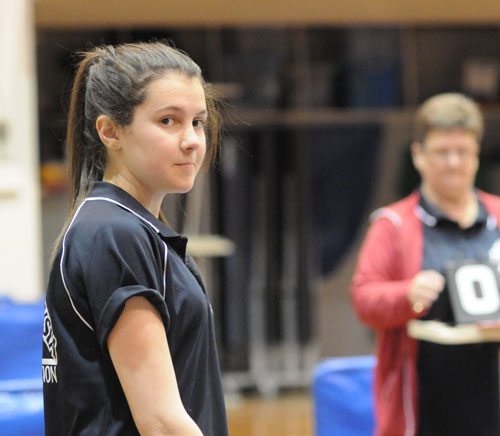 Ljubic won two singles – against Frania in three (the last going to 12-10), and later on defeating Cole Keegan in four. Carmichael, meanwhile defeated her brother Josh in three, and Frania also in three. Ljubic and Carmichael won the doubles easily against Keegan and brother Josh in three, and the sixth rubber came from Graham Southwell when he defeated Frania in three. A close result Bishop Builders 6 rubbers to Fishers IGA 5 and 23 games to 16.
MALLEE BEARINGS v MAX MILLER CARPETS
A great start to the year for Mallee Bearings with a 7 rubbers to 4 result in this match against Max Miller Carpets. The Bearings side may have a little gem in their side with Peter Edwards, who has now moved into the
senior ranks after playing for some years in the junior competition.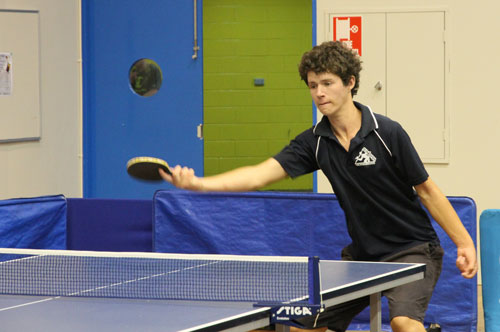 Edwards won two singles rubbers in this match, and when playing doubles with captain Sabrina Fitzpatrick came from a set down to win that contest in four sets. Along the way, Edwards also defeated Leonie Dunkley. Dunkley has been a big improver in the last two seasons of Pennant Four, but Edwards kept his head and outlasted Dunkley in a tough five set match 6-11, 11-6, 9-11, 16-14, 11-9. His captain Sabrina Fitzpatrick won three rubbers, defeating Leonie Dunkley in four, just getting home against Jessica Dorman in five, and despite some firm opposition from Shirley Whitecross, defeating her in three. The Max Miller team, whilst being defeated here, certainly have players who will pick up the pace for them throughout the season. Jessica Dorman, in particulars showed good form, downing Peter Edwards 11-7, 12-10, 11-9, and later on outlasting Michael Hensgen in five. As already stated, she had a good tussle with Sabrina Fitzpatrick, after being two sets to love up, that match going against her 11-8, 11-9, 7-11, 11-13, 7-11. Mallee Bearings, then got the four premiership points this time, winning 7 rubbers to 4, and 25 games to 19.