Read Time:
12 Minute, 4 Second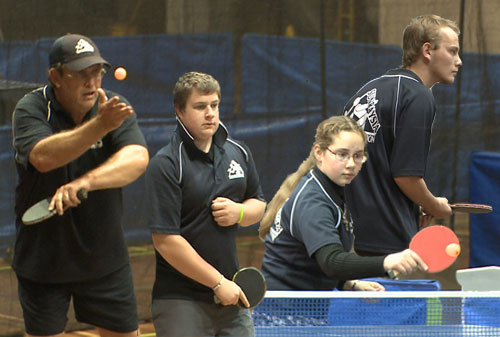 PENNANT ONE
Close matches were a feature of round eight action with seven of the nine matches decided by a 6-5 result in one of the closest rounds for some time.
In pennant one the "dream team" Max Miller Carpets suffered their first taste of defeat losing 5-6 to the in form Weightmans Packaging. This was Weightmans second win in as many weeks as they begin a surge which can be directly attributed to the form of "giant killer" Joel.
For the second week in a row Joel Dorman has recorded three singles victories in very impressive fashion. For the first time last round young Dorman accounted for Wayne Carmichael in an excellent match and this round he took the points over father Mark Dorman and Shannon Bowen who both have been in consistent form this season. In the battle of the Dorman's Joel showed consistency, excellent control and mature shot selection to win 11-6 4-11 11-8 11-7 over Dorman senior. Not too many players can say that they have defeated experienced lefties Wayne Carmichael and Mark Dorman in successive rounds. The seventeen year old Dorman was not about to rest on his laurels, he then disposed of the talented Shannon Bowen in four sets 9-11 11-4 14-12 11-8 in a top class contest. In the past three rounds Joel has won eight of nine singles and has a new found confidence in his game.
Dorman is an exciting talent and if he can maintain this form Weightmans can be a force particularly if Andrew Cannard can follow up his form from this round. Cannard has by his standards had a quiet season however in his first match this round he fought hard in an impressive five setter to defeat Shannon Bowen 8-11 11-4 11-8 3-11 11-9. Cannard led 10-5 in the fifth and it looked all over however Bowen rattled off four winners in succession to trail 9-10 before Cannard forced an error to record an impressive victory.
Cannard scored a second singles success when he defeated Ed Hung in three sets while in his third match he fought out a marathon with Mark Dorman before Dorman steadied to win 10-12 11-7 13-11 15-17 11-9 in a thriller. Weightmans Graeme O'Neill sealed an exciting win for his team when he defeated Ed Hung 11-4 11-5 11-8. Success came despite not being able to win a doubles match.
 Mallee Bearings vs. Fishers IGA
After going down last round, Mallee Bearings bounced back this week to defeat Fishers IGA 6-5. The highlight match in this contest was the singles between thirteen year old Dillon Chambers against the experienced Wayne Carmichael which is not a surprise as each time they play now spectators are in for a treat. As usual Dillon was on the attack and Carmichael had to defend bravely at times whilst also taking the opportunity to get on the offensive when he could. In the exciting fifth Chambers led 7-4 and had victory in his grasp however the experienced Carmichael was able to claw his way back to win in an exciting finish 7-11 11-6 10-12 11-9 11-8.
For Fishers Chambers and Shane Carmichael won two singles each. With the scores at five rubbers all Kevin Johns outpointed Fishers Gavin Minter in three sets to give Mallee Bearings their fourth win and a two game break in third place on the ladder.
PENNANT TWO
As was the case in pennant one all matches in this pennant were decided by a 6-5 result which was pleasing for the grading committee. As usual five setters were a feature in this close competition and all results could have gone the other way on a night of some excellent singles and doubles matches.
Mallee Bearings vs. Max Miller Carpets
Max Miller Carpets went into this round without a win, however with the inclusion of Sam Foreman as a fill in, this result was always going to be close and the Carpeters were confident of success. Despite Foreman not playing for some time he performed well to win three singles and participate in one victory of the two doubles. Unfortunately the Carpeters fell one rubber short despite Foreman's efforts.
For Mallee Bearings skipper Arthur Paar had a quiet night by his standards winning one match however he was unlucky going down in two five setters by a narrow margin to both Ashley Morrison and Sam Foreman. Paar's team mates Sony Sefer and Matt Burns both played well winning two singles each and it was Burns who played a key role when he combined with Paar to win the second doubles against Foreman and Abraham McDonnell which levelled the match at four rubbers all.
With the scores locked at five all, Burns then played inspiring table tennis defeating Ashley Morrison 11-9 11-1 7-11 12-10, which earned him the Mallee Burger pennant two player of the round. This victory moves Mallee Bearings to only one win out of the four.
Tankard Dental vs. Spanline
Tankard Dental again can thank Damien Ford for bagging the points in a close match this time at the expense of Spanline. For the fifth time this season the Tankard number two has won three singles and now has joined Peter Midgley, who did not play this round, at the top of the singles aggregate. With the match at four rubbers all Ford played Spanline number one Daniel Jansen. Jansen himself has enjoyed a solid season and this was a classic match with Jansen grabbing the early initiative by winning the first two games. Ford fought bravely in the third to win that game before going on to win in five sets 5-11 7-11 11-6 11-6 11-9 in a thriller. With the score at five all Ford's team mate Andrew Jones then sealed the match for Tankards when he defeated Anthony Fox 11-7 5-11 11-6 11-9.
Earlier in the night Jones and Ford won the crucial first doubles in a tremendous fight back against Daniel Jansen and Anthony Fox.  Trailing two games to love Jones and Ford just grabbed the third by the barest margin before going on to take the points 9-11 6-11 12-10 11-5 11-7 in what turned out to be crucial in the victory.
For Spanline Seval Fuat was their best performer winning two singles and teaming with Daniel Jansen to win the second doubles in a lengthy five setter against Andrew Jones and Samuel McDonnell.
Fishers IGA vs. Pinnacle Packers
Fishers IGA retained second position on the ladder with a solid 6-5 victory over Pinnacle Packers despite fill in Darren Robinson, back after a long break from the game, winning three singles and team mate David Balshaw playing solid table tennis to win two singles.
This result showed how important the doubles are as Fishers won both with Lee Thomas taking part in both. Lethal Lee won two singles and had a tremendous struggle with the talented Robinson. In an entertaining match Robinson won 7-11 11-4 10-12 12-10 11-7.
Thomas's team mates Nick Barlow and Robert Chiswell won a singles each and how vital they were in the end result. With his team up 5-4 Barlow played an excellent match against the experienced Arnold Jago winning in four sets 11-8 7-11 12-10 11-7 to give Fishers an important victory. Team mate Robert Chiswell earlier in the night in the very first game also defeated Jago 13-11 11-7 4-11 4-11 11-7 to get his team off to a dream start.
 PENNANT THREE
Mallee Bearings vs. Fishers IGA
With a 6-5 victory over Fishers IGA, Mallee Bearings have joined both Weightmans Packaging and Pinnacle Packers at the top of the ladder with five wins after eight rounds.
In an even display Tahir Khurshid, Alex Keegan and fill in Bernadette Fitzpatrick all won two singles for the victors.
Bernadette played an instrumental role in the victory coming in at late notice to fill in for her father Peter who was stranded at the Melbourne airport. Young Fitzpatrick went down in her first match to the experienced Laurie Plummer however in an excellent match against the improving Leon Brown, Bernadette won a crucial match 10-12 11-7 4-11 15-13 11-9 a thriller. In her third singles Bernadette gave her team the four points when she defeated difficult opponent Gary Hughes in four sets 8-11 11-4 18-16 11-8. Bernadette plays in pennant one of the junior competition which is about to start next week. She is a determined player and her effort against older opponents was outstanding and earned her the Mallee Burger pennant three player of the round.
For Fishers skipper Laurie Plummer played well to win two singles and he was also a participant in both doubles victories. Alex Keegan played an excellent singles match to defeat Laurie 11-9 8-11 13-11 11-9 a great win against an experienced opponent.
Max Miller Carpets vs. Weightmans Packaging   
Unfortunately each team was without a player due to unavailability and this match saw a two versus two clash. In these types of matches the doubles are important and this was no exception. In the only doubles played Weightmans Packaging, Jackson Murphy and Darren Greaves proved too steady for Tom Murphy and Peter Kelly winning 9-11 11-6 10-12 11-2 11-6 in a long match.
Jackson Murphy extended his lead on the singles aggregate with another three singles victories while his team mate Darren Greaves won two. Greaves in the first game of the night fought back from two games to one down to defeat Peter Kelly 11-7 10-12 8-11 11-8 11-8. Greaves was involved in his third five setter later in the night going down to the Carpeters skipper Tom Murphy. Murphy won 8-11 6-11 11-4 11-8 11-8 a great comeback after trailing two games to love.
 PENNANT FOUR    
Mallee Bearings vs. Fishers IGA
For the second round in succession the top team Fishers IGA has been under extreme pressure but again they have been able to hang on and win 6-5 this time at the expense of the game Mallee Bearings who almost caused a big upset. Mallee Bearings currently sit at the bottom of the ladder however they recorded their first win last week and are on the improve.
Fishers skipper Brian Hosking continues to perform extremely well again winning three singles and he leads the singles race by two from Sabrina Fitzpatrick. Opposing skipper Karly Leach tried valiantly against Hosking losing the first game narrowly before grabbing the second 11-9, however Hosing then lifted to take the third and fourth.
The first doubles was a beauty with Leach and Mick Bacon matching up against Hosking and Gabriel McDonnell. This was a lengthy five setter with the Mallee Bearings combination outlasting Hosking and McDonnell 4-11 13-11 8-11 11-9 11-9. Apart from this doubles victory Leach and Bacon won two singles each.
Mallee Bearings actually led 4-3 at one stage before the top team steadied to win three of the last four matches and grab their eighth win in succession.
Max Miller Carpets vs. Bishop Builders
The Carpeters maintained their hold on second position on the ladder with a 7-4 victory over third placed Bishop Builders. There were four five set clashes of which two were won by each team. No player was able to win three singles however the difference was that Max Miller Carpets were able to win both doubles.
The first singles of the night was between Bishop Builders Jeremy Corrin and fill in Damen Southgate and this turned out to be a beauty. Corrin eventually took the points 11-2 11-13 7-11 11-3 11-9 a thriller!! Andrew Lewis for the Carpeters won two singles on the night including a tremendous struggle with Nikki Mayger which he won 11-8 5-11 11-3 8-11 11-3.
Sabrina Fitzpatrick also won two singles for the Carpeters and her singles against Jeremy Corrin was a highlight. Apart from the first game which was won easily by Corrin, the match was close all the way and went to five sets with Fitzpatrick clawing her way to a hard fought 3-11 11-9 8-11 12-10 12-10. Corrin was very close to winning three for the first time however Fitzpatrick was able to keep him at bay.
Later Nikki Mayger and Sabrina Fitzpatrick fought out another five set marathon with Mayger winning 3-11 4-11 6-11 7-11 11-7 in a great contest between two of our leading ladies.
Sunraysia Table Tennis Winter Pennant results round 8: –
PENNANT ONE: – Weightmans Packaging 6 (Joel Dorman 3, Andrew Cannard 2, Graeme O'Neill 1) d Max Miller Carpets 5 (Mark Dorman 2, Shannon Bowen 1); Mallee Bearings 6 (Wayne Carmichael 3, Jackson Tung, Kevin Johns 1) d Fishers IGA 5 (Dillon Chambers, Shane Carmichael 2)
PENNANT TWO: – Mallee Bearings 6 (Sony Sefer, Mathew Burns 2, Arthur Paar 1) d Max Miller Carpets 5 (Sam Foreman 3, Ashley Morrison 1); Tankard Dental 6 (Damien Ford 3, Andrew Jones 2) d Spanline 5 (Seval Fuat 2, Daniel Jansen, Anthony Fox 1); Fishers IGA 6 (Lee Thomas 2, Nick Barlow, Robert Chiswell 1) d Pinnacle Packers 5 (Darren Robinson 3, David Balshaw 2)
PENNANT THREE: – Mallee Bearings 6 (Tahir Khurshid, Bernadette Fitzpatrick, Alex Keegan 2) d Fishers IGA 5 (Laurie Plummer 2, Leon Brown 1); Weightmans Packaging 6 (Jackson Murphy 3, Darren Greaves 2) d Max Miller Carpets 3 (Tom Murphy 2, Peter Kelly 1)
PENNANT FOUR: – Fishers IGA 6 (Brian Hosking 3, Gabriel McDonnell, Leonie Dunkley 1) d Mallee Bearings 5 (Karly Leach. Mick Bacon 2); Max Miller Carpets 7 (Sabrina Fitzpatrick, Andrew Lewis 2, Damen Southgate 1) d Bishop Builders 4 (Nikki Mayger, Jeremy Corrin 2)
MALLEE BURGER PLAYERS OF THE ROUND
PENNANT ONE: Wayne Carmichael
PENNANT TWO:  Matt Burns
PENNANT THREE: Bernadette Fitzpatrick
PENNANT FOUR: Jeremy Corrin