Read Time:
5 Minute, 15 Second
Pennant 1
– Max Miller Carpets 6 (Dillon Chambers 3, Gavin Minter 1) d Sunraysia Daily 4 (Mark Dorman, Sam Foreman 2, Graeme O'Neill 1) .
Pennant 2
– Fishers IGA 6(Jackson Murphy 2, Robert Chiswell 2) d Tankard Dental 4 (Sony Sefer 2, Henry Hornsby 1, Abraham McDonnell 1) .
Pennant 3
– Pinnacle Packers 6 (Bernadette Fitzpatrick 2, Mary Fitzpatrick, Peter Kelly 1) d Sunraysia Daily 2 (Sabrina Fitzpatrick 1).
Pennant 4
– Mallee Bearings 6 (Lachlan Kelly, Ben Hosking 2, Ryan Hensgen 1) d Bishop Builders 2 (Leonie Dunkley 1).
PENNANT ONE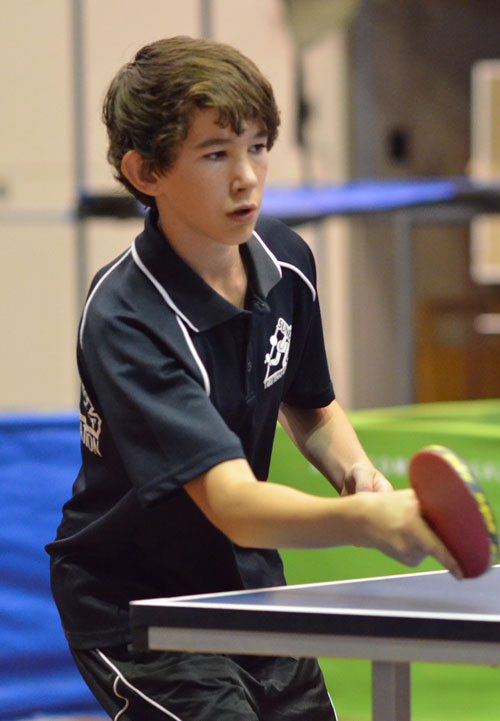 Dillon Chambers who has just turned 14 has had an unbelievable run this season.
Competions all over Australia and the most feared opponent in Pennant 1.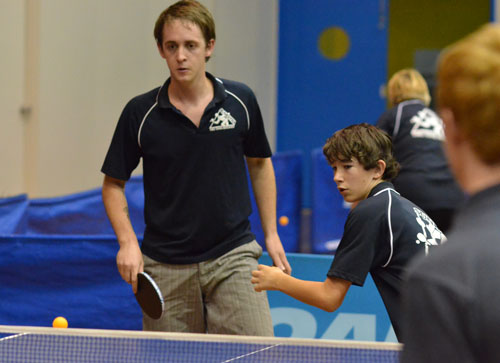 Chambers won his three singles without dropping a set, but it was his performance
guiding his side to win both doubles that really set the game apart.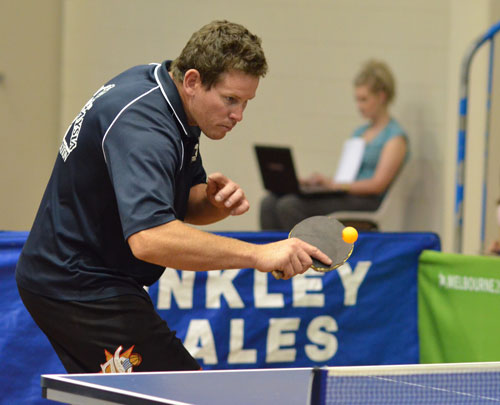 Gavin Minter as fierce as ever picking up a crucial singles to seal the deal.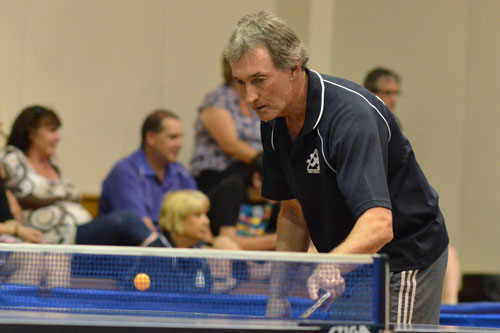 Like a prizefight of old .With an older champion playing the younger more agile star of
the future. Mark Dorman did try everything to put the brakes on Dillon Chambers.
Unfortunately it was like trying to stop a 'Bull in a Chinashop' !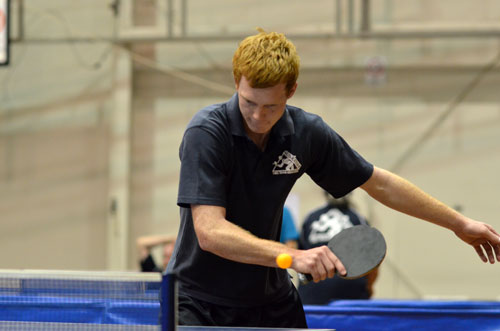 Concentration shown by Sam Foreman.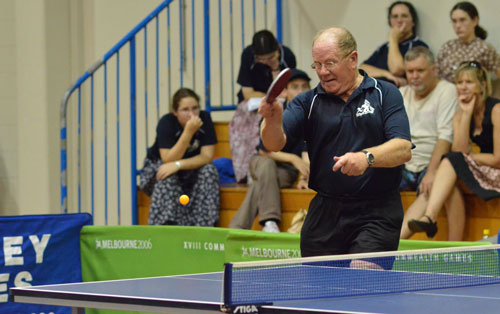 Never one to back off Graeme O'Neill fires a forehand.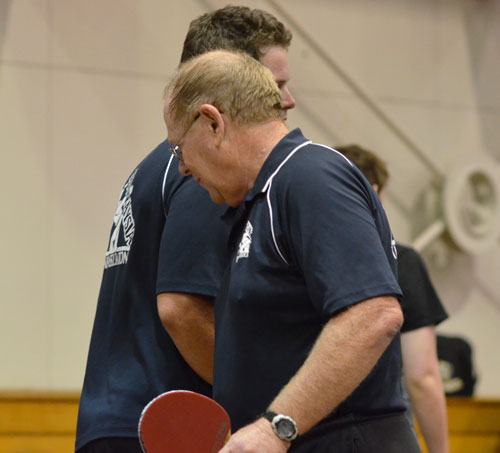 O'Neill v Minter : The mind games. With the match delicately poised Graeme O'Neill
offers some friendly advice.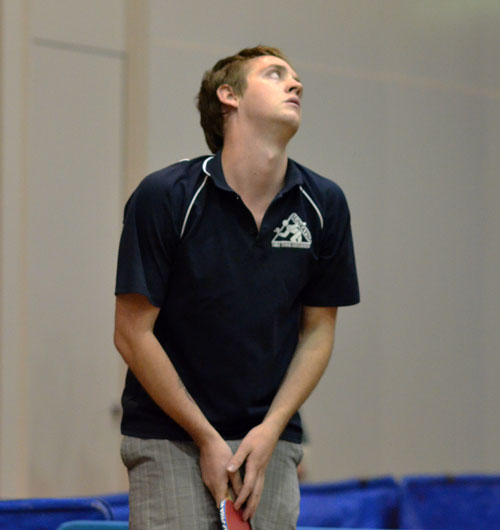 Praying to the heavens. Daniel Jansen after missing 4 weeks with an arm injury trying
to settle in the Gf. The team went on to win 6-4. For Jansen, a nice initiation to P1 with
a Gf victory first up.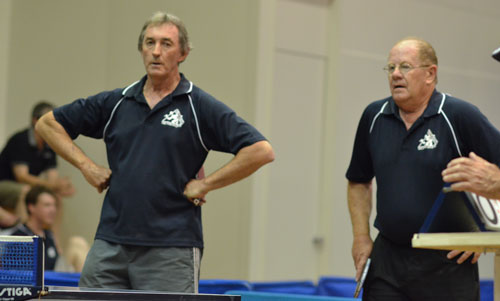 Feeling the Pinch : The Captain & O'Neill needing to grab the doubles to have any chance
of an upset.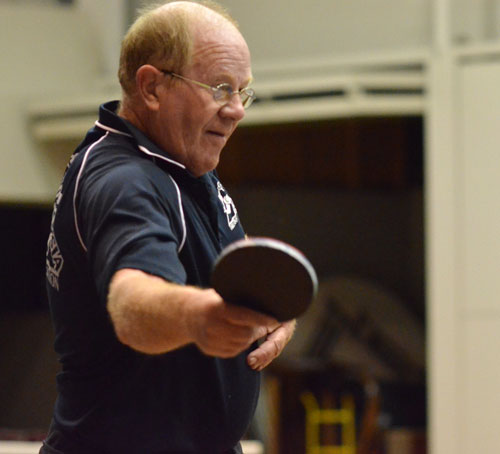 A trademark backhand. A touch of Zorro perhaps Graham !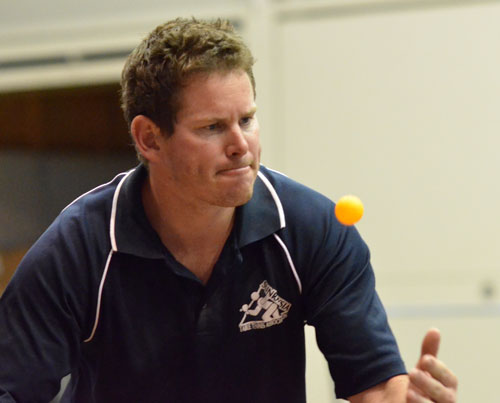 Just talk to the ball.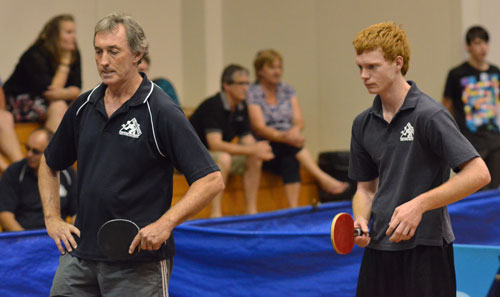 Something's got to give !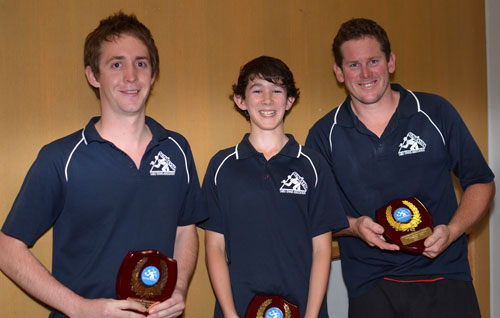 Winners are Grinners !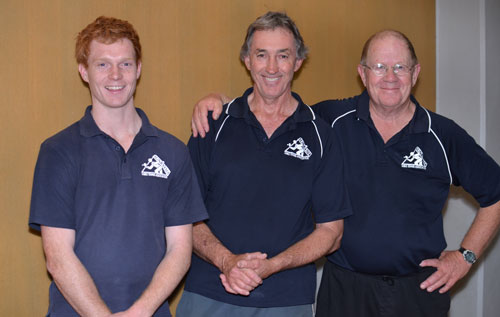 Good sports who had a real shot at an upset !
PENNANT TWO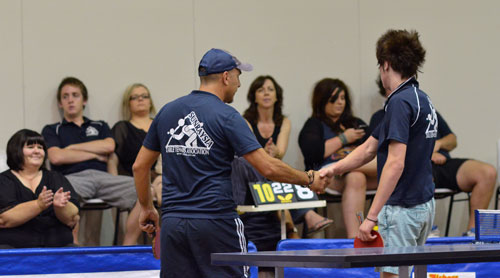 A tough 5 setter to open proceedings!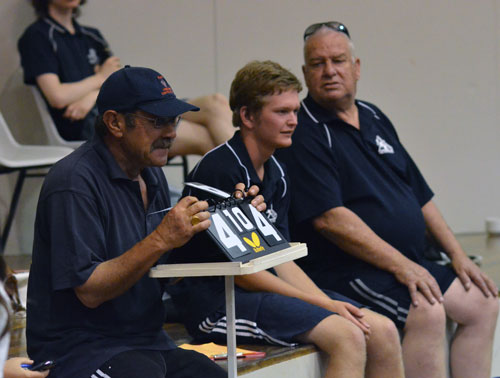 The bookmakers ! Laurie Plummer adjusting the live odds as Seval keeps an eye on the game.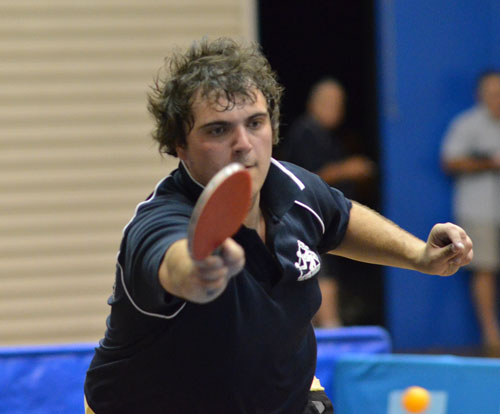 The Captain Robert Chiswell !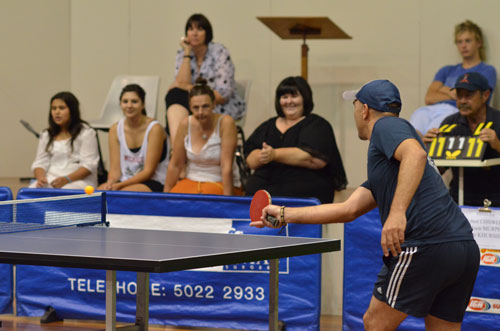 Captain's Chiswell and Sefer went toe-to-toe in a seesawing match marked by long
periods of defensive exchanges.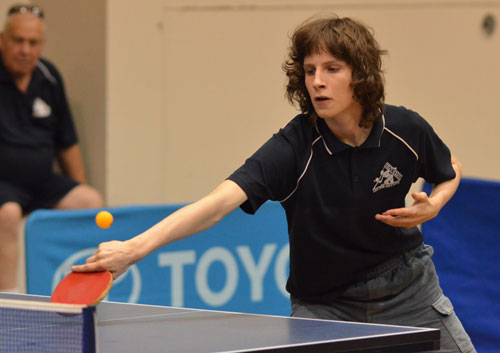 Abraham McDonnell, who hails from Walpeup has improved rapidly this year. Abraham
is by far the most animated competitor on the STTA circuit. His family makes a 250km
round trip from Walpeup every week to play in the Sunraysia competition.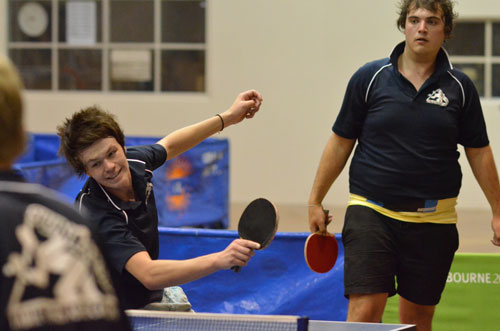 Enter the Dragon : Decided late in the fifth (16-14) this was typical of the closeness of
the contest all night.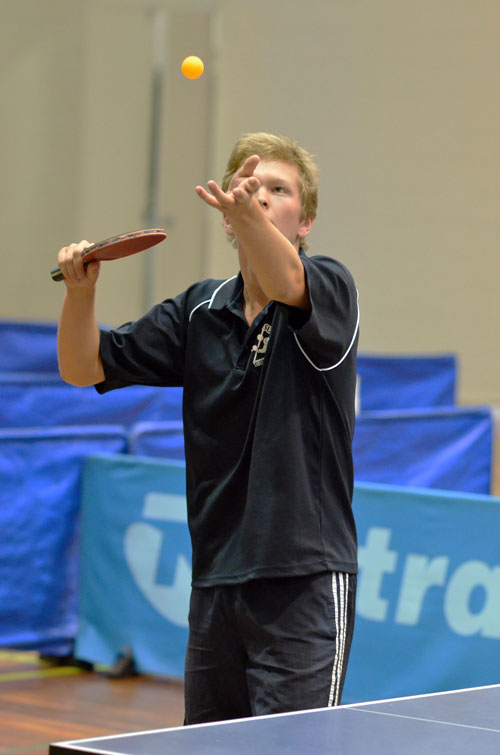 Henry Hornsby with focus and the pedigree of a tennis bachground.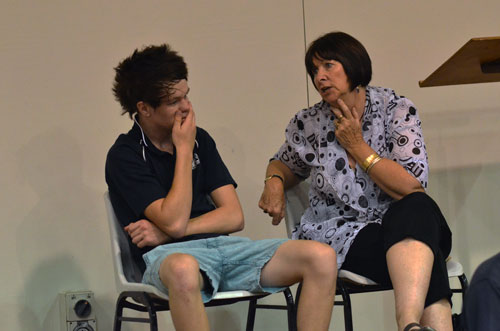 Take it from me : Jackson Murphy listening to some wisdom during the course of the night.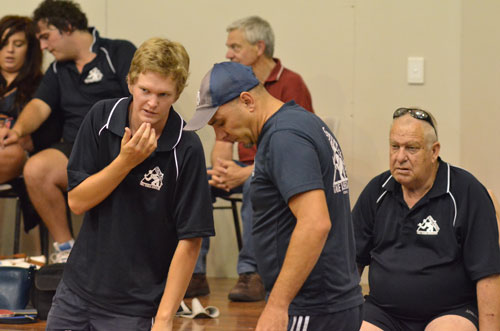 Team tactics : Henry & Sony working out a game of attack.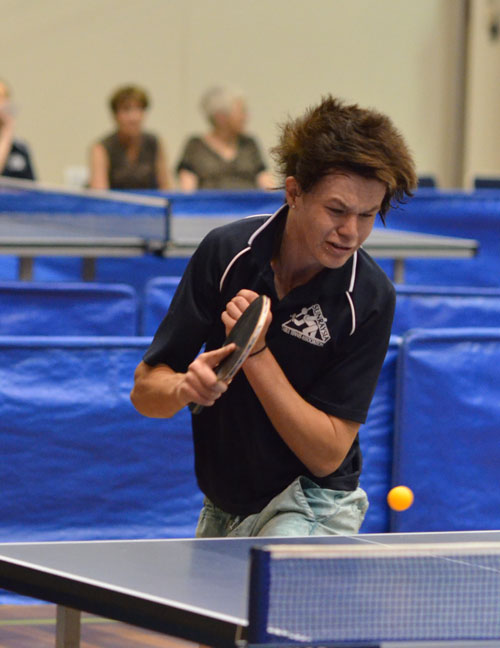 Feel the pain : Jackson trying to emulate the form that picked up the P2 aggregate. Not
a bad effort after winning the P3 aggregate some 3 months earlier.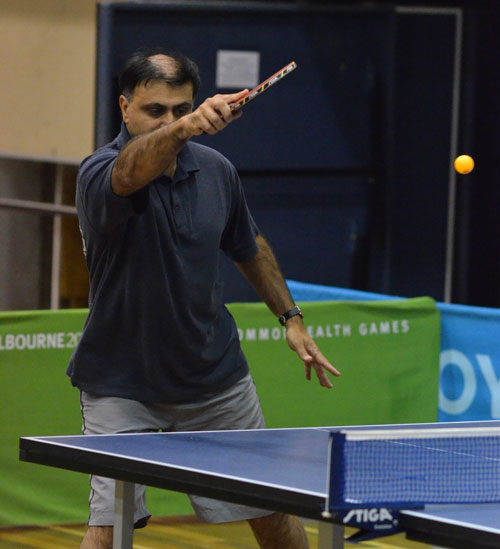 The missing link : Out for most of the season with work commitments (played 3 from
11 games), Tahir Khurshid made a timely return to the Gf team. Even practicing on the
Monday night before.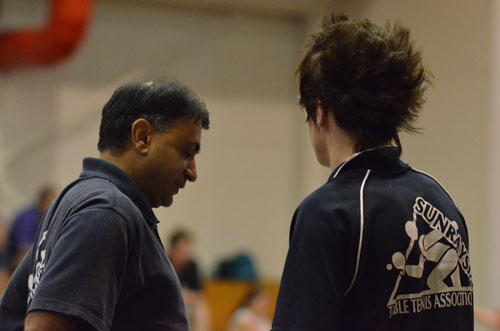 Just like old : In the thick of it with tactics.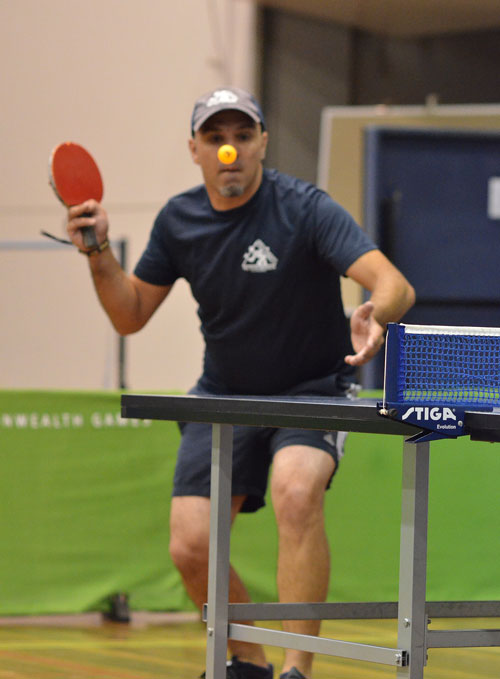 Focus, focus, focus !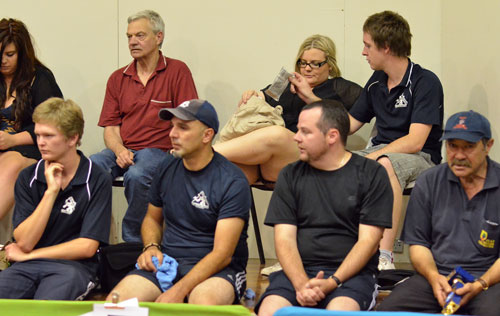 Nearing the end : Watching a difficult last game !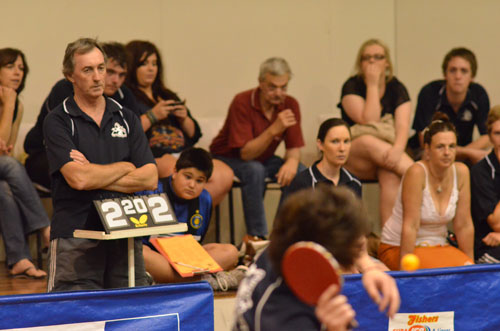 The tension !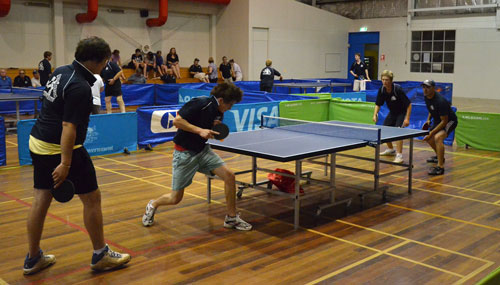 More doubles.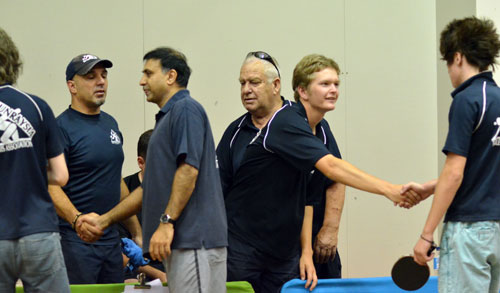 The moment. Cmon Sony, deal with it !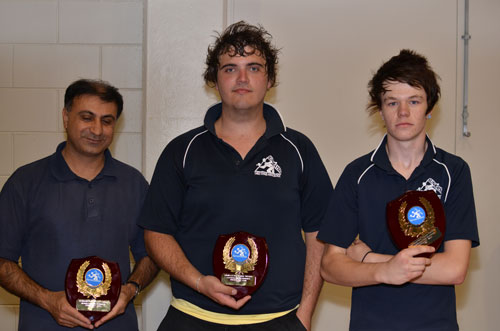 The image may be somewhat confusing but yes we are looking at the P2 Winners. Tahir –
Eyes wide shut, Robert – Been there done that & Jackson – I'm not smiling for you or for anyone !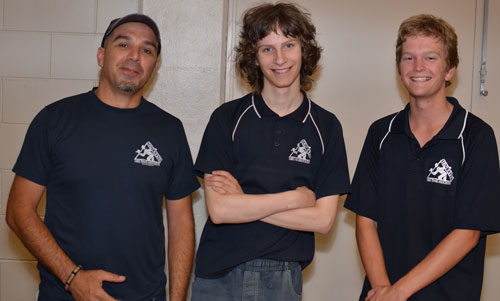 Going into the Grand Final with a record of 10-1, it wasnt meant to be.
PENNANT THREE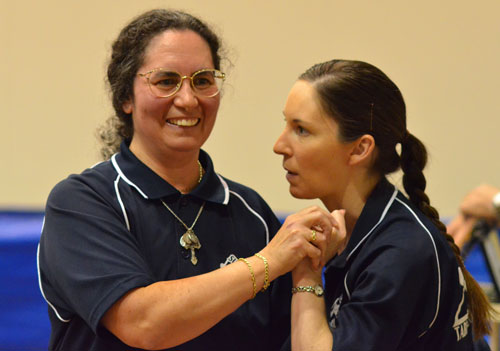 Team tactics pre game : Sabrina and Karly planning & plotting ?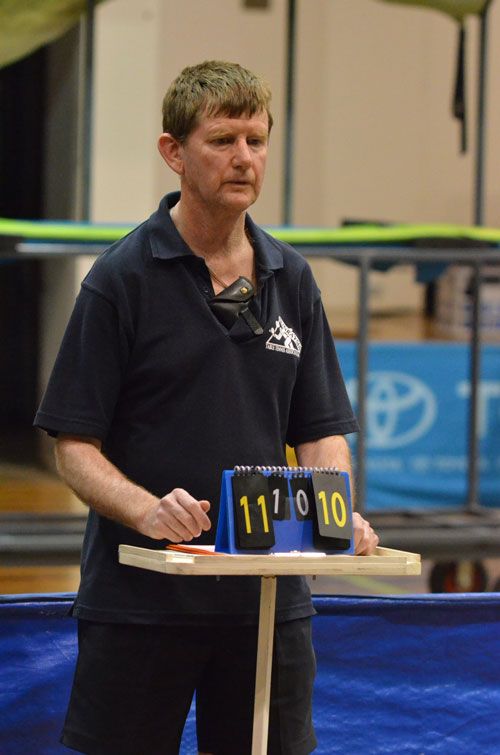 An independant judge : With wife Sabrina, daughters Bernadette and Mary doing battle
in the P3 Gf, it may have been hard for Peter Fitzpatrick to remain partial with the calls.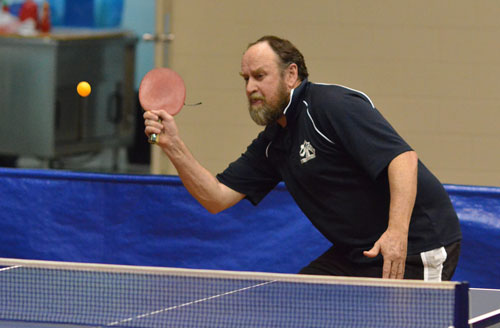 Peter Kelly in a tough battle against Mark Kerr.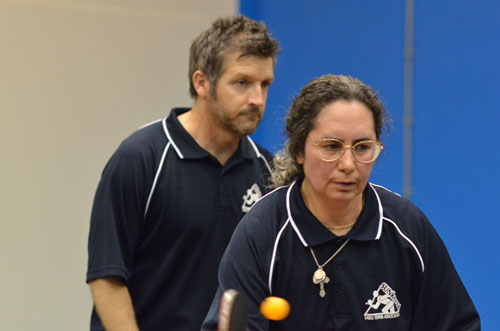 The all important doubles : Needing a win to push the result.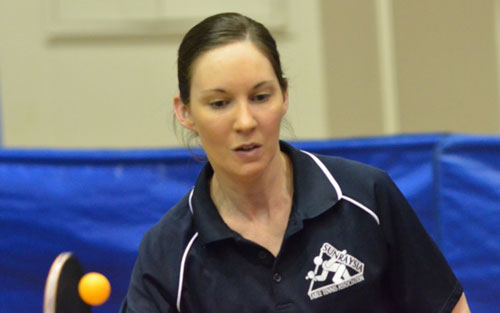 Karly Leach in focus. A tough night but battled on.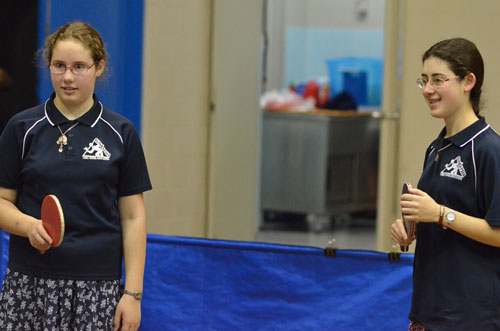 Bernadette and Mary Fitzpatrick … Planning a winning formula against Mum must have
tested the loyalty somewhat. But they are a close knit family that can laugh about it all at
the end of the night.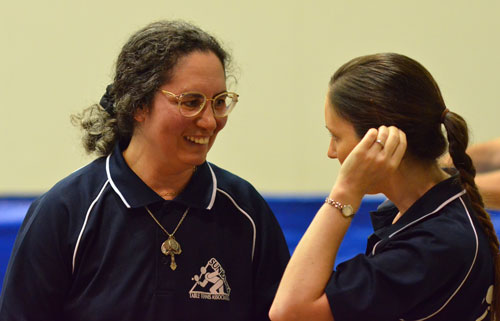 Yes thats Mum not quite ready to concede yet. Sabrina & Karly looking for an opening
against the fast finishing youngsters.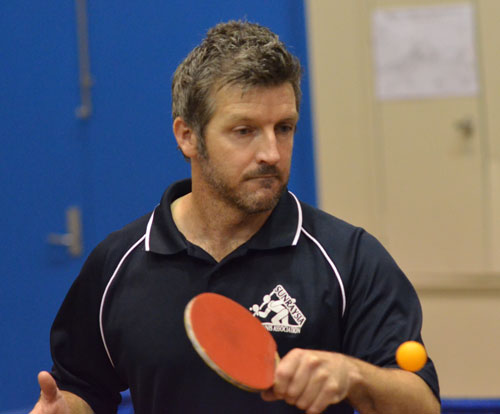 The P3 Summer Aggregate winner, Mark Kerr threw everything at the eventual winners.
Now off to the cricket.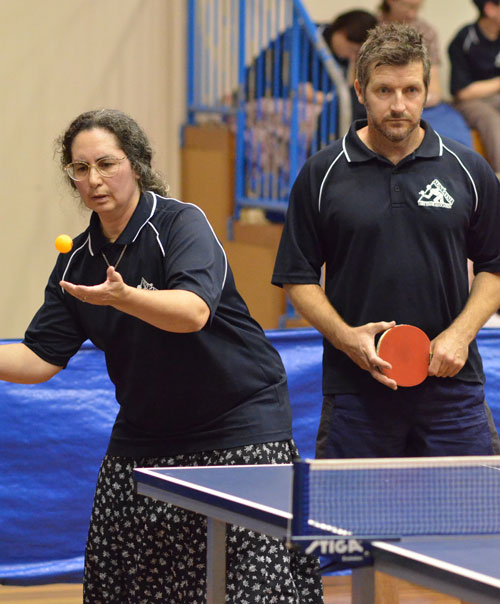 Staring into the unknown. Mark Kerr seemed to be a mile away whilst Sabrina Fitzpatrick
is zoning in.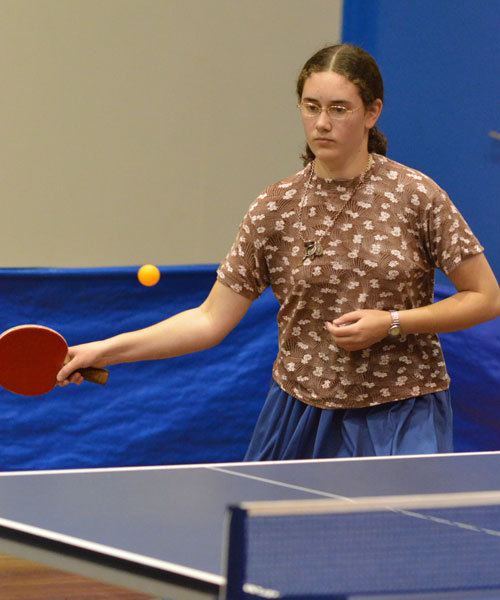 Rachael Fitzpatrick played warm up partner to the Fitzy's during the Grand Final.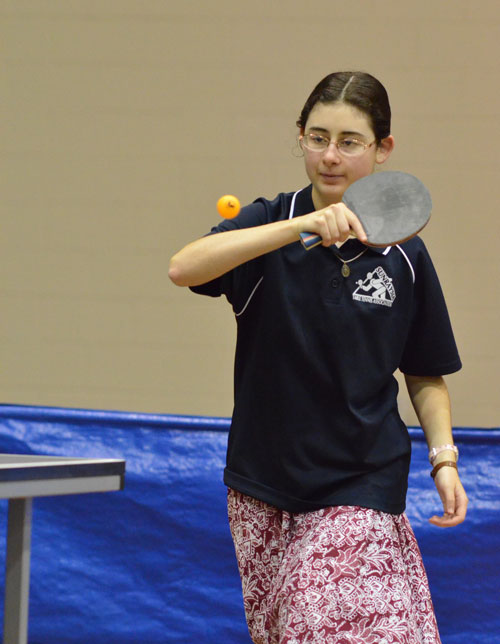 Eyes on the ball. Lovely work Mary.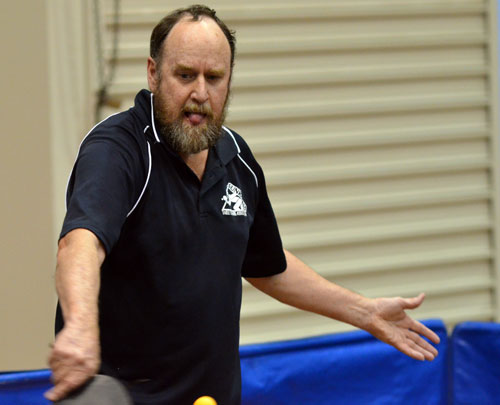 We all have our quirky ways. Peter Kelly testing atmospheric conditions in the arena.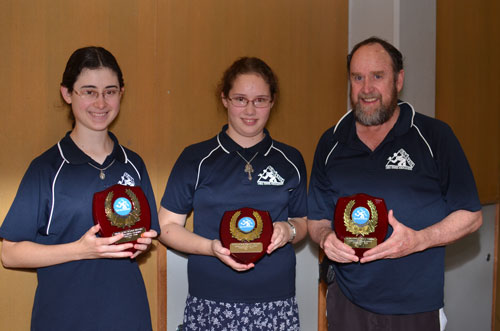 A resounding victory and smiles all round to the 2011 Summer P3 champions.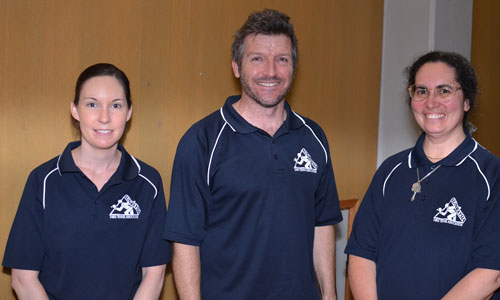 The runners up. A happy little bunch of Vegimites !
PENNANT FOUR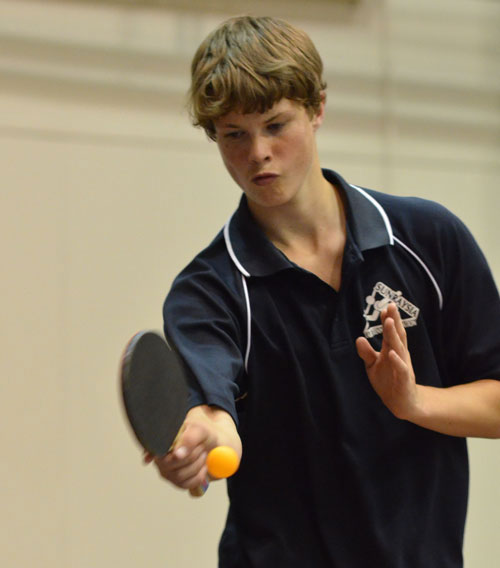 Lachlan Kelly had a great P4 season, picking up the Aggregate along with a junior title and
premiership.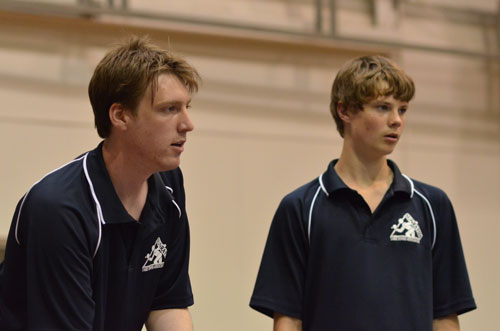 Ryan Hensgen teamed up nicely with Laughlan to make it a very strong doubles combo.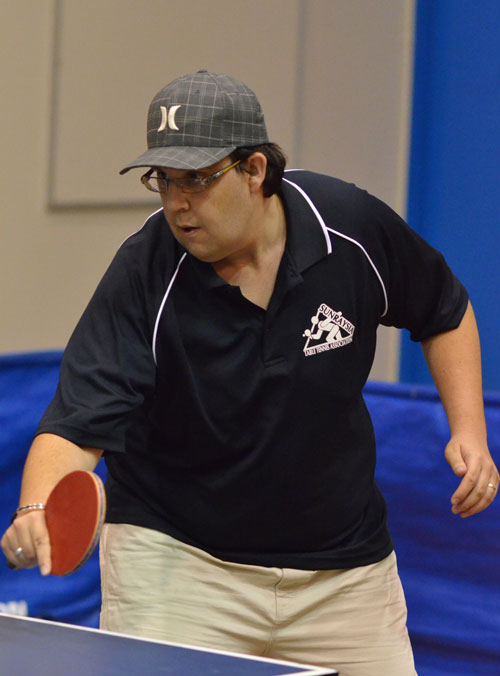 Ben Hosking, playing for Mallee Bearings in his first season of table tennis, played the night
of his life. Two shock wins over Dunkley and Southgate left all wondering.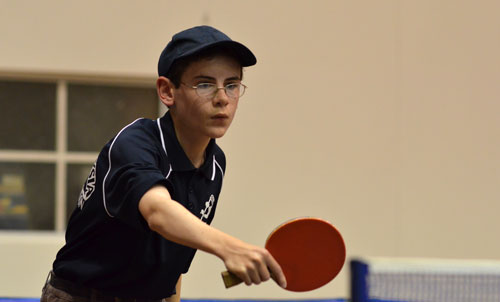 Paul Fiztpatrick has steadily improved each season and another junior program success story.
Sandra Southgate in her first STTA season in the thick of it.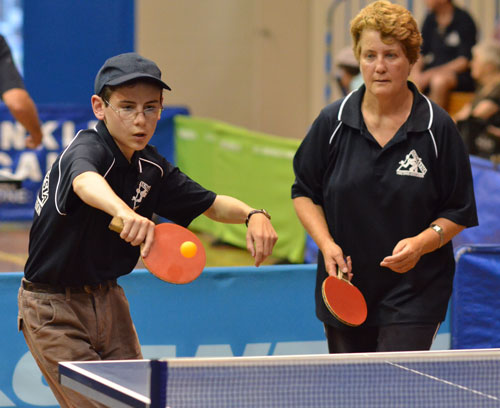 Fitzy and Dunkley under pressure early to stay in the contest.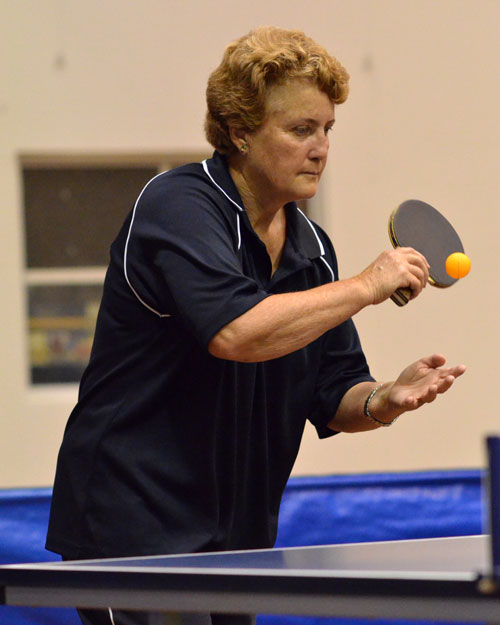 After a dream start to her STTA career in the Winter Pennant, now looking more comfortable
over the Summer. Has unfinished business after a second Gf defeat.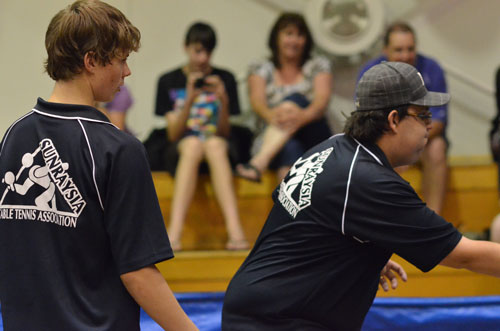 Ben Hosking the man of the moment. Even Lachlan was in awe of some of the Hewitt style
fist pumping forehands he was putting away.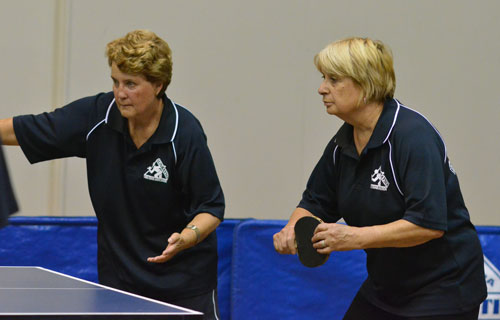 Ready to go. Leonie and Sandra put the pressure on.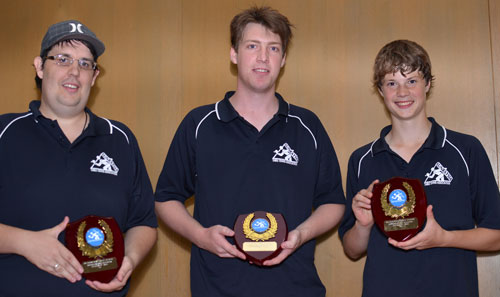 Yes a deserving group of Winners in P4.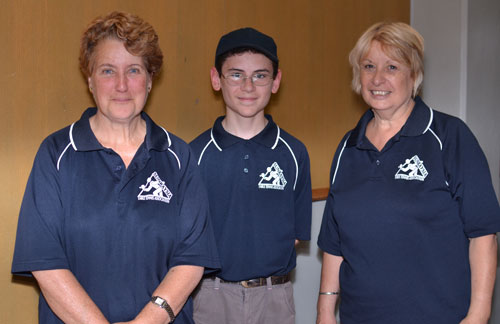 Gratious in defeat and had a go all night.
See You all Next Season !
For further information contact Gavin Carmichael 0408 237 907 or 5023 7907 /
Sony Sefer 0400318199 / Mark Dorman 0417 566 463
**************************************************************