Read Time:
11 Minute, 48 Second
ROUND 7
The results of round seven matches of the Sunraysia Table Tennis pennant revealed that the top three teams were able to prevail narrowly over the teams positioned fourth to sixth on the ladder.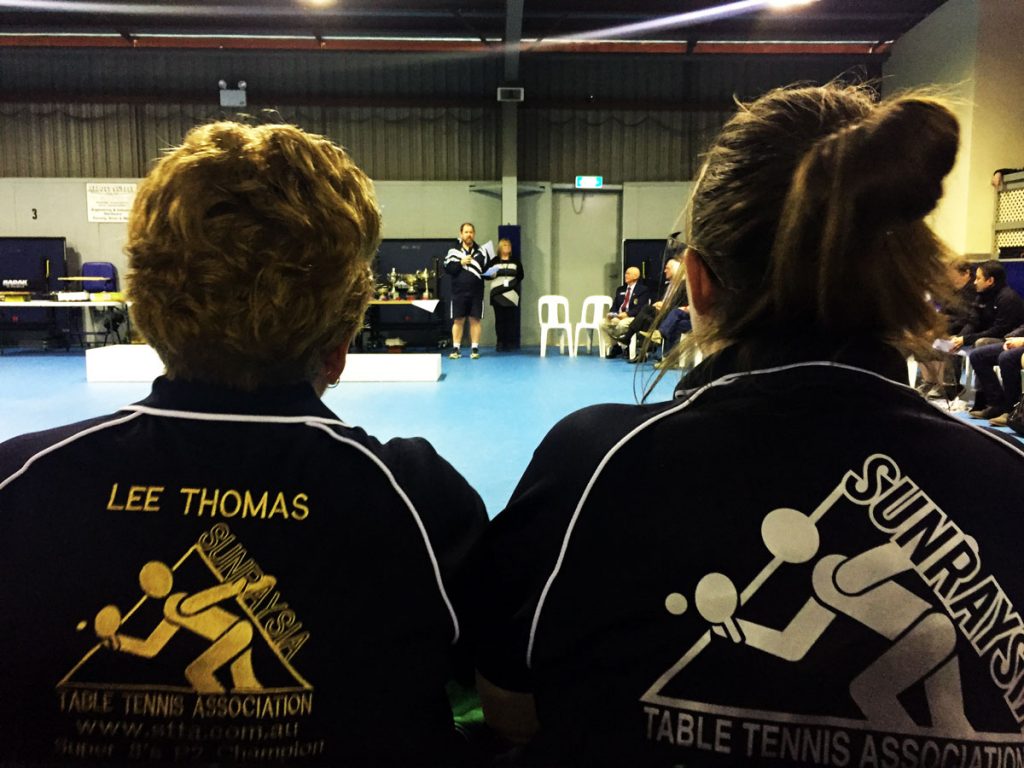 PENNANT ONE:
The highlight of this round was the outstanding form of Lee Leeson and Kate Carmichael for their respective teams, they are the only two females of the 18 players in pennant one and definitely played key roles in claiming the four points for Cookes Pools & Spas and Tankard Dental.
– Cookes Pools & Spas 7 (Jackson Tung, Gavin Carmichael, Lee Leeson 2) d Mallee Bearings 4 (Mark Ljubic 3)
Leeson is the number three player for Cookes and for the second time this year she won two singles and also linked up with skipper Jackson Tung to win an important doubles against Mallee Bearings. The Bearings combination took an early lead however Cookes were able to prevail 7-4 despite super-sub Mark Ljubic winning three singles who came in to replace Wayne Carmichael.
Leeson received good support from team mates Tung and Gavin Carmichael who both won two singles which enabled Cookes to hold third position on the ladder after dropping their past two matches.
– Tankard Dental 7 (Kate Carmichael 3, Mark Dorman. Dylan Wood 1) d Exposed Signage/Apparel 4 (Reece Kurrle, Russell Walder 2)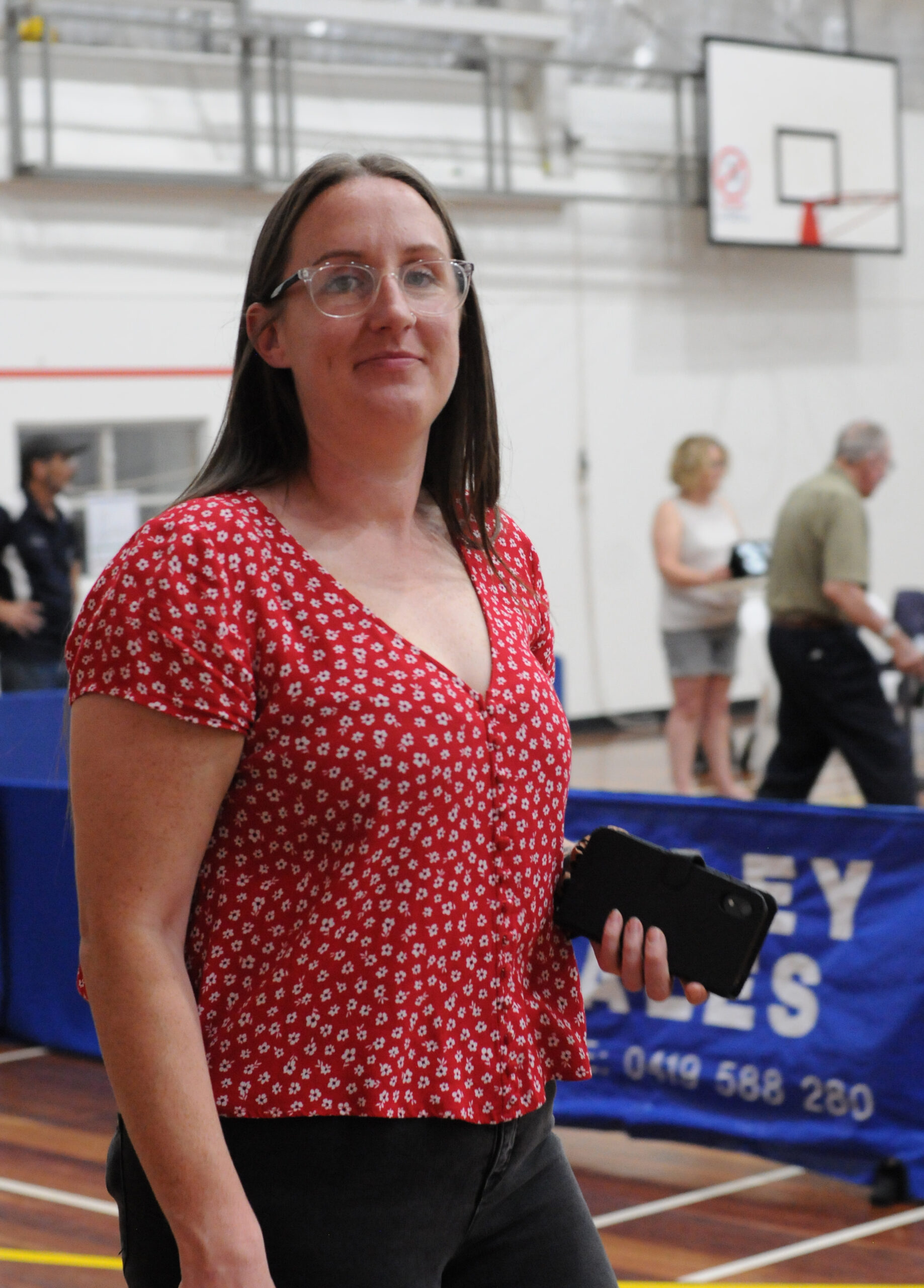 Led by Kate Carmichael who won three singles Tankard Dental proved too strong for Exposed Signage/Apparel winning 7-4. After losing the first match courtesy of a good win by Russell Walder over Mark Dorman Tankards won the next five rubbers to stamp their authority on the match. For the Exposed combination Walder won two singles his best effort for the season while team mate Reece Kurrle again won two matches to continue his consistent season. Carmichael capped off an excellent night by participating in both doubles victories.
– Max Miller Carpets 6 (Shannon Bowen, Leon Brown 2, Ed Hung 1) d Regional Taxation Services 5 (Matt Ljubic 3, Lewis Yang 1)
Max Miller Carpets continued their winning streak with a hard fought 6-5 victory against a game Regional Taxation Services who late in the match had taken a 5-3 lead after Matt Ljubic won his third singles, this was his twenty first singles victory for the season and he keeps his unbeaten run intact. His singles against Shannon Bowen was a highlight with four close games , Ljubic winning 12-10 9-11 11-7 11-9 against a talented opponent.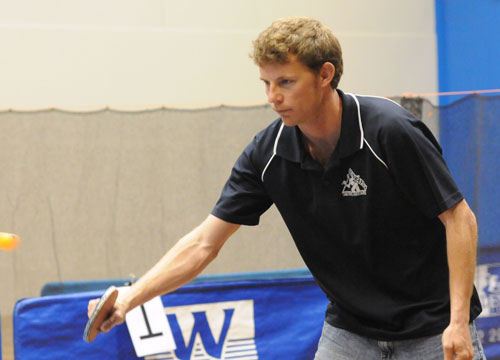 Bowen won two singles while team mate Mr Consistent Leon Brown won his usual two and together they combined to win the first doubles. Ed Hung won the remaining singles to enable the Carpeters to continue their winning way despite being under pressure all match.
PENNANT TWO:
The three top teams played the three bottom teams this week, and the usual headline is that all the top teams won. Not this time; teams first and second on the ladder won their matches, but Max Miller Carpets, third on the ladder, were upset by bottom side Cookes Pools & Spas.
– MJM Automotive 7 (Casper McCarthy 3, Andrew Jones 3, Therese Fitzpatrick 1) d Weightmans Packaging 4 (Jason Gifkins 2, Peter Fitzpatrick 1)
MJM Automotive kept their unbeaten record intact for this season with a 7-4 win against Weightmans Packaging, who came into the round fifth on the ladder with one win.
Weightmans Packaging were certainly competitive in this match, and at one stage entertained a 6-5 win. The match was tied at 4-4 after the completion of the second doubles, and it was still up for grabs.
The first round of singles was won by MJM Automotive 2-1, wins going to Andrew Jones over Andrew Kremor in the clash of the number twos, and Casper McCarthy winning against Weightmans Packaging number three Peter Fitzpatrick. Weightmans evened the score at 2-2, when they took the first doubles rubber, captain Jason Gifkins pairing with Kremor to down McCarthy and Therese Fitzpatrick in four sets, to add to Gifkins' win against MJM Automotive number three Therese Fitzpatrick.
The next four rubbers were a reverse of the first four – this time Weightmans Packaging won two of the three singles, but lost the doubles. Weightmans captain Gifkins accounted for Jones easily in three sets, and number three Peter Fitzpatrick defeated his daughter Therese. McCarthy took the rubber for his side, a four set win against Andrew Kremor. The second doubles was a straightforward three win for McCarthy and Jones over Gifkins and Fitzpatrick.
The next rubber, the two number ones, was a much anticipated matchup between the two players first (Gifkins) and second (McCarthy) on the aggregate, and was a real arm wrestle to begin with, McCarthy winning the first set 12-10, Gifkins the second 13-11. McCarthy blitzed Gifkins 11-4 in the third, Gifkins came back in the fourth 11-7 to take the game to the fifth set decider. Gifkins started well, and led 5-2 at the change of ends, however McCarthy came back, evened the score and eased away to win 11-9 to inflict the first defeat on Gifkins for the season. The win does not change the aggregate ladder however, Gifkins still leads with 20 wins, McCarthy, after missing a week earlier in the season is second on 17 wins.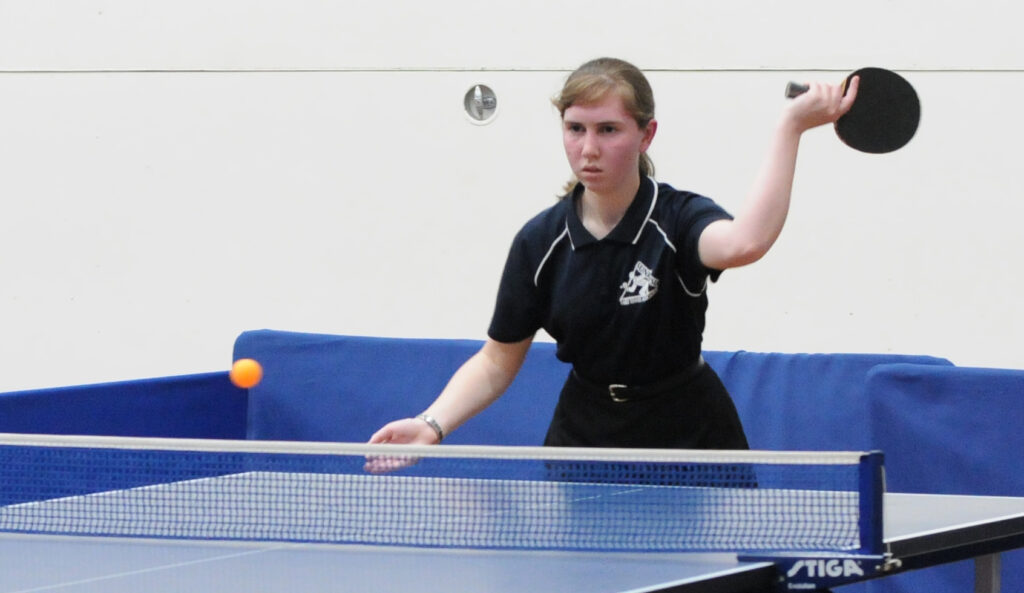 That win gave MJM Automotive a 5-4 lead, and the game disappeared from Weightmans Packaging after that. Andrew Jones defeated Peter Fitzpatrick in an entertaining three setter, and Therese Fitzpatrick added to her reputation by overpowering Andrew Kremor in straight sets.
With the win by Cookes Pools & Spas in their game against Max Miller Carpets (see below), and their loss here, Weightmans Packaging sink to the bottom of the ladder.
Final scores: 7 rubbers to 4 and 22 games to 16.
– Pinnacle Packers 7 (Jeremy Corrin 3, Rohan Reimers 2) d Mallee Meats 4 (Quentin Clark 2, Marcus Cimino, Isaiah Bettess 1)
Pinnacle Packers remain only one win from the lead, with another win against Mallee Meats. The previously defeated this side in round 2, by the same margin.
Jeremy Corrin had a solid workout in this game, winning his three singles, but each of the Mallee Meats trio of Quentin Clark, Marcus Cimino and Isaiah Bettess made him work just that little bit harder by each taking a set from him. His game against the Mallee Meats number three Isaiah Bettess demonstrated just how much Bettess has improved this season. Bettess played strongly against his much better credentialed opponent, and in the sets he lost he still scored plenty of points. The final score being 8-11, 11-6, 11-7, 14-12.
Pinnacle Packers number two Rohan Reimers enjoyed another good night – he picked up two wins, a three set victory against Bettess, and a much closer five setter against his opposite number Marcus Cimino.
Both doubles rubbers went to Pinnacle Packers, and these two games proved the decider to the contest. Corrin and Reimers won a great four setter against Clark and Cimino 12-10, 15-13, 11-13, 11-7 in a game which was as much theirs as their opponents. Later Corrin and Ryan Hensgen won in four sets against Clark and Bettess.
For Mallee Meats, captain Quentin Clark won two, defeating the opposing number two and three, Cimino and Bettess one each, both beating Ryan Hensgen.
Both these sides retain their position on the ladder after this match, Pinnacle Packers second with six wins, and Mallee Meats fourth with two wins, ahead of Cookes Pools & Spas on percentage.
Final scores: 7 rubbers to 4 and 24 games to 19.
– Cookes Pools & Spas 7 (Terry Martin, David Sergi 2, James Jarvis 1) d Max Miller Carpets 4 (Paul Kealley 3, Jamila Belbaze 1)
Cookes Pools & Spas picked up their second win for the season, and in so doing happily handed over Cellar Dweller status to Weightmans Packaging, a position they had held since round two.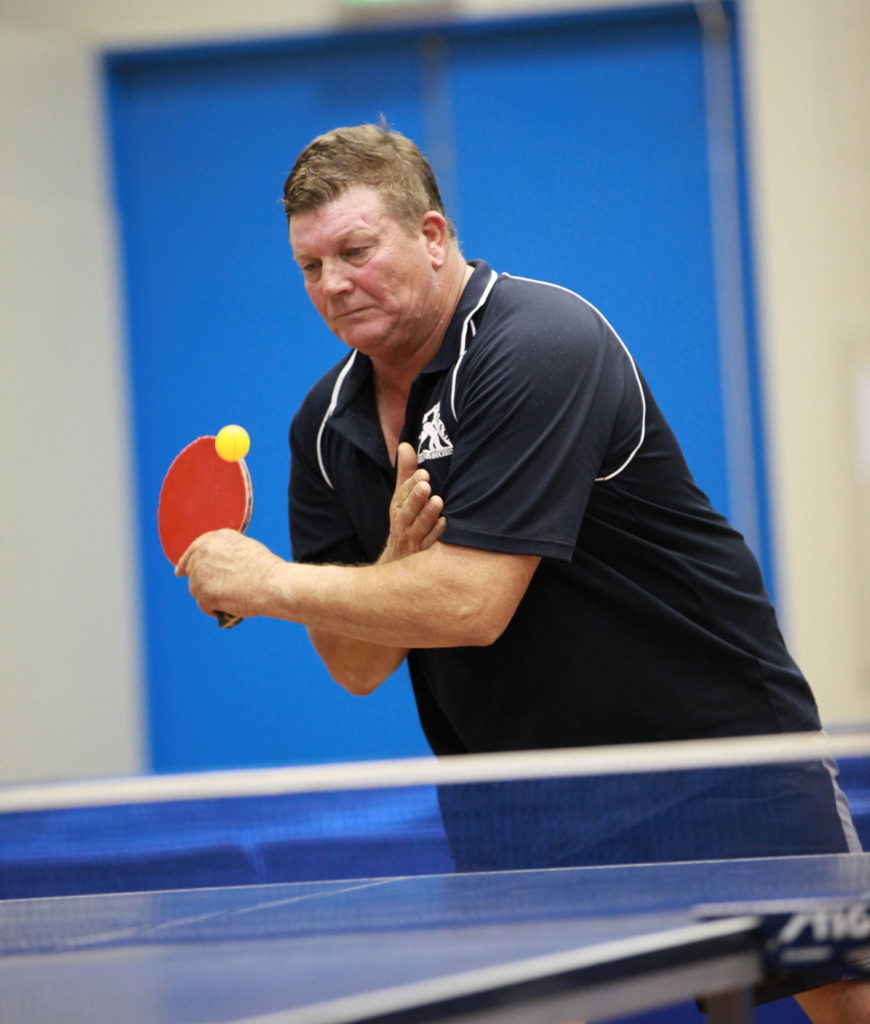 Captain Terry Martin had a very quiet start to the season, winning just two singles games in the first three rounds. Since then though he has started playing like everyone knows he can, and although he did not have a perfect night here, he won two, but lost his clash with the opposing number one, he did help his teammates to win both the doubles rubbers. Except for one set, he totally dominated Jamila Belbaze, winning 11-1, 11-6, 12-14, 11-3. John Fitzpatrick hung around longer and made Martin work harder but the result was the same, a four set win 11-4, 12-14, 11-8, 11-5.
Cookes Pools & Spas number two David Sergi played well for two wins, he also defeating Belbaze and Fitzpatrick. Belbaze took him to five sets, and lost wht ws a close match. Sergi won 12-10, 11-9, 10-12, 5-11, 11-8. John Fitzpatrick played three close sets against Sergi, winning one of them, but Sergi got the better of him in the fourth, winning the encounter in four.
Number three James Jarvis recorded his fourth win of the year after a five set victory against John Fitzpatrick in the first rubber of the night.
With wins in both doubles rubbers, Martin and Sergi prevailing in five sets over Paul Kealley and John Fitzpatrick, and later Martin and Jarvis winning a straight sets match against Kealley and Belbaze, Cookes Pools & Spas made in seven rubbers for the night.
For Max Miller Carpets, replacement captain Paul Kealley remained undefeated in singles play, and Jamila Belbaze downed James Jarvis in the nights final rubber.
Final scores: 7 rubbers to 4 and 21 games to 22
Pennant 3 – Round 7
This week we saw one close match that went down to the wire and two matches that were over very early indeed. We would also like to welcome Marita Grace making her STTA debut this week.
MJM Automotive 6 (Karly Leach 3, Levi Williams, Alicia Tyers 1) def Weightmans Packaging 5 (Rachael Fitzpatrick 2, Jacinta Ljubic, Tom Gilmour 1)
After a narrow loss last week MJM Automotive have reversed their fortunes with a hard-fought victory over Weightmans Packaging. MJM Captain Karly Leach led from the front as she won her three singles matches and was ably supported by Levi Williams and Alicia Tyers both contributing one singles victory each. For Weightmans Packaging Rachael Fitzpatrick, who was once again filling in for mum Sabrina Fitzpatrick, tried hard in winning two singles but had to deliver the bad news of how the team went when she got home.
One of the two critical games of the night was the match between Leach and Fitzpatrick. Fitzpatrick started well in taking the first set 11-5 before Leach swung the momentum back in her favour taking the second 11-4. The next two sets were tightly contested with Leach outlasting Fitzpatrick to take these 11-9, 11-9 and hence the match in four sets.
The second critical game of the night was the game between Tyers and Ljubic. This was a lengthy match that ended well past 10:30pm. Tyers took the first set 11-8 before a tug-of-war broke out in the second with neither player wishing to fold. Ljubic would take this set 17-15 and go on to take the third 11-8 and looked well on the path to victory. However, Tyers was not done and hung in there to take the fourth 12-10 to set up a tense final set. The fifth set saw many lengthy rallies with both players unable to build any sort of lead in this point for point tussle with another tie-break required to break the deadlock. It would be Tyers who would be victorious 12-10 in the fifth that ultimately gave her team victory by the smallest possible margin.
In conclusion a great effort by all players. MJM Automotive have prevailed 6 rubbers to 5 (22 games to 20) against Weightmans Packaging.
Mallee Meats 10 (Steve Pongrac, Nhat Dat 3, Jordan Cole 2) def Sammy's Slammers 1 (Ben Hosking 1)
The fortunes of Sammy's Slammers have turned significantly after their great win last week by being defeated by a rampant Mallee Meats outfit this week.
Mallee Meats Captain Steve Pongrac was back to his best form as was his number three player in Nhat Data in both winning three singles matches. Jordan Cole also contributed two singles victories of his own in this rollicking win. It was a dirty night for Sammy's Slammers; however, Ben Hosking played well to win one singles and was probably a little unlucky not to win two as he lost to Pongrac in five close fought sets. On a positive note in this match Marita Grace made her debut and improved her play during the night and will be better for the run next time when called upon to play.
In summary Mallee Meats are firming as Flag Favourites as they have enjoyed a 10 rubbers to 1 (30 games to 10) win over Sammy's Slammers.
Tankard Dental 10 (Nick Kiapekos, Shaun Gifford 3, Phuong Hung Nguyen 2) def Dunkley Scales 1 (Dianne Hannig 1)
This week Tankard Dental have extracted exacted revenge for their narrow loss last week in defeating Dunkley Scales.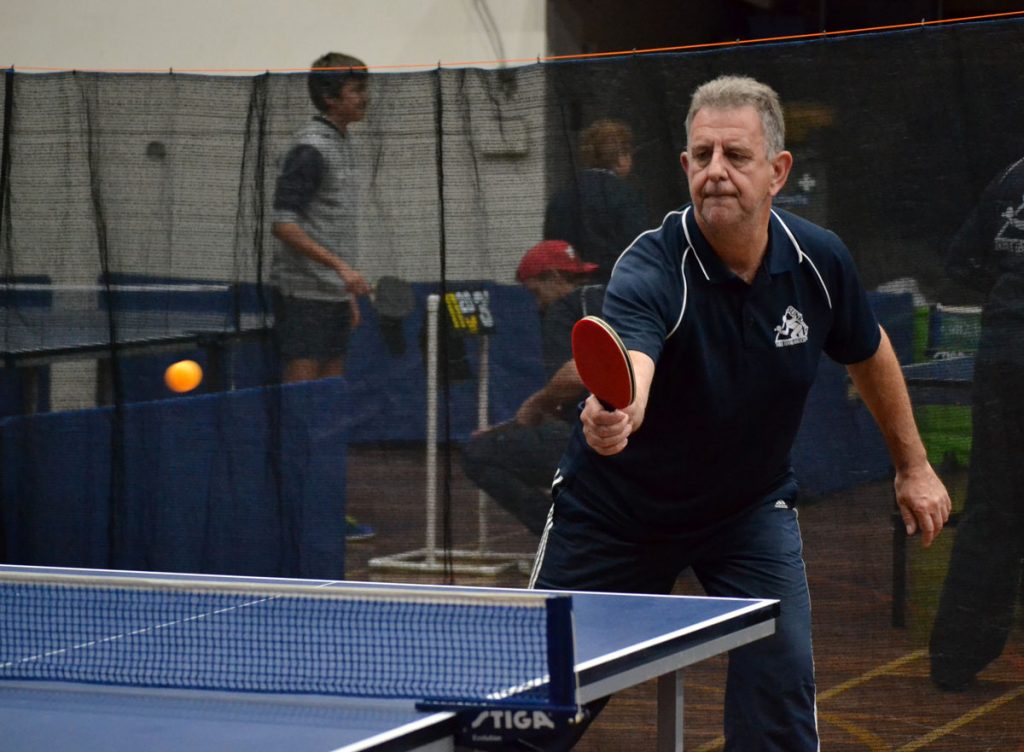 No mercy was shown by returning Captain Nick Kiapekos as he ruthlessly won his three singles as did Shaun Gifford. Phuong Hung Nguyen also joined in the party by winning two singles against a very understrength Dunkley Scales outfit. Dianne Hannig, who did some early night shopping, (bought a new STTA Polo Shirt) again played well for Dunkley's but the tide was certainly against her. The less said about this match the better. The final analysis finds Tankard Dental winning 10 rubbers to 1(32 games to 8) against Dunkley Scales.
Dunkley's now sit comfortably on bottom of the ladder with lots of work to do as we approach the halfway point of the season.