Read Time:
10 Minute, 21 Second
PENNANT ONE:

ED HUNGS' ON!

 

WITH ONLY 2 ROUNDS TO GO BEFORE FINALS IN THE SUNRAYSIA TABLE TENNIS 'CASH CONVERTERS' 2017 PENNANT, A VERY CLOSELY CONTESTED SET OF ROUND 9 MATCHES  WAS PLAYED OUT WITH THE HIGHLIGHT BEING REGIONAL TAXATION SERVICES ED HUNG PULLING AN 11TH GAME DECIDER TO DEFEAT CASH CONVERTERS KEVINS JOHNS IN 3 SETS. IT TOOK HIS TEAM TO A 6-5 WIN. THE VICTORY MEANS THAT REGIONAL TAXATION SERVICES NOW SECURE SECOND SPOT AND THE DOUBLE CHANCE.
– Regional Taxation Services 6 (Shannon Bowen, Mark Dorman 2, Ed Hung 1) d Cash Converters 5 (Matt Ljubic, Kate Carmichael 2)
Earlier in the night, the taxologists Shannon Bowen and Mark Dorman had steered the team  to a handy 5-3 lead and looked like heading toward a comfortable victory. All that changed when rising star Matt Ljubic went on the offence against Bowen, winning an entertaining 5 set game 11-7 6-11 6-11 11-8 11-8 . In the 10th rubber current Victorian Country Womens Champion Kate Carmichael subdued an ever present Dorman in 3 sets setting up an exciting finish to the night.
Both sides have been in the premiership running all season and with the double chance on offer, the contest felt like a final.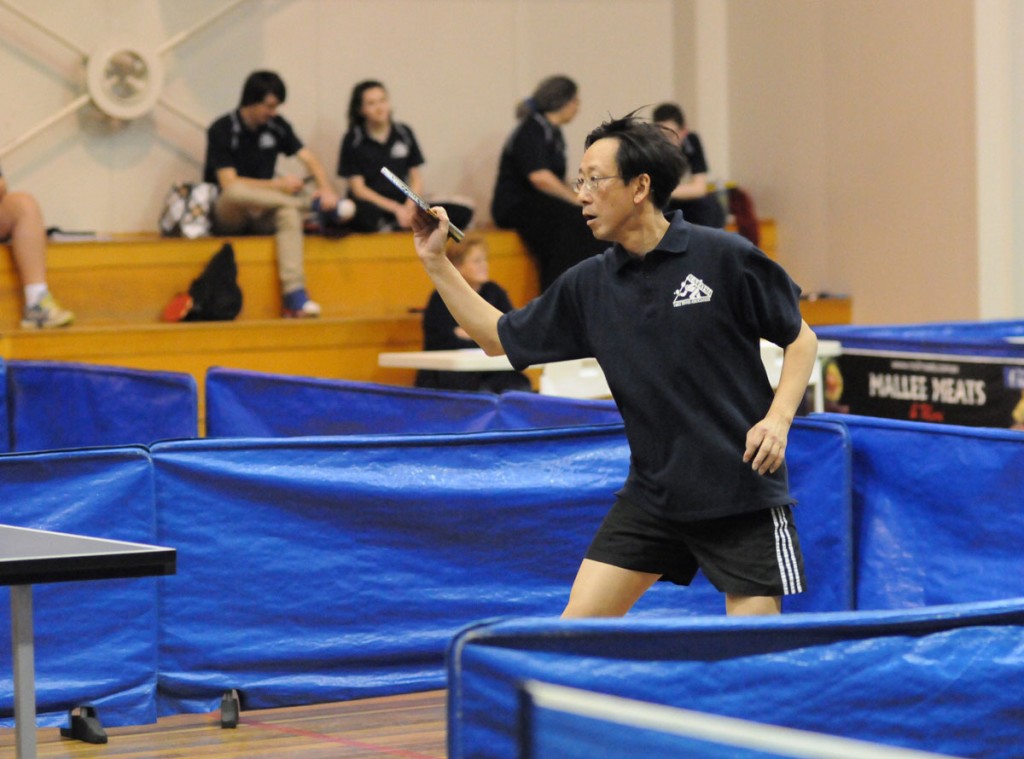 With Hung and Johns having a history of tense rivalry, the deciding match proved to be a tight affair with both players setting up defensive stroke play only to unleash big driving forehands in succession to gain the ascendancy. Johns had 3 set points in the second set only to let them slip. This would ultimately be the difference in a close result in which Hung would go on to win.
– Tankard Dental 7 (Joel Thomas 3, Reece Kurrle, Ash Morrison 1) d Mallee Bearings 4 (Matt Avers, Shane Carmichael 2)
Mallee Bearings went into the rnd 9 match in 5th position and needed to make a statement against 4th placed Tankard Dental and given they had the healthier percentage, only needed a close victory to regain 4th spot.
However it was Joel Thomas for the second week in a row to put a stamp on the match with the highlight being a solid 3 set win over Aggregate leader Matt Avers 11-3 13-11  11-4. This was Avers first loss for the season and also a reversal on their previous head to head game in which Avers landed the bigger points. Thomas is currently coaching Avers with the youngster showing all the traits of a potential state level or better player and will take the loss as a learning curb.
Tankard Dental now secure 4th spot and will now focus on their rnd 10 mini final against 3rd placed Cash Converters.
– Exposed Signage/Apparel 6 (Andrew Cannard 3, Nicholas Dorman 2) d Weightmans Packaging 5 (Leslie Ncube 2, Zac Healy, Jackson Murphy 1)
On paper it read 1 v 6 but with Exposed Signage captain Gavin Carmichael absent whilst cruising the high seas off the east coast of Oz this contest was always going to be a close one.
Weightmans (6th spot) still had a mathematical chance of making finals and when Zac Healy and Leslie Ncube won the first doubles over Andrew Cannard and Nicholas Dorman, they went out to a 3-1 lead and game on!
Exposed Signage from that point slowly tightened the screws and led by super sub Andrew Cannard took the contest and finals hopes away from Weightmans Packaging winning 6-5.
With 'Captain Richie' back for rnd 10, top team Exposed Signage will face 2nd placed Regional Taxation Services in what promises to be an all out pre-finals slog.
PENNANT TWO:

No. 1 and 2 seeds on the team ladder, Mallee Bearings and Pinnacle Packers, consolidate their positions with a win each as the finals come to be just one round away.
– Mallee Bearings 7 (Peter Midgley 3, Andrew Jones, Quentin Clark 1) d Weightmans Packaging 4 (Kerry Wallace 2, Arthur Parr, Nick Barlow 1)
Mallee Bearings captain Peter Midgely lead his team to a satisfactory 7-4 win over Weightmans Packaging.
Midgley, currently seeded second on the players' aggregate, won all five of his matches tonight, two singles and one doubles, three of which were tight five setters.  His second and third players, Andrew Jones and Quentin Clark, each took a singles to give their side the winning seven games, Jones beating opposing Nick Barlow in three, 11-8, 11-7, 11-8, and Clark beating oppositions captain Arthur Paar likewise in three, 11-4, 12-10, 11-7.
Weightmans Packaging, despite their defeat, had much to be proud of in the efforts of their second player Kerry Wallace.  Wallace downed opposing Jones in four sets in her first match, 9-11, 11-6, 11-3, 11-7, and then went on to beat Clark in five, 6-11, 11-9, 11-7, 9-11, 11-8.  She then faced of the unstoppable Peter Midgley in two games, barley losing both in five sets, first collaborating with no.1 Arthur Paar in the second doubles, 11-5, 8-11, 10-12, 11-8, 9-11, then in the first of the last three singles, 5-11, 11-5, 3-11, 11-9, 9-11.
With this win, Mallee Bearings consolidate their position on top of the ladder, staying just one games clear of second seed Pinnacle Packers.
Final scores:  7 rubbers to 4 and 25 games to 19.
– Pinnacle Packers 8 (Geoff Wright, Adrian Fox, James Chick 2) d MJM Automotive 3 (Thanh Nyugen 3)
Second-seeded Pinnacle Packers, in good form, downed MJM Automotive decisively in an 8-3 win.
Pinnacle Packers three players, Geoff Wright, Adrian Fox (who subbed for absent Brendon Alderton) and James Chick, were on top of their game as they each beat opposition's Anthony Fox and Claire Ljubic never in more than four sets.  Though the doubles were a bit more of a struggle (both going to the fifth set), the Pinnacle Packers team were able to take them both for their side with captain Wright and no. 3 Chick overcoming Anthony Fox and Ljubic in in the first, 11-7, 11-6, 8-11, 12-14, 11-5, and Wright and Adrian Fox coming back from two sets down to beat captain Thanh Nyugen and Ljubic in the second, 9-11, 9-11, 11-3, 11-5, 11-6.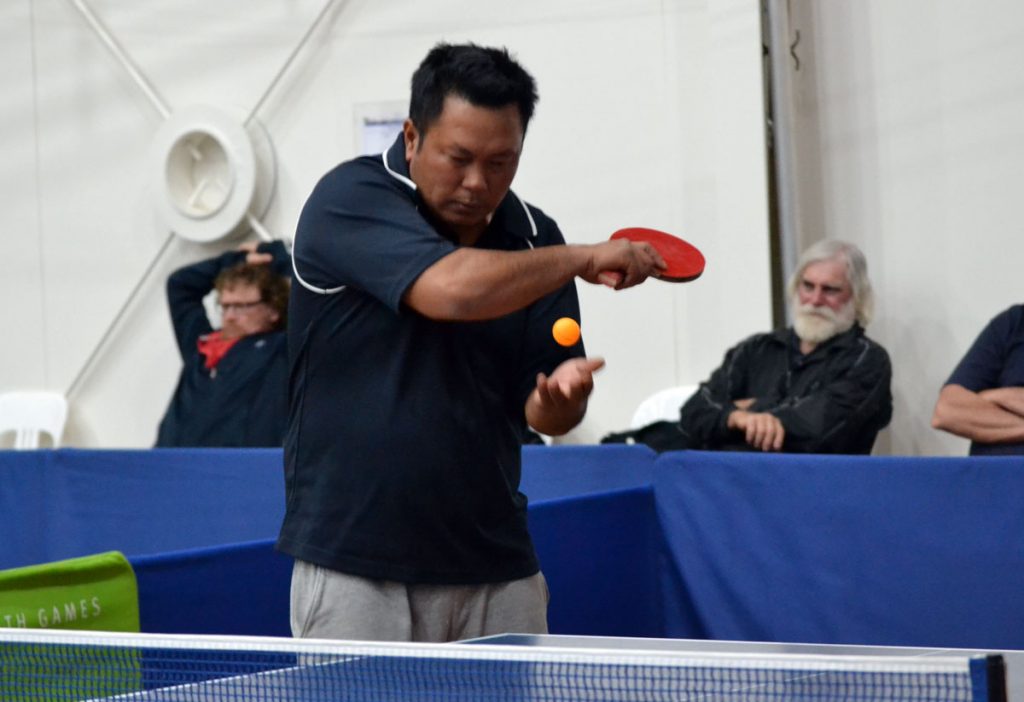 Top-seeded on the players aggregate, MJM Automotive's Thanh Nyugen was the only player on his side to win a rubber throughout the game while filling-in in Pennant 1 on the same night.  He first beat Wright in four, 11-9, 11-8, 8-11, 11-8, then beat both Chick and Adrian Fox in three, 11-7, 11-3, 11-6 and 11-5, 11-8, 11-9 respectively.
Had not Mallee Bearings won tonight, Pinnacle Packers would have overcome them as the aggregate leader.  As it is, they remain just one game behind them.
Final scores:  8 rubbers to 3 and 25 games to 15.
– Max Miller Carpets 8 (Tony Malycha 3, Russell Walder, Michael Hensgen 2) d Mallee Meats 3(Jason Gifkins 2)
Tonight's match against Max Miller Carpets and Mallee Meats was quite one-sided, with the former taking a strong 8-3 victory.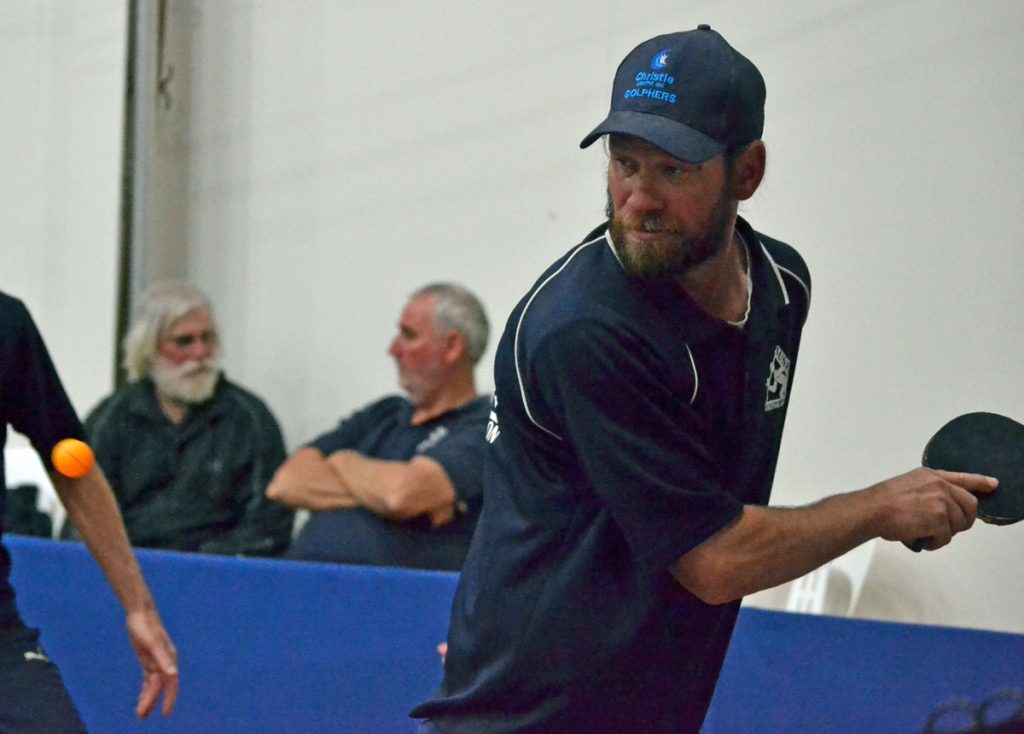 The table's star player for the night was Max Miller Carpets' third player, Tony Malycha, who won all his singles matches in four sets each.  He also, collaborating with no.2 Michael Hensgen, soundly defeated opposing captain Jason Gifkins and Mark Kerr (who was subbing for absent second player Geoff Peters) in the second doubles in three sets, 11-8, 11-9, 11-8.  Hensgen and captain Russell Walder both contributed two singles each to this score to give their team eight rubbers.
Only Gifkins could win a singles match for his side in this round, struggling to take two five setters: firstly, against Hensgen, 11-6, 10-12, 9-11, 11-3, 11-8, then against Walder in the last match of the night, 14-12, 8-11, 11-9, 10-12, 12-10.  The teams third game was also a five setter (and the only other one at that): the first doubles in which Gifkins paired with no.3 Seval Fuat beat Walder and Hensgen, 6-11, 11-4, 10-12, 11-7, 11-6.
Final scores:  8 rubbers to 3 and 30 games to 13.
PENNANT THREE:

With both matches ending at 6-5, it looks to be a close final for Pennant Three.
– Mallee Meats 6 (Paul Fitzpatrick 3, David Sergi 2, Therese Fitzpatrick 1) d Weightmans Packaging 5 (John Fitzpatrick, Rohan Reimers, Huseyin Ismail 1)
After a 9-2 loss last week, Mallee Meats climbed to a satisfying 6-5 win over Weightmans Packaging.
Paul Fitzpatrick, who filled-in for the absent captain Jeremy Corrin, help Mallee Meats to their victory by winning all of his three singles, though failing in three sets to win the first doubles with no.2 David Sergi, losing it to opposition's John Fitzpatrick and Huseyin Ismail, 8-11, 3-11, 8-11.
Sergi also displayed good form, beating Ismail in three, 13-11, 11-9, 11-6, and, unexpectedly, beating captain John Fitzpatrick in four, 11-8, 3-11, 13-11, 11-7.  The teams sixth rubber to win was won by no.3 Therese Fitzpatrick, who toppled opposing second player Rohan Reimers in the first match of the night in a close five sets, 11-7, 10-12, 11-9, 9-11, 11-9.
Weightmans Packaging just could not make it over the line tonight.  Despite winning both doubles in three sets each, the Weightmans Packaging players were only able to score one rubber apiece.  Captain John Fitzpatrick decisively beat his sister Therese in three, 11-9, 11-3, 11-7, while Ismail did the same in four, 7-11, 11-9, 11-9, 11-9.  Reimers won his game against Sergi in a thrilling five sets, 7-11, 13-15, 16-14, 7-11, 14-12, to end the scores at 6-5.
Final scores:  6 rubbers to 5 and 21 games to 19.
– Sammy Slammers 6 (Paul Fitzpatrick 3, Marcus Cimino 1) d Tankard Dental 5 (John Fitzpatrick, Tom Morrison 2, Nick Kiapekos 1)
While playing as captains in the Mallee Meats-versus-Weightmans Packaging match, Paul and John Fitzpatrick also headed the two teams in this close match between Tankard Dental and Sammy's Slammers, concluding with a like 6-5 result.
As on the other table, Paul Fitzpatrick was able to win all three of his singles for his side, though, unlike before, struggling against his brother John (who took the place of absent Sabrina Fitzpatrick), barely winning in five after dropping the first two sets, 14-16, 6-11, 11-9, 11-6, 11-8.
 The three other games won by Sammy's Slammers to give them the win were in second player Marcus Cimino's victory over Tankard Dental's Nick Kiapekos in five, 5-11, 9-11, 11-8, 11-7, 11-9, and in the two doubles. In the first, Paul Fitzpatrick and Cimino collaborated to down John Fitzpatrick and Kiapekos in four close sets, 10-12, 13-11, 11-9, 11-5.  Then, later in the night, Fitzpatrick and no.3 Leonie Dunkley beat Kiapekos and fill-in Tom Morrison (who subbed for Arnold Jago) likewise in four sets, 11-4, 11-7, 9-11, 11-5.
Despite only winning one singles match for his actual team on the neighbouring table, John Fitzpatrick was able to take two as the fill-in captain for Tankard Dental, beating both Cimino and Dunkley in four sets.  Morrison was also able to beat Cimino and Dunkley though not quite as easily, finishing them off in five each. Kiapekos displayed good form also and, despite going down to Cimino in five, was able to overcome Dunkley after another five-set struggle, 12-10, 5-11, 11-7, 5-11, 11-5.
Final scores:  6 rubbers to 5 and 26 games to 20.
PENNANT FOUR:
– Regional Taxation Services 7 (Matt Sires 3, Casey Taplin 2, Austinn Taylor 1) d Mallee Meat 4(Dave Tanner 2, Miya Lock 1)
– Dunkley Scales 10 (Brice Lock, Luke Ljubic, Isaiah Bettes 3) d Tankard Dental 1