Read Time:
18 Minute, 31 Second
With seven rounds played of the Sunraysia Table Tennis "Cash Converters" summer pennant the top five teams are still vying for favouritism such is the evenness of the competition.

With three rounds to play top team Regional Taxation Services are playing well and lead the ladder only by a narrow percentage from Cash Converters while Weightmans Packaging are third one game away. Exposed Signage /Apparel are fourth two wins from top position as are fifth placed Tankard Dental.
– Regional Taxation Services 6 (Gavin Carmichael 3, Matt Ljubic 2, Leon Brown 1) d Weightmans Packaging 4 (Wayne Carmichael 2, Leslie Ncube 1)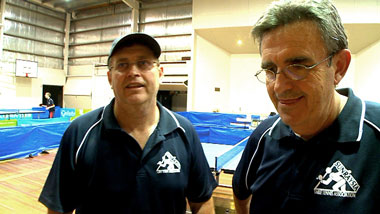 This round Regional Taxation Services scored their fourth win on the trot when they defeated Weightmans Packaging 7-4 although this match could have gone either way.
For RTS Gavin Carmichael won three singles including a rare victory over brother Wayne. Matt Ljubic won two singles for the victors while Leon Brown continued his good form to defeat Bernadette Fitzpatrick in a great five setter. Brown recovered from a 0-2 deficit to win 4-11 6-11 11-8 11-8 11-9.
Regional Taxation Services started well to lead 5-1 before Weightmans recovered to a 4-5 deficit before RTS steadied to narrowly retain top position.
–  Cash Converters 6 (Nicholas Dorman, Mark Ljubic 2, Michael Hogarth 1) d Mallee Bearings 5(Shannon Bowen 3, Reece Kurrle 1)
Second placed Cash Converters continued their consistent season with a 6-5 win over the hardworking Mallee Bearings who late in the match were leading 5-4. Shannon Bowen for Mallee Bearings continued his excellent season winning three singles again. Bowen and partner Reece Kurrle played well in the first doubles to defeat Nicholas Dorman and Mark Ljubic 11-8 7-11 7-11 13-11 11-6 in a top class doubles clash.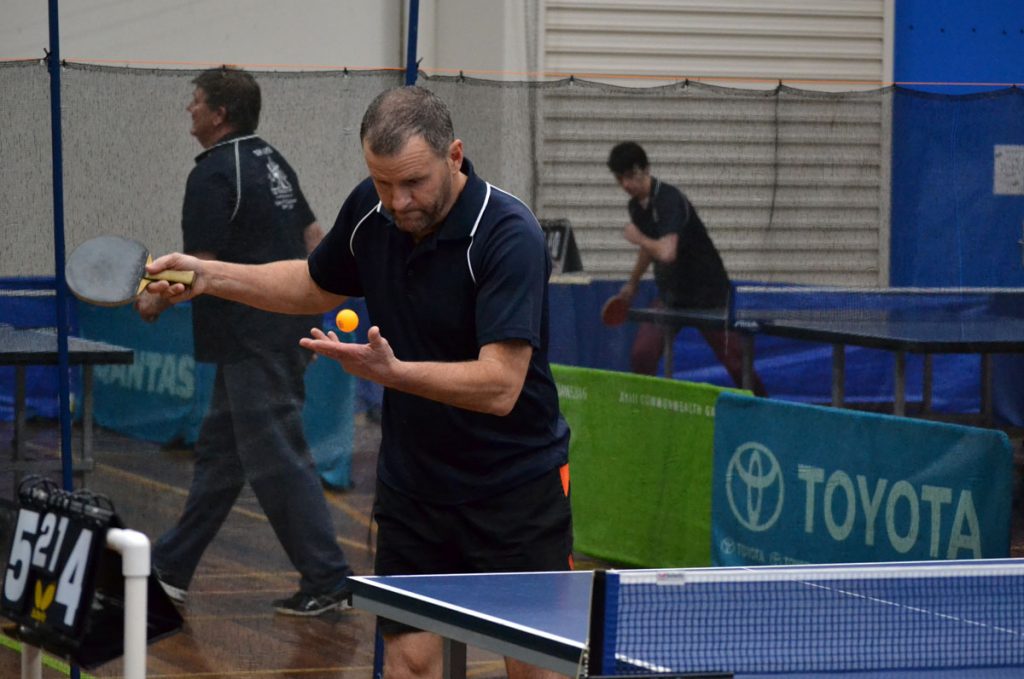 At five rubbers all Cash Converters number three Michael Hogarth outlasted Ed Hung in three very close sets 16-14 13-11 17-15 to enable his team to grab the four points and retain second position on the ladder. For Cash Converters Dorman and Ljubic won two singles each while Michael Hogarth saved his best to last even though earlier he had pressured Shannon Bowen before going down in four close sets.
– Tankard Dental 6 (Shane Carmichael 2, Andrew Cannard 2, Darren Robinson 1) d Exposed Signage/Apparel 5 (Matt Avers 3, Kate Carmichael 1) 
In another close result Tankard Dental with a 6-5 victory inflicted the fourth defeat in succession on fourth placed Exposed Signage /Apparel. The consistent Tankard trio of Andrew Cannard, Shane Carmichael and Darren Robinson won two, two and one singles respectively. Late in the match Tankards trailed 4-5 when Shane Carmichael took to the table against niece Kate Carmichael.
This match contained many fine rallies before Shane outlasted Kate 11-9 8-11 11-6 9-11 13-11. At five rubbers all Darren Robinson then defeated Lee Thomas to enable Tankards to win their third match of the season and remain right into contention only percentage out of the top four.
In this round, top team Mallee Bearings had a comfortable win against fourth placed Max Miller Carpets; third placed Pinnacle Packers obliterated second placed Mallee Meats and in so doing moved into second spot on the ladder; and in the battle of the bottom teams, MJM Automotive defeated Weightmans Packaging and moved from sixth to fifth in the process.
– Mallee Bearings 7 (Kevin Johns 3, Terry Martin 2) d Max Miller Carpets 4 (Russell Walder 2, Quentin Clark, Jason Gifkins 1)
Kevin Johns and his Mallee Bearings team-mates helped themselves to another four premiership points this week, with a comfortable victory against Max Miller Carpets.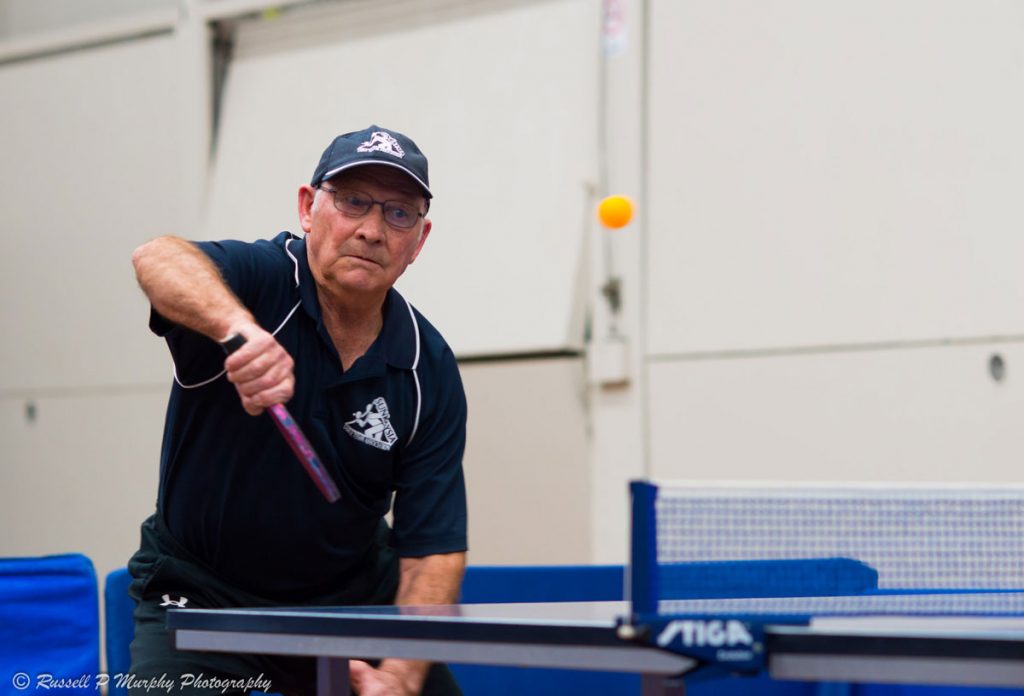 Johns is now firmly entrenched at the top of the aggregate ladder on 20 wins.  His nearest chaser, Jackson Murphy, is three wins back on 17.  Murphy's slim chances of catching Johns in the aggregate race were dealt a significant blow this week when he was defeated in his match with MJM Automotive.
Johns took three wins again here, and perhaps was a little fortunate to do so.  Against his opposite number, Russell Walder, Johns trailed two sets to one and only a concerted effort in the final two sets saw him take the win, the final score line being 11-3, 5-11, 11-13, 11-7, 12-10.
Terry Martin, playing at number two, took two wins.  His straight sets wins against Jason Gifkins was particularly impressive; whilst his later win against the Max Miller Carpets number three Quentin Clark in five sets shows the peculiarities of this game.
And whilst Claire Ljubic could not take any singles rubbers, she did, with Johns, take the second doubles rubber 11-9, 11-5, 12-10 against Gifkins and Clark.  That rounded out a good night for Johns who had earlier taken the first doubles with Martin, also in straight sets against Walder and Gifkins.
Final scores:  7 rubbers to 4 and 23 games to 17.
– Pinnacle Packers 10 (Ashley Morrison, Sony Sefer, Seval Fuat 3) d Mallee Meats 1
This was a match between second (Mallee Meats) and third (Pinnacle Packers) placed teams on the ladder.  The score line of the game would have one think it was probably between teams last and first, respectively.
Brendan Alderton was absent from the Pinnacle Packers line-up, and Sony Sefer subbed for him.
It was clear from the start that the Pinnacle Packers were in form.  Seval Fuat, playing at number three cleaned up Mallee Meats number two Geoff Peters in straight sets in the first rubber.  The wins came quickly after that.  Morrison in straight sets against Peter Fitzpatrick, no surprise there, but when Sefer outfoxed Peter Midgley in just four sets, the Pinnacle Packers squad smelt blood.  Morrison and Sefer kept the rubbers going their way in the first doubles with a straight sets win against Midgley and Peters.  That was four rubbers to love, and Mallee Meats had managed to win just one set !!
Pinnacle Packers continued the demolition job in the next round of matches; Morrison too good for an erratic Geoff Peters; and when Seval Fuat led Peter Midgley 14-12, 19-17 in the next rubber, the fight was as good as gone from the Mallee Meats squad.  Although Midgley took the third set 11-6, it was too little too late, as Fuat cranked himself up again to take the fourth set 11-9 to get the all important sixth rubber for the win.  When Sefer took rubber number seven against Fitzpatrick the Mallee Meats side had then managed just three sets to Pinnacle Packers twenty one.
Somehow or other, Midgley and Fitzpatrick managed to take the second doubles to at least get the side on the board.  Mind you, it took them five sets, and they had to come back from 2-1 down to do it.
And just as well they did win that doubles, because Pinnacle Packers were not finished yet.  Giving Mallee Meats no respite in the final round of singles, firstly Morrison too good for Midgley in a close four setter 12-10, 15-13, 8-11, 11-7; Sefer almost downing Peters in three sets, but winning in four anyway 11-8, 11-5, 12-14, 11-5; and Fuat finishing with a flourish, routing Fitzpatrick in three.
After a slow start, this was the fourth win for the season, and fourth in a row for Pinnacle Packers, who must now be favourites for the flag, having beaten all teams except bottom side Weightmans Packaging, who they play next round.
With this win Pinnacle Packers jumped Mallee Meats and moved into second spot, and although two wins behind, their rubbers for and against are very similar to top side Mallee Bearings.
Final scores:  10 rubbers to 1 and 32 games to 8.
– MJM Automotive 7 (Arthur Paar 3, Zac Healy, Michael Hensgen 2) d Weightmans Packaging 4(Jackson Murphy 2)
 Nobody wants to finish on the bottom of the ladder, and so when bottom sides meet, the competition is as fierce as that amongst the top teams.
After showing glimpses of form so far this season, MJM Automotive finally got it all together in this game with a convincing win against Weightmans Packaging.
For just the second time, MJM Automotive captain Arthur Paar took three wins.  The last time he did that was in round 2, also against this side, but on that occasion Weightmans Packaging captain Jackson Murphy was absent. 
This time, Arthur was up for a fight, and the biggest clash of the night was in the first round of singles.  In rubber number two, the two captains met and in a frustrating game for Murphy, his hopes of challenging Kevin Johns for the aggregate trophy all but disappeared.  What was even more frustrating for Murphy was that despite taking two of the five sets 11-3, 11-2, and winning significantly more points in the game (53 to 42), Paar held on in the other three sets to take the win 3-11, 12-10, 13-11, 2-11, 12-10.
Zac Healy and Michael Hensgen are becoming more consistent, and as they did in round two, both scored two wins apiece to go with Paar's three.  This was enough for the win, both doubles rubbers going to Weightmans.
So these two sides now have two wins apiece, and with this win MJM Automotive take fifth spot on percentage.
Final scores:  7 rubbers to 4 and 24 games to 16.
In this round third placed MJM Automotive defeat top side Dunkley Scales; second placed Weightmans Packaging regain top spot by defeating Tankard Dental; and next-to-last side Mallee Meats records a strong win against the disappointing Regional Taxation Services.
– MJM Automotive 6 (Thanh Nyugen 3, David Sergi 2) d Dunkley Scales 5 (John Fitzpatrick, Rachel Fitzpatrick, Sabrina Fitzpatrick 1)
Since joining this side in round 3, Thanh Nguyen has succeeded in steering MJM Automotive to a win each week.
Nguyen is clearly the best player in this grade, having not lost a singles rubber the whole season, and conceding just four sets in that time.
This may sound like playing this team entails no chance of victory.  Not true.  Three of the five wins have been by the closest of margins 6-5.  Each of the teams defeated had chances to down MJM Automotive, but have for one reason or another, failed to do so.  This game was no different.
Up until this match, Dunkley Scales had won five games in a row, and sat at the top of the ladder.  Not invincible, but a good all-round team.
So, what happened?  Well, MJM Automotive did win again, and again it was 6-5.  Thanh won three, dropping just one set, this to John Fitzpatrick.  David Sergi won two, and Nguyen and Sergi easily won the first doubles rubber against Rachel and John Fitzpatrick.
Simple enough.  Dunkley Scales, however, did have two chances to take the game from MJM Automotive.  There were four five set contests and they were shared two all.  Had Dunkley Scales won an additional one, it would have swung the game in their favour.
David Sergi was the common factor in those two games, and it is a credit to him that he won them both.  In the first round of singles, his game against Rachel Fitzpatrick really came alive in the final two sets.  Sergi lost the first set 6-11, then took the next two 11-6, 11-3.  Rachel hung on for dear life in the fourth, and forced the game to the fifth set, after taking the fourth 12-10.  Both David and Rachel had a chance to take the fifth, however Sergi prevailed at 13-11 to take the rubber.  A great match.
In the next round of singles, Sabrina Fitzpatrick put David through the wringer.  The sets alternated, David taking the first, third and fifth, Sabrina the other two.  But it was the third set which made this game stand out.  At one set all, both players wanted that vital third set, and it went on and on, perhaps David and Sabrina thought they were playing to 31, don't know, but finally Sergi took that set 25-23.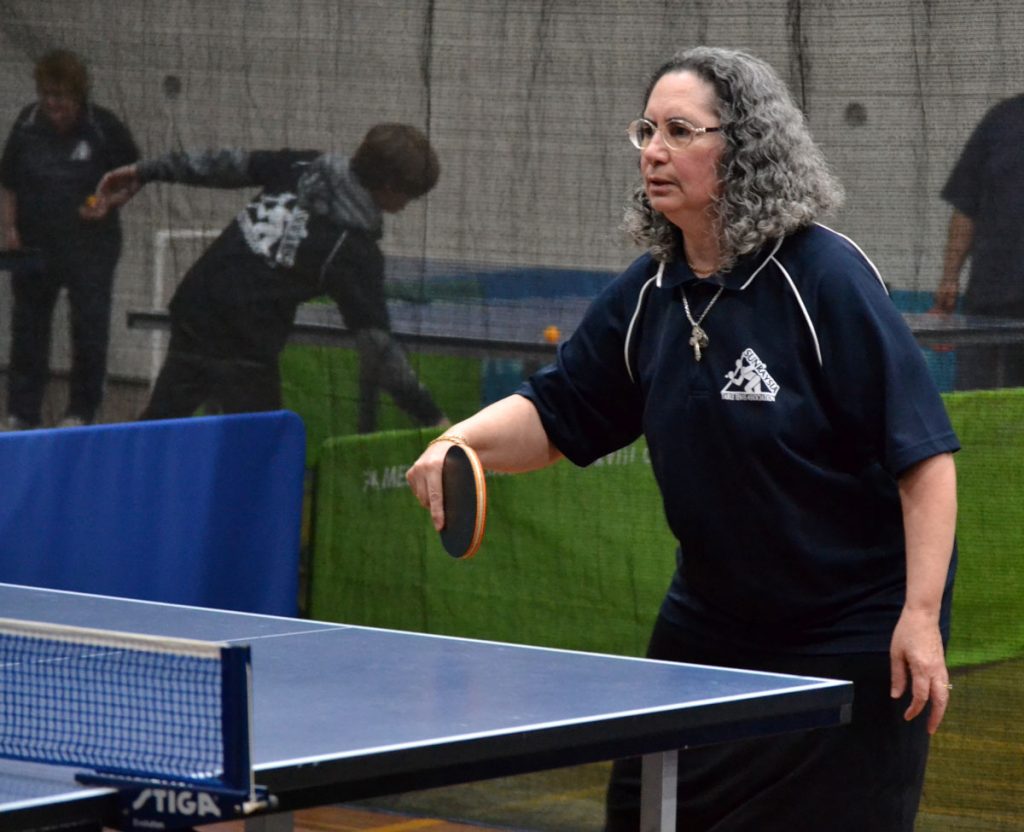 Sabrina bounced straight back, and took the fourth set 11-7 taking the game to the fifth.  Sabrina's game fell away a bit in that set, and Sergi took it 11-5.  Another great game.
That was it really, John Fitzpatrick continued his impressive form in this grade with two singles wins, and Rachel and Sabrina took one each.  Team Fitzpatrick's fifth rubber came courtesy of Rachel and Sabrina in a come from behind win in the second doubles against Nguyen and Nick Kiapekos, winning 7-11, 11-6, 8-11, 12-10, 11-9 to make the score 3-5 at that point and keep their side in the game.
Final scores:  6 rubbers to 5 and 22 games to 20.
– Weightmans Packaging 7 (Mark Kerr 3, Arnold Jago 2, Ryan Hensgen 1) d Tankard Dental 4(Rohan Reimers 2, Sam Hensgen 1)
Weightmans Packaging took a work-man-like 7-4 victory against Tankard Dental to regain top spot on the ladder.
With all players contributing, Weightmans secured the victory with a burst of three rubbers when the score was 3-3.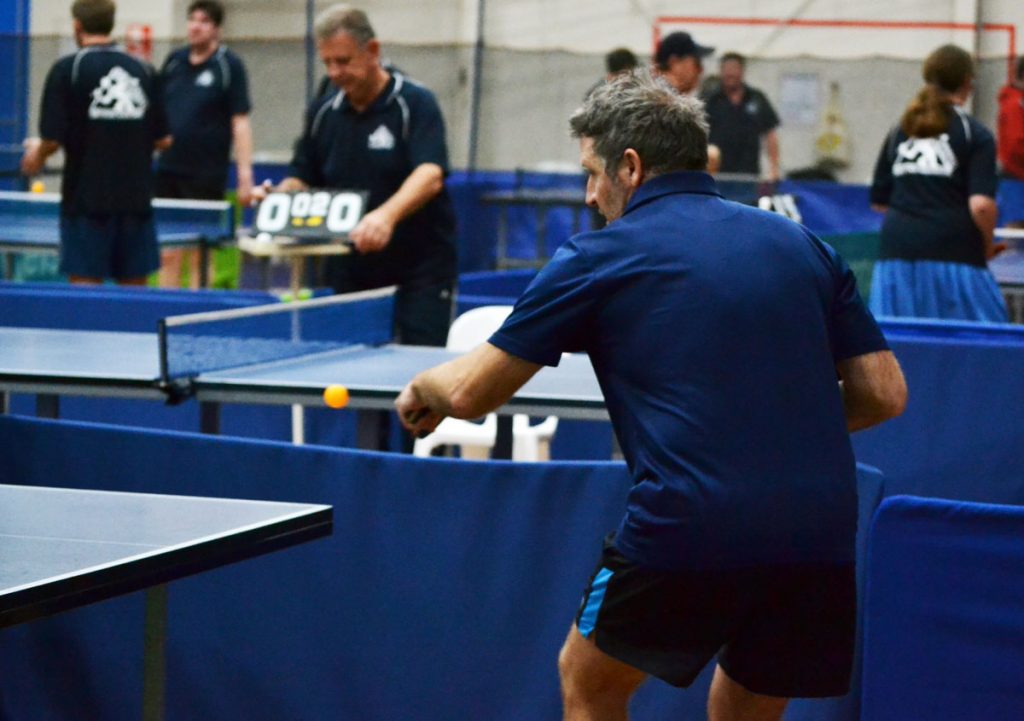 Mark Kerr played well, with three wins.  His match against opposing captain Sam Hensgen was a highlight, a five set clash which saw Mark with the unusual score of 11, 11, 11, 11, 11.  Sam's half of the card read 8, 13, 9, 13, 8, Hensgen winning just four points less than Kerr in what was a close match throughout.
Arnold Jago is enjoying his return to table tennis, and here he picked up two wins, downing Hensgen and Leonie Dunkley both in four sets, but losing in straight sets to the deceptively able Rohan Reimers.
Ryan Hensgen completed the singles wins for Weightmans with a win against Leonie Dunkley in four sets in the final rubber to push the score out to 7-4.
Sam Hensgen and Leonie Dunkley may have thought they had done enough in the second doubles to put them on the road to a win against Kerr and Ryan Hensgen after they grafted out the first two sets 14-12, 15-13.  It was not good enough however, as the Weightmans pair dominated from there on, taking the final three sets 7, 8 and 9.
Tankard Dental did however, take the first doubles rubber.  Hensgen and Reimers had to employ a combination of carefulness and aggression against Kerr and Jago in their five set encounter, winning 13-11, 7-11, 11-7, 8-11, 11-9.
The other three rubbers for Tankard's came from two wins to Rohan Reimers who had a good night, for along with that doubles, he downed Ryan Hensgen 14-12, 11-9, 5-11, 11-6 and later a straight sets win against Arnold Jago.  His captain Sam Hensgen could only grab one rubber, this against his brother Ryan.  Ryan led two sets to love 11-8, 11-9, giving Sam something to think about.  Sam responded in the final three sets, winning them 4, 9 and 9.
Final scores:  7 rubbers to 4 and 26 games to 19.
– Mallee Meats 7 (Marcus Cimino, Cambell McKenzie, Helen Frania 2) d Regional Taxation Services 4 (Jeremy Corrin 3)
After round 3 Regional Taxation Services were undefeated and on top of the ladder.  Unfortunately, they have not won since, and at present see themselves in fourth spot, and in real danger of missing the finals unless they can arrest their alarming slide.  Their loss to Mallee Meats in this round did not help one little bit.
Regional Taxation Services captain Jeremy Corrin was the stand-out player in this game; Jeremy took three singles wins, and with Karly Leach, the second doubles, a game in which the Regional Taxation Services pair won fewer points, but took the match 12-10, 4-11, 11-6, 4-11, 12-10.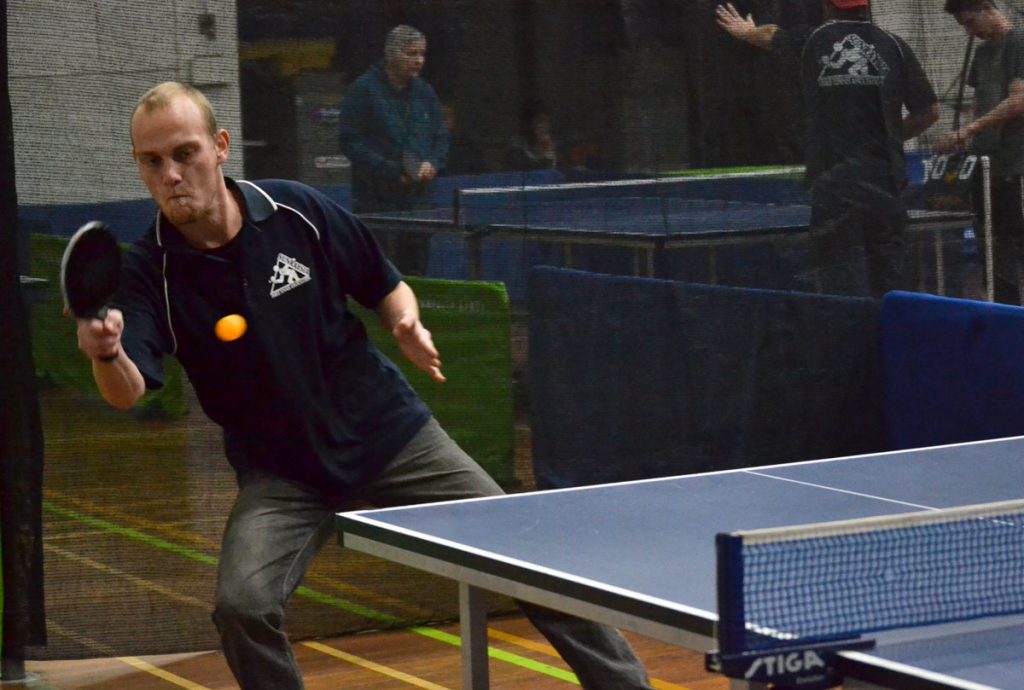 Corrin was at his aggressive best in this game, brushing aside Helen Frania and Marcus Cimino in three sets, and in the match against opposing captain Cambell McKenzie, only faltering in the second set, in charge for the rest for an 11-5, 12-14, 11-9, 11-6 result.
Those were the only rubbers Corrin and his team-mates won, the rest went to Mallee Meats.
So whilst no-one could beat Corrin, all three Mallee Meats players defeated Anthony Sergi (subbing for Husseyin Ismail) and Karly Leach, to rack up six rubbers.
McKenzie breezed past Sergi in three sets, but found himself two sets to love down against Leach, before he got going to win 5-11, 6-11, 11-6, 11-6, 11-6.
Cimino similarly defeated Sergi in straight sets, and Leach once again took her opponent to five sets, Marcus winning 12-10, 7-11, 9-11, 12-10, 11-6.
Helen Frania had an easier time of it against Karly, in their match Helen took the win after four sets, and she too, cleaned up Sergi in three sets.
To round off their win, McKenzie and Cimino had a straight sets win in the first doubles against Corrin and Sergi to win very easily 5, 8 and 5.
This is just the second win for Mallee Meats, and they are one game behind Regional Taxation Services.  If R.T.S. can get some confidence back (had Leach won her two five setters they would have won), they may again become a force before the season is out.
Final scores:  7 rubbers to 4 and 24 games to 17.
The race for top position is hotting up, this round Tankard Dental stumbled and dropped to second allowing Mallee Meats to grab top position one win clear.

The singles aggregate race is also hotting up with Stephan Ljubic and Tom Morrison both on 19 wins while Therese Fitzpatrick one win away on 18. All these stars of the future won three singles this round and in particular Therese played really well against more experienced opponents to lead her team Weightmans Packaging to an important win. In the upcoming round Stephan and Tom will play each other while Therese's opposing number one will be Kim Avers, interesting matches coming up!!
– Mallee Meats 7 (Tom Morrison, Dave Tanner 3) d MJM Automotive 4 (Xiaobo Lu, Shirley Whitecross, Cy Romeo 1)
With both Tom Morrison and Dave Tanner winning 3 singles each Mallee Meats grabbed the four points and top position on the ladder with a 7-4 victory over MJM Automotive who were not disgraced.
Whilst MJM are winless they went oh so close in this match with fill in Xiaobo Lu unluckily going down by the narrowest of margins in two lengthy five setters. In her first match she defeated Tom Cooper in straight sets, her second singles was a beauty against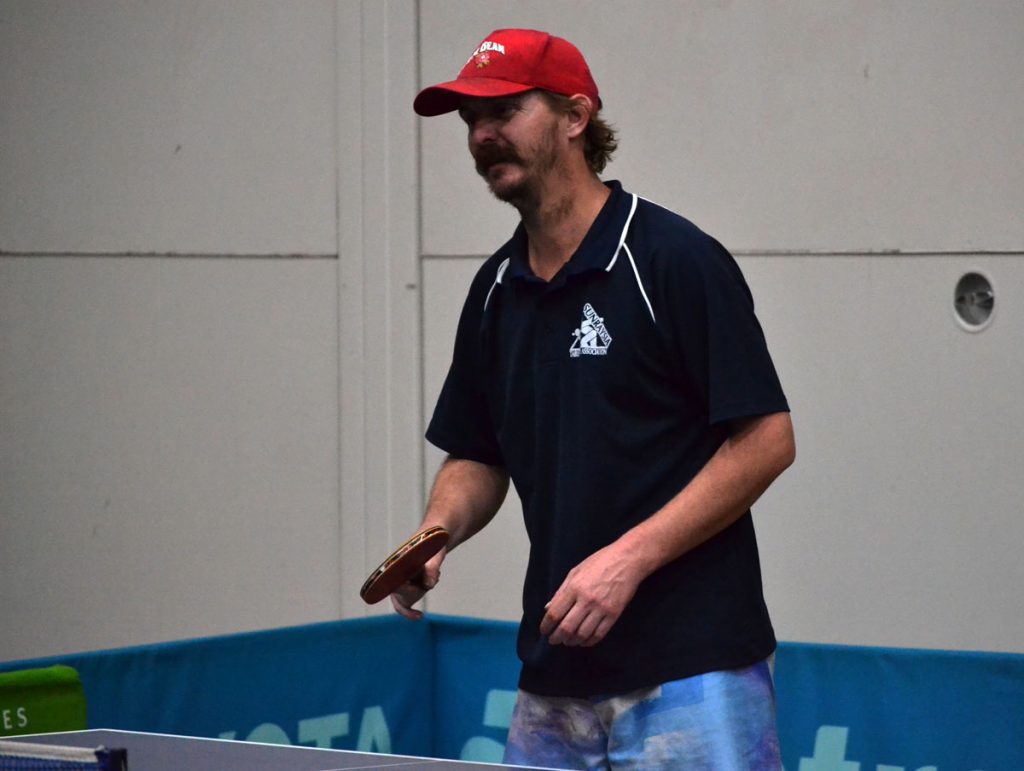 Dave Tanner who won 14-12 2-11 1-11 11-6 13-11 a great finish. In her third singles Xiaobo put the pressure right on joint aggregate leader Tom Morrison and again in an entertaining five setter Tom won 11-6 10-12 11-7 10-12 11-9. Xiaobo showed in her first match in the association she will be a great acquisition.
Apart from winning three singles each Tom and Dave also combined to win the first doubles in four sets which enabled their team to take a 5-1 lead early.
– Weightmans Packaging 6 (Therese Fitzpatrick 3, Brice Lock 2) d Tankard Dental 5 (Peter Lock 2, Ben Hosking, Luke Ljubic 1)
With both Therese Fitzpatrick and Brice Lock in very good form winning three and two singles respectively Weightmans Packaging consolidated third position on the ladder with an impressive 6-5 over Tankard Dental who with this loss were dislodged from top position.
Both Therese and Brice play in the junior competition and are on the improve. Therese has had a consistent season and is one off the pace in the singles aggregate.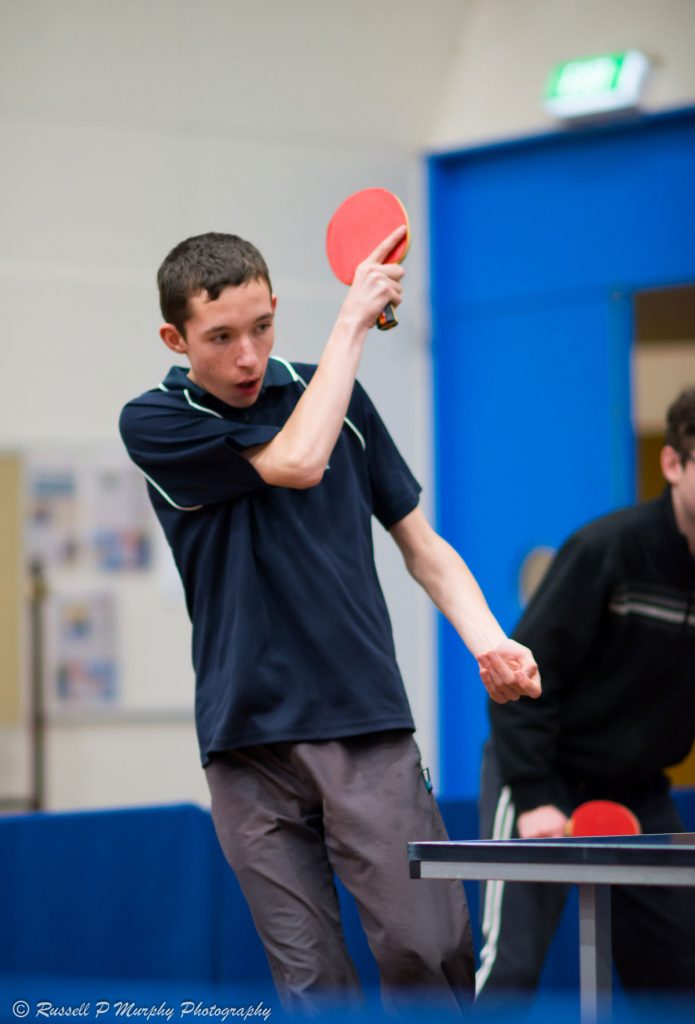 Brice after a slow start to the season where he won three singles in the first three rounds has now really hit his straps winning two matches a night over the past four rounds. His five set victory over Tankard number one Ben Hosking was impressive and showed his game is maturing. Brice's only stumble came in his last match when he went down to his dad Peter who won two singles.
Apart from their five singles victories Therese and Brice combined in the first doubles to defeat the far more experienced pair of Ben Hosking and Peter Lock.
With her side leading 5-3 Therese Fitzpatrick stepped up against Ben Hosking and in another five setter Therese ensured her team the four points with an impressive 7-11 11-3 11-7 9-11 11-5 victory.
– Regional Taxation Services 7 (Kim Avers, Luke Ljubic 2, Sarah Hogarth 1) d Dunkley Scales 4 (Aaron Sawyer 1)
By winning 7-4 against Dunkley Scales, Regional Taxation Services have now opened up an eight point break in fourth position and one more victory could ensure they play finals.
Dunkley's Stephan Ljubic played well to again win three singles for the fifth time in seven rounds. Early in his first singles,
against his mum Jacinta, Stephan was under real pressure however he was able to lift and go on to win in a strong finish 11-6 10-12 12-14 11-7 11-0 ensuring there would be an interesting time at the dinner table in the Ljubic family this week.
For Regional Taxation Services Kim Avers and Jacinta Ljubic won two singles while Sarah Hogarth won one. Unfortunately Aaron Sawyer was unwell and had to forfeit his doubles and final singles which could have made the final result interesting.