Read Time:
11 Minute, 46 Second
Winter – 2015 – Grand Final Wrap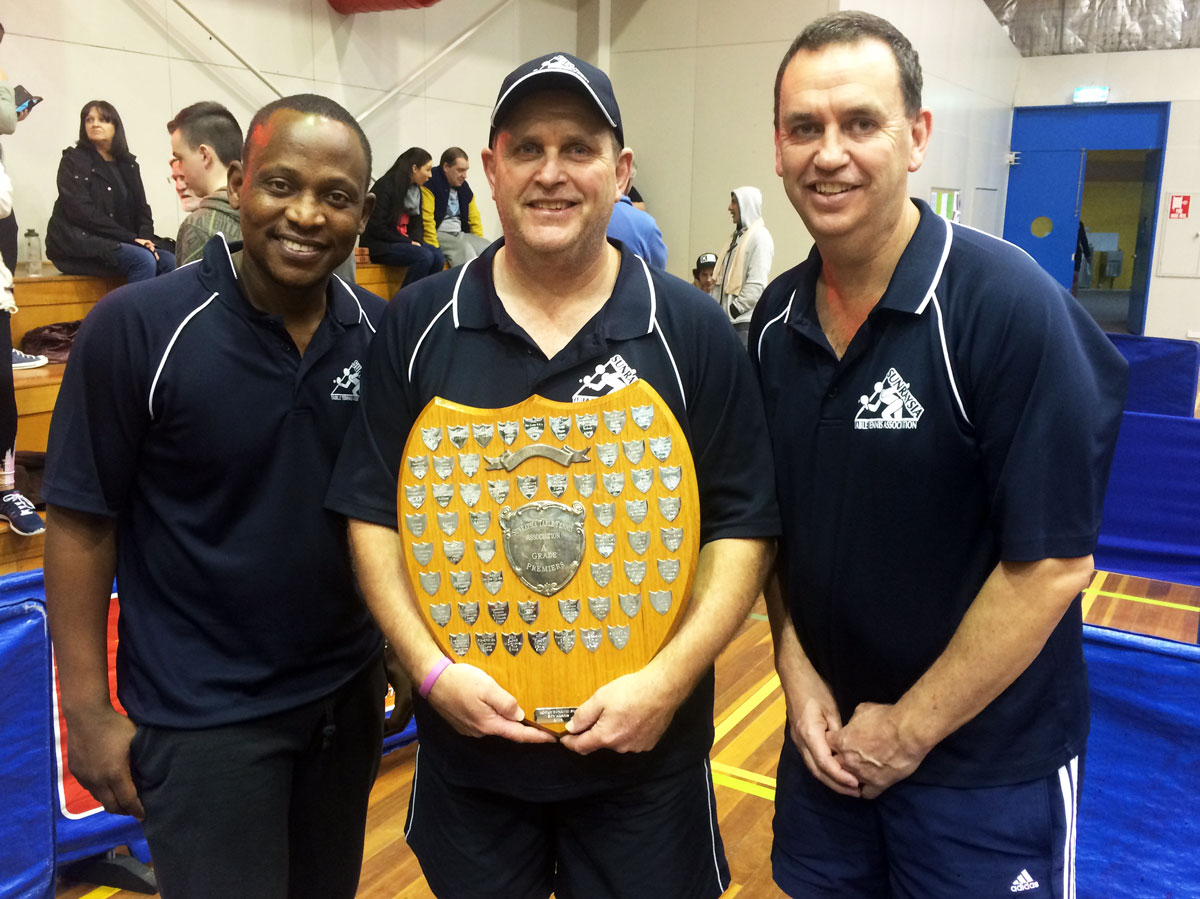 Fishers IGA are the 2015 Pennant One Winter Champions!
PENNANT ONE:
Fishers IGA with a sound 6-3 victory over Weightmans Packaging are the 2015 Sunraysia Table Tennis association premiers.
This was an outstanding performance by Fishers as going into this match they had managed to defeat Weightmans only once in their four previous meetings this season. Wayne Carmichael, a grand final expert, was outstanding in this match winning three singles and taking part in both doubles victories to reverse Fishers loss of 4-6 in the second semi-final two weeks ago.
– Fishers IGA 6 (Wayne Carmichael 3, Shane Carmichael 1) d Weightmans Packaging 3 (Gavin Carmichael, Kate Carmichael, Matt Avers 1)
Carmichael received excellent support from his team mates Leslie Ncube and Shane Carmichael. In particular it was Shane Carmichael who threw a spanner in the works for Weightmans when in the second match of the night he defeated brother Gavin 11-6 4-11 11-6 15-13.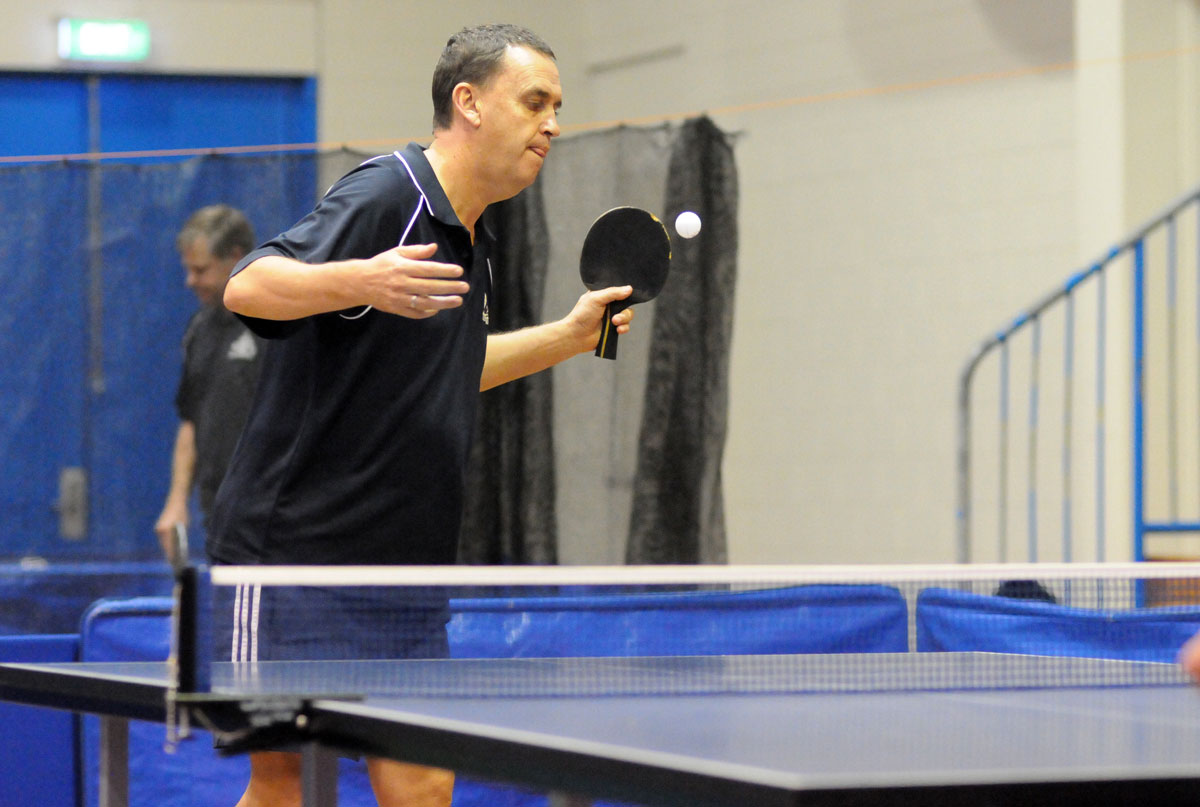 This was a result that wouldn't be expected for Weightmans and as a result of winning both doubles this early match success virtually decided the grand final.
This victory was a huge result for Fishers and levelled the match at one all after Weightman's fourteen year old Matt Avers had come back from the brink of defeat in the first match of the night against Leslie Ncube. Avers had raced away to a two love lead before Ncube recovered to force the match to a fifth. Late in the match Ncube took a 10-7 lead however young Avers held his nerve,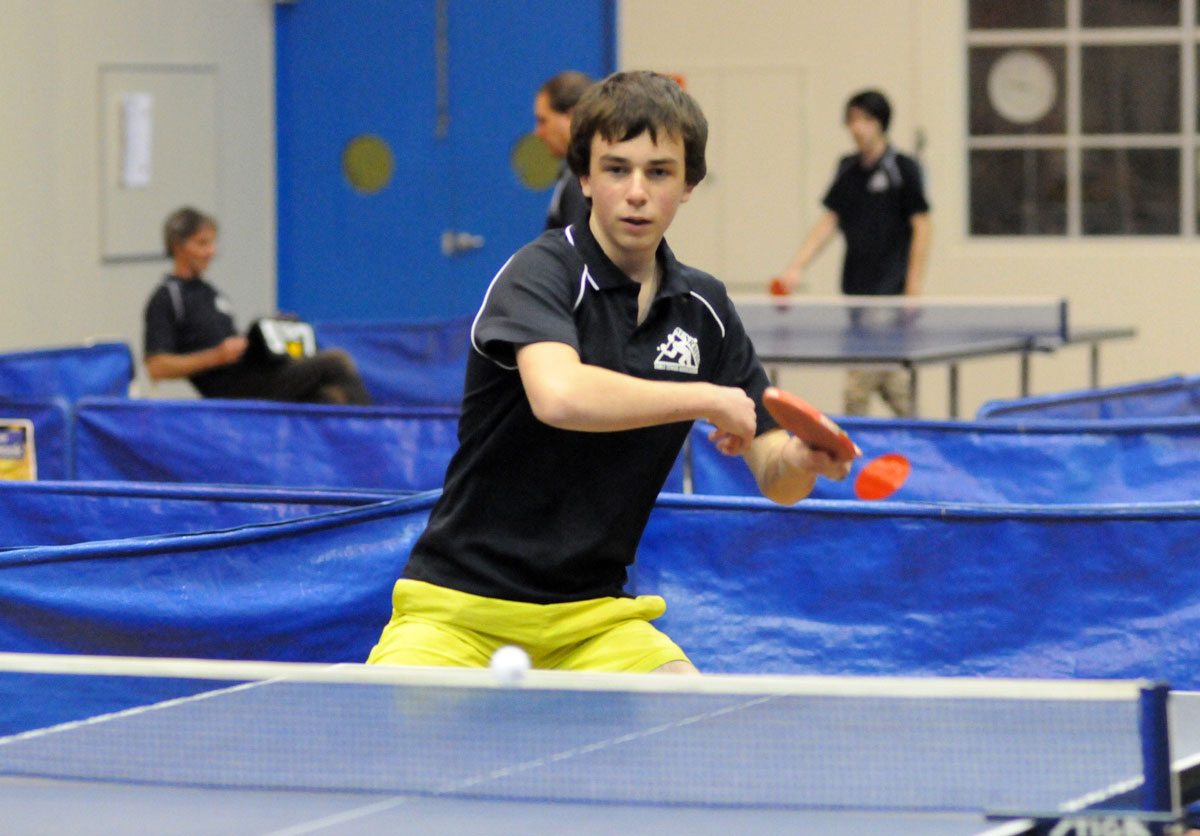 played some fine forehand attacking shots rattling off five points in succession to win the match 11-8 11-7 7-11 8-11 12-10. Avers showed great maturity and has enjoyed a fantastic season in his first year in pennant one.
The first doubles would be crucial and it was the Weightmans pair of Gavin and Kate Carmichael who grabbed the first game against Ncube and Wayne Carmichael however from here Weightmans were playing catch up and the Fishers pair of Carmichael and Ncube controlled the remaining games narrowly to win 10-12 11-8 11-9 11-9. Fishers now took a three rubbers to one lead. The next two singles went as expected with Weightmans Gavin Carmichael defeating Leslie Ncube and then Fishers Wayne Carmichael successful against Matt Avers in three.
Weightmans Kate Carmichael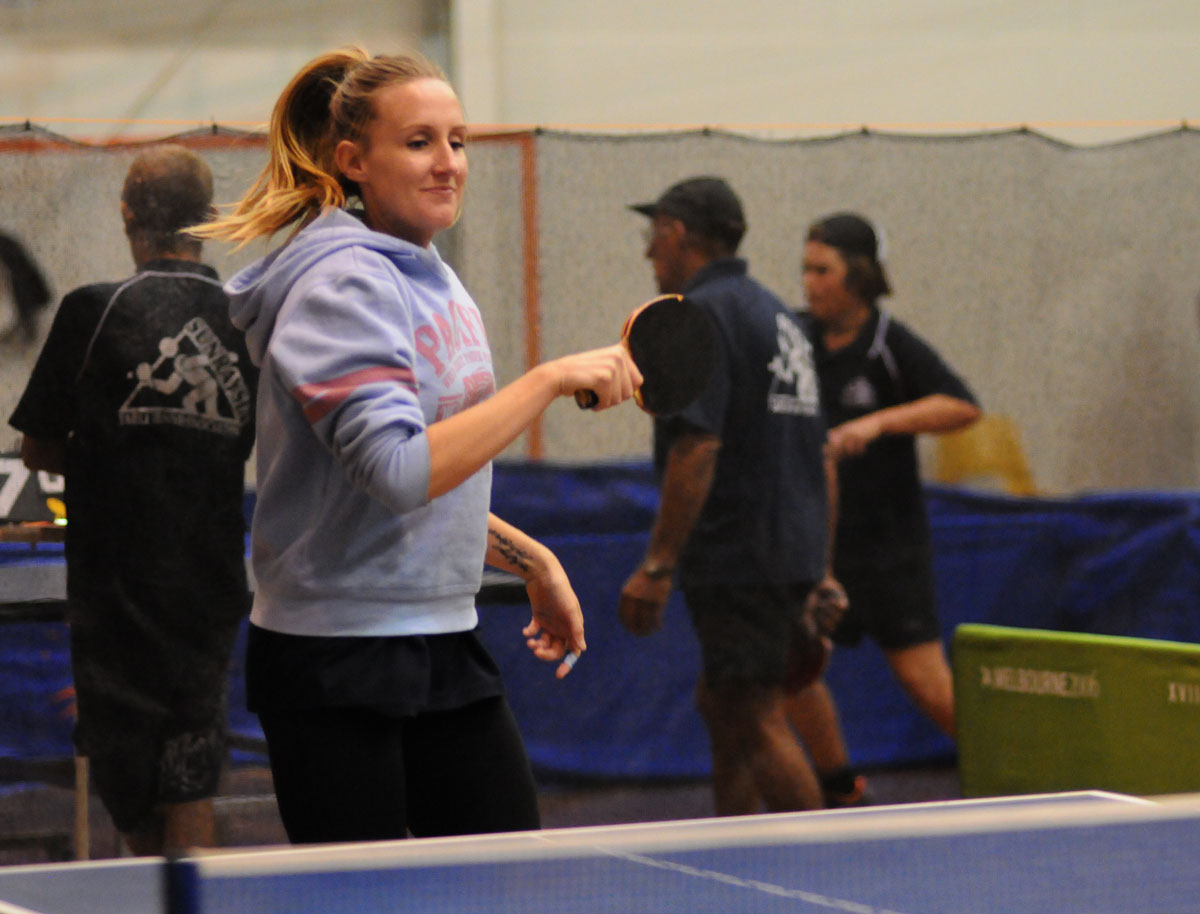 then reduced the deficit to three rubbers to four when she accounted for Shane Carmichael in four sets in an impressive display. She defended well when necessary and played more forehands than usual before relying on her trusty back hand to keep her opponent guessing which way she was going. She took the match 11-8 11-6 8-11 11-5.
With the premiership on the line Weightmans were desperate to take the second doubles however this would be a tough task as Wayne and Shane Carmichael were undefeated in this format in the four matches they had combined in. Weightmans pair Gavin Carmichael and Matt Avers  were never able to get into the match despite grabbing the third and the Carmichael combination proved too steady winning 11-5 11-6 6-11 11-7. Fishers now took a five rubbers to three lead and sensed the premiership was there for the taking.
https://www.youtube.com/watch?v=bQ4Ww4YkY3E
– 2015 Winter Grand Final STTA Table Tennis – Wayne v Gav –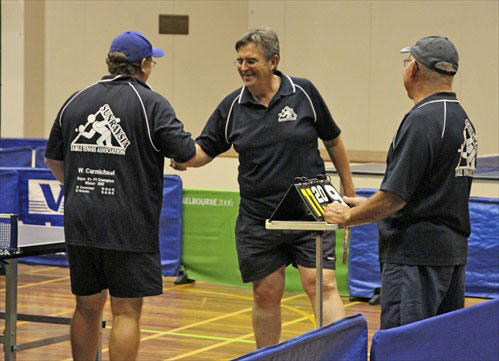 Fishers skipper Wayne Carmichael then lined up against brother Gavin and this match did not last long with Wayne being dominant winning 11-4 11-2 11-9 and with that Fishers IGA with a 6-3 victory were the premiers. This was an outstanding season for Wayne Carmichael given he was a late starter due to a major hip operation. His is an outstanding record this being his thirteenth winter premiership an amazing record.
In his debut season Leslie Ncube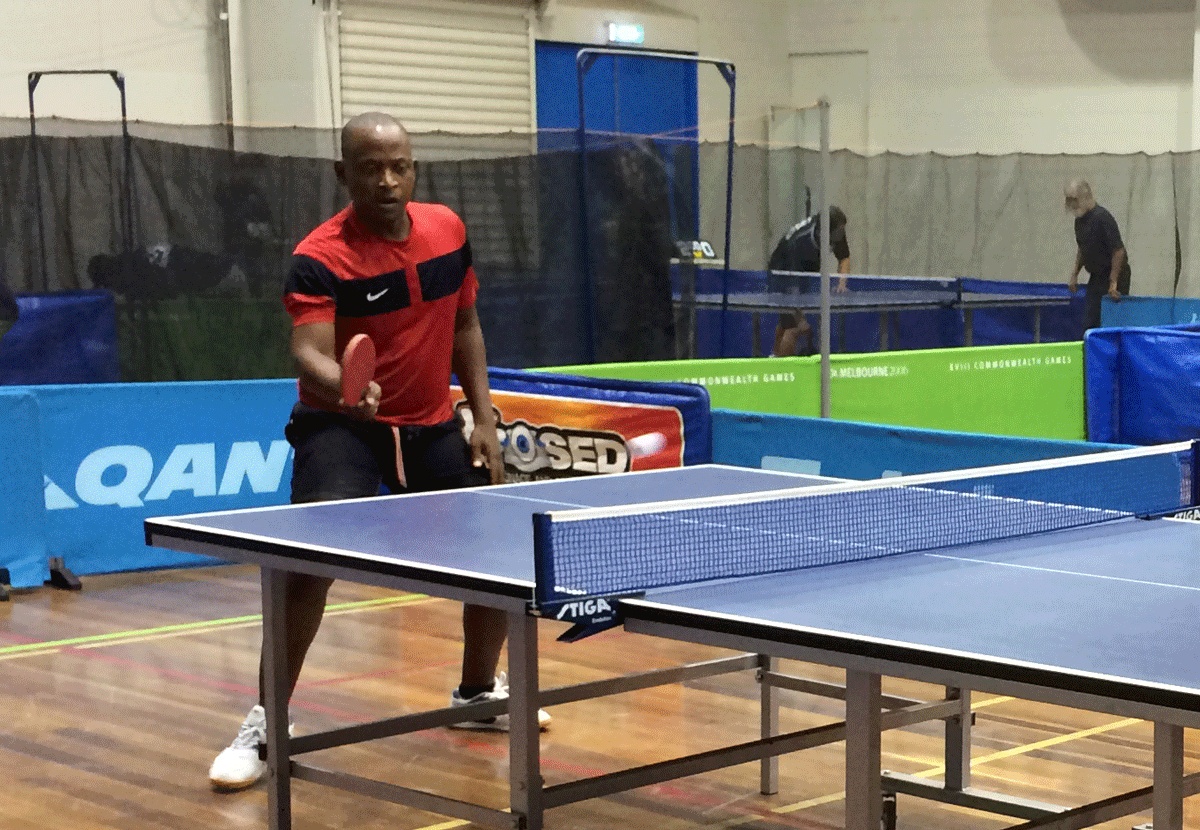 played consistent table tennis and he has proven an asset to the association. Shane Carmichael was a key player in this premiership and this was the fourth time he has tasted success in a winter pennant grand final.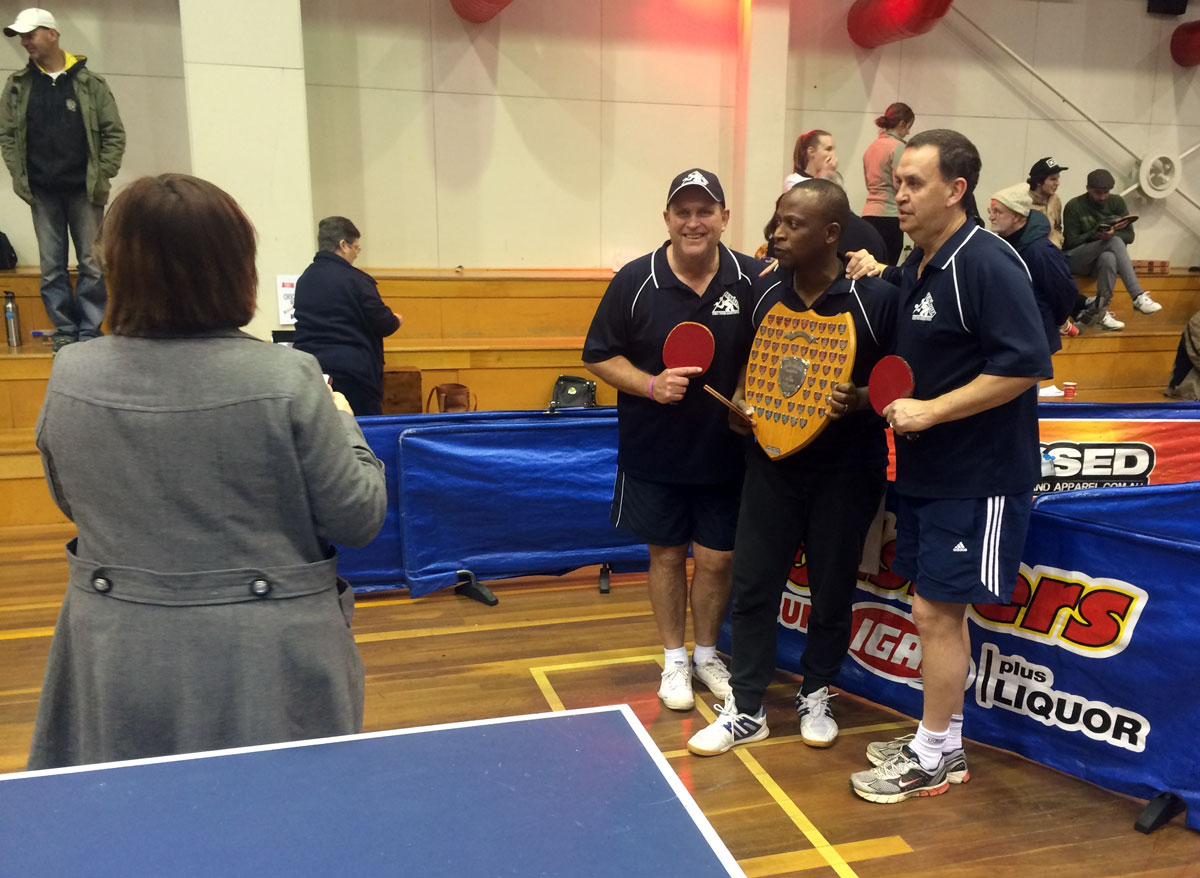 PENNANT TWO: 
Weightmans Packaging kept their best form until the last game of the season, and stole the flag from favourites Fishers IGA.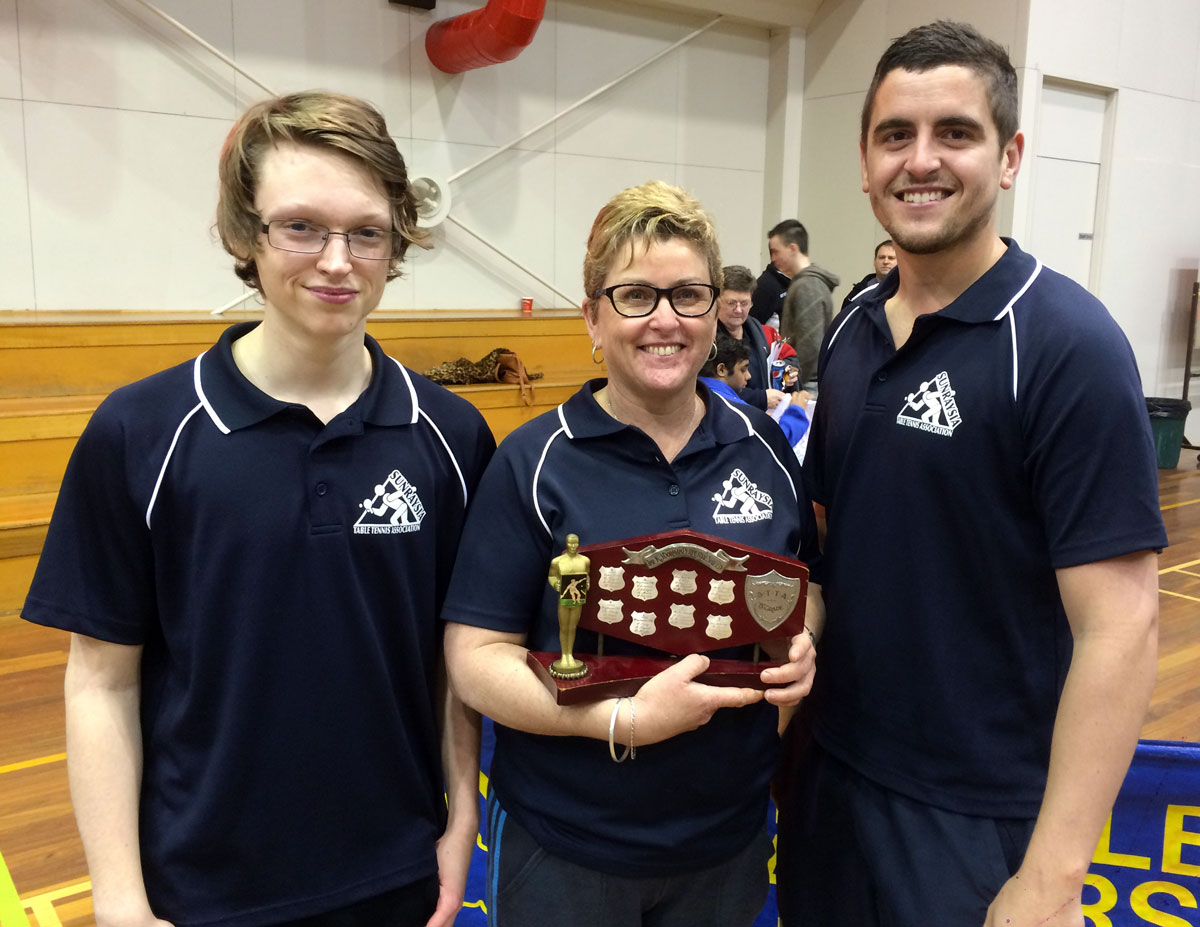 Fishers IGA, having been defeated only twice this season, led this pennant from round one, and breezed into the Grand Final with a confident 6-2 win against their opponents here, Weightmans Packaging.  It was always a question of who was going to play Fishers in the Grand Final, and then a matter of by how much Fishers would win the Grand Final.  On the occasions these two teams played during the season, Fishers took both, winning 9-2 in round two and 7-4 in round nine.  They certainly had the runs on the board.
Weightmans, on the other hand, had a strong second half of the season, losing only one match after round seven (the same as Fishers).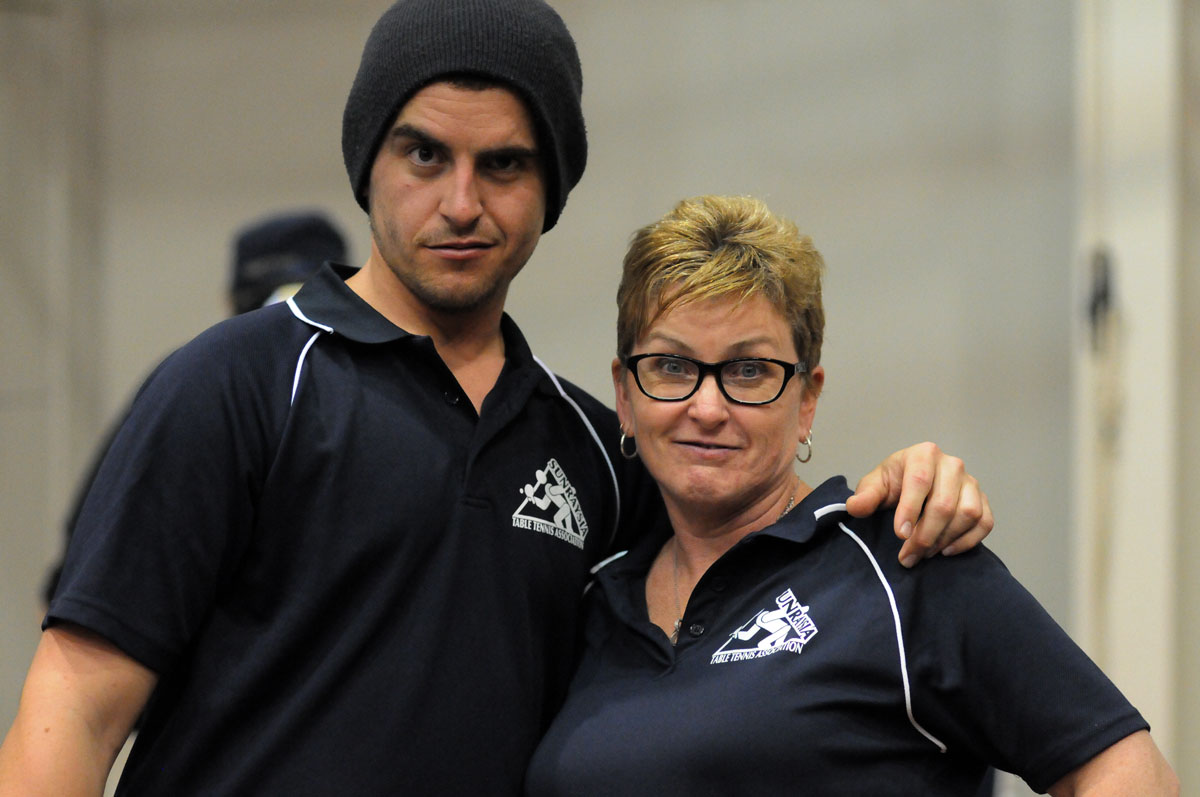 However, of concern for Weightmans was the form of their captain Lee Thomas.  Although they won in round 15, Thomas, who, going into that game was chance of taking the aggregate, surrendered any chance with a meek three set loss to MJM Automotive's Geoff Wright.  A week later, in the Semi-Final match against Fishers, Thomas was still out of sorts, losing both her singles matches, one in three sets to opposing captain John Gray, and then the other in four sets to Fishers number three Brendan Alderton in a match where her number two Connor Lavery picked up the only two rubbers the team won for the match.
The smart money, then, was on Fishers to carry on and win this encounter.
 – Weightmans Packaging 6 (Lee Thomas, Connor Lavery 2) d Fishers IGA 4 (John Gray 3, Seval Fuat 1)
The first round of singles went as expected, although Weightmans had lifted their game, and the two wins Fishers took from those three rubbers were hard earned. 
Seval Fuat opened the scoring for Fishers with a tense four set win over Andrew Alderton.  Alderton had recently beaten Fuat, and Seval was very careful in this game; there were some very long rallies featuring delicate placement of the ball, before Seval eked out the win – 11-7, 8-11, 11-7, 12-10.
As happened last week, Weightmans captain Lee Thomas played the second rubber, following Alderton, and again it seemed that after Alderton's fighting loss, Thomas' game lifted.  She, too, was careful against the persistent Brendan Alderton, the pennant's best number three.  The match almost went to five sets, Alderton losing 6-11, 9-11, 11-6, 11-13.  John Gray made it 2-1 to Fishers after downing Connor Lavery in four sets.
Then to the first doubles, a match which Weightmans were probably dreading.  Surprisingly, for a team which finished second on the ladder, Weightmans had not won a single doubles match against Fishers in their three contests.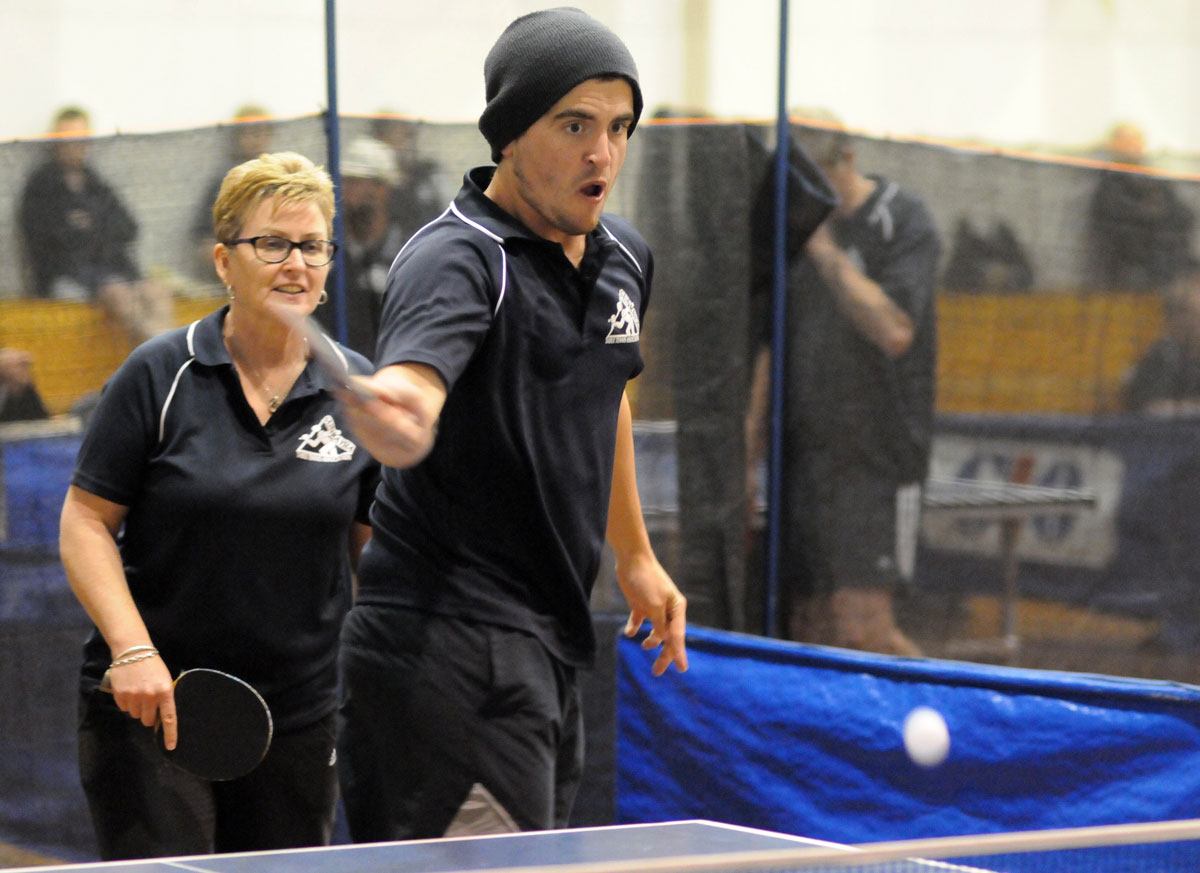 So when Thomas took to the table with her number three, Andrew Alderton to take on opposing captain Gray and his number two, one wonders at the logic.  Whatever the logic was, the Weightmans pair soon showed the decision was right, with a five set victory 7-11, 11-7,10-12, 11-3, 11-3 to square the contest 2-2.
Just as the first block of singles had gone to Fishers 2-1, so the second went to Weightmans 2-1.  There was nothing between Thomas and Fuat in the first two sets of their rubber, the scores reading 17-15, 15-17.  Seval ran out of puff after that, losing the next two 11-5, 11-2 to concede.
John Gray made it 3-3 after three sets with Andrew Alderton, with five rubbers left to play.
Connor Lavery then took a win against Brendan Alderton 11-7, 11-7, 13-11 to put Weightmans ahead by one.
And then the second surprise – the second doubles.  Thomas and Lavery trounced Gray and Brendan Alderton in straight sets 11-7, 12-10, 11-5 and with a two rubber break, had the trophy clearly in their sights.
Fishers needed to win the first two rubbers of the final three to again draw level and have any chance of victory; Weightmans needed only one of the final three to win.
The captains played, John Gray again outplaying Thomas to win in three sets to narrow the gap by one, but still trailing 4-5.
Then the number two's met: Connor Lavery and Seval Fuat.  Lavery looked confident as he held Fuat out in the first set winning 12-10.  The second set came a little easier 11-7.  Seval was down but certainly not out, and with nothing to lose threw everything into his game, shots which he could not make earlier, he now made.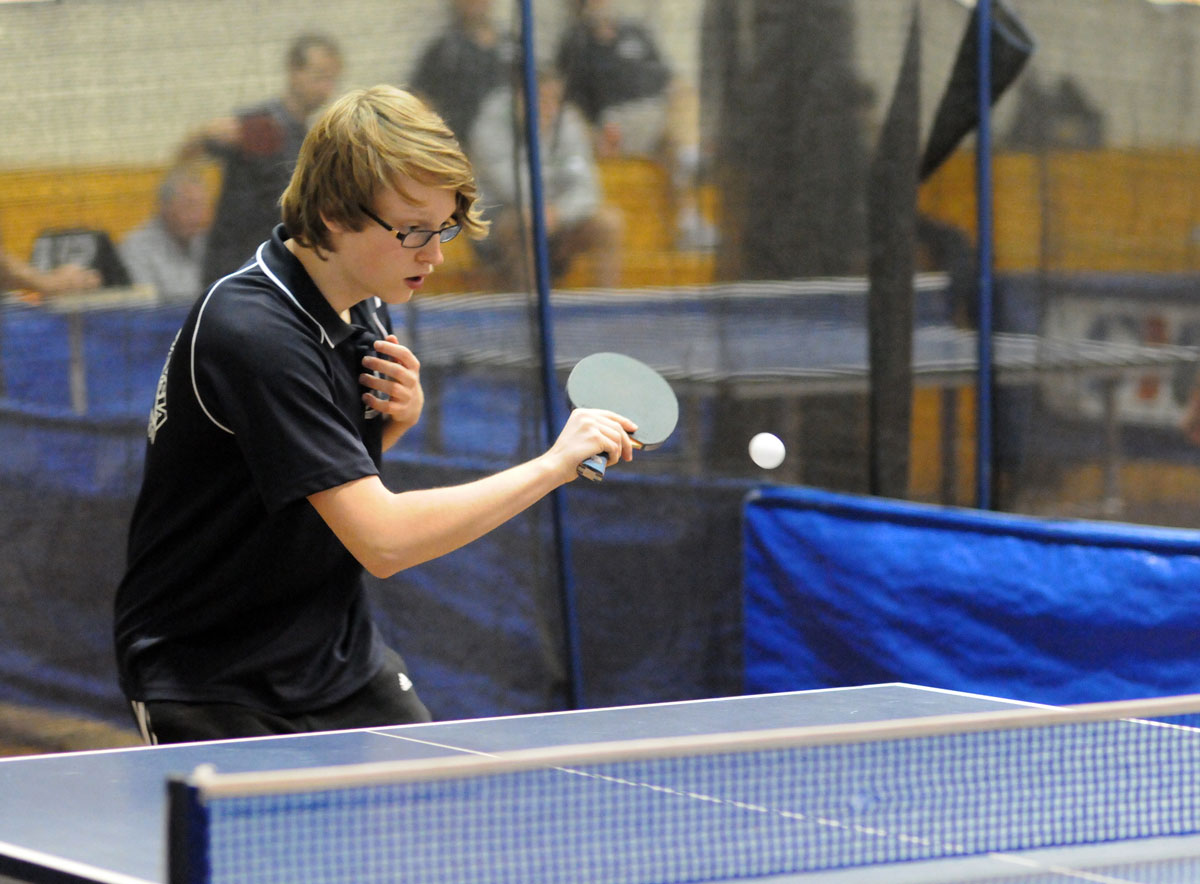 As his confidence grew, so Lavery became a little tentative with the result Fuat level the match with 11-9 and 11-5 scores in the third and fourth sets.  Both took a deep breath before the start of the fifth, both knowing that if Fuat won this game, then victory in the match would probably go to his team as Fishers number three Brendan Alderton had always accounted for Weightmans number three, his brother Andrew Alderton.  So the pressure was really back on Lavery to finish Fuat off.  Lavery rose to the occasion admirably.  Both players were exhibiting obvious signs of nervousness, missing shots they normally would not, netting simple returns, but interspersed with that were some great rallies too.  Whilst the final score of 11-6 in that fifth does not look close, each and every point was hard won.  Lavery it was who had the 11, and victory was his, and Weightmans.
2015-Winter-Gf-ConnorvSeval&celebrations
So how did Weightmans engineer this turnaround?  Obviously, winning both doubles had a lot to do with it, but equally the form of Connor Lavery played a big part.  After winning 10 singles contests in the first eight rounds, he improved to such an extent that in the next seven rounds he won an additional 15 to put him tenth on the aggregate.  Coupled with that was his coolness in that final rubber.
Well done, Weightmans !!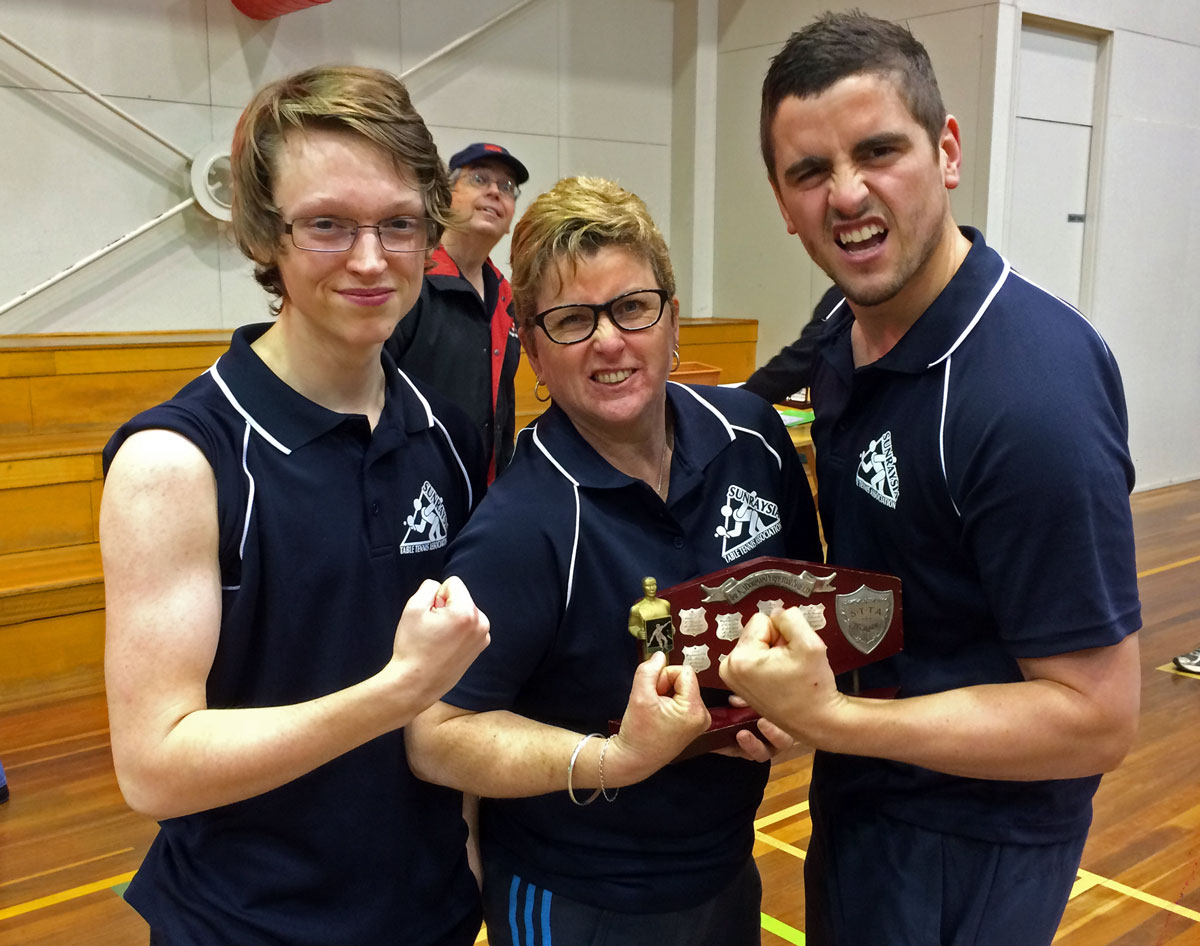 PENNANT THREE: 
Minor Premiers Mallee Meats got their act together against their nemesis Fishers IGA to take the Pennant Three Grand Final.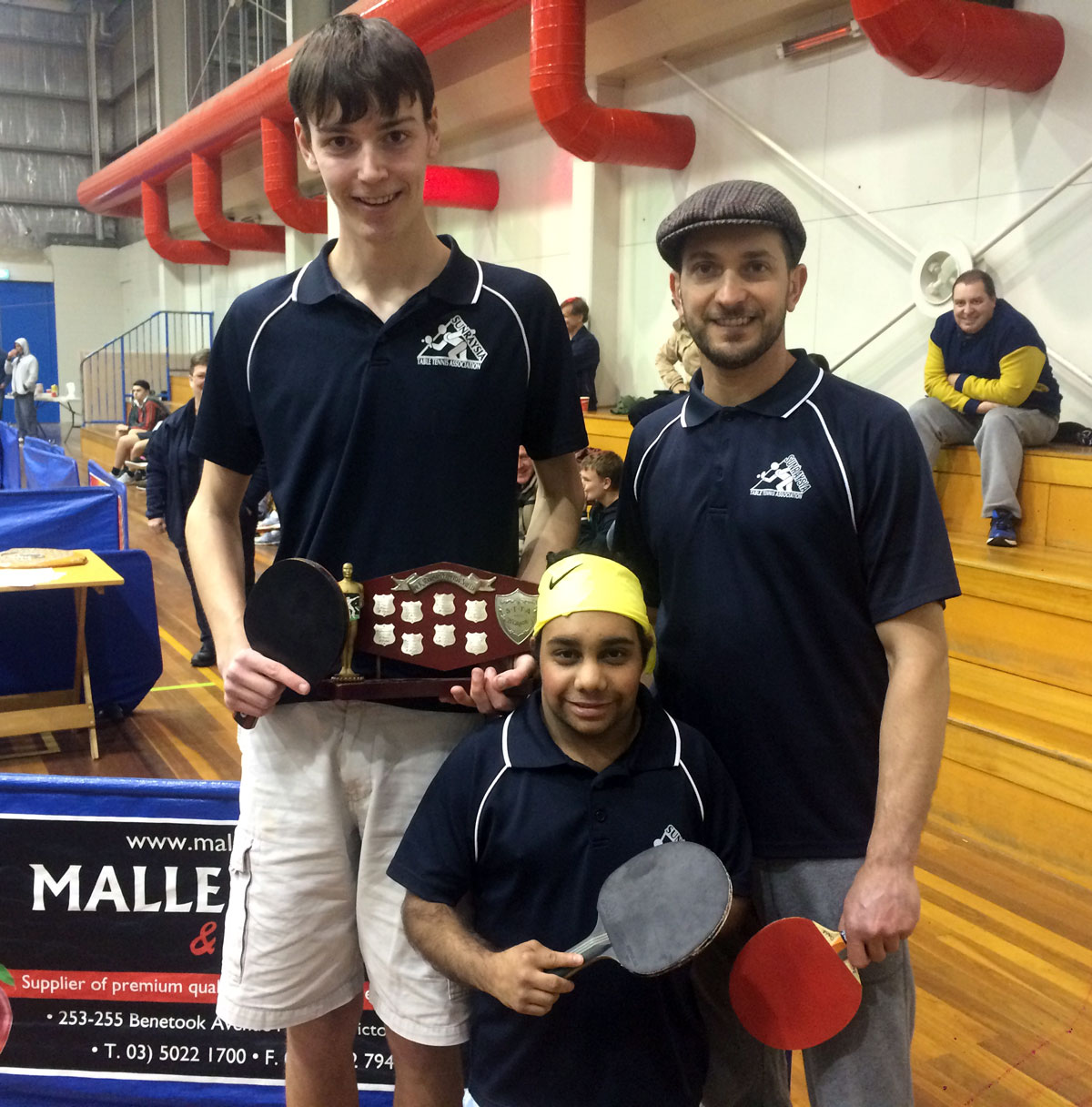 – Mallee Meats 6 (Quentin Clark, Sam Hensgen 2) d Fishers IGA 2 (Kerry Wallace, Stephan Ljubic 1)
Fishers IGA have had the better of Mallee Meats throughout this season, winning three of their four encounters.  That is a fairly important fact, given that Mallee Meats lost only those three matches during the season.  Fishers, on the other hand had lost six matches during the season, so their domination was not as it may seem.
Two weeks ago, when these teams met in the Semi-Finals, Fishers captain Kerry Wallace, in taking three singles and two doubles, led her team to a 6-3 win.
Mallee Meats recovered from that defeat, with a 6-3 win of their own in the Preliminary Final over Weightmans Packaging to put them into the Grand Final.
The first three rubbers went as expected with Mallee Meats taking a 2-1 lead thanks to victories by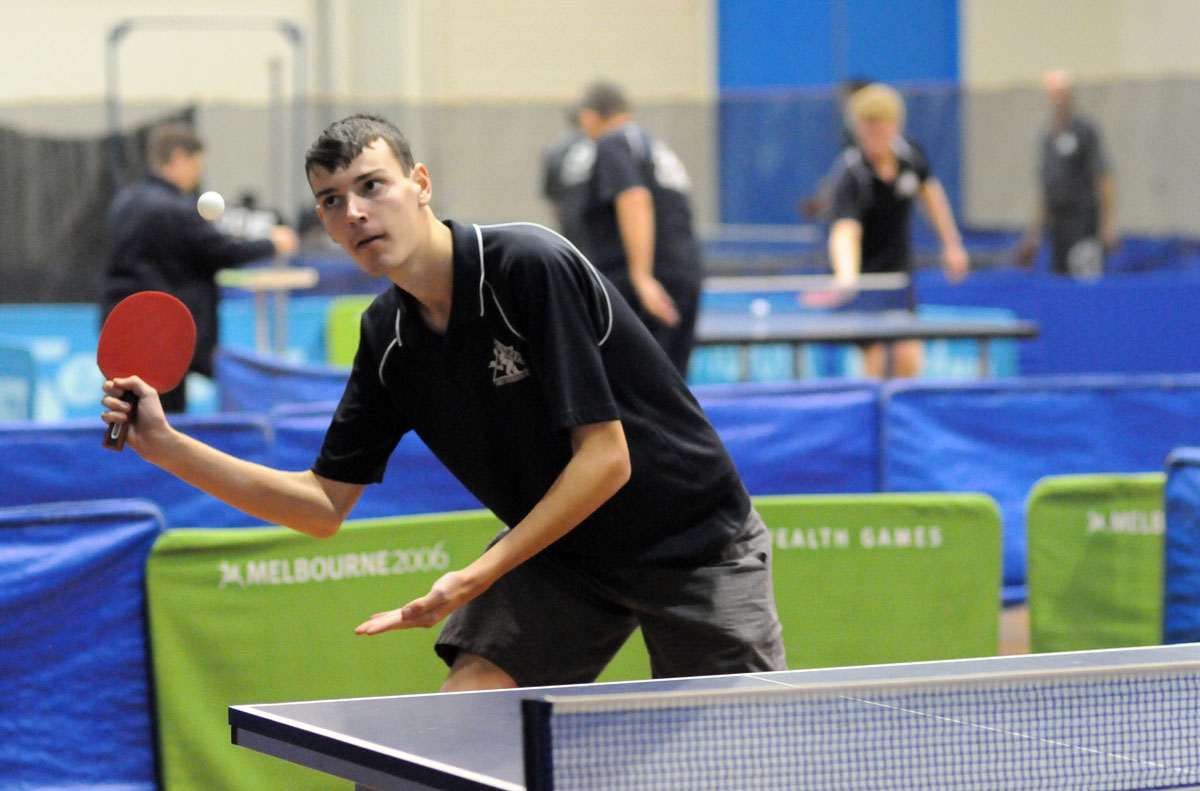 Sam Hensgen in three sets over Ben Hosking, and Quentin Clark in four over the returning Stephan Ljubic.  Wallace then took one for Fishers, defeating David Sergi 3,7 and 10.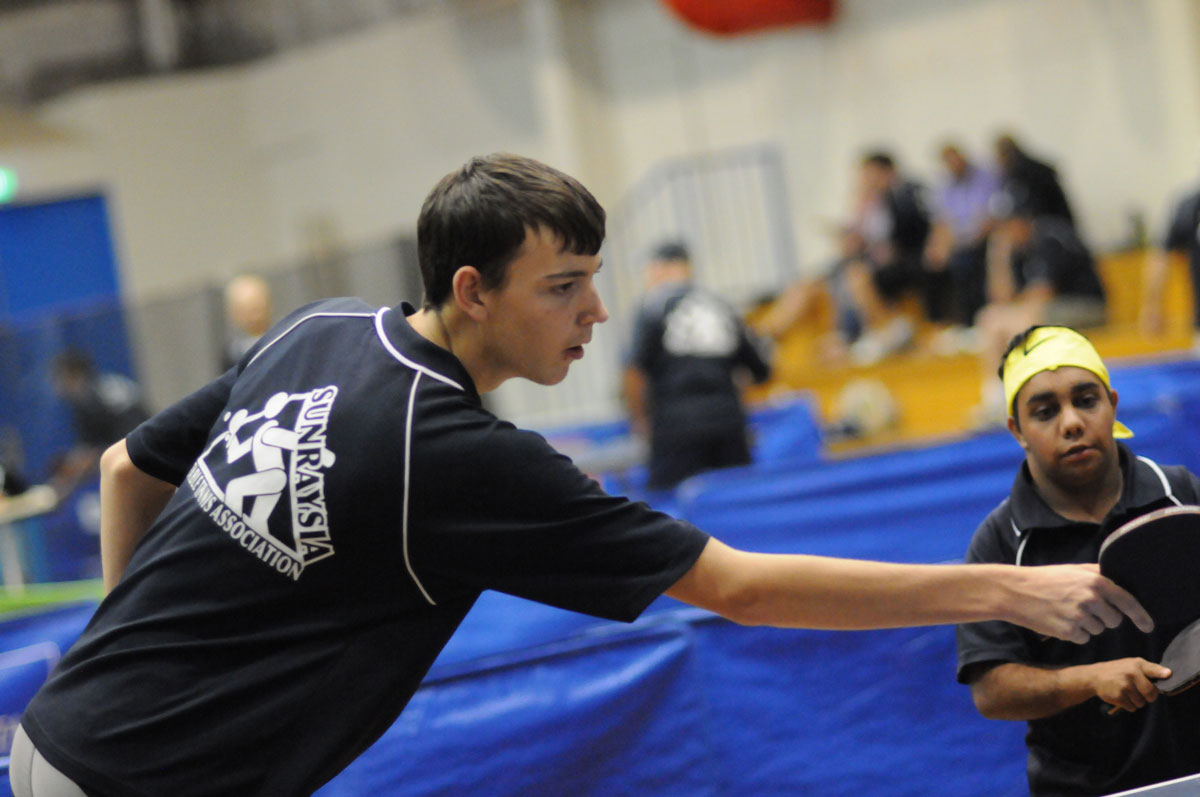 The first doubles was an opportunity for Fishers to level at 2-2, but Wallace and Hosking, after getting a great start, leading 11-7,11-9, and with a chance to finish the match in three, lost the next three sets 11-9, 11-2, 11-8.  The game was now very much in the grasp of Mallee Meats, and they took full advantage.
Quentin Clark took his second singles win against Ben Hosking in four to stretch the lead to 4-1.
Next was a danger game as Fishers were now desperate to get some kind of foothold on the game, and when Kerry Wallace took on Sam Hensgen, it appeared that at least this might be a start.  Hensgen started the better, though, taking the close first set 14-12; Wallace hit back with wins in the second and third sets 11-5, 11-7.  Hensgen was not done though, and levelled 11-8 in the fourth to take the game to the fifth set.  The fifth set was tight, both players holding a least one match point, but Hensgen held his nerve to take it 13-11 and stretch the lead even further, to 5-1.
With the match fast slipping away, the much improved David Sergi almost finished the game in the next rubber.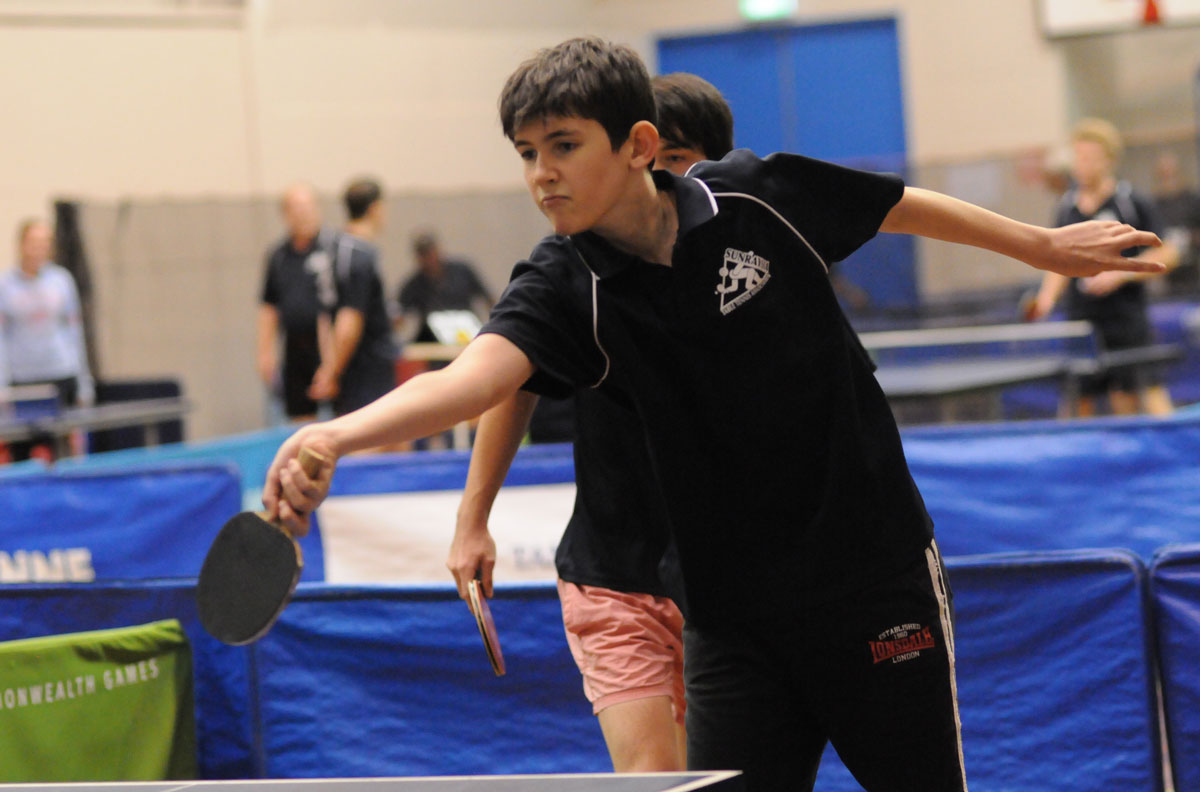 Playing the match-shy Stephan Ljubic, Sergi lost in five sets 8-11, 11-5, 4-11, 11-9, 6-11, and Fishers had at last taken their second rubber.
Pairing with his captain Sam Hensgen in the second doubles, Sergi then went on with the job, defeating Wallace and Ljubic in four 11-8, 3-11, 11-6, 11-6.
So, a disappointing result for Fishers IGA, but on the other hand, well played by Mallee Meats.  It is worthy of note that in the Fishers' three wins mentioned earlier captain Kerry Wallace had won three singles, in one match her team had taken both doubles, and in the other one doubles.  Contrast that with this game, Wallace was held to one singles win from two played, and her side failed to take even one of the doubles.
Mallee Meats had obviously worked out what they had to do to overcome this side, and in winning two singles each, captain Sam Hensgen and aggregate winner Quentin Clark put down solid foundations for a win.  Added to that, wins in both doubles, and the game was won after eight rubbers.