Read Time:
15 Minute, 20 Second
ROUND 9

PENNANT ONE:

For the second round in succession there were two one sided results and again Cookes Pools & Spas won 6-5 in a thriller. Round nine of the Sunraysia Table Tennis "Cash Converters" pennant one competition featured Mallee Bearings losing 3-8 to Tankard Dental and with this loss Mallee Bearings have dropped out of the four after occupying second or third on the ladder since round two. This is an indication of the evenness of the competition and with this victory by Tankard Dental have ensured they will take part in the upcoming finals.

Second placed Regional Taxation Services were far too strong for bottom team Cash Converters winning 9-2 while the big winner on the ladder was Cookes Pools & Spas who moved into the four by a narrow percentage.
– Cookes Pools & Spas 6 (Gavin Carmichael, Kate Carmichael, Lee Thomas 2) d Max Miller Carpets 5(Matt Avers 3)
For the second week in succession Cookes Lee Thomas held her nerve and won when the scores were locked at five rubbers all against top team Max Miller Carpets. This week she was up against Reece Kurrle and despite Kurrle winning the first game Thomas did not go away from her match plan and slowly took control going on to win 11-15 17-15 15-9. The second game was a nail biter and in the third she was able to draw away and hold the initiative much to the delight of her team mates. This was a tremendous victory firstly against a higher ranked player and secondly knowing that her teams season was over if she lost.
In an even display Thomas and her team mates Kate Carmichael and Gavin Carmichael all won two singles. Earlier Thomas defeated Darren Robinson again after dropping the first set in a night where she proved the difference between the two teams.
For Max Miller Carpets Matt Avers could do no more winning three singles as well as taking part in both doubles victories. He did not have it all his own way in the singles however and was under extreme pressure from the in form Kate Carmichael. Last round she took a 13-11 lead in the third to just go down against Matt Ljubic and this week she again lead 13-11 in the third against Avers and it was looking like his first defeat of the season, this was an outstanding match and Avers had to draw on all his skill given that Carmichael had applied extreme pressure, he was able to claw his way back and in an outstanding finish won 13-15 15-10 15-13 picking up the last four points.
– Tankard Dental 8 (Mark Dorman 3, Nicholas Dorman 2, Bernadette Fitzpatrick 1) d Mallee Bearings 3 (Matt Ljubic 2, Shane Carmichael 1)
Mark Dorman for Tankard Dental was on fire in this round winning three singles including a straight sets defeat of rising star Matt Ljubic.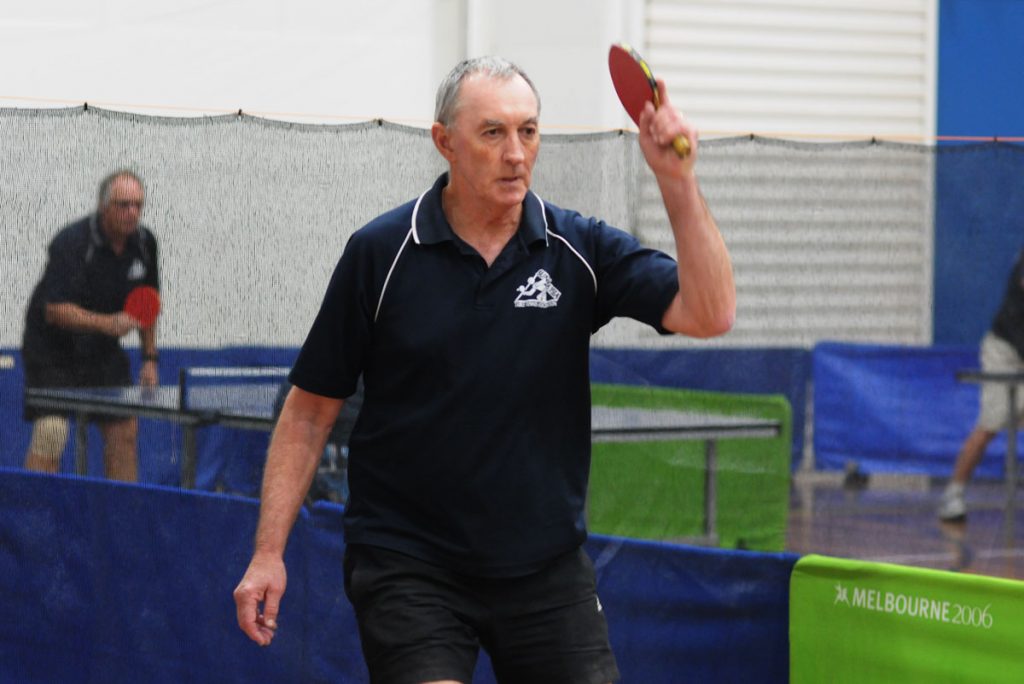 Dorman senior capped off a successful night by combining with son Nicholas to defeat Ljubic and Shane Carmichael 6-15 15-11 15-10. Nicholas provided good support winning two singles while team mate Bernadette Fitzpatrick played well to win one singles and she too placed extreme pressure on Matt Ljubic before going down in three.
This strong victory by Tankards ensured they will be secure in the top four with one round to play before the finals however the loss by Mallee Bearings has dropped them to fifth position albeit by percentage and they go into the final round against ladder leaders Max Miller Carpets who they defeated in round five.
– Regional Taxation Services 9 (Andrew Cannard 3, Wayne Carmichael, Leon Brown 2) d Cash Converters 2 (Phil Smith 2)
Regional Taxation Services have secured second position on the ladder with a strong 9-2 victory over Cash Converters.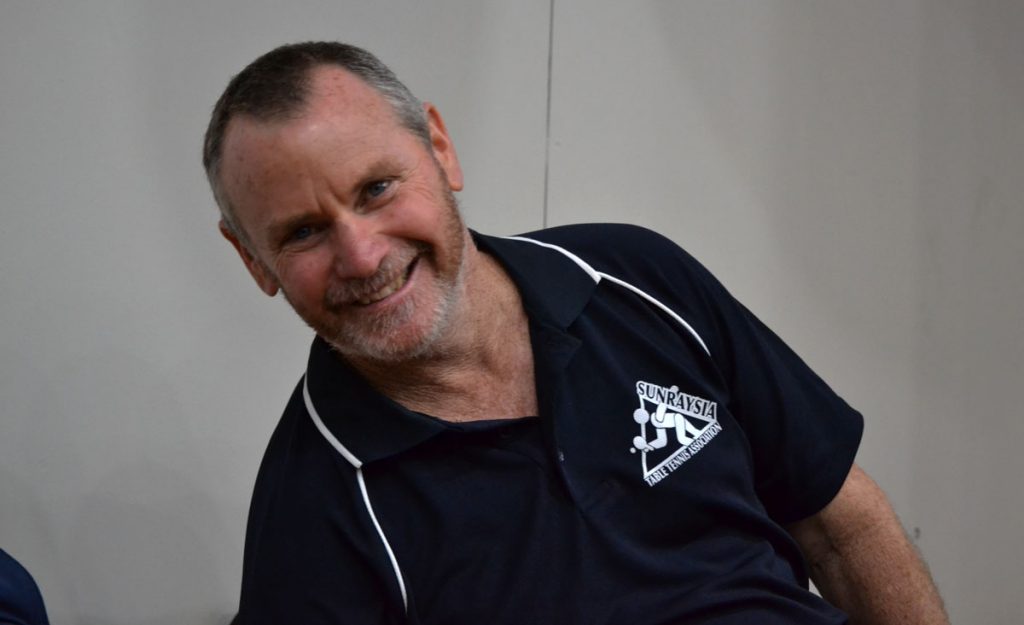 The standout player was RTS number two Andrew Cannard who won three singles in fine fashion. He also teamed up with skipper Wayne Carmichael to win the first doubles and at this point RTS had taken an unassailable 4-0 lead.
Cash Converters Phil Smith then arrested the position by outpointing his opposite number Wayne Carmichael in three before RTS were off on a roll again to improve their percentage. Carmichael won two singles as did team mate Leon Brown who has enjoyed a good season and this team is peaking at the right time.  
 Cash Converters skipper Phil Smith played well to win two singles. An exciting round ten awaits to finalise the top four positions on the ladder.
PENNANT TWO:

Weightmans Packaging retained top spot after this round with a strong 8-3 win against third placed Exposed Signage & Apparel; Pinnacle Packers, equal on seven wins with Weightmans, remain in second spot after defeating MJM Automotive 7-4; and fifth placed Max Miller Carpets take third win for the season, and their second in as many weeks, after defeating fourth placed Mallee Meats.
– Weightmans Packaging 8 (Terry Martin 3, Kevin Johns 2, Paul Fitzpatrick 1) d Exposed Signage/Apparel 3 (Than Nguyen, Paul Kealley, Jeremy Corrin 1)
After their loss to Pinnacle Packers in the last round, Weightmans Packaging bounced back this week with a strong 8-3 win against Exposed Signage & Apparel.
Such was the ease with which they dealt with their opponents, Weightmans Packaging had the game won before Exposed Signage & Apparel had put a score on the board, although it must be said that Dylan Wood was missing from their line-up, replaced by Jeremy Corrin.
With three singles wins, Weightmans Packaging number two Terry Martin was the form player in this match.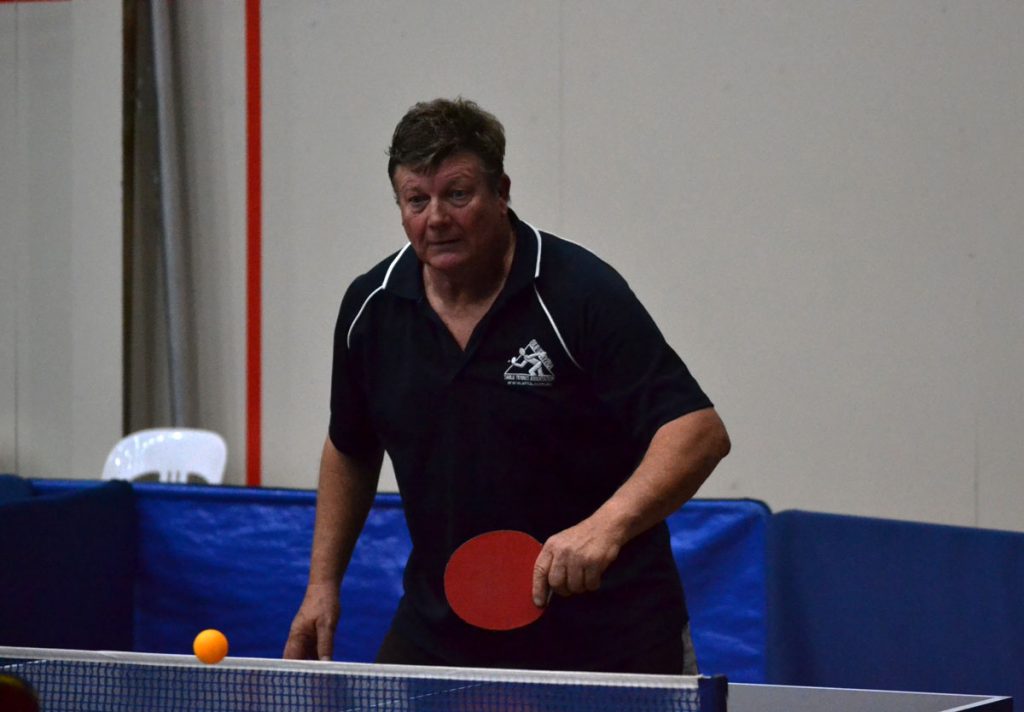 Martin was in fine form, not dropping a set in any of these matches. His 17-15, 15-9 win against Exposed Signage & Apparel captain Thanh Nguyen was impressive, he continued on with a 15-10, 15-10 victory against Paul Kealley, and rounded the night off with a solid careful win against Corrin 16-14, 15-13.
Weightmans Packaging captain Kevin Johns, who, until last round had not been defeated all season, lost a rubber for the second time in two weeks, this week falling to Paul Kealley in straight sets 16-14, 15-12. Encouraging as that win may be for Kealley, the ultimate match result was a bit depressing for Exposed Signage & Apparel.
The two doubles rubbers provided a bit of interest, both going to three sets, but both also being won by Kevin Johns and his men.
Paul Fitzpatrick played well early in the match, downing Kealley in the first round of singles in three sets 16-14, 9-15, 15-8. He could not keep his winning form going however, losing the battle of the number 3's to Corrin 15-11, 15-11.
Final scores: 8 rubbers to 3 and 16 games to 9.
– Pinnacle Packers 7 (Ash Morrison 3, Jeremy Corrin 2, Arthur Paar 1) d MJM Automotive 4 (Nick Barlow 2, Quentin Clark 1)
Pinnacle Packers played a workmanlike game to defeat MJM Automotive 7-4.
Captain Ash Morrison was victorious in all his singles rubbers, number two Arthur Paar struggled hard all night to pick up one,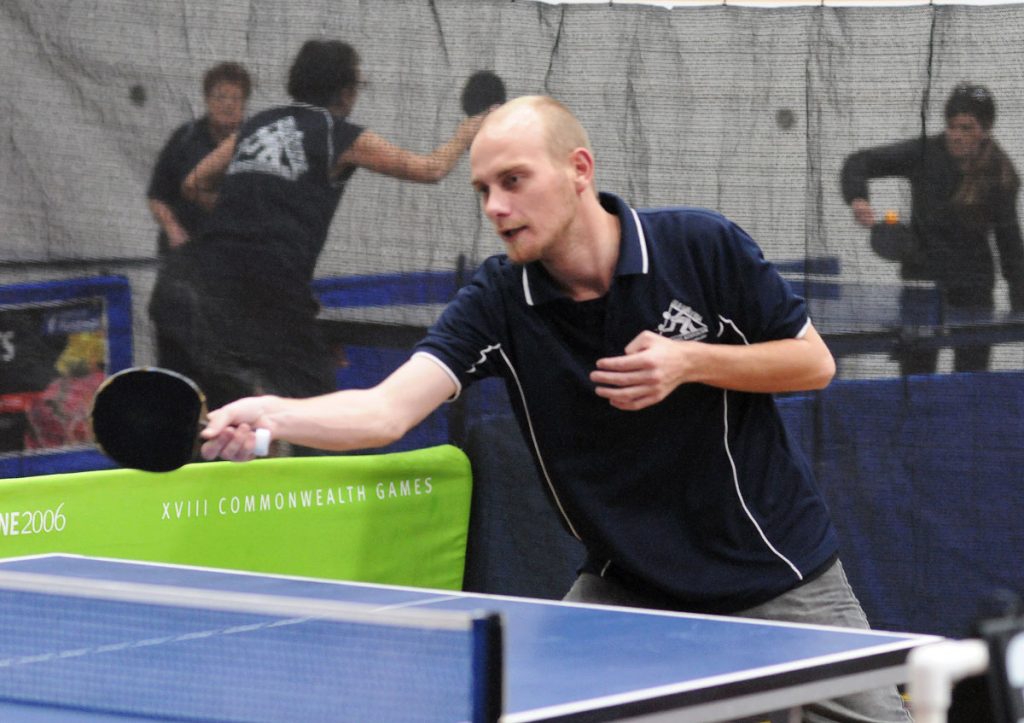 and number three Jeremy Corrin upstaged his team mate with two wins. The two better performed players, Morrison and Corrin also won the second doubles rubber in two sets against MJM Automotive's Nick Barlow and Anthony Fox.
This was a much better showing by MJM Automotive, who were wanting to regain some pride after being white-washed last week 10-1.
Both Barlow and Quentin Clark defeated Arthur Paar in three sets, and the rubber that Paar did win was against number three Anthony Fox, and it too was a three setter. And Barlow and Clark, although losing to the Pinnacle Packers captain Morrison put up a good fight, Barlow losing 15-13, 12-15, 7-15 and Clark going down 15-8, 10-15, 7-15.
The first doubles rubber also came to MJM Automotive courtesy of this same pairing, Barlow and Clark defeating Morrison and Paar 15-13, 17-15.
Final scores: 7 rubbers to 4 and 16 games to 12.
– Max Miller Carpets 7 (Liam Wood 3, James Chick 2, Peter Fitzpatrick 1) d Mallee Meats 4 (Tony Malycha 2, Jason Gifkins 1)
Max Miller Carpets have started to show some form, but it is probably too little too late.
Going into this game, they were two games behind their opponents here Mallee Meats, who sit fourth on the ladder, and even with the two game gap, Max Miller Carpets had a better rubbers won-lost record than their opponents.
Their 7-4 win here made that win-loss look even better (they now actually eclipse third placed Exposed Signage & Apparel too), and it moves them one game out of the four.
So it is possible James Chick and his team-mates could make the finals, but it is a long shot. Firstly, they have to defeat ladder leaders
Weightmans Packaging in the final round, and at the same time Mallee Meats have to lose to bottom of the ladder side MJM Automotive. Still, miracles do happen …
This game saw Liam Wood move to eighth on the aggregate with another three game haul (his third of the season), James Chick picked up two, and number three Peter Fitzpatrick one. Chick and Fitzpatrick also combined well for an important win in the second doubles 15-13, 15-8 against Mallee Meats captain Jason Gifkins and number three John Fitzpatrick. The win made the score 6-2, and took the pressure off the team for the final round of singles.
The team played strongly in those rubbers, however Mallee Meats took two of the three, Tony Malycha defeated Chick 16-18, 15-12, 15-12, and Jason Gifkins had a bit of trouble with Peter Fitzpatrick before shaking him off 13-15, 15-12, 15-9. Max Miller Carpets Liam Wood won his game against John Fitzpatrick to give the side a solid 7-4 scoreline.
Final scores: 7 rubbers to 4 and 17 games to 8.
PENNANT THREE:

Although they are still two games behind ladder leaders MJM Automotive, Regional Taxation Services showed they are still a force to be reckoned with in their 6-5 win; Cookes Pools & Spas upset fourth placed Sammy's Slammers 8-3, and Mallee Meats defeated Weightmans Packaging, who now occupy the bottom spot on the ladder.
– Regional Taxation Services 6 (Marcus Cimino 3, Karly Leach 2) d MJM Automotive 5 (David Sergi 2, Andrew Kremor, Luke Ljubic 1)
Going into this match Regional Taxation Services were in third spot equal with Sammy's Slammers on four wins and ahead on percentage.
With Sammy's Slammers losing their match, they now move to outright third.
All up, it was an impressive performance, captain Marcus Cimino despatching all his singles opponents, including opposing captain David Sergi, in two sets.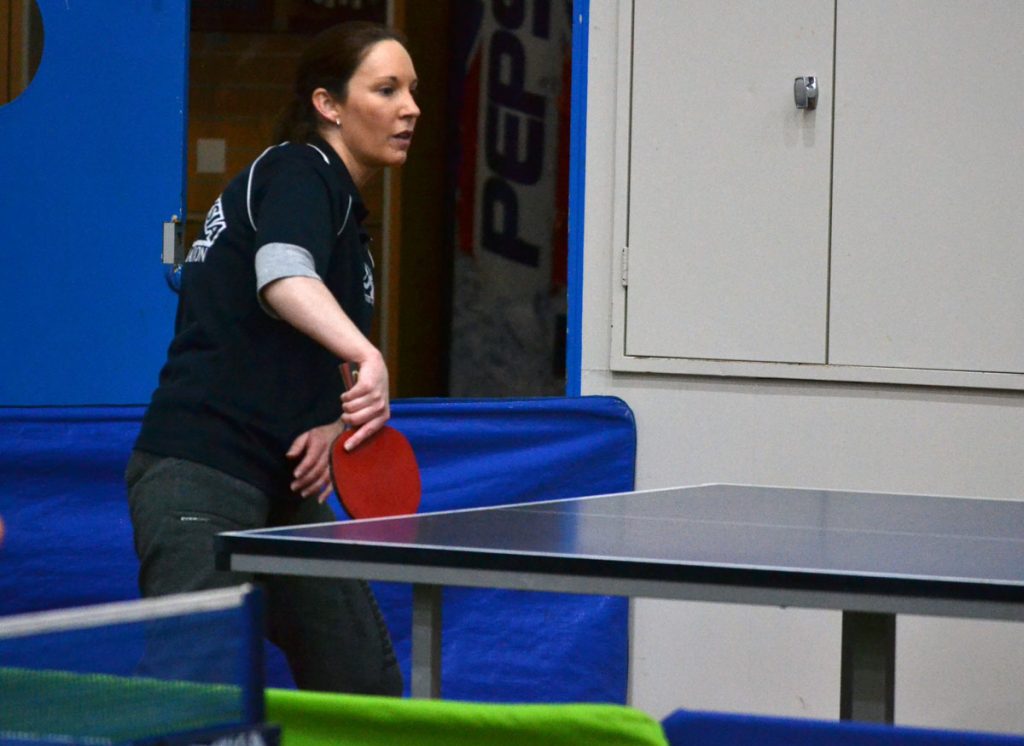 Karly Leach returned to form, picking up two wins, ending a barren run; the last time she did this was way back in round four.
And Cimino and number Matt Sires took the second doubles rubber against Sergi and Luke Ljubic 15-13, 15-9 to bring up their six rubbers.
Sires is continuing to improve; although he failed to win a singles rubber, he took both Sergi and Ljubic to three sets, losing to Sergi 9-15, 16-14, 11-15, and to Ljubic in the final rubber a close 15-6, 13-15, 15-17.
With Cimino and Leach doing the bulk of the winning in singles play, MJM Automotive took the other four, and with the doubles rubbers shared, they did not have enough for the four points.
Final scores: 6 rubbers to 5 and 14 games to 11.
– Cookes Pools & Spas 8 (Aidan Riordan 3, Therese Fitzpatrick 2, Shah Sandhu 1) d Sammy's Slammers 3 (Rohan Reimers 2, Emily Carmichael 1)
Cookes Pools & Spas have been at or near the bottom of the ladder for some time now, and it was beginning to look that they had nothing to fire at other teams. Their last win was back in round 4, against their opponents in this game, who have won three games in the same period.
In this game however, Cookes Pools & Spas simply outplayed their opponents, number Aiden Riordan being the star of the team.
Riordan had as good a night as it is possible to have, three singles wins, and a win in the doubles rubber. With a score-line of 15-4, 17-15, his win against Sammy's Slammers captain Rohan Reimers was particularly impressive. He met sterner opposition against Nick Kiapekos and Emily Carmichael but defeated them both in three sets. And with his captain Therese Fitzpatrick he was victorious in the first doubles rubber, downing Reimers and Carmichael 15-12, 15-12.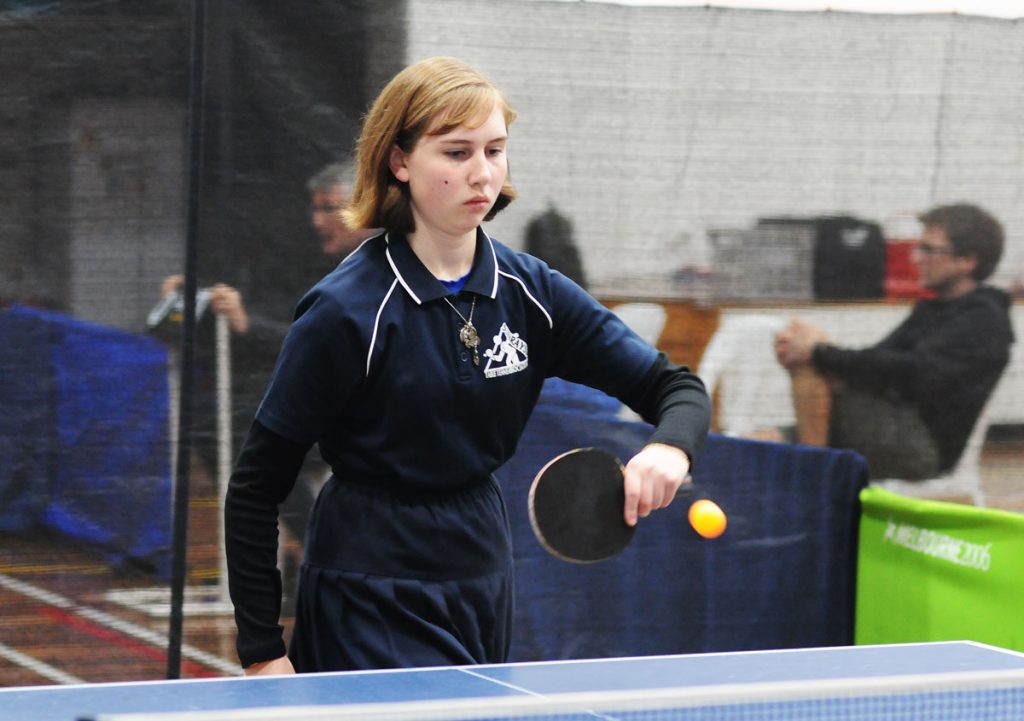 Fitzpatrick downed Kiapekos 15-11, 14-16, 15-10 and Carmichael too (15-12, 12-15, 15-11), to take two wins.
Number three Shah Sandhu is improving by the week and was rewarded with a straight sets win against the difficult Kiapekos 15-9, 15-10. To underline his improvement, he and his captain won the second doubles too, this against Reimers and Kiapekos in three sets 9-15, 15-13, 15-10.
As a result of all this winning, the pickings were pretty slim for Sammy's Slammers. Reimers won two, and Carmichael one.
Final scores: 8 rubbers to 3 and 17 games to 11.
– Mallee Meats 8 (Tom Morrison 3, Rachel Fitzpatrick 2, Leonie Dunkley 1) d Weightmans Packaging 3 (Brice Lock 2, Sabrina Fitzpatrick 1)
Mallee Meats took a percentage boosting win against Weightmans Packaging to stake a firmer hold on second spot on the ladder.
As with the previous game, all the team members were responsible for the big score, Tom Morrison won three (his toughest match against fill-in number three Luke Ljubic 14-16, 15-11, 15-8), Rachel Fitzpatrick two (in two sets against her mother Sabrina, but needing three sets against Brice Lock and Ljubic)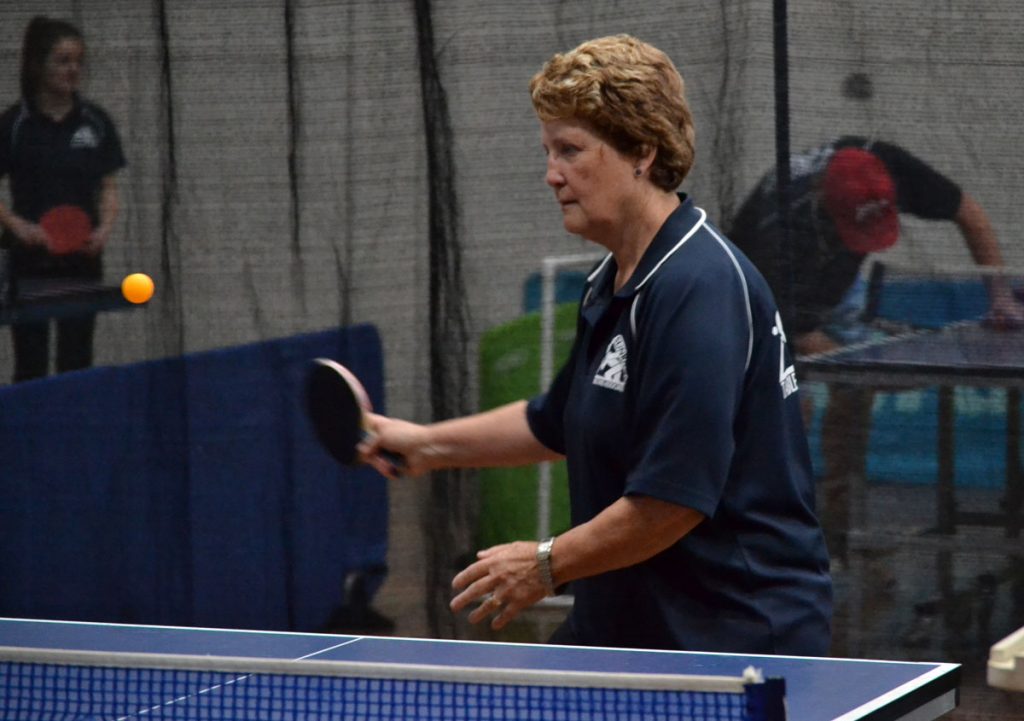 and Leonie Dunkley one.
Added to this Mallee Meats were successful in both doubles rubbers, Morrison and Fitzpatrick fairly easy winners against Sabrina Fitzpatrick and Brice Lock 15-11, 15-10. The second doubles was a beauty though – Morrison and Dunkley just got over the line against Lock and Luke Ljubic winning 16-14, 14-16, 16-14.
Not much left for Weightmans Packaging then, Sabrina Fitzpatrick with one rubber, and Brice Lock trying hard and picking up two.
Final scores: 8 rubbers to 3 and 18 games to 10
PENNANT FOUR:

In Round 9 action we saw some extremely close results that went the distance.
– Tankard Dental 6 (Dave Tanner, Casey Taplin 2, Raylee Waugh 1) d Mallee Meats 5 (Isaiah Bettess, Jacinta Ljubic 2)
Well this was a great match that went right down to the wire. The night started well for Mallee Meats as they raced to a 3-1 lead. In the 5th match of the evening Dave Tanner took on Jacinta Ljubic in what promised to be a close match. Ljubic got off to the ideal start taking the first 15-11 before Tanner got going to win the second 15-12. The third saw a titanic struggle with neither player able to break away. In the end it was Ljubic who prevailed to take this match 16-14 in the third. With Mallee Meats Captain Isaiah Bettess winning the next match against Raylee Waugh the margin was now 5-1 to the Butchers and they looked on track for a percentage boosting win. The Dentists took the next two matches including the second doubles to now trail 3-5. The next match saw the battle of the Captain's as Tanner played Bettess. Bettess got off to a confident start and easily enough took the first 15-11. With his team on the brink of defeat Tanner took the next two sets 15-10 and 15-6 to secure an important victory. Next up was Taplin and Ljubic.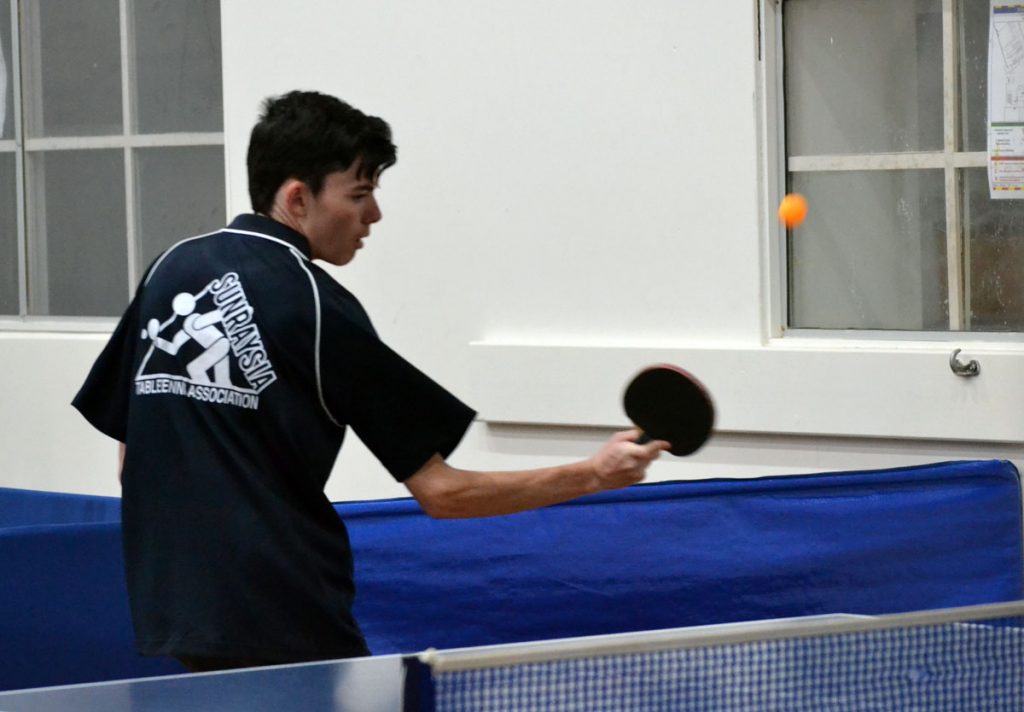 Taplin peeled off the first set in style winning 15-5 before Ljubic fought back to win the next 15-12. The last set was a tussle but it would be Taplin winning this 15-13 to get the match back on level pegging at 5 all. The last match of the evening saw Hollie Lock take on Raylee Waugh in a winner take all affair. In a nervous start Lock took the first 15-9 before Waugh took the second 15-8 to set up a thrilling finish. Waugh was able to hold her nerve and take this 15-4 thus securing a famous win from the jaws of defeat. A great team effort by Tankard Dental to win 6-5.
– Dunkley Scales 6 (Ben Hosking 3, Miya Lock 2, Rylie Sindely 1) d MJM Automotive 5 (James Bennett 2, Shirley Whitecross 1)
As it turned out the first match of the night between Rylie Sindely and Hollie Lock (filling in for Nathan Beard) would prove decisive in the outcome of this encounter. Last time these two met it was Lock who was the victor. In a close fought first set both players had their opportunities but it would be Sindely taking this 15-13. The next set belonged to Lock as she cruised through this taking it 15-7. The third set saw the momentum again swing and it would be Sindely taking this 15-11 and the match. In the next feature game of the night it was Ben Hosking taking on James Bennett. In recent times these two players have been in red hot form and a great game was witnessed. Bennett got off to the better start winning 15-12 before Hosking squeaked through the second 15-13 to set up a grand finish.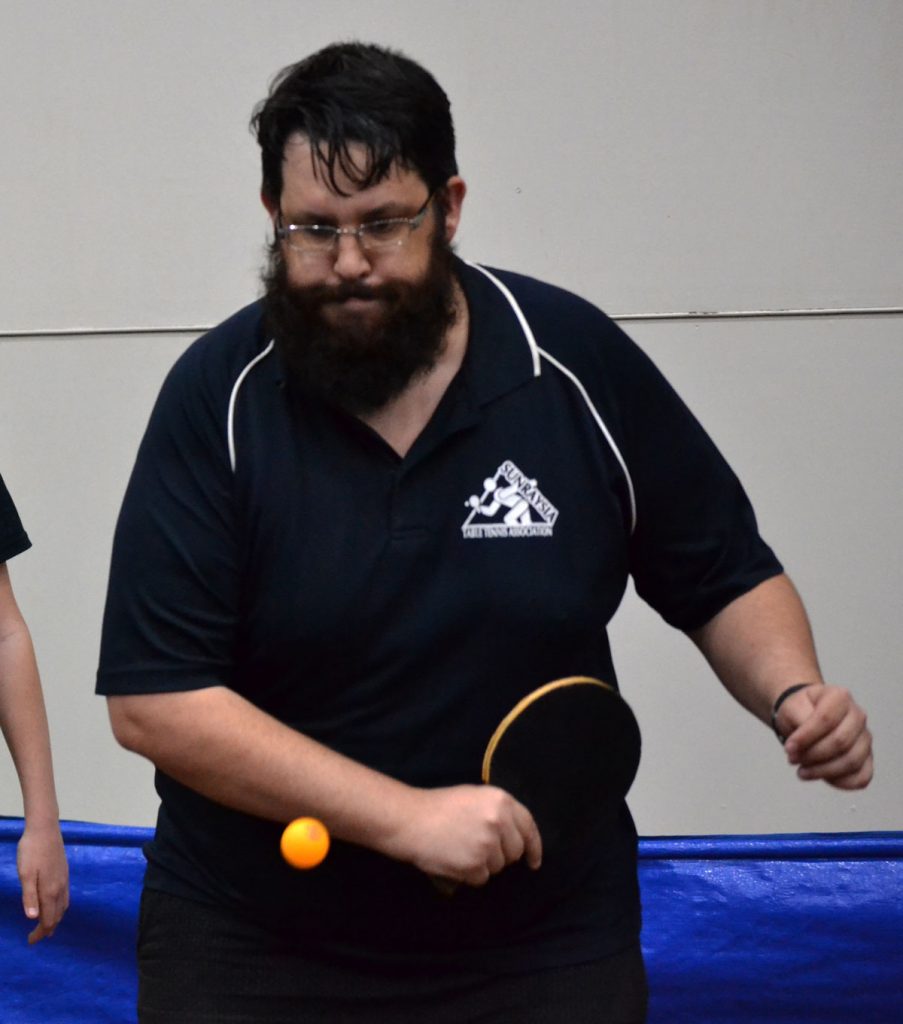 Hosking eventually wore his opponent down securing the third 15-11 and the match. Dunkley Scales were able to maintain their advantage in this match before securing victory. MJM Automotive did try to bridge the gap winning both doubles but the damage was already done earlier in the night. Again a great team win by Dunkley Scales winning this 6-5.