Read Time:
17 Minute, 10 Second
PENNANT ONE:
At the conclusion of round two matches of the Sunraysia Table Tennis "Cash Converters" summer pennant one matches Exposed Signage/Apparel are the only team to remain undefeated.
– Exposed Signage/Apparel 7 (Matt Avers 3, Reece Kurrle, Lee Thomas 1) d Tankard Dental 4(Andrew Cannard 2, Darren Robinson, Shane Carmichael 1)
Their round two win came at the expense of Tankard Dental with a score line of 7-4. Exposed Signage number one Matt Avers enjoyed a big night, a day after his sixteenth birthday, winning three singles as well as taking part in both doubles victories. His three singles victories against more experienced opponents came in straight sets.
As always the doubles are crucial and in particular the second was important when Tankards pair Andrew Cannard and Darren Robinson took to the table against Avers and Lee Thomas who has been promoted after a very successful season in pennant two. After dropping the first game Avers and Thomas proved too consistent and went on to win 7-11 11-8 11-6 11-5.
Thomas played a key role in her teams' success by earlier defeating Shane Carmichael in four sets while later she took Darren Robinson to five sets before just going down 9-11 in the last. Fill in Reece Kurrle also played his role by defeating Robinson in four sets to enable Exposed Signage to start the season positively.
– Cash Converters 7 (Mark Ljubic, Mark Dorman 2, Michael Hogarth 1) d Mallee Bearings 4 (Shannon Bowen 3, Reece Kurrle 1)
Cash Converters opened their account after a first round loss by defeating Mallee Bearings 7-4 in an entertaining contest. Despite his team losing Shannon Bowen was able to win three singles for the second round in succession. His match against Mark Dorman was a beauty and very close all the way. In the fifth Bowen was able to maintain a small lead to go on and win 9-11 11-7 11-8 16-18 11-7.
Cash Converters were too steady in both doubles and the first in particular was a thriller as it appeared Dorman and partner Mark Ljubic were in big trouble when they tailed two games to love against Bowen and Reece Kurrle however the Cash Converters pair of Dorman and Ljubic edged their way back impressively to win 10-8 8-11 11-8 14-12 11-5.
For the victors Mark Dorman and Mark Ljubic won two singles while Michael Hogarth won one.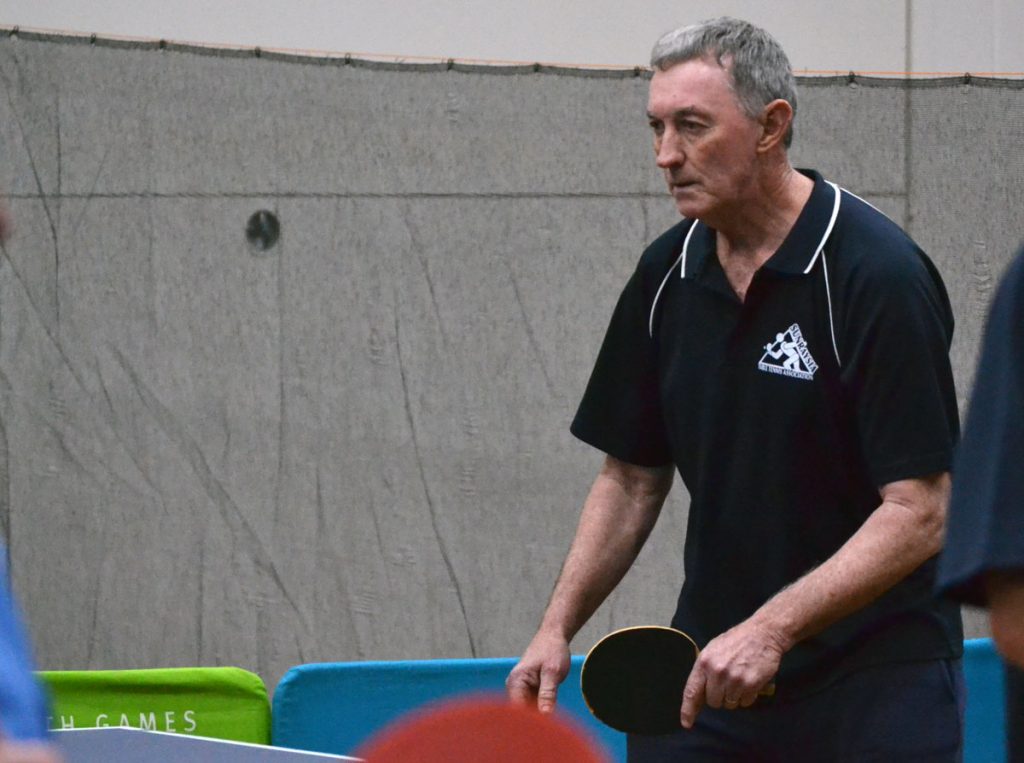 The steadiness of Mark Dorman in both doubles was also crucial to his team picking up their first points for the season.
– Regional Taxation Services 6 (Matt Ljubic, Gavin Carmichael 2, Leon Brown 1) d Weightmans Packaging 5 (Wayne Carmichael 3, Mark Ljubic 1)
In the final match Regional Taxation Services scored their first victory for the season when they defeated Weightmans Packaging 6-5 in a match that could have gone either way. Each team now has one victory for the season. For the victors both Matt Ljubic and Gavin Carmichael won two singles however it was the one singles victory by Leon Brown in the first match of the night which played a big part in his teams' success.
Brown was able to just hold the ascendancy against the talented Bernadette Fitzpatrick and win 11-8 11-8 11-9.
In the next singles the father son clash between Matt Ljubic and fill in Mark Ljubic took place and as usual these two put on an entertaining affair and on this occasion it was Matt with his aggressive forehand who was able to control proceedings and win in four sets. These two victories enabled RTS to hold the edge throughout.
For Weightmans Packaging Wayne Carmichael although pressured by both Matt Ljubic and Gavin Carmichael was the stand out winning three singles.
The season has commenced in an even manner and a keenly fought competition looks to be on the cards.
PENNANT TWO:
Mallee Bearings took another big win this round, the young guns at MJM Automotive fired to give their team their first win, and Mallee Meats and Pinnacle Packers, both sides reduced to two players recorded a close 5-4 result.
– Mallee Bearings 8 (Kevin Johns 3, Terry Martin 2, Claire Ljubic 1) d Max Miller Carpets 3 (Russell Walder, Quentin Clark, Jason Gifkins 1)
Mallee Bearings captain Kevin Johns now sits at the top of the aggregate ladder undefeated, already one game clear of his nearest pursuers.
Although Johns took three wins here, he did not have things all his own way, as he dropped a set to Max Miller Carpets number two Jason Gifkins and number three Quentin Clark.  Oddly, he had no trouble with Russell Walder, zooming through that rubber in just three sets.
Terry Martin, playing at number two for Mallee Bearings, took two singles, playing an aggressive game against Jason Gifkins to win in four sets, then needing all his skill to get the better of Russell Walder, winning that one in five, but then in the final round of singles he was bowled over by Quentin Clark in straight sets.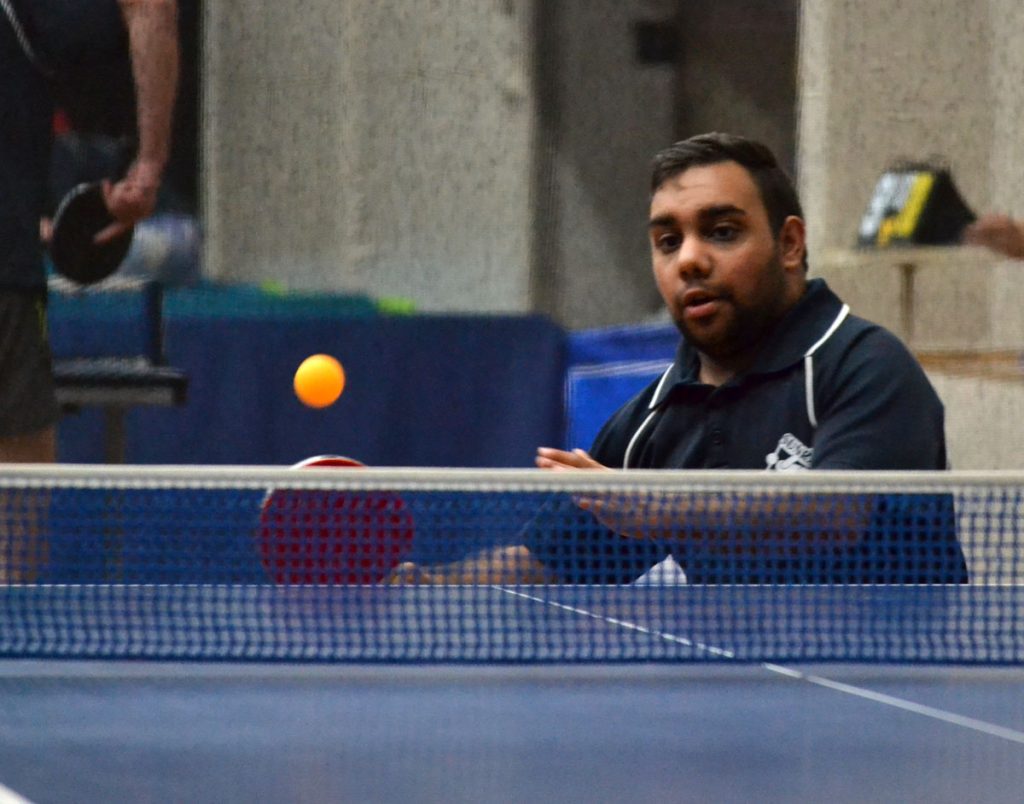 Clark, who up to that point had had a pretty miserable night, by his standards, simply went for everything, and in this game, all his adventurous shots landed on the table.
Claire Ljubic, playing at three for the winners, picked up her first rubber for this competition when she downed Clark in four sets.  She blitzed Quentin 11-3 in the first set, but things were a bit closer from then on, Quentin took the second 11-8, before Claire closed the match out 11-9, 11-9.
Mallee Bearings dominated both doubles rubbers too.  Johns and Martin made easy work of the first doubles, breezing past Walder and Gifkins 8, 5 and 7.  Later Johns and Ljubic, after a tough first set, had no trouble with Gifkins and Clark, winning 17-15, 11-5, 11-5.
Final scores:  8 rubbers to 3 and 26 games to 15.
– MJM Automotive 8 (Arthur Paar 3, Zac Healy, Michael Hensgen 2) d Weightmans Packaging 3 (Sony Sefer, Andrew Jones 1)
The potentially potent combination of players in MJM Automotive showed some of what they are capable of in this demolition of Weightmans Packaging.
To be fair to Weightmans Packaging, they were without captain Jackson Murphy (Sony Sefer subbed for him), and Tony Malycha (Andrew Jones filling in).  In a game against three big hitters, as the MJM Automotive side is, Sefer does not have the range of explosive shots that his opponents can unleash, and Jones, a great defender, does not attack as much as the man he replaced, Tony Malycha.
So, what of the game then?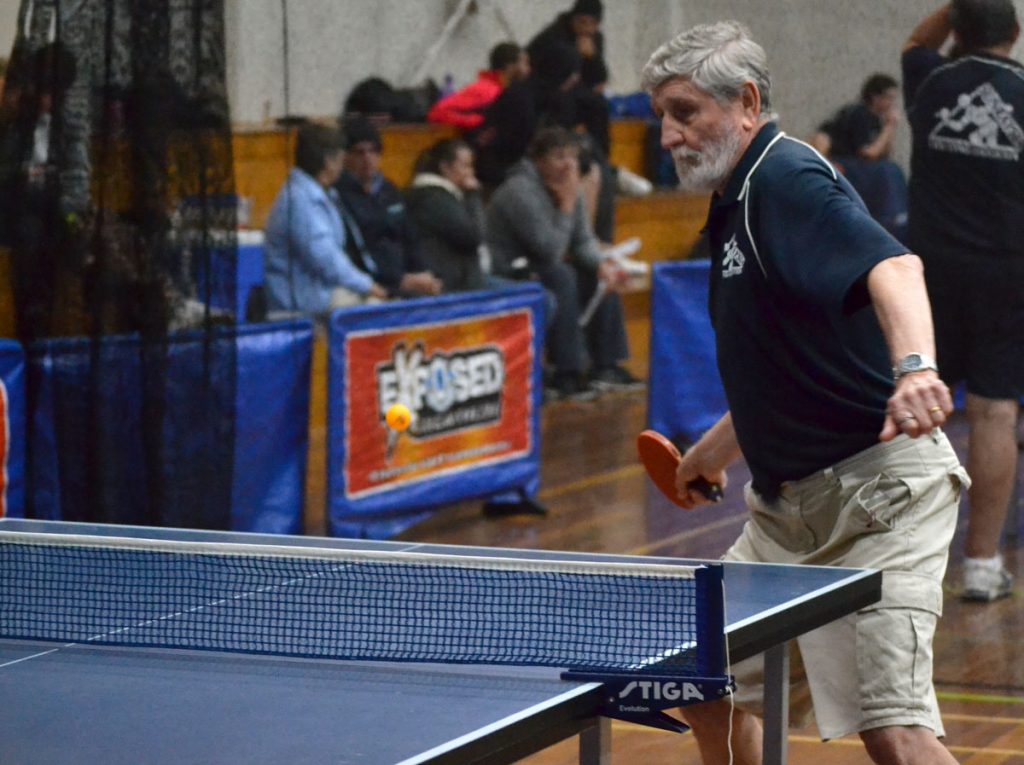 Well, Arthur Paar had a pretty easy night of it, taking his first two rubbers in just three sets, and only Sefer made him work.  Sefer actually won more points than Paar in that match (45 to 38), but could not convert those extra points into a set;  Paar won 11-9, 4-11, 11-9, 1-11, 11-5.
Both Zac Healy and Michael Hensgen played well, picking up two wins apiece.  Healy had a great match with Sefer, needing the full five sets to win 6-11, 11-7, 11-6, 11-13, 11-8.  Later he downed Paul Fitzpatrick, but fell victim to the wiles of Andrew Jones in just three sets 2-11, 10-12, 6-11.
Hensgen, meanwhile, had a fun night, enjoying himself immensely.  First up he slugged it out with Andrew Jones, quickly taking the first two sets 11-6, 11-9, almost finished the game in the third, but lost that 11-13.  Jones continued to fight back winning the fourth 11-8, and in the final set Hensgen hung on to win 11-9.  Hensgen took Sefer to five sets too, but Sony had a little too much for Michael, winning in five.
After he and Zac Healy won the first doubles against Sefer and Paul Fitzpatrick in a very entertaining five set contest, Paar let his two young charges loose in the second doubles, reasoning, that at Pennant Two level, the best way for them to find out the standard of doubles play, is to do it themselves, together.  And so it was that the youngsters took on the more experienced Sefer and Jones, and whilst they were downed in three sets, were not disgraced.
So, a disappointing result for Weightmans Packaging – only Sefer and Jones picked up singles rubbers, and together the second doubles.
Final scores:  8 rubbers to 3 and 26 games to 18.
– Mallee Meats 5 (Peter Midgley 3, Peter Fitzpatrick 2) d Pinnacle Packers 4 (Ashley Morrison 2, Mark Kerr 1)
 This game was just about finished by supper time, as it was a reduced to a contest of two players per side.  Geoff Peters was missing from the Mallee Meats line-up, Brendan Alderton absent from Pinnacle Packers, as was Seval Fuat, although he was covered by Mark Kerr, doing double duty from his regular match in Pennant Three.
Ash Morrison opened the scoring for Pinnacle Packers, warming up against Peter Fitzpatrick, and winning in straight sets.
Peter Midgley responded for Mallee Meats, but not without a fight from Kerr, who frustrated Midgley with his fine returning.  Midgley was forced to take chances to finish the point off, and as he missed his mark, kept Kerr in the match.  Midgley eventually got the better of his opponent, though, winning 9-11, 11-6, 11-6, 9-11, 11-4.
The doubles rubber was the pick of the games in this match, as it could not have really been much closer.  Morrison in particular, worked the game to great effect, exposing the weaknesses in his opponents' play.  At the other end, the two Peters, having played together a couple of season ago, did have a bit of a game plan, and attempted to work on the maiden pairing of Morrison and Kerr.  All in all it was a fascinating contest, with the Pinnacle Packers pair winning 8-11, 12-10, 9-11, 12-10, 11-8.
The two captains met in the next rubber, with first one, then the other seeming to have the ascendency.  It was Midgley who won out in the end, taking the rubber in five sets 11-7, 7-11, 4-11, 11-6, 11-4.  That made the score two rubbers all, with one to play.
Kerr was quickly out of the blocks with an 11-5 win in the first set before Fitzpatrick could settle.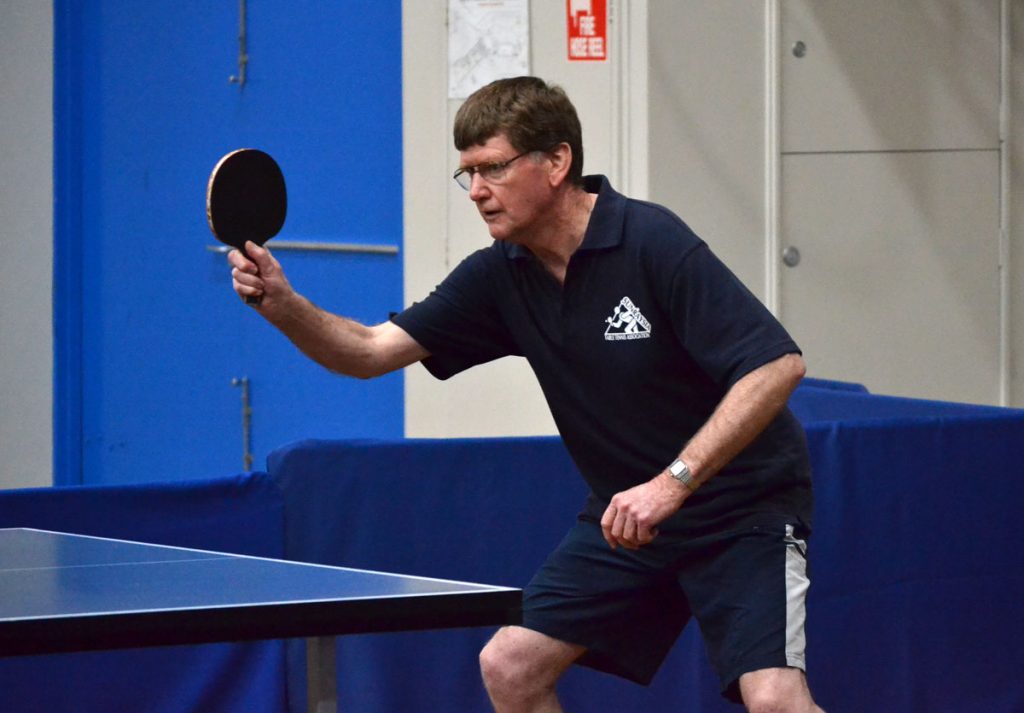 When he got his sights, Fitzpatrick took the next two 6 and 6, then lost the fourth 9-11 to put the match result in the hands of the fifth set.  The fifth was also close, Kerr probably getting a bit tired by now (remember he was doubling up), and Fitzpatrick got over the line 11-9 to take the match.
A short game in terms of rubbers played, but four of the five were decided in five sets.
Final scores:  3 rubbers to 2 and 11 games to 12.
PENNANT THREE:
Weightmans Packaging and Dunkley Scales scored big wins this week, and Regional Taxation Services with a smaller win, remain undefeated.
– Regional Taxation Services 6 (Anthony Sergi, Jeremy Corrin 2, Karly Leach 1) d Mallee Meats 5(Cambell McKenzie 3, Helen Frania 1)
Regional Taxation Services had to win rubbers ten and eleven to take this match against a plucky Mallee Meats side.
Mallee Meats captain Cambell McKenzie, in his first hit out for the season, kept his team in the game by taking three singles rubbers, and with Helen Frania took the second doubles in three sets against Jeremy Corrin and Karly Leach.
Unfortunately his team-mates Frania and Marcus Cimino could win only one singles rubber between them, and so the team fell one rubber short in the final score.
The Regional Taxation Services pair of Jeremy Corrin and Karly Leach had a great start to the season last week, both taking three rubbers, but in this contest they were kept quieter, Corrin still taking two but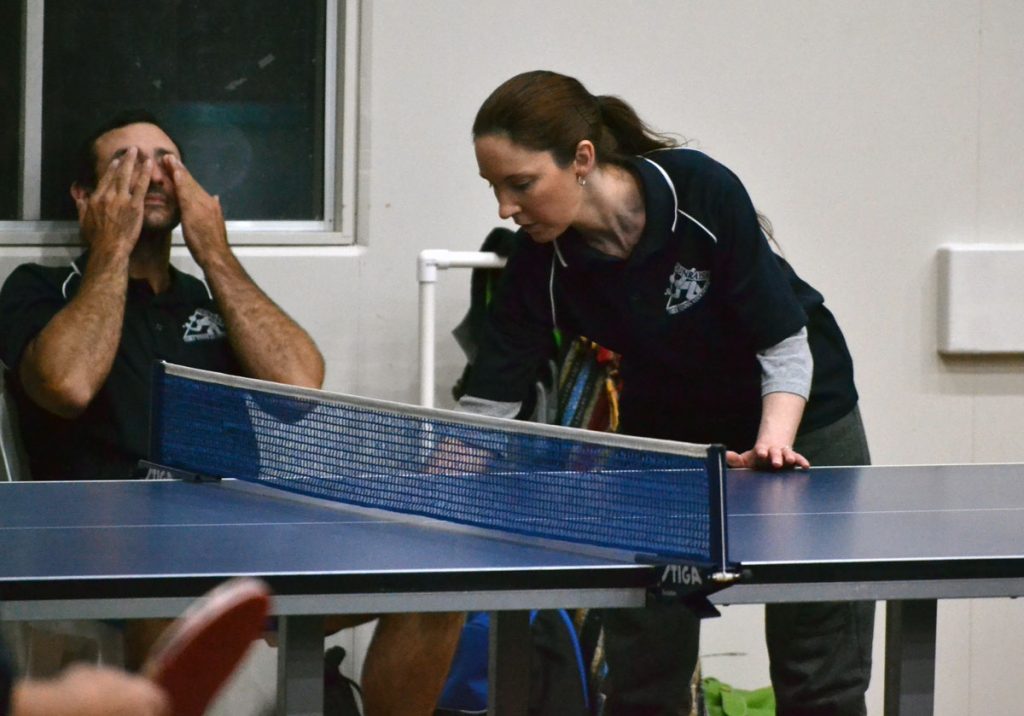 Leach only claiming the scalp of Cimino, and that in five sets.
Still, those three rubbers, plus an additional two from Anthony Sergi and the first doubles rubber when Corrin and Sergi downed McKenzie and Cimino, gave Regional Taxation Services the six rubbers required for the win.
Final scores:  6 rubbers to 5 and 25 games to 18.
– Dunkley Scales 8 (Rachel Fitzpatrick, John Fitzpatrick 3, Sabrina Fitzpatrick 1) d MJM Automotive 3 (Rohan Reimers, David Sergi 1)
In a tearaway performance by Rachel and John Fitzpatrick, Dunkley Scales recorded a big win against MJM Automotive.
The brother and sister pair took three singles each – in a very impressive performance Rachel dropped just one set in doing so, and John, not far behind, he played two three setters and a five setter against Rohan Reimers.  And what a game that was … Rohan managed the first two sets 11-8, 15-13, and he knew at that stage the third was not going to be any easier, and sure enough, John hit back taking the final three sets 8, 4 and 7.
When paired in the first doubles they downed Reimers and David Sergi in a four set contest to give them a 3-1 lead at that point.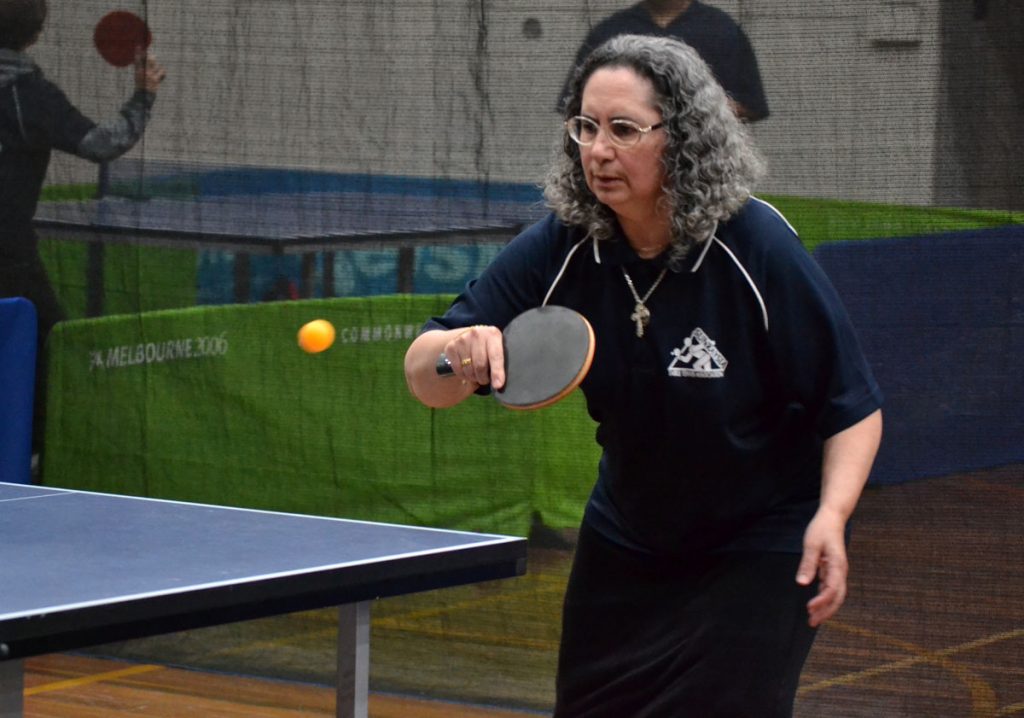 Their mum Sabrina chipped in with a win in the final rubber – against Nick Kiapekos.
For MJM Automotive, Reimers and Sergi took a win against Sabrina, and Reimers and Kiapekos were victorious against Rachel and Sabrina in the second doubles, 11-8, 11-9, 12-10.
Final scores:  8 rubbers to 3 and 24 games to 13.
– Weightmans Packaging 8 (Thanh Nyugen 3, Mark Kerr 2, Ryan Hensgen 1) d Tankard Dental 3(Sam Hensgen 2, David Sergi 1)
Another big win by Weightmans Packaging sees them sit comfortably at the top of the ladder.
Weightmans captain Mark Kerr had a busy night, as well as playing here, he filled-in in Pennant Two, so could be excused for winning "only" two singles.  No matter, his number two Thanh Nyugen made easy work of his singles encounters, taking them all in just three sets to set the team up for the big win.
Although the score was definitely one-sided, there were some very good matches.  Sam Hensgen featured in two of them – the first of these was against his brother Ryan where the sets alternated in a close five setter, Sam winning 11-9, 13-15, 11-8, 4-11, 11-6.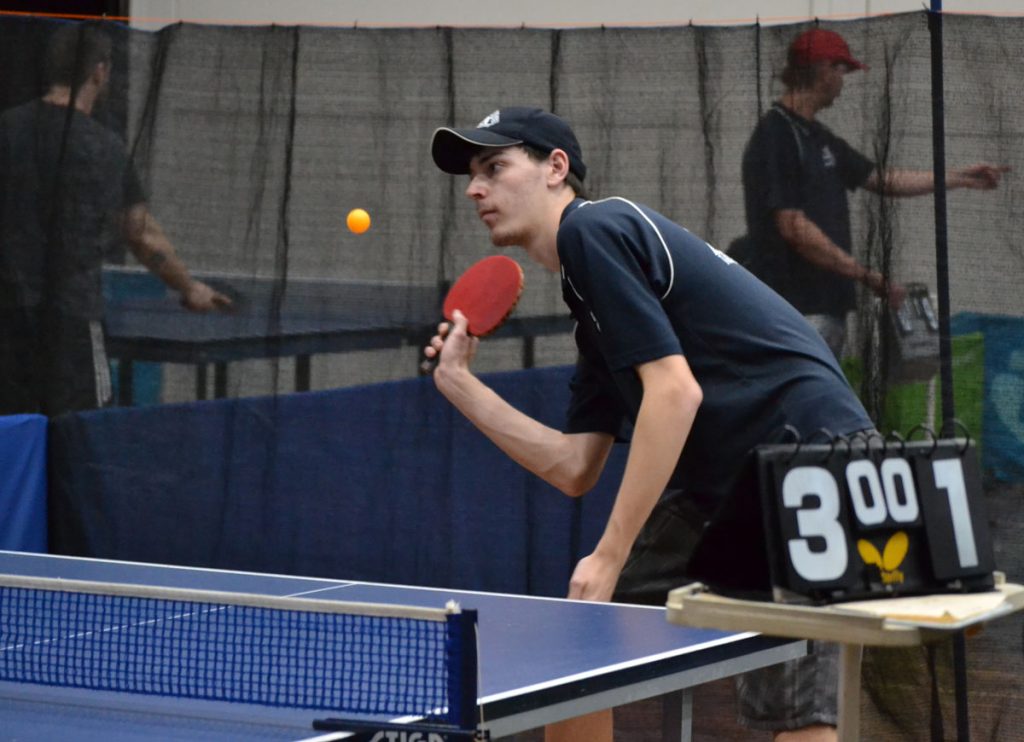 In the next round of singles, Sam was victorious against Mark Kerr.  After taking a close first set 13-11, Hensgen looked like he had lost control of the match when Kerr took the second and third sets 7 and 2, however he regained his composure and triumphed, with and 11-7, 11-9 finish.
David Sergi also found out how competitive Ryan Hensgen is – he too needed five sets to take the win.  But Ryan finally got a win – in the eleventh rubber he played Leonie Dunkley – he had to come from two sets to one down to do it too – winning 10-12, 13-11, 9-11, 11-5, 11-5.
Final scores:  8 rubbers to 3 and 30 games to 13.
PENNANT FOUR:
After two rounds two teams have two wins, two have no wins and two teams have one win and one loss. A look at the singles aggregate shows Stephan Ljubic is the only undefeated player having won his six singles in a good start to the season.
– Tankard Dental 9 (Ben Hosking 3, Peter Lock 2, Luke Ljubic 1) d Weightmans Packaging 2(Therese Fitzpatrick 2)
In a powerful display Tankard Dental recorded their second win of the season. Their 9-2 victory over Weightmans Packaging showed indications Tankard could be a force this season.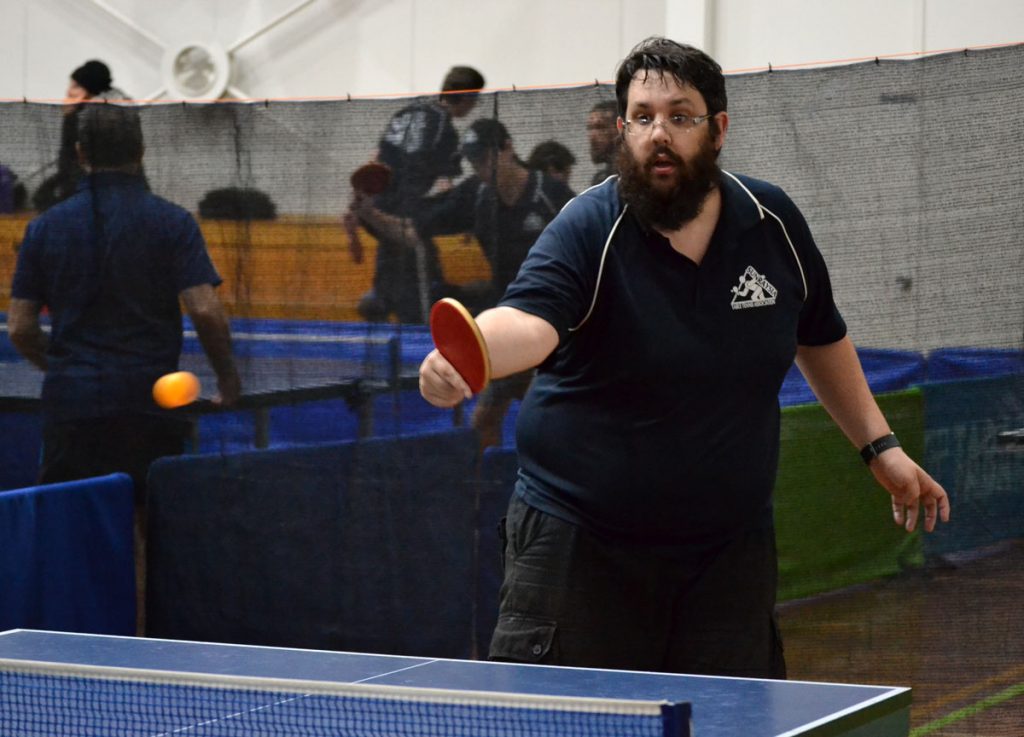 Skipper Ben Hosking was in great form winning three singles and his victory over rising junior star Therese Fitzpatrick was encouraging for Hosking. This was a really good contest with the final score 11-8 8-11 6-11 11-9 11-6 in Hosking's favour.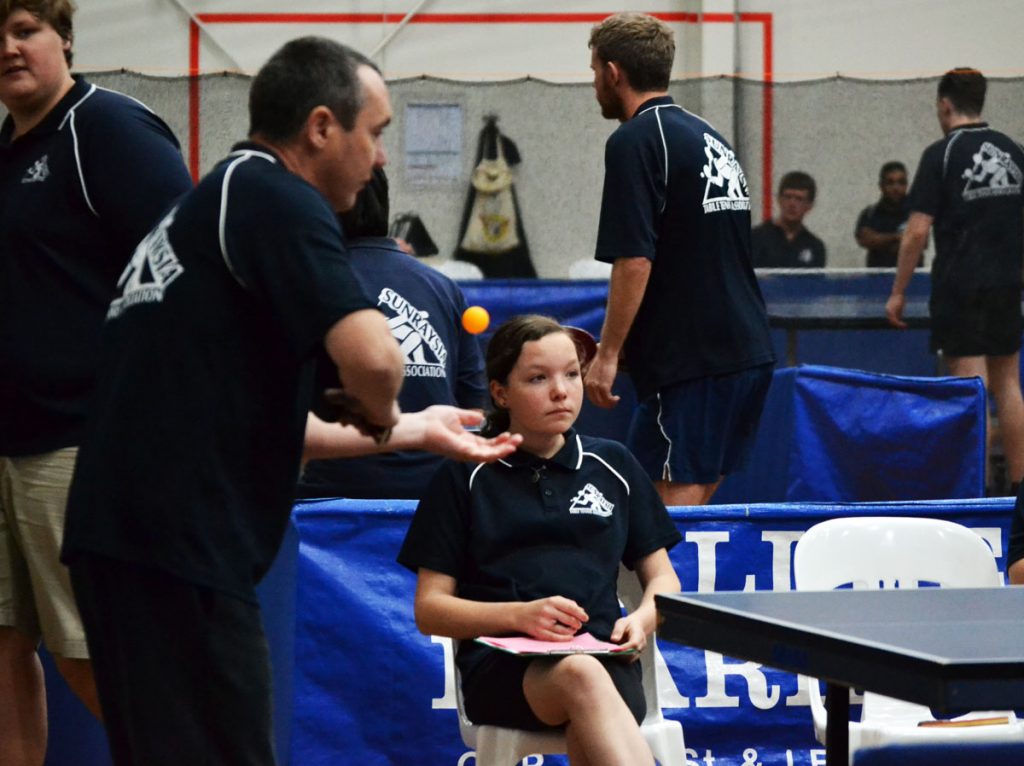 A feature of this match was that three Locks took part. Dad Peter lined up for Tankard as the number two player while son Brice and daughter Miya played two and three in the Weightmans team. While Peter won both the matches against his children in three it will be interesting when they line up against each other when the second round of matches come around. Both Brice and Miya played in the pennant two junior competition and both are improving rapidly.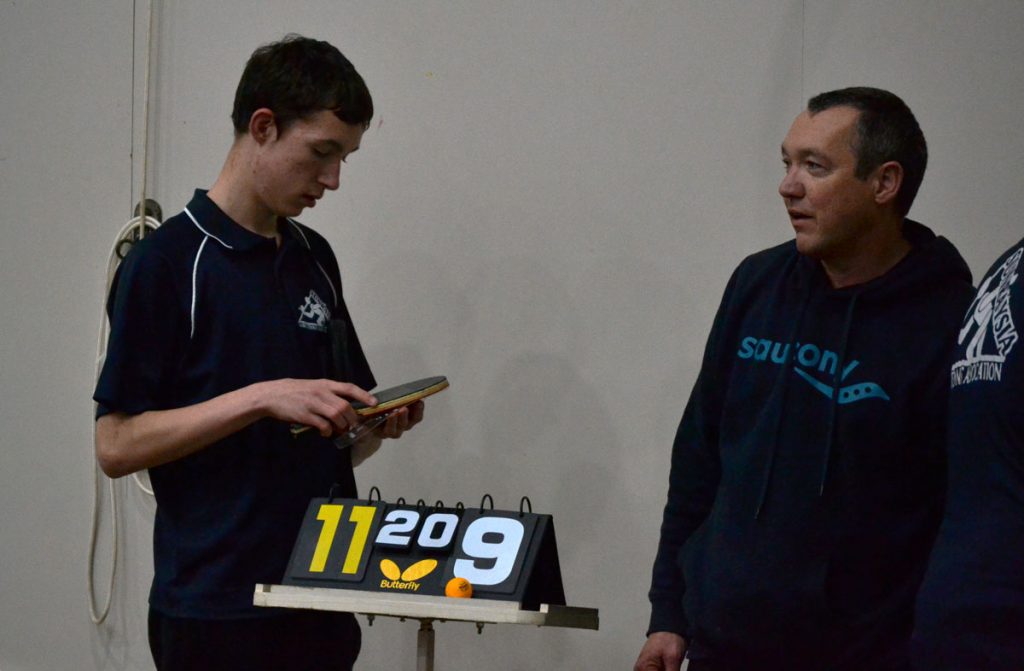 Brice, apart from winning the singles aggregate, also led his team to the premiership.
For Tankards both Peter Lock and Luke Ljubic won two singles to support skipper Hosking. The match between Luke and Miya was a real highlight with Luke taking the points narrowly 10-12 10-12 11-9 11-3 11-9 a great comeback and a great match from two of our youngsters.
– Mallee Meats 6 (Tom Morrison 3, Dave Tanner 2)d MJM Automotive 5 (Joel Hogarth 2, Shirley Whitecross, Paul Kerr 1)
This was an outstanding contest which could have gone either way and in the end it was Mallee Meats who managed to defeat MJM Automotive 6-5. Mallee Meats now occupy second on the ladder as this was their second successive win by the narrowest of margins.
With the scores at four rubbers all Mallee Meats' Thomas Morrison and Dave Tanner won their respective singles matches both narrowly in five against opponents Joel Hogarth and Shirley Whitecross. Thomas won three singles while Dave played well to win two.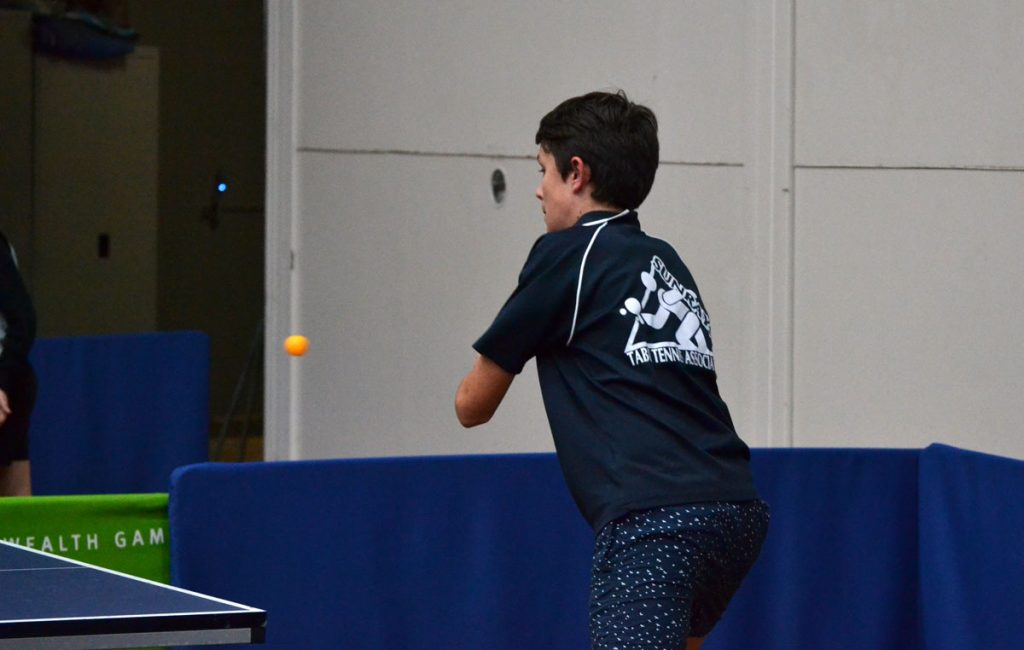 Tom's match against Joel was a ripper with Joel winning the first two only for Tom to fight back and win 12-14 5-11 11-5 11-7 11-7. Dave had to recover from a one game to two deficit against Shirley to win in another marathon 8-11 11-5 9-11 13-11 11-8.
Earlier Shirley had her hands full with youngster Tom Cooper and she was able to get the points 11-4 8-11 7-11 12-10 11-8 in another lengthy encounter. Another highlight I the match was the second doubles when MJM pair Joel Hogarth and Paul Kerr teamed up against the two Toms, Morrison and Cooper. After only managing 6 and 2 in the first two games Joel and Paul turned the match around to win the third fourth and fifth 11-1 11-3 11-9 in an exciting finish.
MJM have now lost two matches 6-5 and have been right in the matches, success may not be far away.
– Dunkley Scales 7 (Stephan Ljubic 3, Aaron Sawyer 2) d Regional Taxation Services 4 (Kim Avers 2, Sarah Hogarth, Jacinta Ljubic 1)
Dunkley Scales' number one Stephan Ljubic enjoyed a successful night in this match winning his three singles to remain undefeated. He also played in both winning doubles to play a key role in Dunkley's 7-4 win over the hardworking Regional Taxation Services.
Whilst Stephan had a great night he did not have it all his own way three of his matches went to five sets. Both doubles went to five and in the first in a thriller Stephan and Jolene Healy combined to win 11-9 in the fifth against a brave Kim Avers and Sarah Hogarth. Later in the second doubles Stephan combined with new player Aaron Sawyer to defeat Kim Avers and Jacinta Ljubic 11-9 10-12 9-11 12-10 11-7 a great match.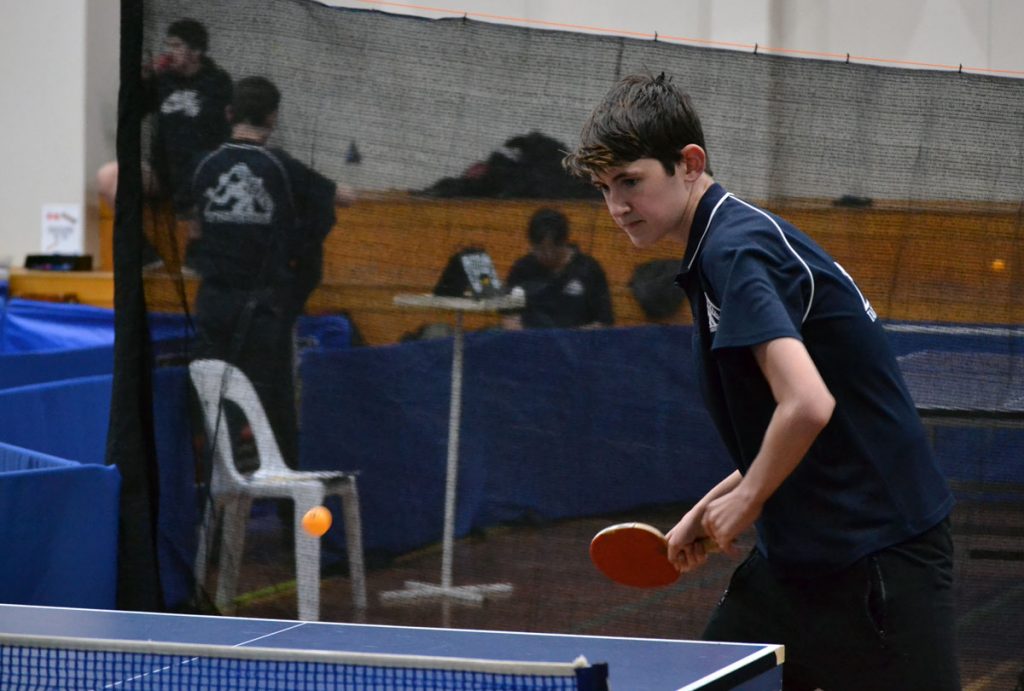 Stephan had a great battle against mum Jacinta in their singles with Stephan forced to recover from a two game to love deficit to win 9-11 9-11 11-8 11-4 11-9. This match would have made for a good conversation on the way home. For Jacinta it was the one that got away ….just!!!
For the Regional Taxation Services team skipper Kim Avers won two singles while Sarah Hogarth and Jacinta Ljubic won one each. For Dunkley's Aaron Sawyer came into the line-up for his first match after being unavailable in round one. He too played a key role in his team taking the four points by winning two singles as well as the doubles he took part in.